DP World Tour
Unknown Englishman on a hot streak is pursued by likes of Rory McIlroy at St. Andrews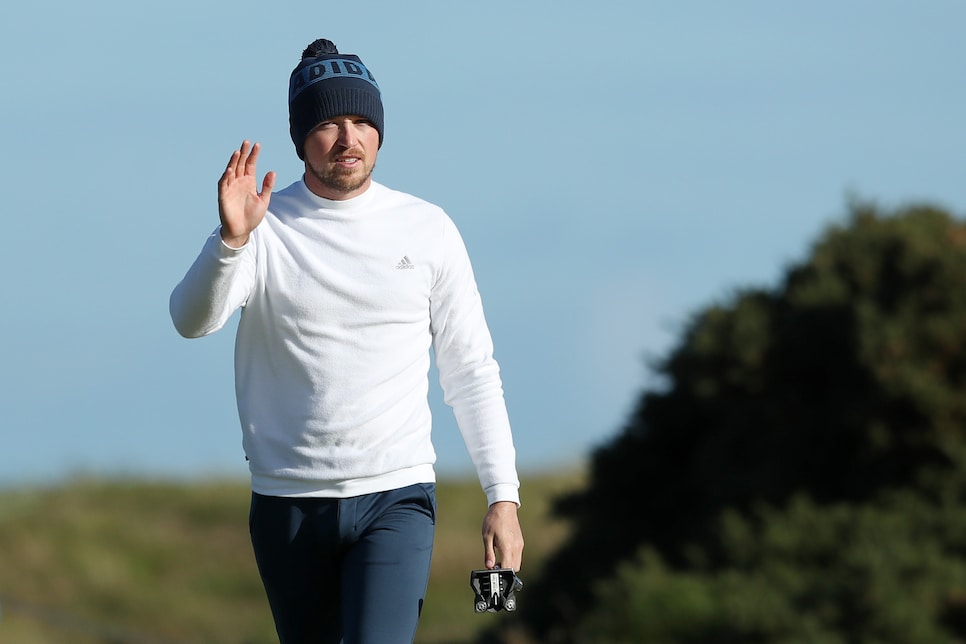 Richard Mansell acknowledges spectators after his putt on the 17th green on Day 3 of the Alfred Dunhill Links Championship.
Jan Kruger
ST. ANDREWS, Scotland — It's pretty much your classic last-day showdown scenario. In the lead with one round to play in the Alfred Dunhill Links Championship we have the relative unknown, Richard Mansell. In closest pursuit we have a pack that includes a former Ryder Cup player in Alex Noren, a man with a Presidents Cup snub on his mind, Ryan Fox, two of European golf's rising young stars in Rasmus Hojgaard and Bob MacIntyre, a three-time major champion in Padraig Harrington and, perhaps most significantly, World No. 2 Rory McIlroy.
That's a lot of weighty footsteps to hear from behind. But in Mansell's favor is that the Englishman's 15-under-par aggregate over Kingsbarns, Carnoustie and the Old Course at St. Andrews gives him a four-shot edge over even the three men in second place—Noren, Fox and Daniel Gavins. Hojgaard is seven back, one head of MacIntyre, Harrington and McIlroy. So, breathing space, even that of the heavy variety, belongs to the leader.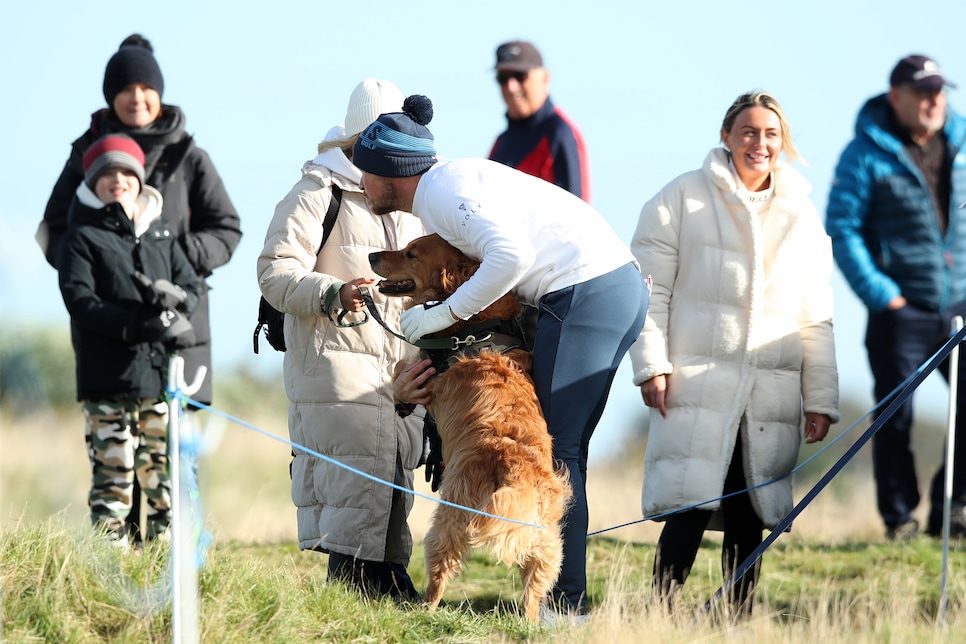 Richard Mansell hugs his dog Arnie before teeing off on Day 3 of the Alfred Dunhill Links Championship.
Jan Kruger
More context. Although Mansell, who scored five-under 67 on Saturday at Carnoustie, is not currently the holder of a full DP World Tour card, that fact is sure to change no matter what happens over the most important 18 holes of his four-year professional career. Already this year, the 27-year-old from Carnock in Staffordshire has racked up five top-10 finishes in his 20 DP World Tour starts. So he is no mug, no fly-by-night performer sure to fold under the pressure he will undoubtedly feel with so many luminaries piled up in his slipstream.
And he is making the right noises. Even if the Nova Southeastern University (Florida) graduate and former Palmer Cup player has missed the cut in his last two starts and lost his clubs in the second of those events, the French Open, his fine play so far this year has clearly led to a gain in confidence.
"I am really looking forward to the challenge," said Mansell, whose biggest victory so far came in something called the Cobra Puma NXT LVL Championship on the third-tier EuroPro Tour back in 2019. "I played really, really good today, had only one bogey. I was just really in control of my golf ball. And I've putted good.
"Plus, I've been in contention a lot this year and had chances on Sundays," he continued. "Every time you don't win, you learn. That's what I feel like I've done really well this year. Tomorrow there's a lot of golf. It's links golf, so anything can happen. It's St Andrews. People can shoot 60. I'm just going to try and shoot a good score tomorrow and see where it puts me."
Still in first place, if McIlroy is to be believed.
"The way the Old Course is right now, I find it hard to see how someone doesn't go out there and shoot a couple under," said the Northern Irishman, whose amateur partner, father Gerry, qualified for the fourth and final round. "It's as easy as it can be right now, even today with a 20-, 25-mile-an-hour wind. I'm not sure what the forecast is like tomorrow, but if I can go out a shoot a low one and get to the number that Richard's on right now, at least I'd make him shoot under par. I guess that would be a decent target."
Which it might just be. As Mansell hinted, anything can happen in what has already been a crazy week of scoring. Take Thomas Pieters. The former Ryder Cup player is tied for 30th place on four under par. But those bald statistics don't come close to explaining how the 30-year-old Belgian arrived at such a total. After an opening seven-under par 65 over Kingsbarns, Pieters, amidst the foul weather that plagued the second day, accumulated an 11-over par 83 at Carnoustie. No matter. In completing his third round at the Old Course he hit the ball only 64 times. That's eight under par, or 19 strokes better than the day before.
"I didn't think yesterday [at Carnoustie] was golf," said Pieters, who memorably emerged from the 2016 Ryder Cup matches at Hazeltine with four points to his name. "It had nothing to do with golf. I threw in the towel after 11 or 12 holes. Everything was wet. I couldn't swing, couldn't feel my hands. But I am obviously playing good, as I came back and shot a 64. I am very happy with that. I never thought I was going to make the cut after shooting 11 over. All I could so was laugh about it, obviously."
Pieters wasn't alone in having some fun on day three either. As they had long promised, Rasmus Hojgaard and his identical twin, Nicolai, dressed identically when they were paired together for the first time in a DP World Tour event. Grey woolen hat. Black top and trousers. White shoes. From a distance and even close-up, there was no telling them apart. Indeed, only when they swing is to really possible to tell who is who (Nicolai is the longer of the two), although they didn't finish up together on the leaderboard. Unlike his brother, who has a chance to win, Nicolai missed the cut.
At least we think it was him.