DP World Tour
The Fitzpatrick boys are enjoying their tight family duel at St. Andrews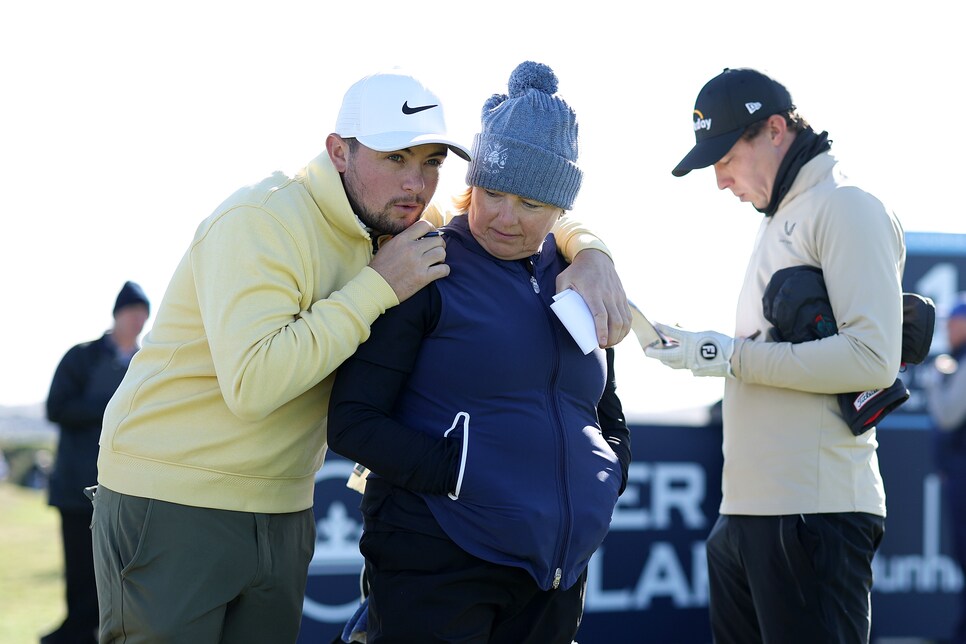 Alex Fitzpatrick talks to his mom Sue Fitzpatrick as Matt Fitzpatrick reviews his scorecard on Day 3 of the Alfred Dunhill Links Championship.
Richard Heathcote
ST. ANDREWS, Scotland — Never mind who is winning and losing the Alfred Dunhill Links Championship. The biggest match in town on Day 3 of the AT&T Pebble Beach Pro-Am-style event over three courses was taking place in Game 8 off the first tee on the Old Course at St. Andrews. In the blue corner was 28-year-old U.S. Open champion Matt Fitzpatrick; in the red corner was his 23-year-old brother, Alex. Adding to the family atmosphere was mother, Sue, who was competing as Matt's amateur partner. Alex had R&A chief executive Martin Slumbers as his sidekick for the week.
The sibling members of the Fitzpatrick clan started the day even on two under par and engaged in a tightly fought tussle that went all the way to the final green before subsiding into an honorable "half." Both of Sue's lads got round the most famous course in golf in 69 shots.
It was nip-and-tuck the whole way though, with Alex the faster starter of the two. Out in 33, the two-time Great Britain & Ireland Walker Cup player was two shots clear of his big brother and feeling pretty good about himself still less than six months removed from turning pro. Indeed, that advantage was still in place with three holes to play, the pressure firmly on Matt.
Standing on the 16th tee, Fitzpatrick senior was spoken to by caddie Billy Foster. The message had nothing to do with any two-shot deficits though. By Foster's reckoning, Matt needed two birdies in the last three holes to avoid teeing off on the 10th on Sunday. Which is important. The 10th tee on the Old Course is a long way from the first. As it turned out, Matt did make the two birdies required. A 10-foot putt disappeared on the 16th green. And two putts from left of the final green saw him break 70.
Don't think he didn't know the significance of the four-footer he stood over on that final green though.
"I knew exactly what that putt on 18 meant," Matt said with a smile. "I was keeping tabs on him the whole way round."
As for the younger Fitzpatrick, the Wake Forest graduate was more than happy with his play, even if the three putts he expended from the Valley of Sin on the 18th meant he had to give up bragging rights over dinner. For the record, the pair are both five under par and tied for 26th place with 18 holes over the Old Course left to play.
"It was a great day," Alex said. "It's not often you get to spend 18 holes with your family on the Old Course. It was fun to play with Matt and watch him play and do it all with our mum. It was special."
Asked if he was nervous about playing in what is only his sixth DP World Tour event alongside a major champion, Alex was quick to praise his brother. Clearly, he is proud of all that Matt has achieved.
"I've been very lucky," continued Alex, whose most recent starts have produced a T-21 finish in the Italian Open and T-13 at the French Open. "Matt helps me as much as you can think of. And in the last couple of weeks, I've been drawn alongside some top players. That has helped me enormously. It's nice to get used to playing with big names. And yes, I'm fortunate that one of them is my brother. For other people it might be a little intimidating to tee-up with him watching, but for me it just about trying to impress my big brother.
"I would like to have made birdie on the last." he continued, a big smile breaking out. "I was aware that I was one ahead. But I can't complain."
In terms of his plans going forward, the younger Fitzpatrick will play at Valderrama in Spain in two weeks time, then again in Majorca. Those DP World Tour events are but a prelude to his participation in the Korn Ferry Tour final qualifying school next month. How he does there will have the biggest impact on where and when he plays in 2023.
"One huge week over here would make things a bit clearer," he admitted. "Hopefully I play well tomorrow, too. I want to rack up as many points and see where that takes me. The ideal scenario would be to get my DP World Tour card, although I'm way off that at the moment, then do the same on the Korn Ferry Tour. That would be a dream. But things don't normally work out like that. I'll take it as it comes."
All of which is for the future. Before he thinks of prize money and tour cards and just about anything else, Alex has a big brother to take care of.