RSM Classic Takeaways
Ski caps in frigid Georgia, another rendition of Hammer time and a rookie stays on a roll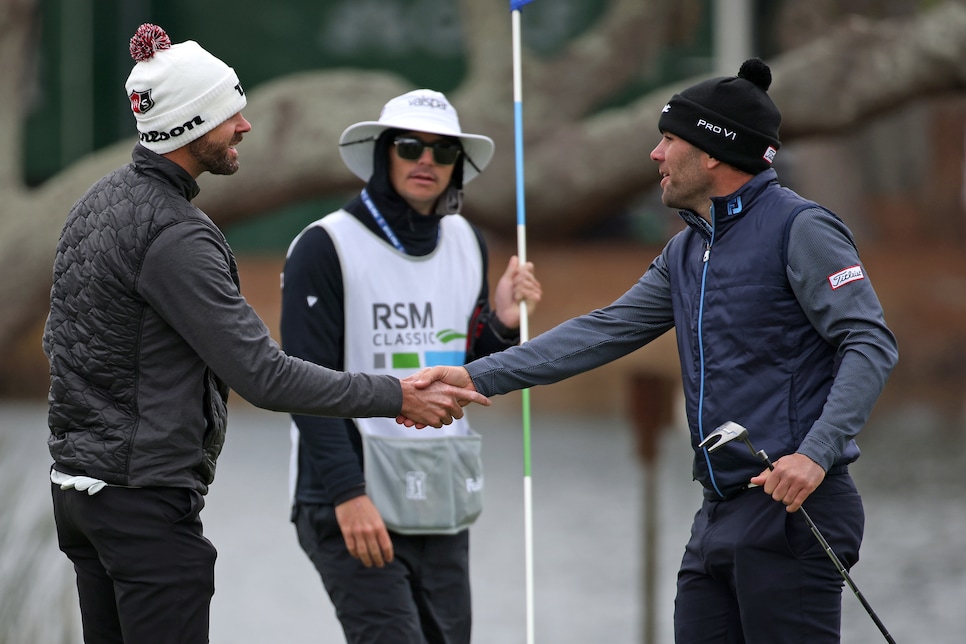 Bundled up in winter clothes, Callum Terren and Kevin Tway shake hands after their round on the ninth hole at Sea Island Resort Seaside Course.
Mike Mulholland
Ski caps and sweaters and hoodies and mittens … these are a few of my favorite things. At a November football game, sure. Bring it on. But at a golf tournament? In Georgia?
Wind, clouds and chilly air enveloped usually idyllic St. Simons Island, Ga., on Thursday in the first round of the RSM Classic, sending the 155 players in the final event of the PGA Tour's fall schedule burrowing into their cold-weather gear.
Cole Hammer, though, enjoyed a round to warm any golfer's heart with an opening eight-under 64 on the Plantation Course at Sea Island Golf Club, a career low for the 23-year-old Texan. That gave him a one-shot lead over Ben Griffin.
Justin Suh, who just won Player of the Year honors on the Korn Ferry Tour, was another stroke back with a 66, while Callum Tarren and Beau Hossler were also two behind with six-under 64s on the Seaside Course that plays to a par of 70.
Here are takeaways from a frigid Day 1.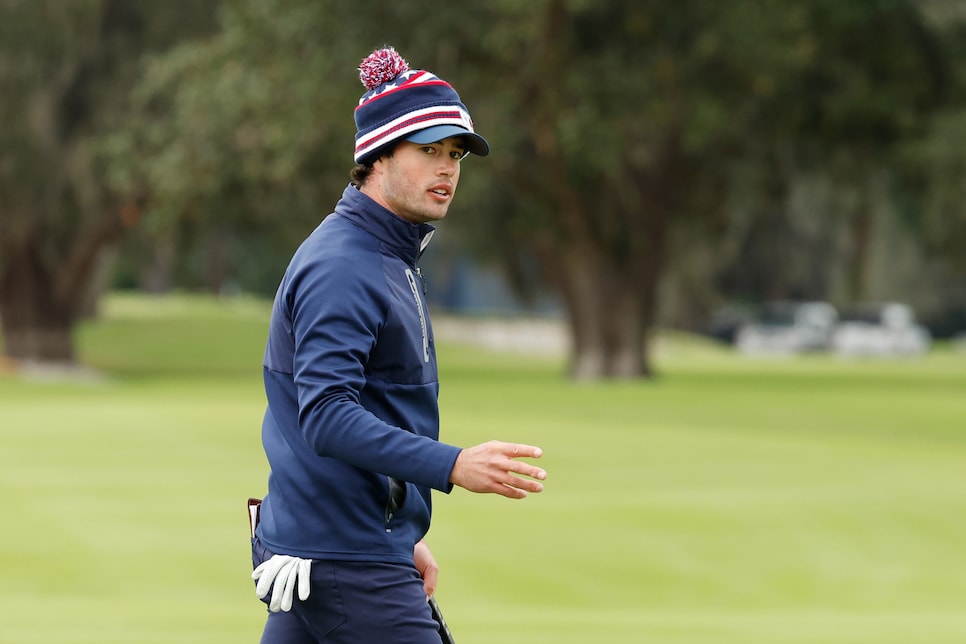 Cole Hammer reacts to his putt on the ninth green at Sea Island Resort Plantation Course.
Cliff Hawkins
Yeah, you had to know that was coming.
Though admitting to having a poor night's sleep prior to the opening round, Hammer was riding a bit of confidence from his T-27 effort at last week's home game, the Cadence Bank Houston Open. A second-round 65 enabled him to make the cut for the first time in seven tour starts, and then late on Sunday he learned he'd received a sponsor's exemption to the RSM Classic.
"I had some good finishes on the Korn Ferry, but I was batting zero on the PGA Tour. I needed to get that monkey off my back. To do that in my hometown event in Houston was huge for me."
Hammer got to nine under on the Plantation Course, but gave a stroke back with a bogey at the par-5 eighth hole, his 17th of the day, and he looked in danger of a second bogey at the ninth when he pulled his approach into the left bunker. He saved par, however, by holing a 15-footer.
"It was cold and, like I said a little bit ago, I had very low expectations. And I'm glad I did because it was a tough day out there, there's no question," he said. "I figured … par was a good score today, and I found myself making putts for birdie early on and then just kind of kept going from there, but what a day."
A five-under 67 Thursday on the Plantation represented Webb Simpson's best start since he opened with a 64 at the Travelers Championship in June, but it should not have come as a surprise. Simpson has a couple of top-three finishes to his credit at the RSM Classic and finished T-8 last year.
It always helps to have a hole-in-one on the scorecard, and Simpson got that at the par-3 third hole with a hybrid from 219 yards as he rode a hard left-to-right wind. His ball hit about 10 feet in front of the hole, hopped twice before finding the cup.
"I would have taken 35-40 feet and walked up there and hit my putt, but to be honest I hit it a little left of my target, but I hit it good enough to cover, and at first I didn't know it went in," Simpson said.
After battling a back injury earlier this year, Simpson, 37, is trying to find the game that produced seven victories, his last in 2020 at the RBC Heritage. He hasn't played much in the fall after serving under Davis Love III as a captain's assistant in the Presidents Cup—this is just his third start—but he is buoyed by having "a good mindset" after working on his game. "I feel really different than I did a few months ago," he said, "so I wish I had a few more events coming up."
This Ben Griffin guy was a great story late last month when he almost won the Butterfield Bermuda Championship in just his eighth PGA Tour start. As you might remember, the rookie from North Carolina was working as a loan officer for a mortgage company 18 months ago but returned with a vengeance to graduate from the Korn Ferry Tour. He held a share of the 54-hole lead with eventual winner Seamus Power and with seven holes to go was two in front until a disastrous run left him tied for third.
That disappointment can crush a young player's confidence, but Griffin has kept plugging along. He finished T-59 in Mexico and T-16 last week in Houston.
So, all he does is throw a 65 up on the board in some harsh weather while being under the weather. The kid has some chops.
"It's a course I'm really familiar with living here, so I felt comfortable with all my start lines," Griffin said, pointing out a key to the round. "A few of them kind of change a little bit with being windy and playing a little bit longer, but I felt very comfortable out there and felt right at home to post a good number.
"Yeah, when it happened [got sick] a few people knew about it, they texted me and they said to be aware [of the sick/injured golfer]. I was like, yeah, you're probably right," he added. "I haven't had a lot of fuel I'd say from a food standpoint in my system the last few days, but it's always exciting teeing up on the PGA Tour, and I had energy right out of the gate, so it was all good."
As it has been for the last month.
Coming off consecutive top-10 finishes, Dahmen obviously has been showing good form, but he's playing with the, um, pressure of trying to keep the Golf Digest "cover bump" going. Collin Morikawa and Rory McIlroy are recent examples of players who have gone on to win in the weeks after being on the cover. Sort of the SI curse in reverse.