Hammer Time
What's it like for a college star to turn pro? Texas All-American Cole Hammer offers a glimpse
Cole Hammer's name is hard to forget.
You probably first heard it in 2015, when the 5-9, 125-pound 15-year-old was the third youngest golfer to qualify for the U.S. Open. That was two years after Hammer committed to the University of Texas—where he would play four years and compile one of the best amateur records this side of Tiger Woods.
In 2018, Hammer won the Western and Azalea amateurs, was co-medalist at the U.S. Amateur and won the U.S. Amateur Four-Ball with LSU's Garrett Barber. In 2019, he won the Mark McCormack medal as top amateur in the world and was on the first of two winning Walker Cup teams. This past June, he was a part of the Longhorn team that won the NCAA Championship as he wrapped up his college career.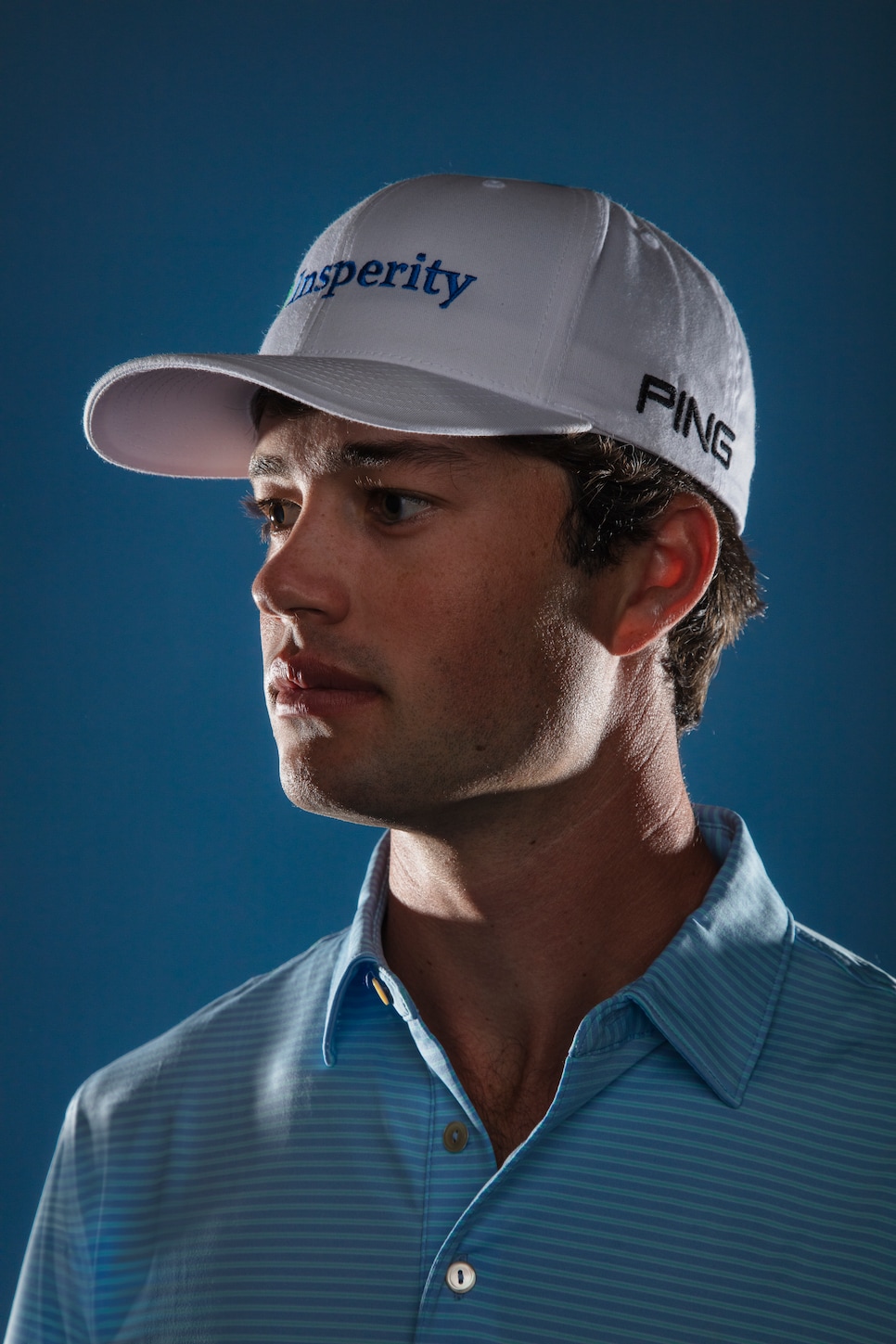 Finishing in the top five of the PGA Tour University Rankings—which aggregates Division I college tournament finishes for outgoing seniors during their final two seasons—earned Hammer Korn Ferry Tour status for the summer. His winning profile, polish and high-powered representation from WME Sports' Jay Danzi, who also counts Jordan Spieth as a client, means Hammer will get more PGA Tour sponsor's exemptions to show what he can do. That is when he isn't successfully qualifying for events; a five-under 67 at Deerfield Golf Club earned Hammer one of four Monday qualifying spots for this week's Sanderson Farms Championship in Mississippi.
Now we get to watch the now 6-foot-1, 165-pounder finish growing up and make his transition to professional golf. "I've been in college for four years and basically been told how to prepare every week," says Hammer, who turned 23 last month. "Now that I'm on my own, it's time for me to figure out what works and what doesn't."
College golf was good prep for tour life in more ways than just beating balls and taking finance classes. In 2021, college athletes could begin to make Name-Image-Likeness deals (NIL) with sponsors and profit from them. Hammer didn't cut the same figure in Austin as, say, star Longhorns running back Bijan Robinson—who cruises around campus in a Lamborghini. Nevertheless, "It's been an exciting time, almost a glimpse into pro golf before I got there," says Hammer, who initially hired WME to help manage NIL deals with sponsors like Tom Brady's new line of sportswear and supplement-maker Optimum Nutrition. "I got to have the experience of endorsements and sponsors before checking the box as a professional, which gave me a head start on what I'll hopefully be doing for the next 20 or 30 years."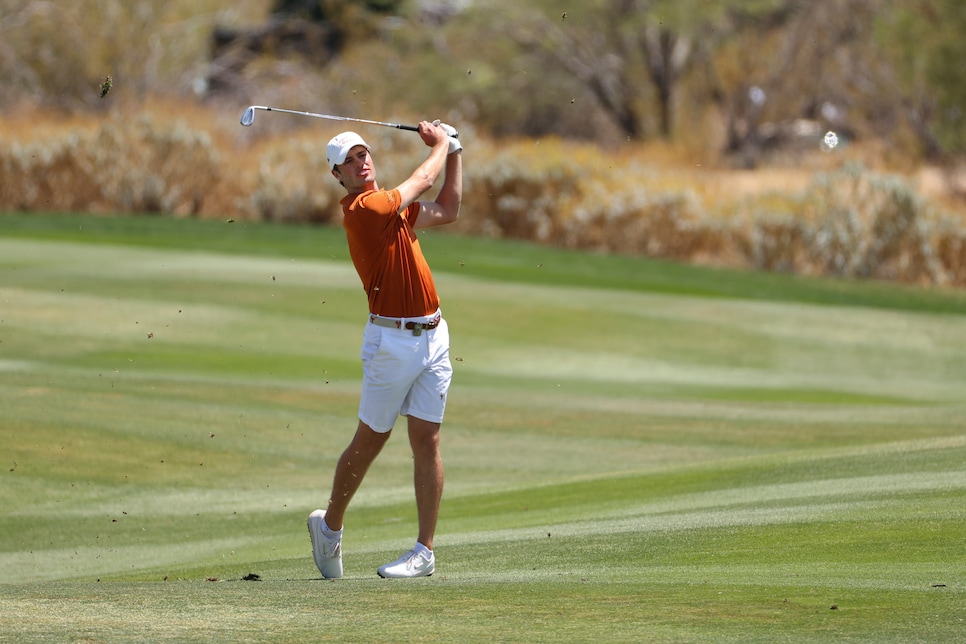 GOING OUT ON TOP Hammer helped lead Texas to the NCAA team championship in June.
Justin Tafoya
When Hammer turned professional after the NCAA Championship in June, his first two endorsement deals were comfortable—and seamless. Signing with Ping and Titleist for equipment and balls meant the content of his bag stayed the same as it was when he played his last match for the Longhorns, even if the high-mileage Hoofer got traded for a heavy leather tour model.
Hammer's title sponsor—whose logo appears on his hat and in prime position on the bag—was also a choice that came from inside the ecosystem. Human-resources management firm Insperity has its headquarters in Houston, where Hammer grew up. Insperity CEO Paul Sarvadi heard about Hammer from his brother, John, whose kids were friendly with Hammer from junior golf. When Hammer got a sponsor's invitation to play in the 2021 Byron Nelson in Dallas, Sarvadi and his wife went to Dallas and had dinner with Hammer and his parents, Allison and Gregg. "It was a casual thing, but it was so impressive," says Sarvadi, who is part owner of The Renaissance Club, site of the Scottish Open. "He has no problem having a range of conversations. Having that comfort with other people— being able to sit down with our clients, who are small- and medium-size business owners, and be interesting and interested in them—that level of confidence is what we're looking for. A great game? Sure. But we value that well-roundedness, the kind of person he is."
Sarvadi's assessment was seconded by Christian Pena, Ping's director of tournament players, who first saw Hammer at that 2015 U.S. Open at Chambers Bay. Ping, however, was aware of Hammer when he was only a 100-pound 13-year-old and began streaming him equipment as a part of its amateur-player-development program. "We look at how a player performs in tournaments, but it's more than that," says Pena, a two-time All-American at Arizona who played two years on the Nike Tour before joining Ping. "We want to put eyes on them and see how they play. We gravitate toward the players who tend to strike it the best, and the ones who carry themselves the right way—high-character individuals."
Texas men's golf coach John Fields saw the character element right away when he met with Hammer and his parents. Fields was impressed with Hammer's preternatural maturity and composure, but what really caused him to offer a scholarship to a 13-year-old—something the NCAA doesn't allow anymore—was what came with it. "My wife has a friend who is a member at River Oaks, where the Hammer family plays," says Fields, who has been the head coach at Texas since 1997. "She asked if I had seen this little guy who played over there. I said I hadn't. When I saw him, I knew he was something special—fantastic short game, great swing, and he wins. He does that Jordan Spieth kind of stuff on the last hole when he needs it. You had great talent, a love for the game and great parents who support him."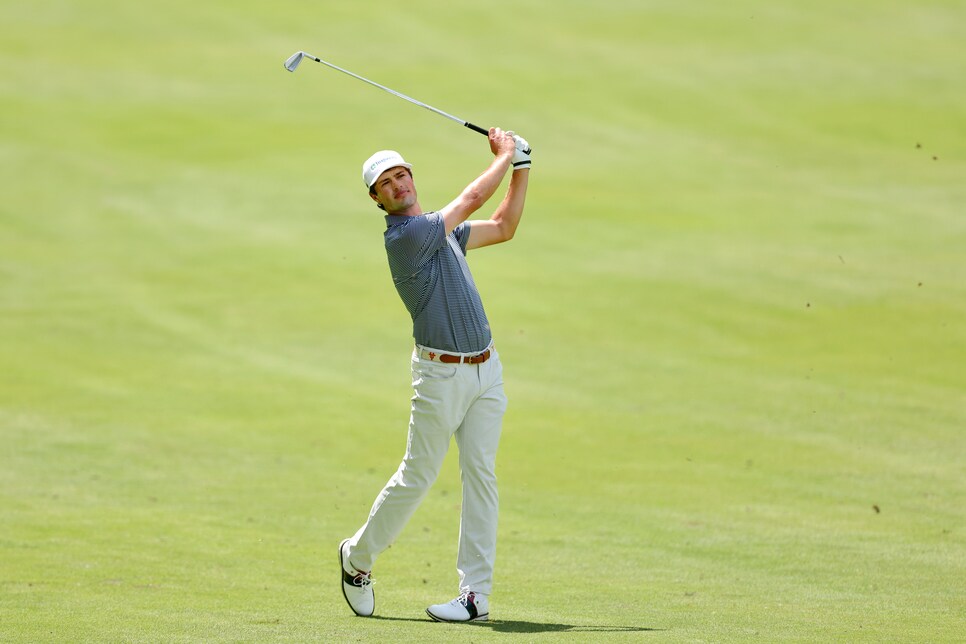 ROOKIE LUMPS: Two weeks after the NCAAs he missed the cut in his pro debut at the Travelers Championship with rounds of 69 and 74.
Michael Reaves
Hammer's mother and father have both won club championships at River Oaks, and during the photo shoot for this story, Hammer called his mom the best player in the family.
"We both caddied for Cole a lot," Allison says. "We play tournaments. We can relate to the ups and downs that come as part of the game. The goal has always been to keep it fun for him and support him any way we can."
That tide of emotional and moral support is extending—at least temporarily—into lodging, too. Hammer moved back to Houston from college and will be bunking with his parents at least until next year, and he'll stick with his same 11-year-old Chevy Tahoe for wheels. Instead of dividing time between class and his game, he'll be completely dedicated to playing golf and getting stronger.
"I don't think I need to change anything about my golf game per se, but I do need to change my endurance," says Hammer, who has averaged 320 yards off the tee so far in Korn Ferry events. "It's going to be vital for me to be as strong and as flexible as possible. Instead of the golf club swinging me, I need to be able to swing the club. I'm excited to get on that learning curve."
Fields coached Spieth and 2022 Masters winner Scottie Scheffler at Texas and calls Hammer's game from 100 yards and in comparably elite. "On a PGA Tour scale of one to 10, those two guys are an 11, and Cole is right there with them. His wedges are dynamic," Fields says. "But Cole isn't just a good player. He has belief. When Jordan was getting ready to turn pro, we sat down together. I told him I loved him, and I wanted him to stay, but I knew it was time for him to go. He said it wasn't about the money but about competing and the belief that he would have success. Cole believes he's going to do great things, and I believe he's going to do them on the PGA Tour."
Until recently, that was pretty much the only option as far as ambitions go for a recently minted college star. But reigning U.S. Amateur champion James Piot and Oklahoma State star Eugenio Lopez-Chacarra both signed with LIV Golf for guaranteed six-figure minimum paydays, and Hammer's Longhorn teammate Pierceson Coody reportedly turned down $5 million to go. Danzi says LIV was never a consideration for Hammer and that he has always been focused on achieving his dream of earning a PGA Tour card. "Our attention has been on preparing a PGA Tour strategy," Danzi says. "Our job isn't only to negotiate and finalize commercial opportunities with the best strategic partners but to also create a platform for him to be able to focus on golf and competing."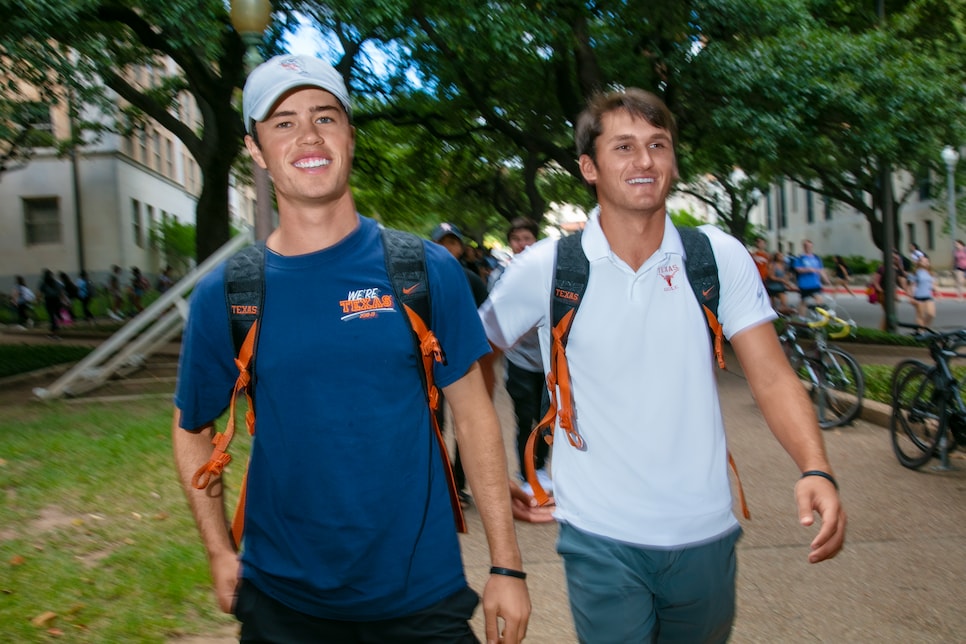 PRO MATERIAL Hammer in June (right) and in 2019 with Texas teammate Will Thomson (above).
Nathaniel Welch
That means showing up at unfamiliar cities to learn new courses and test himself against a new level of competition. With help from Michael Greller, Spieth's caddie, Hammer lined up veteran looper Bill Harke to carry for him—benefiting from Harke's experience with Jonas Blixt, Chris Kirk, Tom Gillis and Matt Every.
"I'm planning to treat professional tournaments the same as I would any amateur or college event," Hammer says. "It's easy to come out four days in advance and overthink where to go and not to go. I don't want to make the courses harder than they are. I'm looking forward to building experience and tinkering to get the mix right for me. Money isn't my barometer for success. I want to feel like my game is in a good spot. I know what a good game looks like and feels like."
With his record at every level, Hammer's take is easy to trust. He clearly has the game, the name, the attitude and the opportunity. What he does with those tools will be fascinating to watch.