DP World Tour
In Dubai, Matt Fitzpatrick shows again he's a beast on courses he favors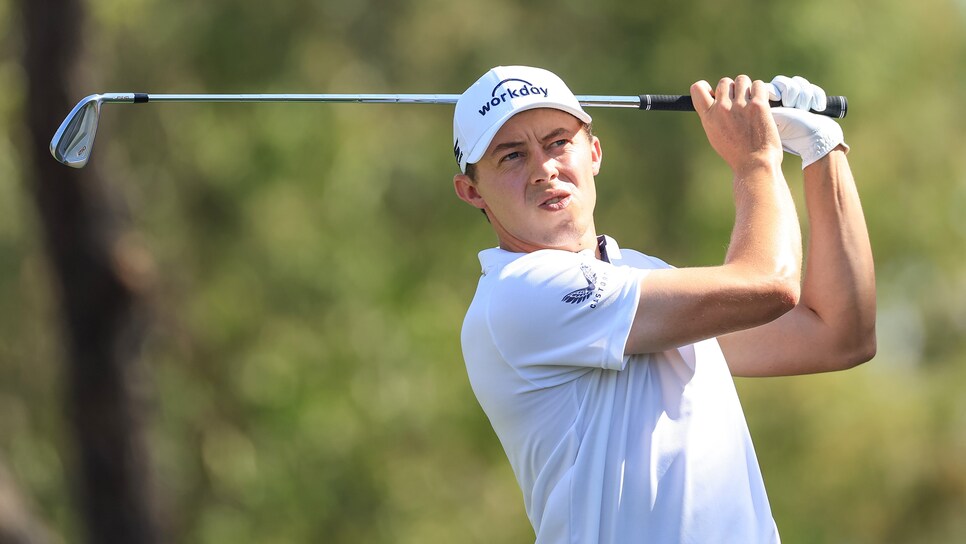 Matthew Fitzpatrick plays his tee shot on the fourth hole during the first round of the DP World Tour Championship.
David Cannon
DUBAI, U.A.E. — How good Matt Fitzpatrick is at tennis remains a mystery, but in golf there is no doubt that the U.S. Open champion enjoys a return. So it is that, five months on from his maiden major win at Brookline—the scene of his 2013 U.S. Amateur Championship victory—it is no surprise to see the Englishman atop the leaderboard at the DP World Tour Championship. Twice before, Fitzpatrick has won the former European Tour's season-ending event over the Greg Norman-designed Earth course at the Jumeirah Golf Estates.
For all that, an opening seven-under par 65 on Thursday that contained no dropped shots must go down as, eventually at least, mildly disappointing. After starting with five straight birdies, Fitzpatrick managed just two more over the next 13 holes.
Which is not to say he will be less than happy with his position after 18 holes. One of seven players in the 50-strong field with a chance to finish top of the DP World Tour rankings, Fitzpatrick has already opened up a sizeable lead over his two main challengers, Rory McIlroy and Ryan Fox. The World No. 1 birdied the last hole in an erratic 71; Fox was two shots worse.
Still, this is a long way from over. Fitzpatrick must finish in the top two this week if he is to become European No. 1 for 2022. And even then, he is not certain to do so. If he wins, a second-place finish by either McIlroy or Fox would mean each claiming the season-long title. And if the U.S. Open champion is second here, he needs Fox not to win and McIlroy to finish lower than seventh.
Whatever, Fitzpatrick at least retained a sense of humor at the end of a round in which he hit 17 of the 18 greens in regulation. Suffering from a sore throat that deepened his normal tones—"You sound like Barry White," said caddie Billy Foster—the five-birdie beginning came as a bit of a shock.
"I was laughing to be honest," said Fitzpatrick. "I said to Billy yesterday, when we won here in 2020, didn't we have four in a row? And then we did four in a row, and then we laughed about that, and then I made a fifth. It was a nice start to the day."
As you'd expect, Fitzpatrick was also taking nothing for granted, either in his quest to win this event for a third time, or in the bigger year-long picture. With the course playing more difficult than usual because of the thick Bermuda rough, shots can easily be squandered. Only 13 members of the field broke 70.
"It really is one shot at a time and you've got to be on your ball," confirmed the leader, who is tied alongside compatriot and fellow Ryder Cup player, Tyrrell Hatton, one stroke ahead of another stalwart of the biennial event, Alex Noren of Sweden. "Just because of how difficult it is with the rough. If you're missing fairways, you can't give yourself any chances. It's hard to control the ball coming out of the rough. And certainly around the greens it's the same deal on a course that is probably only going to get firmer."
That assessment rang true, at least in McIlroy's case. Three under par standing on the ninth tee, the Northern Irishman frittered away two of those shots with an erratic back nine that was only partially "saved" by that closing birdie on the 651-yard par-5 18th.
"Seventy-one was certainly not what I was hoping for," said McIlroy. "I was thinking I had made a solid start with some chances coming up, but I started to drive the ball a little crooked on the back nine. I made a sloppy bogey on 12 and didn't birdie 14 or 15, then made an unforced error with the three-putt on 16.
"In the end, it was nice to shoot under par," he continued. "I've had three weeks off since [winning] the CJ Cup, so I'm trying to knock the rust off a little. There was enough good stuff. I'm not far away. I made five birdies and hit some decent shots. But I do need to be a little tidier tomorrow."