What is a paunchy pro ranked outside the top 100 doing shirtless and tatted on the cover of Golf Digest? It's a reasonable question if you love the sport, at least in part, for its elevated decorum against society's ever-slipping standards. This isn't the first time we've seen Joel Dahmen denuded. The one-time PGA Tour winner enjoyed a viral moment this spring when he and Harry Higgs bared chests to enthrall the beer-soaked crowd at the WM Phoenix Open.
If exposed golf tans outside the locker room is an affront, forgive my instinct to pat your head. Never has pro golf been through a pressure cooker of a season like the one it just had. The rise of an alternative tour generated moral outrage over "blood money" and alleged traitors, dictators, defectors, sheep, human-rights violations condoners—all of them great putters—traded insults in press conferences and on social media. Sports used to be a safe space from the news, but the LIV Tour shoved the complex geopolitics of Western democracies struggling against rising foreign economic powers down our throats.
We decided to take a collective exhale and put together an issue centered around "No Offense," as is gamely tattooed (impermanently) on the clavicle of Dahmen, who I invited to be our guest editor. Dahmen isn't really a provocateur but rather a warm, honest soul who speaks fearlessly despite his relative lack of stardom. That's why the producers of the upcoming Netflix docuseries on the PGA Tour spent days filming him. "So many athletes are protected by managers and agents, but Joel chooses not to be. That's refreshing, and it makes you want to root for him," says Chad Mumm, the chief creative officer for Vox Media Studios.
What offends you as a golfer? In this issue we take on what's taboo, and past this sentence there will be no apologies. We're going to have fun despite a world that thinks it's living in an age of tragedy, not comedy. When a bunch of editors with liberal-arts educations headquartered in New York City partner with a bucket-hat tour pro from Washington state, all of us hoping not to get canceled, what could go wrong?
If any of our articles, say "America's Worst Golf Holes" or "What It Takes to Get Kicked out of a Private Club These Days" or "D!#k Moves" or "How to Cheat at Golf" cross your line, maybe you're looking from a different section of the green. Where you set your individual threshold for being offended is a matter of perspective and power. We believe we have reasons for what we consider offensive but regard the emotional responses of others as precisely that, emotional, and therefore irrational, so even tolerance becomes a form of condescension. When Phil Mickelson called PGA Tour Commissioner Jay Monahan "greedy," this was someone trying to take power. As every third-grader at recess knows, and the Nobel-winning author J.M. Coetzee sharply articulates, the logic of name-calling "when used as a tactic of the weak against the strong, is that if the strong can be made to take offense, they thereby put themselves at least momentarily on the same footing as the weak."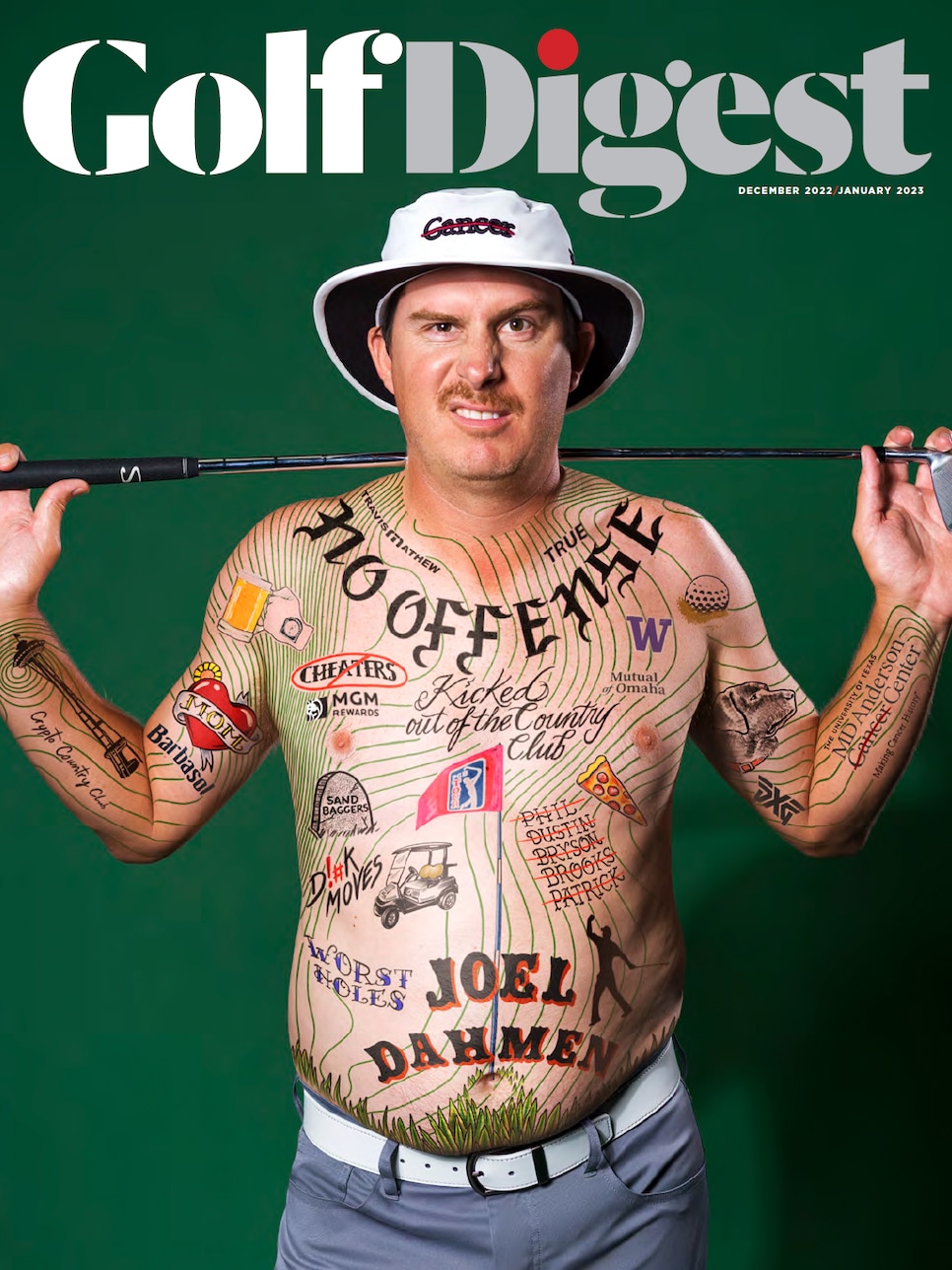 About rival tours, Joel Dahmen's nick-name for what he plays on is tattooed on a flag between his nipples: PGB Tour. "The top 50 guys play on the PGA Tour, with exemptions into majors, big cash no-cut events, everything you want, though life on the PGB Tour is pretty good, too," Dahmen says. The PGC Tour is a status he would rather not speak into existence for himself, though he allows that the gap between PGA Tour and PGB Tour is about to widen significantly with the structural responses to LIV. "But the beauty is, any given week any of us on PGB can get onto the PGA Tour with a win."
Dahmen contended in the 2022 U.S. Open before finishing T-10. Dreams of a win and perhaps a $50-million contract danced through his head. "If they gave me a nice contract, I was gone." But then a chance conversation with his shuttle driver, a retired NYPD officer who had been at ground zero on September 11, changed his mind. Even with a huge sum in the bank, "I realized I could not lay my head down on my pillow at night and be happy. My parents were wonderful blue-collar people, and I've worked too hard for everything I have to accept money from there."
No offense to anyone who did, Dahmen quickly adds, as all our personal circumstances are different.