Gambling
CJ Cup 2020 DFS expert picks: These favorites stand out in a week of unknowns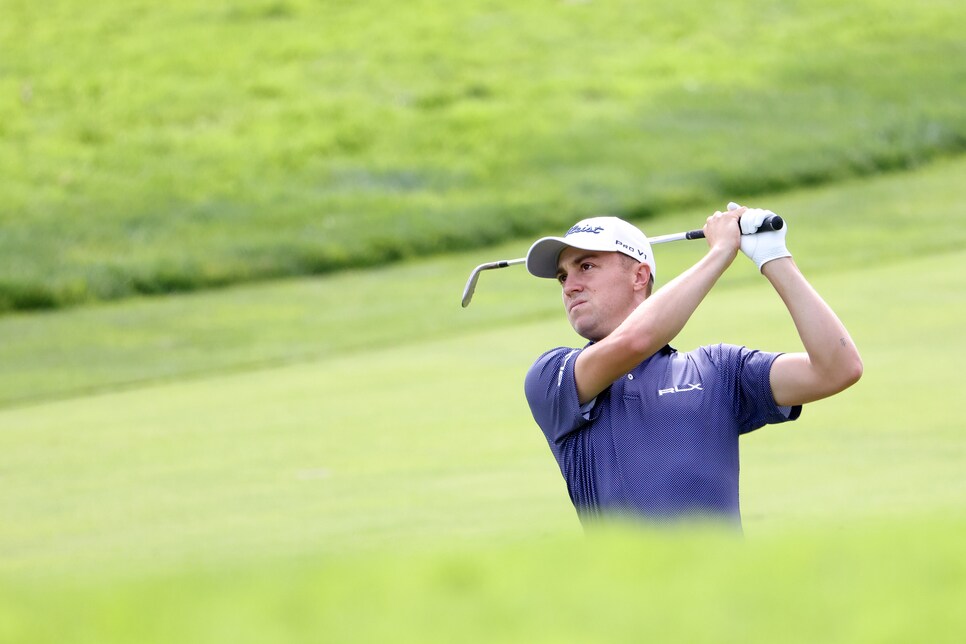 Justin Thomas has gained the most strokes tee-to-green since the tour's restart—so is he the best play in this strong field?
Jamie Squire
What we do know is that this is a no-cut event with an elite field of 78 players, similar to other tournaments with this field strength and setup in the past. We're seeing a number of the world's best for the first time since the U.S. Open, like the top of this board, with six players priced higher than $10,000, including Matthew Wolff ($10,000), who joins that elite group after yet another deep run last week at the Shriners. Even though the 21-year-old came up short of a title, his game continues to impress and mature rapidly—and in fact, he is breaking my modeling at RickRunGood.com, with his short-term form catching him up for a lack of long-term form. Will he keep the elite pace up, or are there too many great players in this field to go back to a high-priced Wolff?
Here are my favorite plays—from upside to value and safest—plus players likely to disappoint for your DFS lineups this week.
High Upside: Matthew Wolff ($10,000 DraftKings | $11,200 FanDuel)
Wolff is in the midst of a heater right now, with back-to-back runner-up finishes at the Shriners and the U.S. Open. He flashed his single-round upside with a blistering 61 on Saturday at TPC Summerlin last week. With Shadow Creek making its first appearance on the PGA Tour as a host course, it levels the playing field for younger golfers who don't own as much experience. This will be a new venue for everyone in the field, which should benefit Wolff and other young players. I'm a bit concerned about "buying high," but Wolff is dialed-in and firing on all cylinders.
Safest Option: Xander Schauffele ($10,300 DraftKings | $11,500 FanDuel)
Schauffele will likely be one of the highest-owned golfers, and for good reason. Not only is he scorching hot, with nine consecutive top-25 finishes, but he's flashed greatness during that stretch. He shot the lowest score at the Tour Championship (without starting strokes) and finished in fifth place at the U.S. Open in his past two starts. Also, Schauffele is known for being the "King of No-Cut Events," as three of his four victories on the PGA Tour have come in that structure.
Most Likely To Disappoint: Brooks Koepka ($9,700 DraftKings | $11,000 FanDuel)
I have no idea what to expect this week from Koepka, who is making his first start since the Wyndham Championship. He's been rehabbing his lingering knee injury that forced him to skip the U.S. Open. Even when he was playing down the stretch of the 2020 season, his results were sporadic. He missed the cut in half of his final six events but also finished T-2 at the WGC FedEx St. Jude Invitational during that stretch. It's a positive that he gets to play four guaranteed rounds, but I expect plenty of rust from Koepka at Shadow Creek.
Pick To Win: Justin Thomas ($10,800 DraftKings | $11,700 FanDuel)
Thomas is the complete package and has flown a bit under the radar with the success of Dustin Johnson and Jon Rahm at the end of last season. It's easy to forget that he won six starts ago at the WGC FedEx St. Jude Invitational and finished T-3 (without strokes) at the Tour Championship before his T-8 at the U.S. Open in his past two starts. Per the RickRunGood.com golf database, no golfer in this field has averaged more strokes gained tee-to-green than Justin Thomas since the tour's restart in June. It's also worth noting that nine of his 13 career PGA TOUR victories have come in small field/no-cut events.
High Upside: Scottie Scheffler ($8,800 DraftKings | $9,800 FanDuel)
It's true that Scheffler is coming off a missed cut, but it's a little difficult to blame a guy who shoots 69-67 (-6) and fails to make the weekend. That cut line was one of the lowest in recent memory, and some guys played well and were just on the outside looking in on Friday evening. However, that might help keep Scheffler's ownership down, while we are only a handful of starts removed from Scheffler putting his name at the top of every leaderboard. He had a run from the Memorial to the Tour Championship (six events) in which he didn't finish outside the top 22 with three top-four finishes. He's especially valuable in fantasy formats where his ability to make birdies is weighted.
Safest Option: Louis Oosthuizen ($8,500 DraftKings | $9,700 FanDuel)
Despite Oosthuizen's lack of tour victories, he's worth a look this week based on his excellent run of golf. He's made the weekend in nine straight events and has tallied four consecutive top-25 finishes. He finished on a heater at the Shriners last week, firing a 64 on Sunday, the round of the day. That sweet swing is certainly in great shape at the moment, and there's no reason to think it'll slow down at Shadow Creek.
Most Likely To Disappoint: Jason Day ($8,300 DraftKings |$9,300 FanDuel)
There was growing optimism for Jason Day as he piled up four consecutive top-10s from the Workday Charity Open to the PGA Championship. Unfortunately, that optimism has dwindled with his past four results. He's missed the cut twice, including last week, finished 64th at the BMW Championship and finished T-38 at the U.S. Open. The missed cut last week was particularly ugly. He lost 3.17 strokes around-the-green and another 1.5 putting. That's supposed to be the strength of Day's game, and if he can't get up and down around TPC Summerlin, Shadow Creek is really going to test him.
Pick To Win: Sungjae Im ($8,700 DraftKings | $9,900 FanDuel)
The play we've seen from Im recently is much more reminiscent of his form in March when he won the Honda Classic and followed it up with a third-place finish at the Arnold Palmer Invitational. Per the RickRunGood.com golf database, Im gained 9.21 strokes from tee-to-green last week, which was third best in the field. That's the most he's gained in a single event since— you guessed it—those two events in March. Im has elite level talent that can compete in any field, and it seems as if he's trending in the right direction.
High Upside: Si Woo Kim ($7,100 DraftKings | $8,300 FanDuel)
Another solid week at the Shriners for Si Woo Kim, who now has three top-15 finishes in his past seven starts. It's hard to pin down Kim on a weekly basis, because some weeks he will be amazing on approach and others he will chip his way to success. But he seems to find a way to "pop" fairly often. He's played the CJ Cup on three occasions with top 25s in his past two starts. Obviously this event will not be held at Nine Bridges, but there's certainly something to be considered with similar field compositions.
Safest Option: Brian Harman ($7,200 DraftKings | $8,300 FanDuel)
Brian Harman kept himself in contention for the vast majority of last week's Shriners Hospitals For Children Open. His T-13 marks the eighth consecutive cut made for Harman, who has three top-15 finishes in his past five starts. We don't have much information about Shadow Creek, but early reports indicate it plays shorter than the 7,500 yards listed on the scorecard and will reward second-shot players. If true, both of those things are very good for Harman.
Most Likely To Disappoint: Jordan Spieth ($7,300 DraftKings |$8,400 FanDuel)
Spieth is in this field on a sponsor's exemption, which is not something that I ever really expected to type. I'm still a believer that Spieth will "find it" at some point in the future, but there's little to be optimistic about right now. He's missed his past three cuts and hasn't cracked the top 30 in any of his last six starts. He's been bleeding strokes with his driver in that six-start stretch, and even his trusty putter has been acting up. Per the RickRunGood.com golf database, Spieth has lost strokes putting in each of his past five starts. I couldn't find another instance of him doing that in his career.
Pick To Win: Shane Lowry ($7,600 DraftKings | $8,800 FanDuel)
It's difficult to pick winners from this section of the board, considering these events usually end up with "studs" raising the trophy on Sunday afternoons. However, Lowry has provided plenty of upside in deeper events during his career. We all remember the 2019 Open Championship victory, but more recently, Lowry finished T-6 at the WGC FedEx St Jude Invitational and played well last week at the European Tour's flagship event, the BMW PGA Championship. Lowry faded on the weekend but was still able to lock up a T-13 finish in a field that included plenty of top players in the world.
High Upside: Cameron Smith ($6,800 DraftKings | $8,100 FanDuel)
It had been a struggle for Smith, statistically, since the tour's restart. However, we are starting to see signs of life again. He has four top-25 finishes in his past five events and has found great success at The CJ Cup in the past. He's finished third, seventh and third in his past three starts at this event. Obviously, we are playing a brand-new course, but it will be a similar strength of field and similar format. There's no reason to think that Smith will blink when he shows up on the grounds of Shadow Creek and sees the top players in the world.
Safest Option: Adam Hadwin ($6,700 DraftKings | $7,900 FanDuel)
Similar to the argument for Brian Harman, if Shadow Creek plays shorter than the scorecard and favors those who hit their irons well, Hadwin should be able to manage just fine. He's only missed two cuts in his past 19 events, and while this week won't have a cut, that's an indication that he routinely plays better than the majority of the field. His upside might be capped unless he catches a really hot putter, but Hadwin should be able to provide a decent floor.
Most Likely To Disappoint: Kevin Na ($6,700 DraftKings | $8,000 FanDuel)
I could go either way on Na, but I think he will still get a bit of the "Vegas Boost" this week. However, while Shadow Creek is technically in the middle of the desert, it won't play like it. This is a lush course with plenty of trees, in stark contrast to what we saw at TPC Summerlin last week. Also, Na finished last week with one of the worst rounds we've seen from him in quite some time. He shot a 76 (+5), was terrible with his irons and couldn't buy a putt. It's possible that was just an outlier, but Na is so volatile, I'm not prepared to invest again this week.
Pick To Win: Mackenzie Hughes ($6,800 DraftKings | $8,200 FanDuel)
I love everything that Mackenzie Hughes is doing right now. Since the tour's restart, no golfer under $7,000 has gained more strokes per round than Hughes. Per the RickRunGood.com golf database, he's gained 0.86 strokes per round in that stretch, but that number is likely significantly better. He finished third at Corales Puntacana in his last start, but there was no ShotLink data, which is the PGA Tour's method of collecting strokes-gained metrics. If we included that great finish, Hughes would be even better than the 0.86 strokes that he's boasting right now. He's proven that he won't back down from tough courses and deep fields, so Hughes will be a big part of my lineups this week.