Takeaways
Chris Kirk's surprising post-round activity, a Monday qualifier's interesting potential purchase, and a former teen phenom's dazzling iron display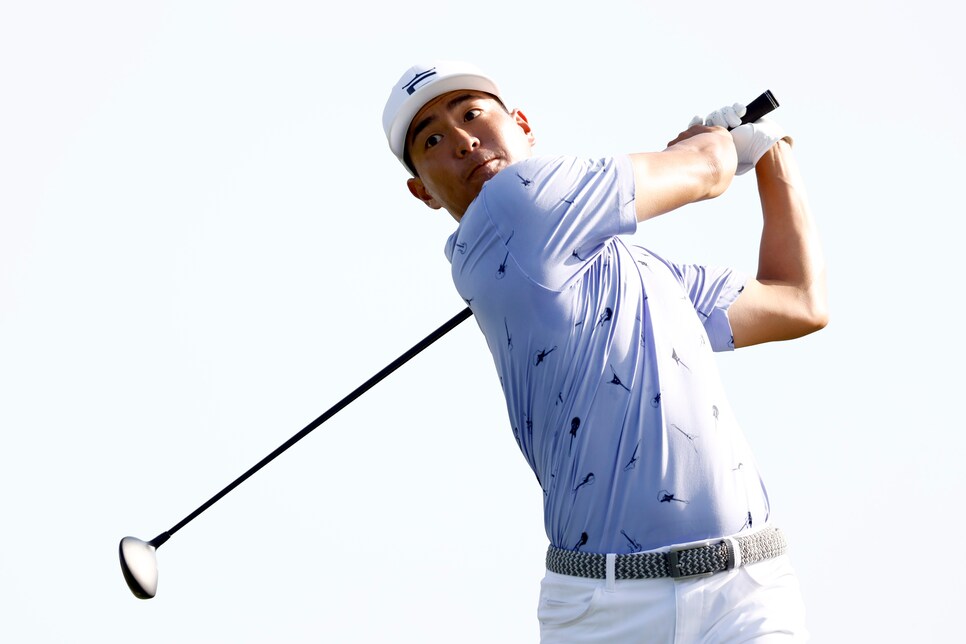 Justin Suh hits his drive on the fourth hole during the second round of the Honda Classic.
Douglas P. DeFelice
Justin Suh had to be ecstatic with a second-round 64 at PGA National that put him on top at the halfway point of the 2023 Honda Classic. The only negative was that it meant he'd be asked that question once again.
In case you're unfamiliar with Suh's career, the former World No. 1 amateur is part of the Class of 2019, which arrived on the PGA Tour with the hype of The Beatles. Only, that year's headliners quickly changed from a foursome to a trio as Matthew Wolff, Collin Morikawa, and Viktor Hovland all found immediate success while Suh struggled upon turning pro.
The USC product has taken a bit longer to find the top of a PGA Tour leaderboard, but after a stellar 2022 on the Korn Ferry Tour highlighted by a win at the season finale, he's finally a full-fledged rookie. Still, the 25-year-old gets some variation of a question about his more successful (so far) classmates every time he steps in front of reporters.
Q. You came out with that acclaim, the foursome of rookies at the same time, and obviously you had the injury and you saw all those guys have success. What was it like for you to know that you could kind of have that same success, and what's that journey been like the last few years for you?
"Yeah, I think I've answered that question since I've graduated," Suh said. "It's kind of reassuring every time because for me, I never really let it get to me. Obviously they had immediate success, and it was cool watching them play so great. But for me, I knew I needed to improve. I think for me, I just kept my head down and worked on my game."
"Everyone is on a different path, and I think all I'm focused on is just improving on a daily basis," he added. "That's kind of all I'm focused on."
After an opening 66, Suh improved by two shots on Friday to grab a one-shot lead over Chris Kirk entering the weekend. And although this is an unfamiliar position for him, he has played well of late. After missing his first three cuts of his rookie season, Suh has played the weekend in his last nine starts, not including a WD at Pebble Beach with a shoulder injury after only eight holes.
"It feels good," Suh said of leading. "I think we've been trending in the right direction. Every week I've been improving and just certain spots, and I think it's gratifying just to see the progressive work pay off."
Oh, and speaking of rock bands, how about that guitar-themed golf shirt? Not that Suh even noticed.
Q. Which of the guitars on your shirt do you think you can play?
JUSTIN SUH: I don't know. I honestly didn't realize these were guitars until like the middle of the round.
Q. Anybody say anything about them or about the shirt?
JUSTIN SUH: Not yet. You're the first one.
Hey, at least it was a different question than the one he's been answering the past four-plus years. In any event, here are four other takeaways from Friday at the Honda Classic.
Chris Kirk's surprising post-round activity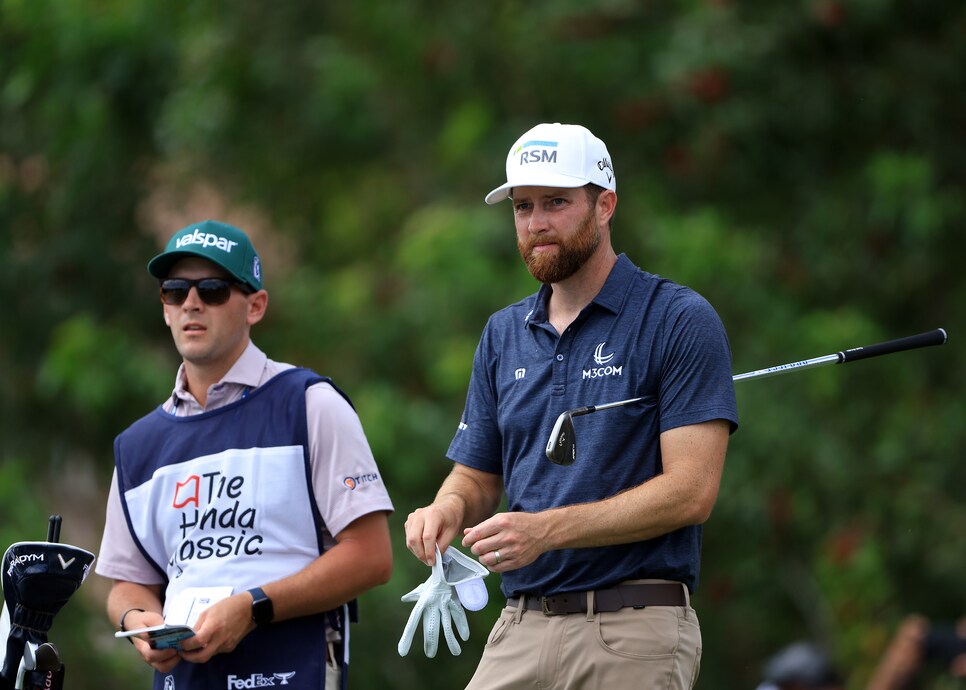 Chris Kirk prepares to hit his first shot on the 15th hole during the second round of the Honda Classic.
Sam Greenwood
After an early 62 that guaranteed a late Saturday tee time, Kirk was asked about his post-round plans. The four-time PGA Tour winner said he'd probably spend part of the long break by getting in a little long toss.
"I'll go back to the house and take a nap for sure. Maybe a little workout, maybe throw the baseball a little bit," said Kirk, whose last PGA Tour win came nearly eight years ago. "I do that a lot. Sleep in tomorrow and hang out. I'm pretty good at killing time."
Kirk explained that he's always loved baseball and that he has a trainer who works with a lot of ballplayers. But if you're backing Kirk this week, don't worry. He always travels with balls and gloves. And it's not like the 37-year-old is going to be throwing extensive batting practice.
"No, I'm careful," said Kirk, who is one behind Suh through 36 holes. "I don't think I can throw it hard enough to really hurt myself anyways."
A Monday qualifier has his eye on a . . . violin?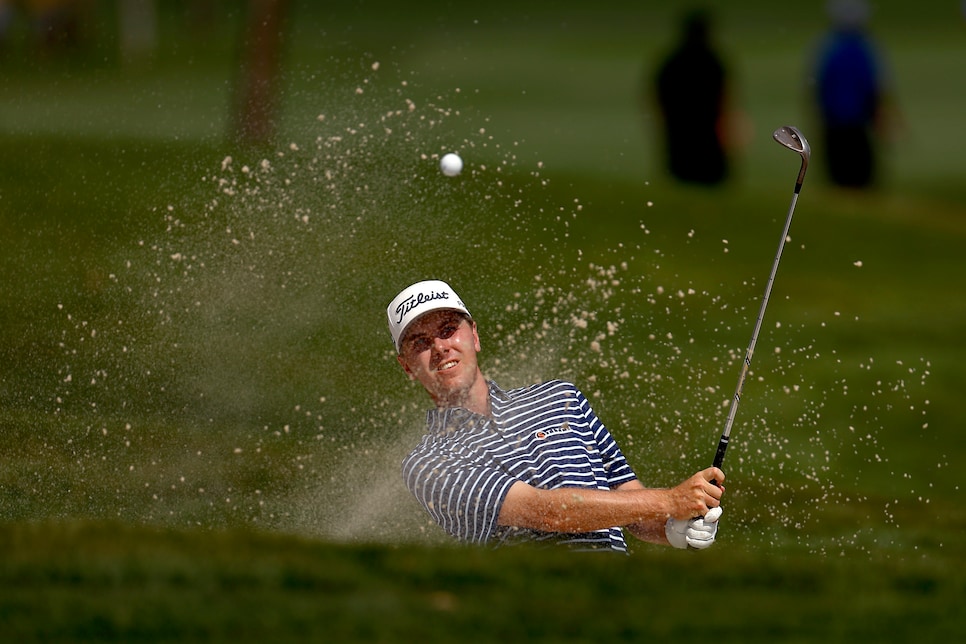 Ryan Gerard blasts from a bunker on the 10th hole during the first round of the Honda Classic.
Douglas P. DeFelice
How about Ryan Gerard? The UNC product is making just his second career PGA Tour start this week (he missed the cut at last year's U.S. Open) after Monday qualifying by getting through a five-for-three Tuesday playoff. And yet there he is tied for third at eight under, two shots off Suh's lead.
We're guessing there weren't too many reporters at PGA National who knew much about the 22-year-old when he met with them after his round of 63. But at least one person did some homework by digging up Gerard's UNC bio and asking about the part that says he likes to play violin.
"It's been since high school," Gerard said. "I don't own one. I was renting one. They're pretty expensive. But if I win this week, I might buy one (smiling)."
Two more 63s and he can afford to buy just about any violin he wants.
A Ryder Cup captain lurks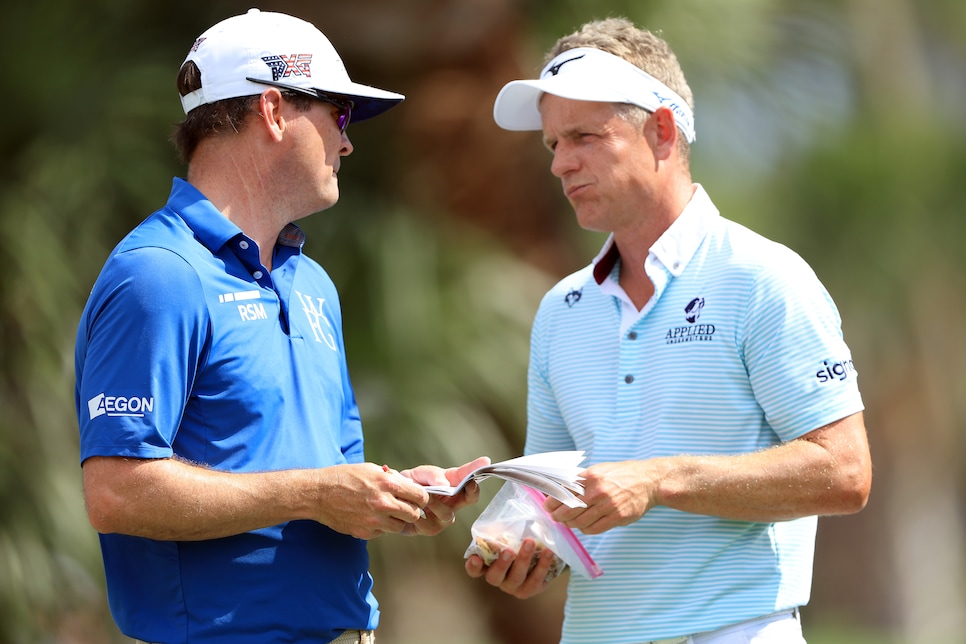 Zach Johnson and Luke Donald chat on the seventh tee during the first round of the Honda Classic.
Sam Greenwood
Happy birthday to Zach Johnson! The 12-time PGA Tour winner and current U.S. Ryder Cup captain celebrated the big 4-6 today by firing a nice little 67.
Pair that with an opening 68 and Johnson is tied for 10th heading into the weekend. But he'll be sorry to break up the threesome he played with the first two days.
"Yeah, awesome, phenomenal pairing," Johnson said of playing with European Ryder Cup captain Luke Donald and former Euro captain Padraig Harrington. "I'd take it every week. Two good buddies, two awesome champions. . . . two tremendous individuals. Very, very happy, encouraged, and I'd say honored to go through this Ryder Cup endeavor with Luke and Diane and my wife. It's special. The Donalds are amazing, and we've already gotten a little bit closer, I'd say, and certainly excited for what's going to transpire in the next six, seven months."
Hey, you know what they say about keeping your friends close and your enemies closer. Savvy move, Zach.
And so does a former teen phenom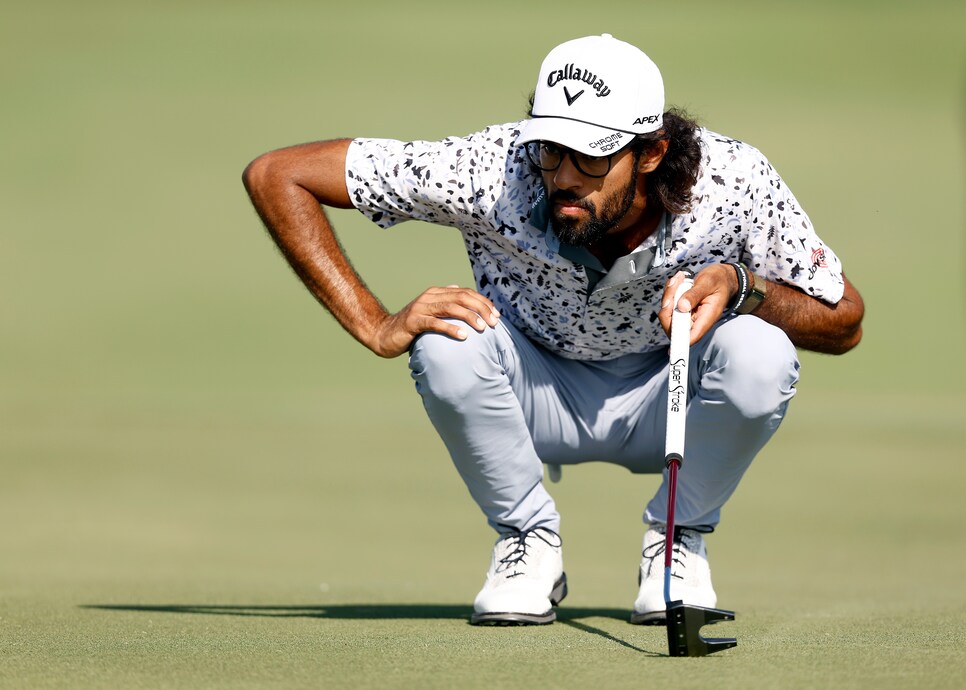 Akshay Bhatia lines up a putt on the third hole during the second round of the Honda Classic.
Douglas P. DeFelice
Akshay Bhatia, a quarter century younger than Johnson, put on an absolute ball-striking display at PGA National by hitting 17 of 18 greens on his way to a second-round 65. The former teen phenom who skipped college to turn pro leads the field in strokes gained/approach, gaining more than six shots in that metric.
And while he was surely disappointed not to earn his PGA Tour card last season—especially after an early Korn Ferry Tour win—Bhatia, who turned 21 last month, is clearly starting to feel more comfortable in his starts on the big tour. He's now made the cut in all three and has shot in the 60s in eight of 10 rounds, including a 63 at the RSM Classic in November.
But now he's in position for his best PGA Tour finish ever. And with a Saturday tee time in the vicinity of Zach Johnson, it's never too early to get your name out there as a potential future captain's pick.