Bonnie and Ride
Chiefs superfan "ChiefsAholic" arrested for robbing banks to fund Chiefs tickets in deadline entry for story of the year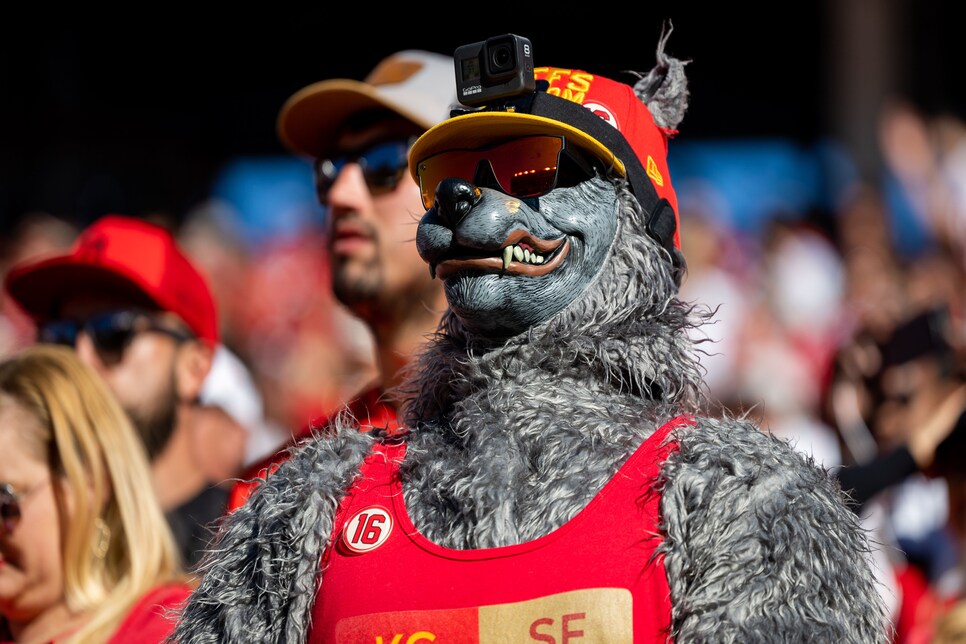 There's just over a week remaining in 2022. We're down to the wire. In all categories across the internet—music, movies, knitting, sports—the best-of-year nominees have been filed, the votes tabulated. Various "Wrapped" recaps have arrived and been hung from the chimney Instagram with care. But it's never over till it's really truly over, and on Monday evening a new contender for Most Unhinged Sports Story of the Year kicked down the door like Ol' Saint Nick on a bender. It goes something like this:
"ChiefsAholic," a beloved Chiefs superfan known for attending each and every game at Arrowhead in a wolf mask, was a no-show at Sunday's game versus the Texans. He had also gone dark on his usually active social media accounts. Chiefs fans on reddit began to worry—maybe his car had flown off the road and down an embankment and he was now being held captive by even more deranged Chiefs fan like poor Jimmy Caan in 'Misery.' So they began their search.
They looked high and low, near and far. They scoured hospital records and shook down informants. Eventually they found ChiefsAholic alive and well … in prison.
But wait, it gets better. According to police reports, ChiefsAholic was arrested after an attempted bank robbery in Bixby, Oklahoma, nearly 300 miles away. Initial rumors even suggested that ChiefsAholic wore the same wolf mask to rob the bank that he wears to Arrowhead on Sundays.
That particular detail was eventually debunked, but the recent social media activity of ChiefsAholic suggests that not only was this not an isolated incident, but that his motivation for robbing banks was laregly to fund season tickets and Chiefs parlays, which, as we all know, can really add up.
Forget 30 For 30s, this is the stuff Hollywood blockbusters are written about. Unfortunately for ChiefsAholic, it sounds like he'll be watching the Chiefs stretch run from behind bars this season. If he does manage to post bail by the AFC Championship, however, then look out. It might be the lift Mahomes and co. need to get back to the Super Bowl.