Television
'Probably not for me': Feelings mixed among top pros regarding CBS' new mic'd up segments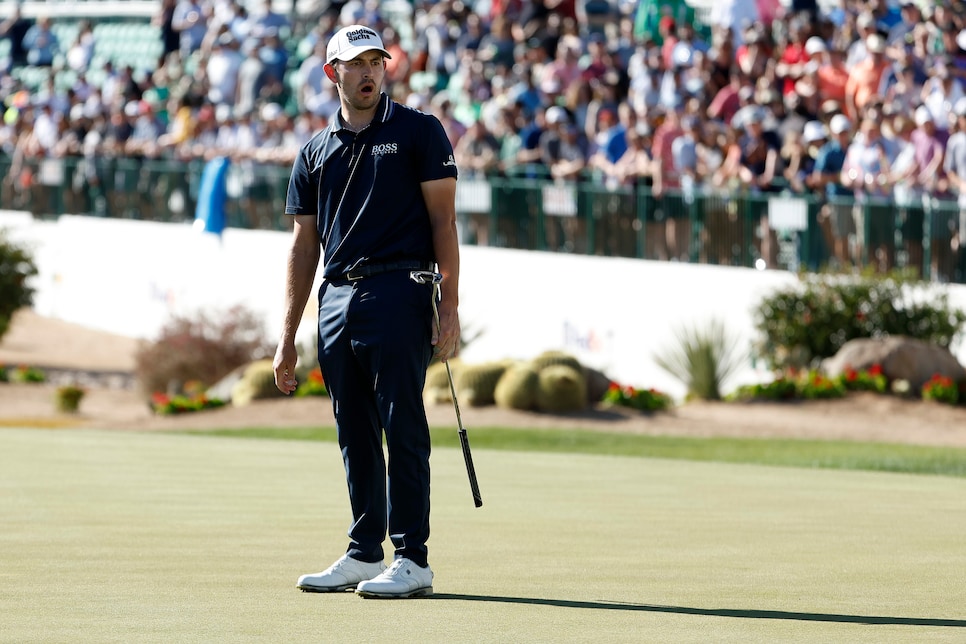 SCOTTSDALE — To the surprise of no one, CBS' new one-hole "mic'd up" segments on each of its past two PGA Tour broadcasts have been a smash hit among ardent and casual golf fans. It helps that the first one featured Golf Twitter favorite Max Homa on the 13th hole at Torrey Pines, and Keith Mitchell wasn't too shabby himself on the third hole at Pebble Beach last Sunday.
The question then was: Could CBS get the highest-profile stars, such as Rory McIlroy, Jon Rahm or Jordan Spieth, to throw in AirPods during a tense round and chop it up on the air? That's not a slight to Homa or Mitchell, who might be better at chatting it up and providing insight on the go than some of the more guarded players on the PGA Tour.
But fans are always going to want more, to hear from the best of the best. Good news is, they will next week at the Genesis Invitational at Riviera. Two-time major winner Collin Morikawa confirmed on Wednesday he's already agreed to give it a try in L.A.
"I don't know if this is supposed to be a surprise, but I'm going to do it at Riv," Morikawa said. "It's not a maybe, I will be doing it. I'll leave it at that."
Morikawa wouldn't say what day or which hole, but noted that he put his name down specifically for Riviera, which makes sense given his familiarity with the place (Morikawa finished runner-up in the event last season).
"How it worked with Max [Homa] and everything … look, it's one hole," he added. "It gives you an insight. We talk about a bunch of stuff, but obviously when we're hitting our golf shots, we're talking about how things work. It's like listening to Eli and Peyton [on Monday Night Football], you hear an insight on how it actually works. Maybe you'll see different stuff you normally don't see."
Like Morikawa, McIlroy enjoyed what he saw and heard from Homa and Mitchell. Enough to give it a go himself? Definitely … maybe.
"I thought they were very good," McIlroy said. "It's very unobtrusive; you just put an AirPod in your ear and just have a chat with the guys in the studio.
"It would take a little bit of convincing for me. But given the last couple of weeks and how well I think it's been received, I'd certainly be open to it."
Given McIlroy's penchant for saying whatever is on his mind, he'd be a perfect fit. So would Patrick Cantlay, who has become a far better quote than he's given credit for over the last handful of years on tour. He's also as dialed in as they come when he finds himself in contention, which is part of the reason he seems less inclinded to do it.
"Probably not something for me," he said. "But I think it's great that those guys who want to do it are able to give those insights while they're out there playing."
Scottie Scheffler was asked to do something similar multiple times when he was out on the Korn Ferry Tour, and each time he declined. Similar to Cantlay, focus on the task at hand is paramount for the World No. 2 when he's out on the course, though he didn't dismiss it entirely going forward.
"I usually try to do my best to stay in the moment and kind of forget about everything else that's going on around me," Scheffler said. "So that would be something I'd have to really think about, which I haven't done yet, but maybe I will more in the future. I haven't been approached yet, so I haven't really had to think about it. Maybe I will now. We'll see."
Two-time tour winner J.T. Poston, who has a nice dynamic with caddie Aaron Flener, would likely be sneaky good breaking it down on the mic. He'd certainly be open to it, though there's a time and a place.
"I think it would be fun; it is a good thing to give the people watching an idea of exactly what's going on," Poston said. "You saw with Max, definitely saw it with Keith, going through pre-shot stuff. I think it's cool. It's just one hole. It's foreign to a lot of us, we're not used being mic'd up. I think if you're in contention … me personally, I'd rather do it earlier in the week."