Television
CBS mics up Max Homa at Torrey Pines, and he promptly gets into rules situation and makes perfect Patrick Reed joke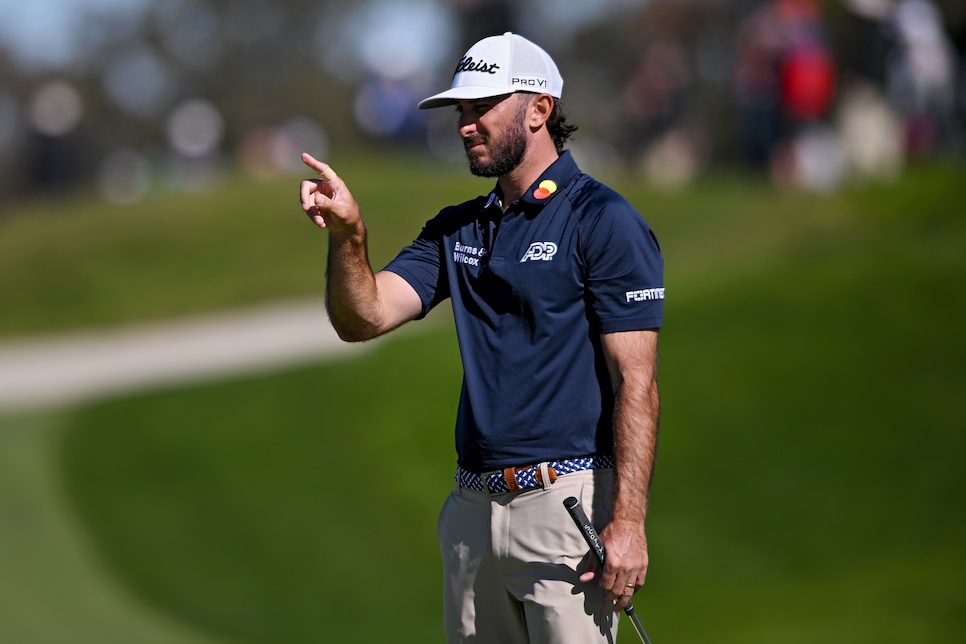 During a recent appearance on the No Laying Up podcast, Max Homa alluded to the fact he has recently been working with the PGA Tour on the "entertainment" side of professional golf. Homa said he'd been bouncing some ideas around, and that one would be put into effect soon, but wouldn't say which.
On Friday afternoon, we found out what Homa was talking about when CBS announced it would be mic-ing the five-time PGA Tour winner up on the par-5 13th hole in the third round of the Farmers Insurance Open. Being the personality he is, Homa was the perfect guinea pig for the experiment, and it certainly helped that he was in contention. (He shot 71 and finished at seven under to be tied for fourth.)
To the surprise of no one, Homa delivered the goods, rocking a pair of Airpods and walking and talking with CBS analysts Trevor Immelman, Frank Nobilo and Ian Baker-Finch for much of the mammoth 595-yard par 5. The interview began with Homa talking about how he predominantly plays a cut off the tee, making the hole, which calls for a draw, a bit awkward for him. Homa had just played a buttery cut and said his coach and caddie only let him hit a draw "maybe once a day, maybe once a week, and this was not the one."
He followed that up by going through his thought process for his upcoming second shot, a long uphill approach that requires a 3-wood for those going for the green in two, with six bunkers fronting the putting surface. As is the case with most tour pros, Homa was focused on where the best place to "miss" was, rather than the pin. The full video of this exchange can be viewed below:
It only got better from there. With Homa having to wait for the group to clear the green ahead, Immelman asked him where he allows his mind to go when rounds get stalled like they so often do on the PGA Tour. Homa was as candid as usual.
"Man, it's a myriad of things," Homa said. "Part, I wish I had your [Immelman's] accent; part, I hope I hit this well; part, what am I going to do after with my kid. So, I think it just kind of goes around, but I try to lock in maybe the last minute or so before I hit. It's hard to think just golf for five, five-and-a-half hours, so fortunately they give us time to sit here and practice that as I watch Collin [Morikawa] putt up on 13 green."
Once he got his number, Homa said he felt good about the shot, and that the two misses would be the front two bunkers. He appeared to hit a good one, but it came up well short, seemingly in one of those front two bunkers from Homa's vantage point. "I mis-hit hit, didn't hit it solid. Decided to whiff it," Homa said before getting in a shot at CBS on-course reporter Colt Knost:
What Homa came to find out was that his ball was actually in between the two bunkers left of the green, and it was in a gnarly lie. "Yikes," Homa could be heard saying on the mic. The ball appeared to be plugged, so he called over a rules official and marked it with a tee. He then put both hands in the air and said "not gonna touch it," causing Immelman to burst out laughing. For those who don't recall, Patrick Reed's embedded ball fiasco took place in the 2021 Farmers Open. It was a perfect storm of golf content coming together in one mic'd up moment.
"That is a gem of a lie," Homa said.
Mark Dusbabek, CBS's rules and video analyst, explained Homa's options, saying he was entitled to mark the ball and lift it to check if it broke the surface of the ground, which would allow him free relief. Unlike Reed in 2021, however, Homa waited for a rules official before he actually touched the ball.
Once the rules official told him to lift it, Homa did and he was granted free relief. His first and second drops rolled into the bunker, allowing him to place it within one club length of its original spot. "How much can I press on this?" Homa asked, referring to the ground. "Kind of like you're putting it down on the putting green," the rules official responded.
Once the ball was declared in play, Homa had one last question. "Now, just so I understand this, the new rule for 2023 says that if [my ball] rolls there [into the bunker], I can replace it, no penalty? The rules official clarified that was correct as long as he didn't cause it to move.
"I'm exhausted," Homa said afterward.
Homa went on to save par, staying firmly in the mix late in the third round, then signed off after some A+ television. Hopefully, the tour keeps implementing some of Homa's ideas, because this first one was a home run.