From the Magazine
Case of the Mondays: The tragedies and triumphs of PGA Tour qualifying rounds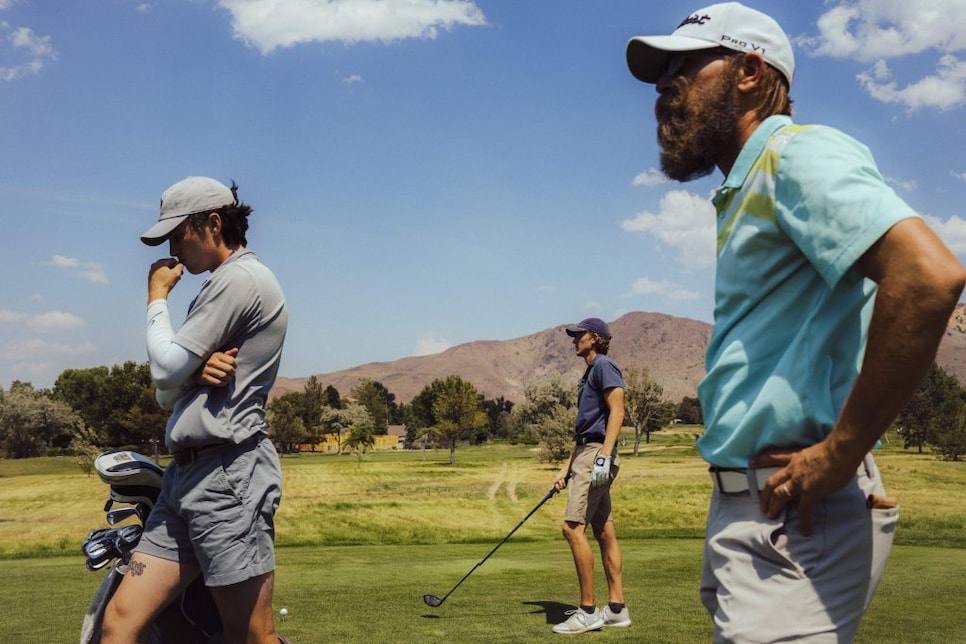 As a kid, I was a golf nerd. I pored over the scores and prize-money lists in newspapers and golf magazines. The Internet only expanded my nerdiness. After I finished college my dad and I took annual trips to caddie on a mini-tour. I became friends with some of the players, and it led to other caddieing opportunities on the now Korn Ferry Tour and at Monday qualifiers. I love seeing what the players go through—the sacrifice they make to chase their dreams is astounding. Three years ago I started @acaseofthegolf1 on Twitter to tell those stories, and I'm lucky to have turned it into a living at The Fire Pit Collective. At age 44, I'm living my dream. When Golf Digest asked me to share some of my favorite Monday-qualifier moments from covering them the past three years, I was happy to oblige. I hope you enjoy them. —R.F. (Photos by Mark Davis)
FROM AVERAGE JOE TO THE SHOW
Todd Balkin has managed a pizza restaurant and served as an assistant pro at a club in Texas giving lessons and picking up range balls. Now he sells insurance. Once he teed it up in a PGA Tour event.
There is nothing in professional sports quite like a Monday qualifier. There isn't a free-throw contest each Monday to see if you can suit up for the Los Angeles Lakers for a game. Major League Baseball doesn't conduct a home-run derby to give fans a chance to play for the Yankees for one night. There has never been a stickhandling competition to line up at center for the Detroit Red Wings. In golf, a Monday qualifier is essentially the equivalent of those things.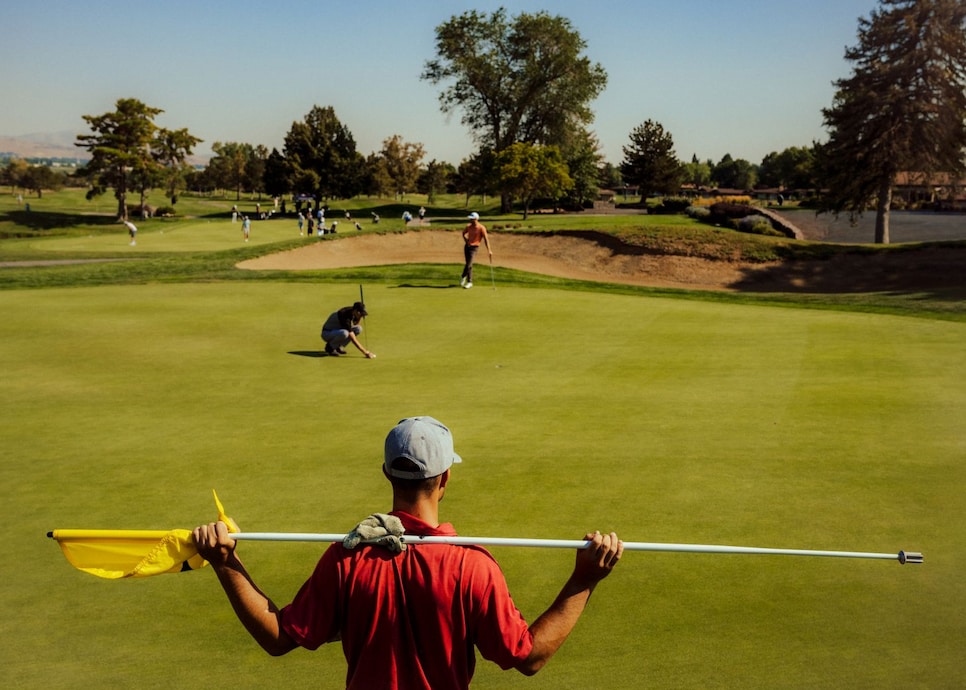 Qualifiers are generally played at a course near the PGA Tour site on the Monday before the tournament begins. (Photographs by Mark Davis)
If you have a Handicap Index of 2.0 or better and are willing to pay $450 to play a mediocre course, you can play in a Monday qualifier. On the PGA Tour, you have to get through a pre-qualifier to play in the Monday qualifier, but that's not the case for the Korn Ferry Tour. No one checks your résumé, and you don't have to be a former college All-American. Once you are entered, just shoot one of the best four scores of the day, and you're on the PGA Tour for the week, playing for a million dollars. You can be an everyday Joe. You can be Todd Balkin.
The Sunday before the Monday qualifier for the 2019 Byron Nelson, Balkin could not play a practice round because he had to open the golf shop to give a few lessons. Like most assistant pros, he was working 50-plus hours a week. It's not an ideal way to prepare to play against former PGA and Korn Ferry tour winners. Balkin had shot 69 in the pre-qualifier (the minimum that usually gets a player through) to advance to the Monday.
The next morning, he headed out to play, hoping the caddie he brought who had played the course could help. He did, and Balkin birdied two of the last three holes. The final putt was a 15-footer that curled in for a 67, and when he turned in his card, he was in a qualifying position. The last few groups came in, and no one matched the 67. He was in the Byron Nelson.
"No matter what happens, I'll always have the practice round with Sendo [John Senden], Rafa [Rafael Cabrera-Bello] and Tom [Tom Hoge]," Balkin said. "They were great."
Balkin shot 75-74 and missed the cut by nine but said he isn't sure it mattered. "The whole thing was an amazing experience," he said. "I soaked up every second of it."
Balkin might never tee it up in a PGA Tour event again and probably doesn't have the talent to play professionally, but he can show his kids his player credentials and tell them about the week he walked the same fairways as golf's best.
TWO NEAR-DEATH EXPERIENCES
In Jay McLuen's journey to the PGA Tour, both he and his wife, Reye, have been clinically dead.
On Oct. 7, 2017, Jay was watching TV with his two young children. Another trip to Q school was days away when his heart stopped. Jay went into cardiac arrest. Fortunately Reye was home, and she called 911. The paramedics revived him. On the way to the hospital, his heart stopped again. It would take seven tries with the defibrillator to revive him, but he survived and ended up needing a pacemaker. "I've yet to be in an event where I'm not the leading pacemaker," Jays jokes.
After a recovery of about six months, he slowly resumed his dream of playing on the PGA Tour. But then tragedy struck again. Jay was out on his brush hog in May 2020 when he ran over some barbed wire, and it wrapped around the machine's blades. After notifying Reye and putting the tractor up on hydraulic jacks, they climbed under the machine to cut the barbed wire away. Then one of the jacks gave way, leaving Jay and Reye pinned underneath.
Jay screamed for his 7-year-old daughter, Miller, to get the neighbor. The neighbor used his tractor to lift the brush hog off of them. Jay was not injured, but Reye was purple. She had stopped breathing. The neighbor was trained in CPR, and with Jay's help, they revived her. An ambulance transferred her to the hospital. Reye had a collapsed lung, and there were moments when the medical staff wasn't sure she would make it.
In September 2020, during a practice round for the Sanderson Farms Monday qualifier, Jay walked off the course, frustrated with his game. The range session that followed didn't produce better results. Expectations for the next day were low, and then golf happened. Jay shot a 66 that ended with a spot in the Sanderson Farms Championship. He made the cut and finished 63rd, but with no status he continues to chase Mondays.
For Jay, 41, and Reye, life seems normal again, and everything they have been through has tempered Jay's outlook. "When you've performed CPR on your wife," he says, "10-footers for par don't seem as important."
AN UNLIKELY CHAIN OF EVENTS
Corey Conners became the first player since 2010 and only the fourth in PGA Tour history to win after Monday qualifying at the Valero Texas Open in 2019, but that is only a part of the story. His career highlight to that point almost didn't happen.
At the Corales Puntacana event the week before the Valero, Conners was near the cut line on Friday. The course was playing relatively easy, and he just needed to play the closing nine holes in one under. He had some opportunities, but his putting cost him, and he shot one over, missing the cut by two. It was the most critical missed cut of his career. If he had made the cut, he would not have been able to catch a flight to get to the Valero Monday qualifier. (He had conditional status on the PGA Tour at the time, so he would try to Monday qualify for any tournaments for which he wasn't exempt.)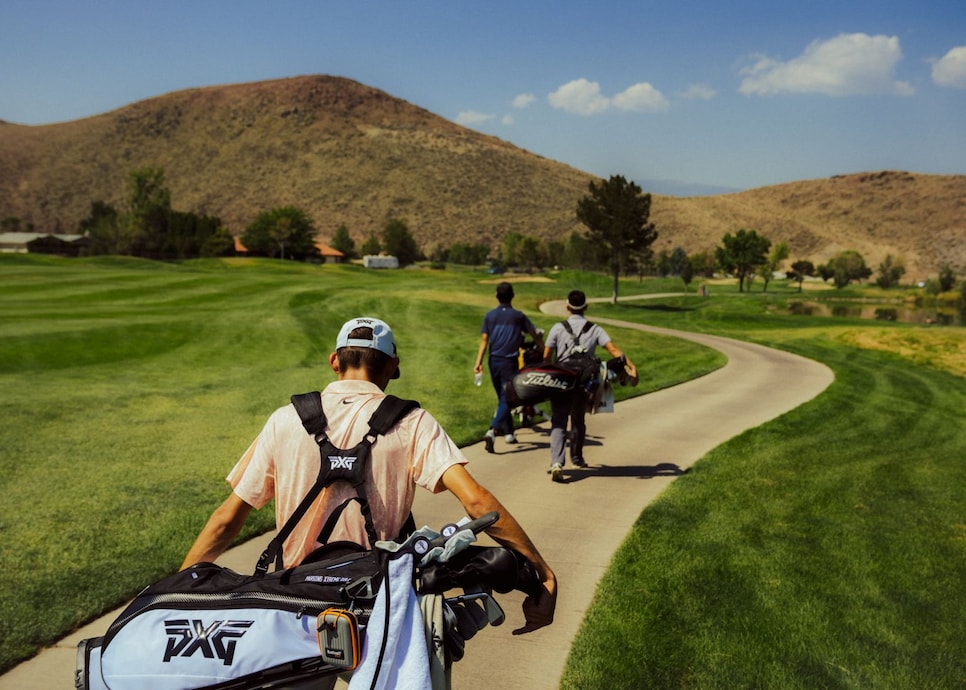 You won't find many fans or caddies at Monday qualifiers.
Conners quickly changed his flight to make it to Texas. Chase Hanna, another player in the Valero Monday qualifier, had hit a second shot on the par-5 13th that left him about two feet for eagle, which would put him at five under. This was the first year you could leave the flagstick in while putting, and Hanna went to finish with the pin still in. The flag must have been leaning toward him, and somehow his eagle putt stayed out. A player in his group after the round said, "I couldn't believe it happened." Hanna took the flag out, tapped in for birdie and finished at four under par.
Conners came to the last hole at three-under needing a birdie to get into a playoff. The 18th at The Club at Sonterra is a difficult 416-yard dogleg par 4. Only seven players birdied it, and 20 made bogey. An average drive and approach left Conners 30 feet downhill for birdie. Miss the putt, and it was on to the next Monday; make it and join five others in a playoff. He made it.
The six would tee off together with only one getting the final spot, hardly great odds. On the first playoff hole, Conners hit a wedge to six feet. He watched as each of the other five players missed their birdie tries. Conners then stepped up and made the putt, ending the playoff.
That Sunday, Conners, then 27, became the first player since Arjun Atwal at the 2010 Wyndham Championship to win on the PGA Tour after Monday qualifying. His final-round of six-under 66 included 10 birdies to offset a string of four straight bogeys.
Reflecting on his wild week, it was a missed cut, a missed tap-in and an unlikely 30-foot bomb that changed his career. The week after his victory, Conners teed it up at Augusta National for the Masters.
RULES-INFRACTION HEARTBREAK
Brady Sharp had finally made it back. After three surgeries in 10 months for Crohn's disease and another to remove a non-cancerous tumor in 2016, Sharp had Monday qualified for his second Korn Ferry Tour start. It was about to end a few holes in when he had to call a rules official.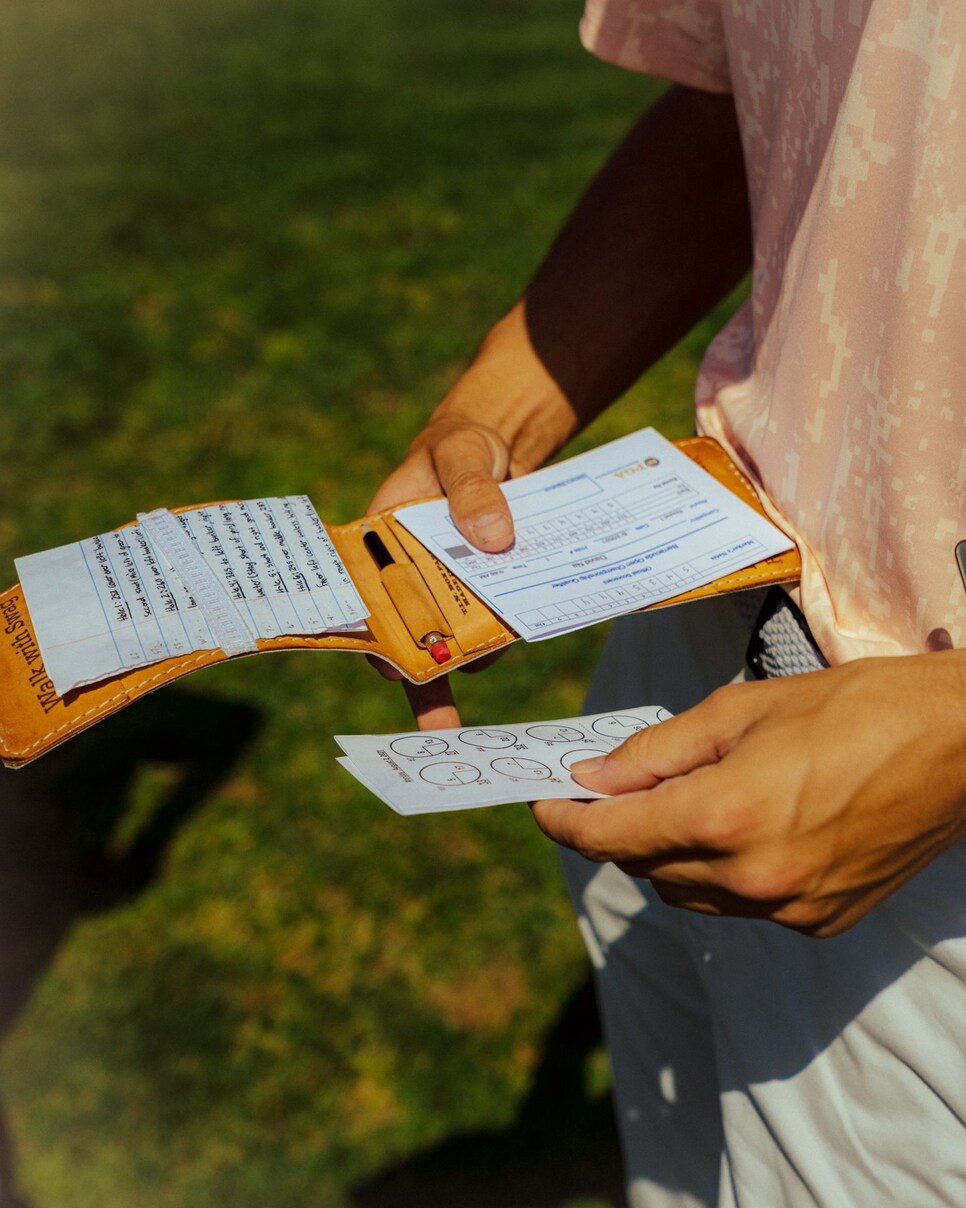 It takes a score of 66 or better, on average, to Monday qualify for the PGA Tour.
Sharp, now 35, turned professional 15 years ago after playing two years of community college golf. He took a job at Walla Walla (Wash.) Country Club and worked in the golf shop and didn't think playing full time was a possibility.
"It just seemed that something was always in the way; mostly it was financial," Sharp says. Some members at Walla Walla funded him for three years, and after enduring the struggles that almost all professionals go through, he finally broke through in 2018 at the Monday qualifier for the Korn Ferry Tour's Utah Championship. He would miss the cut, but it was an encouraging step.
Then Sharp got sick. Crohn's disease causes inflammation of the digestive tract and can result in severe pain, weight loss and malnutrition. After a long recovery, Sharp returned to Walla Walla and slowly got his game back. Eventually he felt confident enough to play some mini-tour events. Then in 2020, he shot a 64 to once again qualify for the Korn Ferry Tour's Utah Championship.
In almost every developmental tour tournament that pros play, range finders are allowed. They are even permitted in Monday qualifiers. Sharp reached for his on the first hole of the Utah Championship and used it again on the second hole when it hit him. Range finders are not allowed in Korn Ferry Tour events.
"I just had a brain lock," he says. "I play in so many events that allow them—it was just automatic."
Although no one saw him use the range finder, Sharp called for a rules official, and they discussed what happened. The penalty for using it? Disqualification. Six holes into his second-ever Korn Ferry Tour start, it was over.
Sharp is still chasing the dream of making it to the tour.
THE DESPAIR OF FALLING SHORT
On one side of the green, Donnie Trosper and his caddie were screaming, hugging and celebrating that they had just earned a chance to play his first PGA Tour event in his hometown. On the other side, Andres Echavarria was distraught.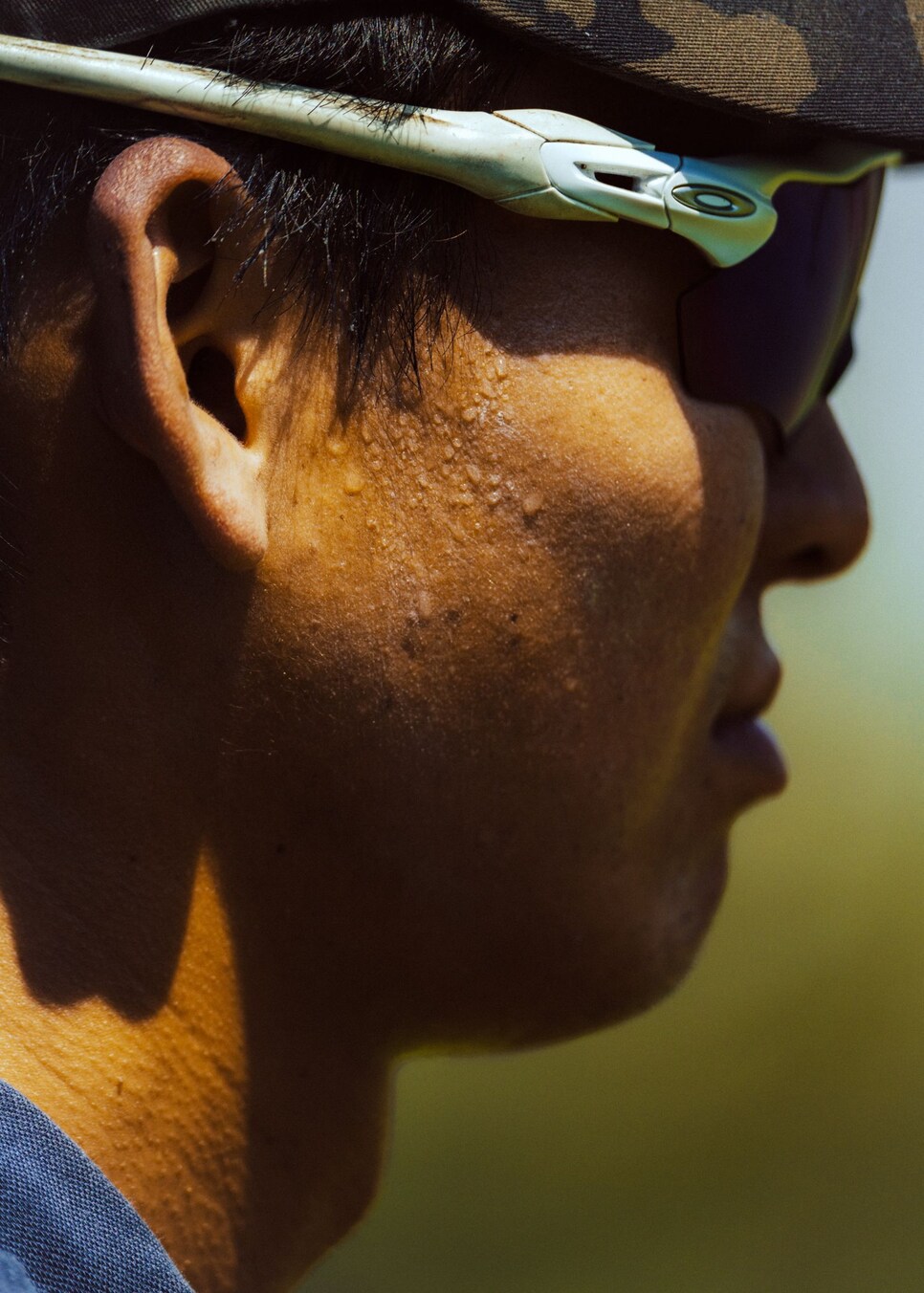 Mondays are all about posting a low score and hoping it holds up.
Only four players leave a Monday qualifier happy, and the closer a player gets to succeeding, the worse it feels to not make it. Echavarria doesn't have any tour status. The only way he can get into a PGA Tour event is to qualify. His 67 was good enough to get him into a four-for-one playoff for a spot in the Rocket Mortgage Classic in July 2020. The playoff was exceptional. Echavarria made a 15-footer—punctuated by a fist pump—on the first hole and then had an amazing up and down from a dirt patch on the second hole to extend the playoff. Then Echavarria had a five-footer for par to extend the playoff to a fourth hole, but this time he missed. Echavarria bent over and covered his face with his hands. The chance to tee it up for more than a million dollars just slipped by. As with most Monday qualifiers, there are few fans; during the pandemic there have been even fewer. Only five saw this drama unfold, and the third hole, a short par 4 over a small creek at Katke Golf Course in Big Rapids, Mich., is a long way from the clubhouse. It is even farther after missing a putt that ended a chance to play in a tour event.
Trosper and his caddie were shouting and high-fiving. Trosper turned on his phone, and his screen lit up with congratulatory texts.
Echavarria, 33, was walking with his caddie; he was hanging his head and shaking it. Neither said a word. Playoffs for Monday qualifiers are a place of two extremes. Win? Play for the opportunity of a lifetime. Lose? Wonder where professional golf will take you tomorrow. I approached him, and before I spoke a word, he said, "Not now, Ryan."
I watched him walk to his car, silently load his clubs and climb into the driver's seat. There was no plan. Maybe he would fly home and play a mini-tour event. "I'm sorry I walked past you; I was just so upset—still am kinda." That was the text message I got from Echavarria a few hours later.
He didn't need to apologize.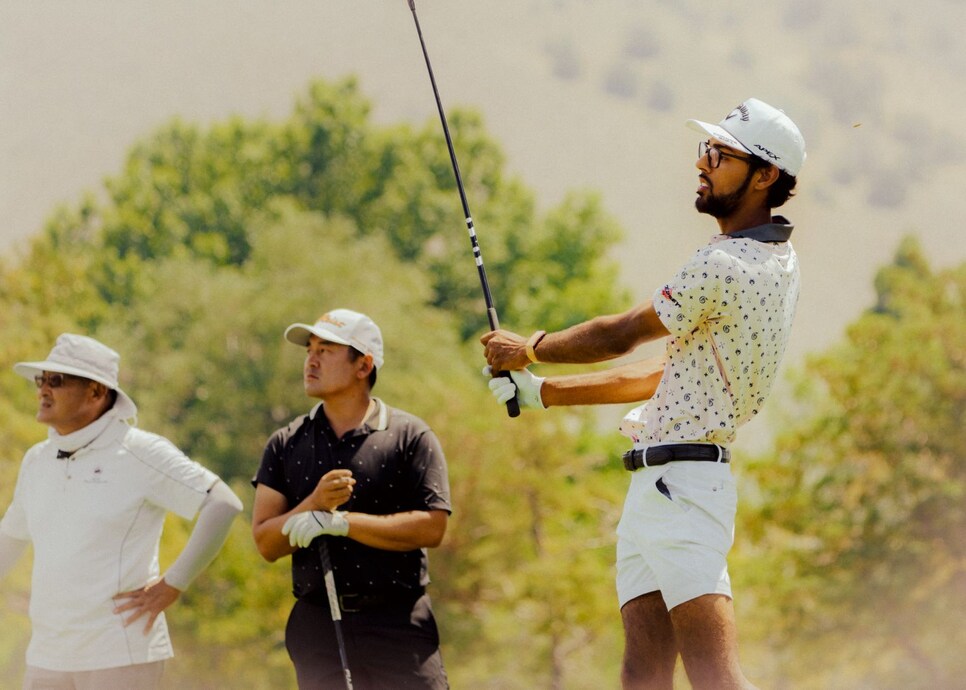 Monday qualifiers are a mix of newcomers like Akshay Bhatia, 19 (right), and former tour pros like Andrew Yun, 30 (middle).
MAKING A CAREER OF MONDAYS
Matt Short was recruited to play basketball at Lees-McRae, a small Division II school in North Carolina. There was just one problem: The coach Randy Unger was out of basketball scholarships. However, turns out Unger was also the golf coach, and he asked Short if he had ever played. Short had but only a few times before turning 17, when he started to take it seriously. Parts of his game were good, but when you pick up the game at 17, the chances of being competitive in college are slim. The odds of playing professionally are even slimmer, although Hall of Famer Larry Nelson, who took up golf at 21 and won three majors, is a notable exception. The plan for Short was to play both sports in the first year and switch to basketball full time when a scholarship became available.
Then Short fell in love with golf. Instead of sticking with basketball after his first year, he focused on golf and dedicated his life to getting to the PGA Tour. Short found a swing coach, refined his action and beat thousands of range balls weekly.
If you were to name a mini-tour in the southern United States, Short has probably played it and more than likely won on it. For 13 years, he drove the backroads of the Carolinas playing on the GPro Tour, Carolina Mountain Tour, SwingThought Tour and playing Monday qualifiers.
In a podcast with Short, 37, I asked him how many Monday qualifiers he had played before the PGA Tour's 2019 Wells Fargo Championship.
"I try not to count," Short says. "I really have no idea—probably over a 100, and I had never made one."
That would change on that Monday. A long putt for birdie on the final hole gave him a 68, not often good enough for a Monday qualifier, but the course was playing difficult that day.
When you have waited 13 years for your first PGA Tour start, the hours-long wait for scores to come in at a Monday qualifier can be excruciatingly nerve-racking.
"Probably the longest wait of my life," Short says. But the 68 held up, and Short got his first start, and then he made the cut.
Short went to his next Monday qualifier on the Korn Ferry Tour, got through and made the cut. Two weeks later, another Monday and another success. These are the moments that keep the dream alive, a glimmer of hope that he can play with the best. Short had a lot of success on the mini-tour circuit, enough to eek out a living, but it wasn't easy.
Today you can still find Short driving to mini-tour events in the Carolinas.
"I'm like a poker player: I'm all in," Short says when asked if he has ever considered giving up his dream. Look at the field for an upcoming Monday qualifier, and Matt Short is probably there.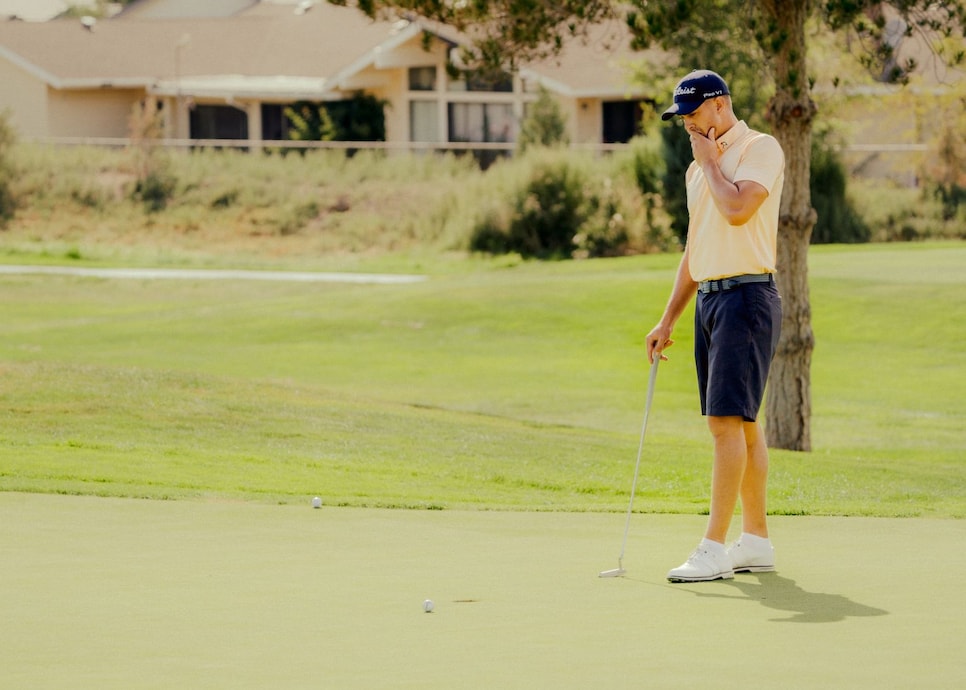 Justin Warren missed an 18-inch putt to get into a playoff for the final qualifying spot of the Barracuda Championship.
REDEMPTION AFTER A SLOW START
There are advantages to being a U.S. Amateur champion. PGA Tour exemptions await once you turn pro. Doc Redman, the 2017 champion, received six but wasn't able to play well in them. Then came four starts and three missed cuts on the Korn Ferry Tour. The benefits started disappearing.
Redman would go on to miss at qualifying school for the Korn Ferry Tour. Next was Q school for PGA Tour Latinoamérica. Heading into the third round, he was in position to get his card. But on the par-5 17th, he made a 10 that included a ball out-of-bounds. It resulted in a back-nine 43 that added up to a 78. The final round wasn't much better, and he had missed again. Redman was in danger of not having status on any major tours a year after turning pro.
Monday qualifiers take place far off the professional golf path, often at courses in small towns near that week's tour event. Outside of a few girlfriends or parents, there are almost no fans. The Rocket Mortgage Monday qualifier in 2019 was no different. It was being played in Washington, Mich. Redman did not have a single fan follow him that day.
I had caddied in that Monday qualifier and was hanging around the scoring area with 10 or so players as we watched the head pro handwrite scores on the leader board. Redman walked up, and his two-eagle, seven-birdie and one-bogey 62 was posted. Nobody clapped; some players left, knowing his score bumped them out. Redman talked quickly with the official on-site, made a few calls, picked up his bag and walked to his car. With no fanfare, Redman had just earned a chance to change his career.
He then shot 68-67-67-67 in the Rocket Mortgage Classic to finish second and secure his PGA Tour status. One round had given the former U.S. Amateur champion a path back, and he took advantage of it.
"I'm not paying to play Torrey [Pines]. I'm only going to play it if I get into a tour event," is what Bruce (B.J.) Doucett told his friends. At the time, he was a financial advisor and an insurance salesman. It seemed unlikely he would ever play Torrey Pines.
Doucett had an excellent college golf career at the University of California, Riverside. The obvious transition would have been to turn pro after college. Instead, he put his clubs away and didn't touch them for a few years. "Life got in the way," he says.
Then the fire returned, and he started playing again. His job allowed him to take clients out to play, sell some insurance and work on his game. Eventually, his hard work started to show, and people at his club noticed. He added a few course records, all while still working full time.
There are exceptional players at nearly every club, and plenty of members tell them they should turn pro. Most of these players have no shot at making it. Professional golf has chewed up some of the world's top-ranked amateurs, let alone an insurance salesman.
Members at Doucett's club decided to fund him if he wanted to turn pro. The decision wasn't easy. Doucett was married, he had a good job, and he and his wife wanted to start a family. After much discussion, he decided he would do it. His first PGA Tour Monday qualifier would be for the Farmers Insurance Open at Torrey Pines.
The Monday qualifier for this tournament typically features one of the best fields of the year. In 2019, the field had a combined $177 million in career tour earnings, 47 Korn Ferry Tour wins and 24 PGA Tour victories. Doucette did not have one dollar of that $177 million—not even a start on the Korn Ferry and PGA tours.
Then he shot a 67 early in the day and had to wait.
"I refreshed the leader board on my phone at least a thousand times," he says laughing. But his score was good enough, and he was one of the four to get through. Three months after leaving his job as a salesman, he was going to play on the PGA Tour.
That Thursday, Doucett got to play Torrey Pines for the first time, and he didn't have to pay. He posted rounds of 72-75 to miss the cut.
This year Doucett, 32, is planning to give qualifying school a shot, but the birth of his first child has kept him near home. Regardless, his dream of playing the PGA Tour hasn't wavered. "I got to give it all I have," he says.
PLANES, TRAINS & AUTOMOBILES
"Are you sure it's Chip McDaniel? He played in the U.S. Open yesterday at Pebble Beach." I sent that text to a person on-site at the 2019 Travelers Championship Monday qualifier being played in Connecticut. It was McDaniel, known as Mr. Monday for his success at Monday qualifiers, and how he got there was extraordinary.
McDaniel, 25, earned his spot in the U.S. Open via a sectional qualifier. He made the cut at Pebble Beach but struggled Saturday and shot 76, leading to an early tee time for Sunday. That is when he and his brother, Todd, thought they might be able to make it to the Travelers Championship Monday qualifier in Connecticut. The plan included a shuttle, a red-eye flight, a rental car and some luck. They weren't sure they could pull it off, but they would try.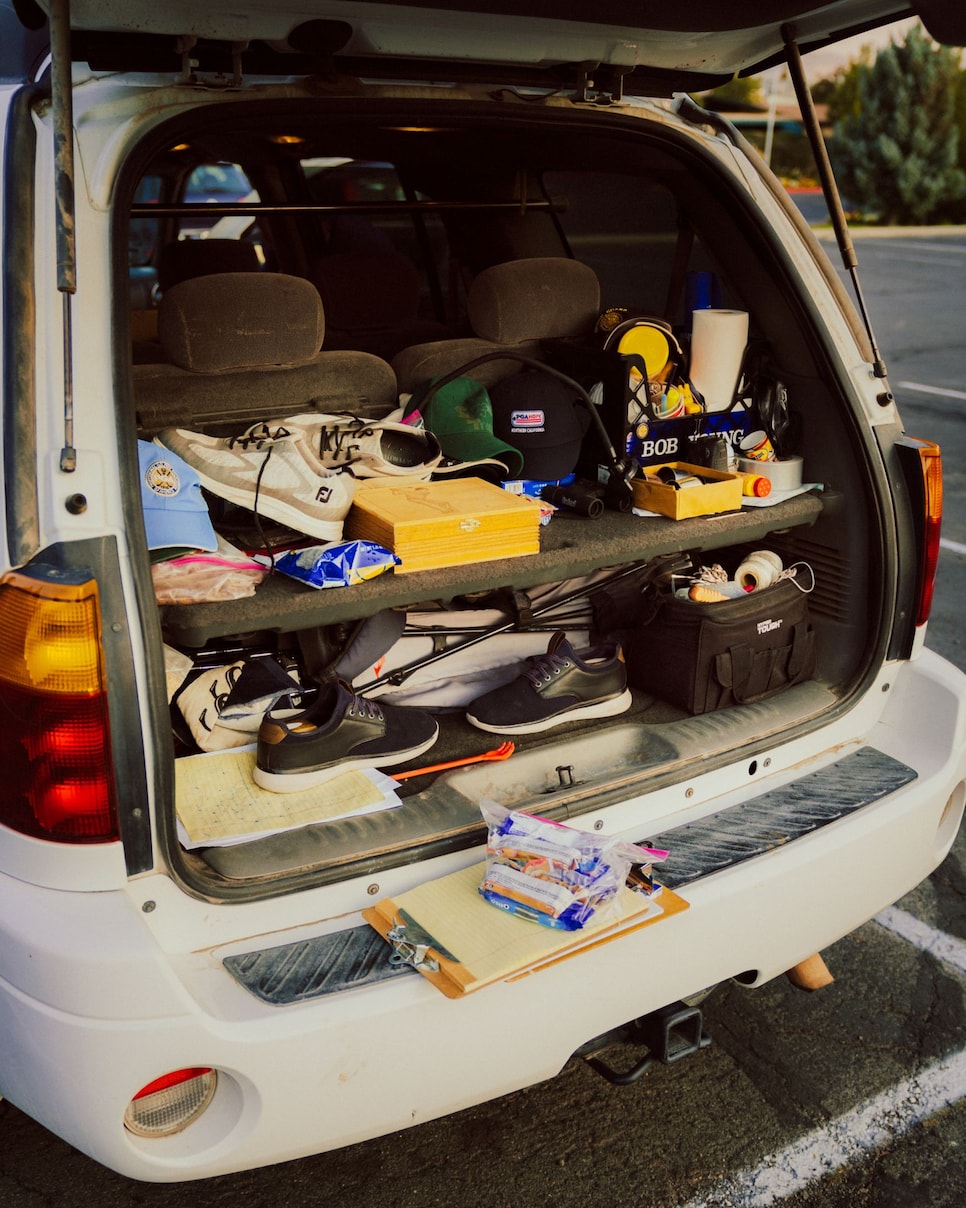 Life chasing Monday qualifiers often includes living out of your car.
The plan included a shuttle, a red-eye flight, a rental car and some luck. They weren't sure they could pull it off, but they would try.
McDaniel's final round at the U.S. Open on Sunday finished at around noon California time. Two hours later, he was in a shuttle headed to the San Francisco airport, roughly a two-hour drive. His 9 p.m. flight was on time, and he and his caddie were on board. McDaniel was able to get in a few hours of sleep, but as is typical of air travel, it was interrupted frequently by drink carts and seatmates. At 5 a.m. Eastern Time, the pair landed in Boston. With his caddie driving, they made a quick detour through a McDonald's drive-through for breakfast and then headed to Ellington, Conn., where the Monday qualifier was being played.
McDaniel squeezed in another small nap in the two-hour drive to Ellington. They arrived in time to hit a few range balls. He walked onto the first tee at 9:17 a.m., 17 hours after— and 3,130 miles away from—his final round at the U.S. Open.
After grinding through the most significant tournament of his life, flying across the country, and with little sleep, there was almost no way he was going to play well. But he was about to live up to his nickname—Mr. Monday. McDaniel had earned the name after Monday qualifying four times, not to mention sectional qualifying for the U.S. Open. He birdied the first hole and shot 67. His reward was a spot in the biggest playoff of the year. Nine players for the final three spots. The playoff would last three holes.
"Chip is through" read the text I received from the person following the playoff for me at the qualifier. I stared at my phone in disbelief. Mr. Monday had done it again.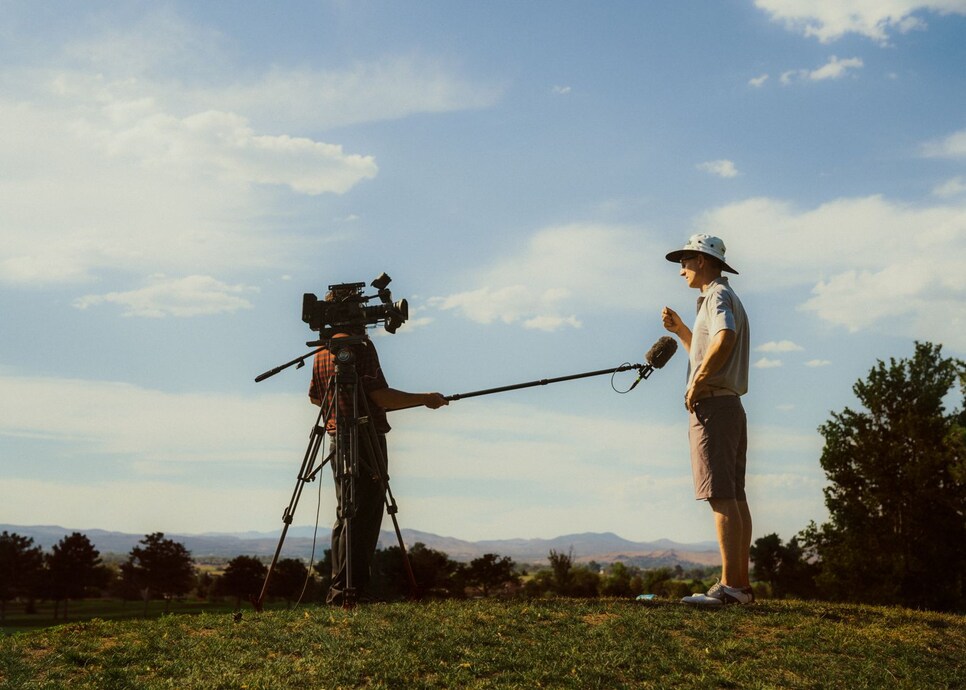 It takes only one great round to get in front of the cameras. Mark Baldwin made the Barracuda Championship.
"If I were playing poorly, it would be easy to give up, but I'm so close."
Steve Allan won on the European Tour in 1998 and on the Australasia Tour in 2002. In 1999, he was ranked among the top 100 in the world. He played on the PGA Tour for parts of eight seasons. But in 2009, he missed 16 of 17 cuts and lost his card. Twelve years later, he is still trying to get it back. He played on the Korn Ferry Tour with mixed results until 2017.After that, he has played where he could, when he could, some back home in Australia, but mostly in Monday qualifiers.
After that, he has played where he could, when he could, some back home in Australia, but mostly in Monday qualifiers.
It's expensive to chase Monday qualifiers. Including travel costs and entry fees it's more than $1,000 just to play 18 holes. Allan, 47, and his wife have three children, and it's difficult to spend that type of money continuously.
"It's so hard financially, but I'm playing so well, but at some point, you have to stop; I have a family."
Allan has played in countless Mondays. "It's in the hundreds," he says. He has played well but with little success. In 2019, he went 0 for 23 and shot over par just four times; he missed in a playoff twice and by one in another three. Late last summer in back-to-back Mondays he made 15 birdies, did not make a single bogey, shot 64 in both, and still didn't qualify.
Then some hope. Allan got through three of four PGA Tour Monday qualifiers in late 2019. Unfortunately, he missed the cut each time. "Those weeks are so expensive," he says. "You pay for a caddie, hotel and car for the week, and when you don't make the cut, it really kills you financially."
Players will do anything they can to save a few dollars. Last summer, Allan drove across the country with his family in their van instead of flying. They stayed at friends' or relatives' houses to save on hotel costs. I called Steve for this story to ask him what his plans were now. Like most players without status, he wasn't sure.
"It's a week-to-week thing," he says. During our conversation, Allan was honest and realistic; he might stop now and try again for the Champions Tour at 50. Then the next week while doing some research for the first few Monday qualifiers of 2021, I noticed a familiar name. Guess who was registered for all of them? Steve Allan. His wife, Bridget, is Steve's biggest supporter. You can often find her with the kids walking the fairways of a Monday qualifier, hoping her husband will finally realize a lifelong dream.