The Loop
This brutal Carson Wentz stat says everything you need to know about Carson Wentz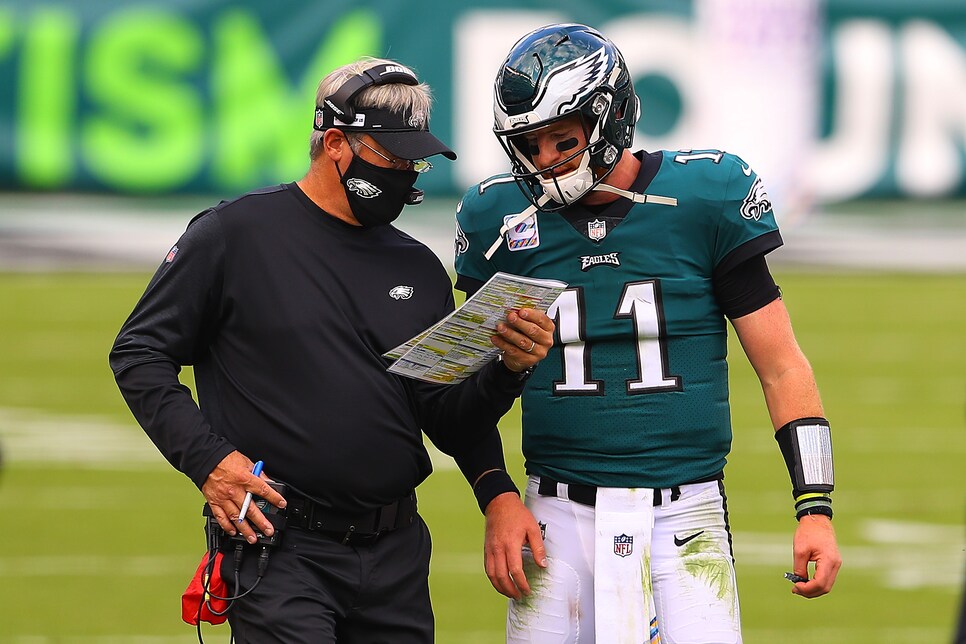 On Sunday, the Philadelphia Eagles completed one of the biggest upsets of the NFL season, taking down the number-one seeded New Orleans Saints in emphatic fashion. Jumping out to a 17-0 halftime lead, the Eagles held on to win 24-21, thanks in large part to the play of backup quarterback Jalen Hurts, who went 17-30 for 167 yards and one touchdown (plus another 106 yards on the ground) in relief of struggling starter Carson Wentz. It was Hurts' maiden NFL voyage, but if this absolutely excruciating Wentz stat that emerged after the game is any indication, it will not be his last.
Yeouch. Dating back to Nick Foles' incredible postseason run in 2017, the Eagles have made backup quarterback play their steak and cheese, if you will. But as we've seen with Foles—who has since been bounced out of Jacksonville and beaten by Trubisky—and will probably see again with Hurts, Birds backups owe much of their success to the Carson Context. When a franchise's starting quarterback play has been as bad as Carson Wentz's has, temporary improvement is not hard to find and VERY noticeable when you do.
It's not all Wentz's fault, of course. He did have that one partial MVP-caliber season. But that was under offensive coordinator Frank Reich, with whom he allegedly shared a special connection. Since Reich left for Indy, things have gone off the cliff, and more than anything, this stat proves that Wentz and Doug Pederson are simply not a fit. Take away Wentz's stellar 2017 under Reich, and he is 24-30-1 with Pederson. That's no Mahomes-Reid mind-meld. No Belichick-Brady love-hate. Only hate. Only hurt . . . or should we say Hurts?