The Loop
The Philadelphia Eagles will wear home jerseys in New Orleans because Saints coach Sean Payton lost a golf bet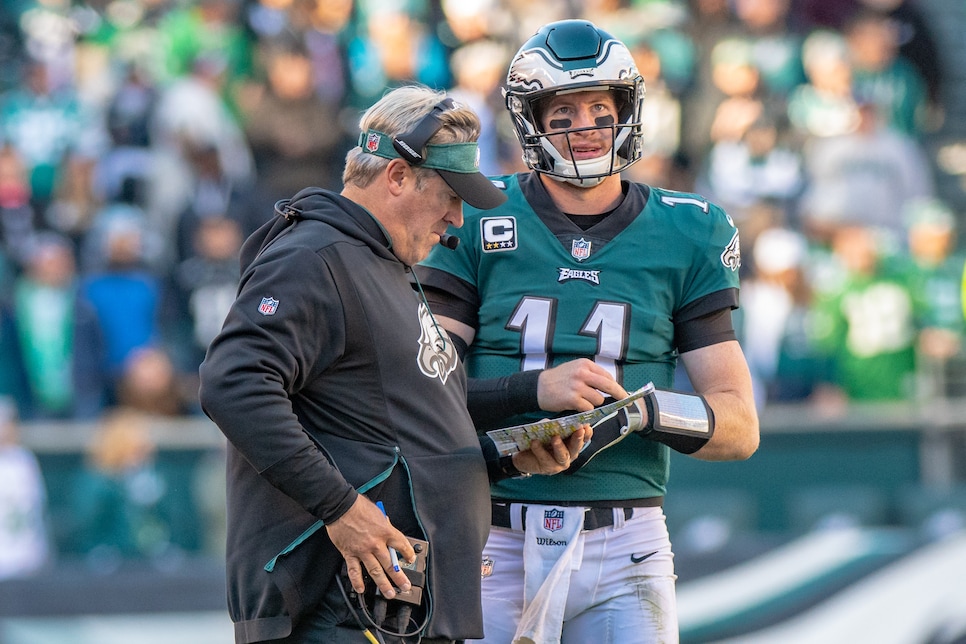 The Philadelphia Eagles haven't put forth the most spirited of titles defenses in 2018, entering Week 11 of the NFL season with a 4-5 mark. This performance, coupled with the New Orleans Saints' 8-1 start, explains why the defending Super Bowl champs are eight-point underdogs heading into the Superdome this weekend. But the Eagles will have the honor of wearing their home jerseys on the road, a sight usually unseen in Louisiana.
And we do mean "honor," as it's the result of Philly coach Doug Pederson winning a golf bet over his counterpart Sean Payton.
Pederson, speaking to the media earlier this week, said that he was paired with Payton in the NFL's annual coaches' golf outing in March, and the two were looking to add some energy to the round.
"We wanted to liven up the match, and we decided to bet and we chose jersey colors," Pederson said Wednesday. "Three holes into it, ended up beating him, and that was it."
Granted, it would have been slightly more entertaining if the wager revolved around, let's say, Payton trading Drew Brees for a seventh-round pick. Still, it was a bet easier made than done, as teams must submit color schemes for their schedule in the summer.
That wasn't the only time Pederson one-upped Payton on the golf course, as he faced him again at the American Century Championship in Lake Tahoe in July. For that loss, Payton had to donate money to the Eagles Autism Challenge charity. No word on what the two have on the line this weekend, but if Pederson gets a center-stage float for this year's Mardi Gras, you'll know why.