On To 2023
Cameron Smith's early exit at Australian Open puts an end to a wild year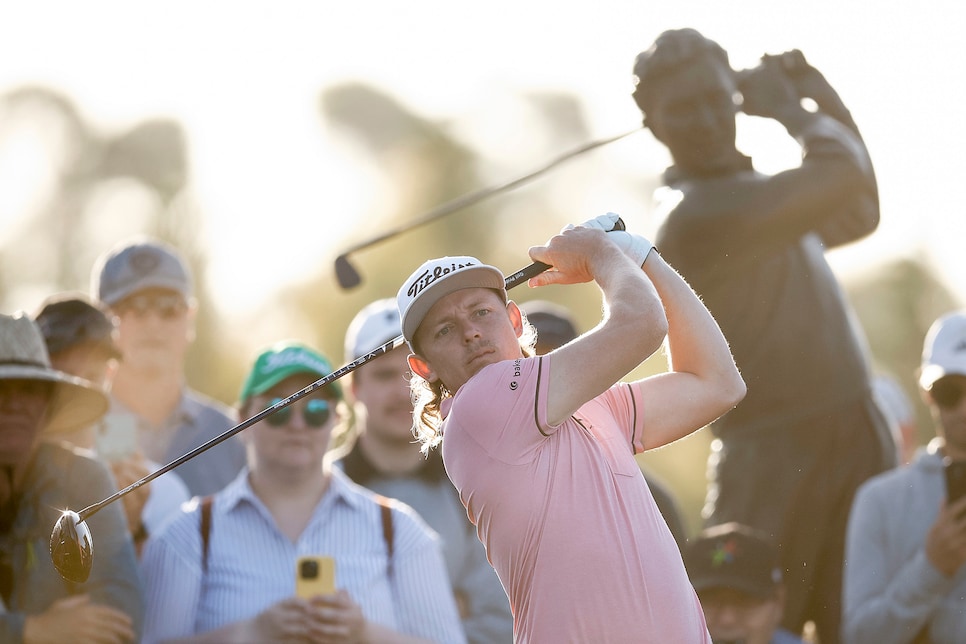 MELBOURNE, Australia—Cameron Smith thought his whirlwind year had ended with a missed cut. The Open Champion was certain that his two​-​over par total 71 73 would miss the 36-hole cut Friday at the Australian Open in Melbourne – his last tournament of 2022. So the World No. 3 traded the golf course for the racecourse to have a beer and watch the horses.
Then he got a notification; despite perfect conditions, the cut had drifted from a projected even par to two over in the afternoon wave. He'd snuck in on the number and had a 7​:​05​ a.m.​ tee time Saturday. "Yeah, I wasn't really expecting it to be honest," Smith said with a laugh. "I was pretty quick to get to the pub [after the second round] and I was probably a few too many beers deep. Then I realized we had an early tee time, so I had to get back on the waters for the rest of the night."
A day later, Smith carded a 69 at Victoria G.C. for a one-over-par total in front of enormous crowds. They flocked to Victoria G.C. on Melbourne's famous Sandbelt to get 18 more holes watching the superstar. One fan remarked that galleries hadn't been this big for an Australian since the golden days of former World No.1 and now LIV Golf chief executive,Greg Norman. But the Australian Open adopted a world-first format this week – combining the men's and women's fields for a national open – and it featured a 54-hole cut. The 149 players on course Saturday were cut to the top 30 players and ties for both the men's and women's fields. The men's 54-hole cut fell at one under and, finally, Smith's year was over.
The year began with Smith winning the Sentry Tournament of Champions in the first week of January, going head-to-head with then World No. 1 Jon Rahm in the final group at Kapalua. He won with a PGA Tour record 34​-​under par. At the Players Championship in March, Smith one-putted eight of the final nine holes to claim golf's unofficial fifth major and a record $3.6 million winner's prize. The next month, Smith tied third at the Masters, where he played in the final group with winner Scottie Scheffler. In July, he chased down a four-shot final-round deficit to Rory McIlroy and Viktor Hovland to win the 150th Open at St. Andrews.
In September, after months of speculation, Smith left the PGA Tour for LIV Golf for the ability to spend three months a year in Australia and for a large, guaranteed-money contract. He faced criticism for leaving the PGA Tour, where he'd won six times, for LIV, whose format features 54 holes, no 36-hole cut and 48-player fields. LIV is also controversially funded by Saudi Arabia's Public Investment Fund.
Smith missed a playoff by one shot in his LIV debut in Boston then won its Chicago event in his second start. Last week, upon returning home to Australia for the first time since before the Covid-19 pandemic, Smith won the Australian PGA Championship in Brisbane, where he showed the claret jug off to his childhood hometown.
On Saturday in Melbourne, Smith was visibly gassed, and said the magnitude of his five-win year wouldn't sink in for a least a couple of weeks. "Yeah ...it's been a busy last 12 months," Smith said with an exhausted laugh. "I haven't really had time to sit down and actually just think about it all. It's all been work, so it'd be nice over [the holidays] to enjoy Christmas with the family again. I'm looking forward to that and I'm sure it will sink in, eventually."
Smith then literally signed off on his year by autographing kids' merchandise and posing for selfies. Then he was gone.
So what will Smith do with his free time? Smith won't play tournament golf until the PIF Saudi International in the first week of February. LIV Golf's season then starts later in February. He said he'd rest this coming week, then play the Saturday members competition with his father, Des, at Wantima Golf Club. It's Smith's modest childhood home course, and then he'll host a junior clinic and tournament there in mid-December.
"I'm just going to lay down; I'm looking forward to a lazy week to be honest," he said. "I think I'll do a bit of fishing. I'll play the Saturday comp at Wantima with the old boy [dad]... but it definitely won't be serious [golf]; just on a golf cart having a good time."
After that, Smith promises to be back firing in 2023. Although it isn't clear what the four governing bodies of the major will do regarding their criteria for LIV Golfers, Smith will be safe given his Open Championship win came with five years' of major exemptions. He's determined to put the same work in​ in the gym and ​at the range​—that he did in the lead up to his stellar 2022. He just wants to do it better.
"I think we've [Smith and his team] have got a pretty good blueprint now," he said. "I have a tendency to get a little bit lazy at times, I think, so I'll probably spend a lot of time in the gym over the next month and try to get my body ready. I think I need to do the same things [as this year] but do them better and probably a little bit more often. I'm really looking forward to what I can do next year. I think it'd be exciting."