The Grind
Mullet Man makes PGA Tour history in multiple ways, UGA's amazing Masters hookup, and the luckiest golfer on the planet
Welcome to another edition year of The Grind where we finally made our first legal wager (and yes, a few others) in New York over the weekend. This despite the fact that I'm nearly (gulp) 40 and that I've been making sports bets since I was in the fifth grade. I quickly learned NOT to tell my mom about said bets because she made me return the money to my friends. In any event, it's pretty exciting—especially all the free bets they give you! Of course, these are just like the "free" drinks they give you at a casino. So, yes, mom, I'm being careful. In any event, let's talk some golf. Just give me a second to close out of all these different gambling apps first . . .
Cameron Smith: New year, same mullet. But the Aussie also finds himself in new territory now after ascending to the top 10 in the Official World Golf Ranking. And for good reason. Mullet Man tore Kapalua's Plantation Course to a PGA Tour record 34(!) under par on his way to winning the Sentry Tournament of Champions.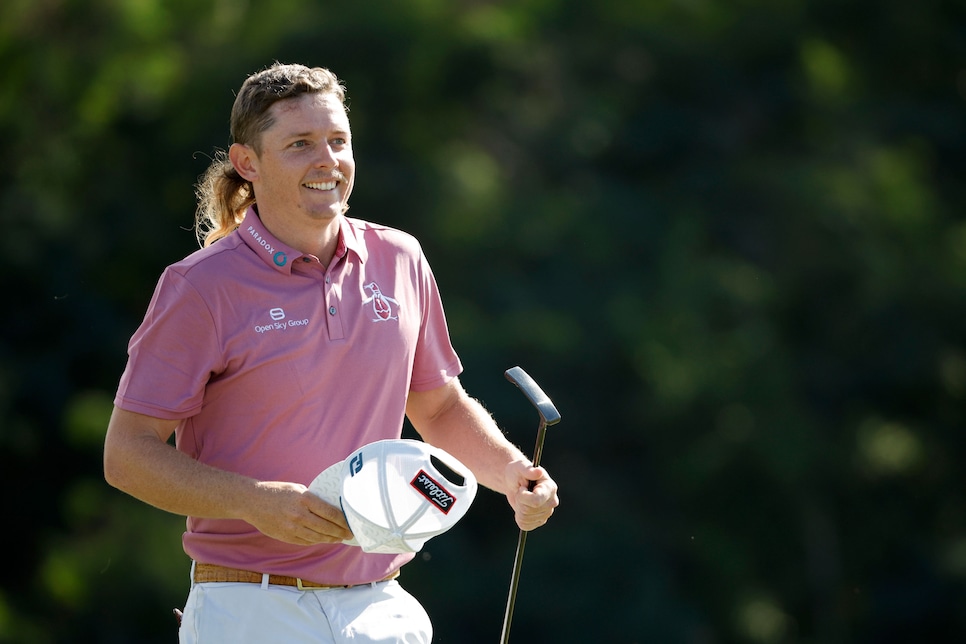 Again, that's THIRTY-FOUR under par. For 72 holes. Regardless of the conditions or the fact it's a par 73, that's remarkable. And considering John Daly never cracked the top 20, we're pretty sure Smith is the highest-ranked golfer with a mullet ever. Even more history.
Jon Rahm and Matt Jones: You have to feel a little bad for this pair of golfers who shot a combined 65 under par and didn't walk away with that cool-looking trophy. That's just absurd playing. Jones also set a new PGA Tour record by shooting 23(!) under over the final two rounds alone. But again, not enough. Regardless, it was great to see Rahm return from a long layoff and promptly start rattling off birdies like he's still in mid-season form. That free $25 bet I put on him to win the Masters on Saturday is already looking better!
Rowan McCarthy: This mechanical engineer didn't shoot 30-plus under par, but he did turn in a 39-point Stableford performance to win the B-division of a Perth Golf Network event. So why are we giving him such attention? Because he made a hole-in-one AND an albatross in the same round. Oh, and he's also a 20-handicap:
That is absolutely bonkers. And we can safely say there's never been a crazier five-hole stretch than triple bogey-ACE-double bogey-triple bogey-ALBATROSS.
Congrats, Rowan. You lucky bastard.
Being a golf-loving UGA football player: First of all, being a UGA football player this week will be awesome no matter what. Talk about being the big men on campus after delivering the school's first national title in four decades. But. . . things could get even sweeter as evidenced by one fan/alum in particular who the cameras caught on the sideline during the fourth quarter: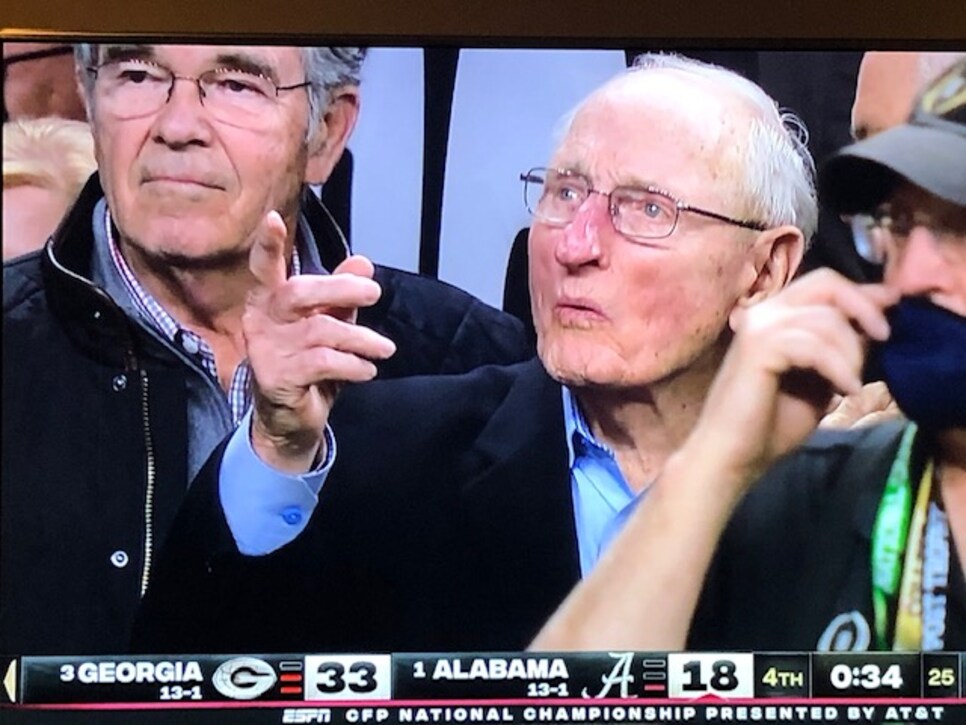 Yep, that dude behind former Georgia coach Vince Dooley is former Augusta National chairman Billy Payne. And we're guessing Mr. Payne would be happy to host some of these champions at his home club this year. And who knows, if they play their cards right. . .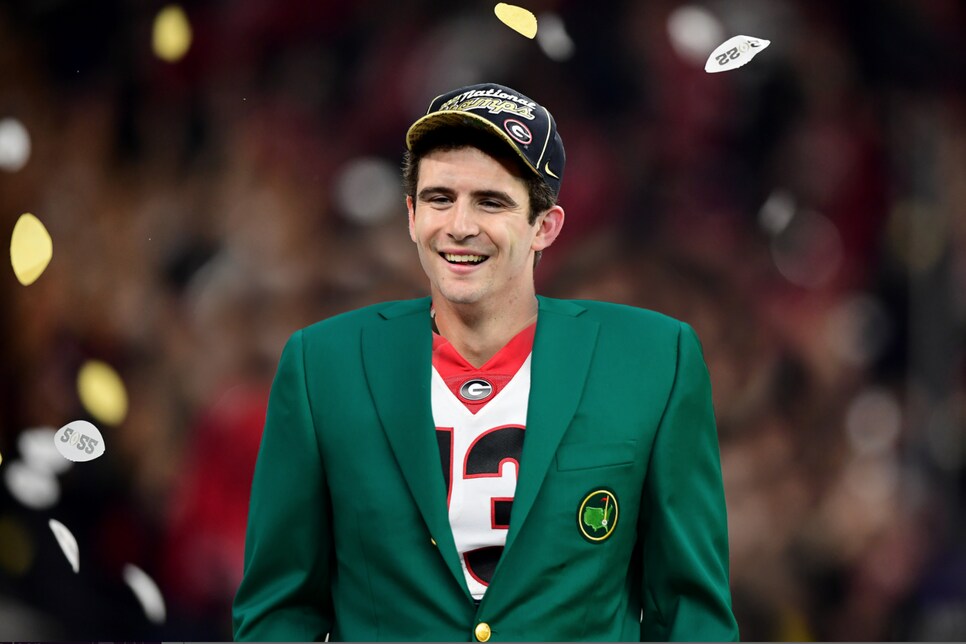 Thanks to our visuals editor, Ben Walton, for mocking that up. Green looks good on you, Stetson. Heck, that thing looks good on anyone.
Paying $50,000 for a set of golf clubs: Look, the latest Beres line from Honma is beautiful. And I'm sure these clubs perform, but can you imagine buying a set of golf clubs for the same price ($40,000 just for a set of eight irons!) as a luxury car? It's crazy!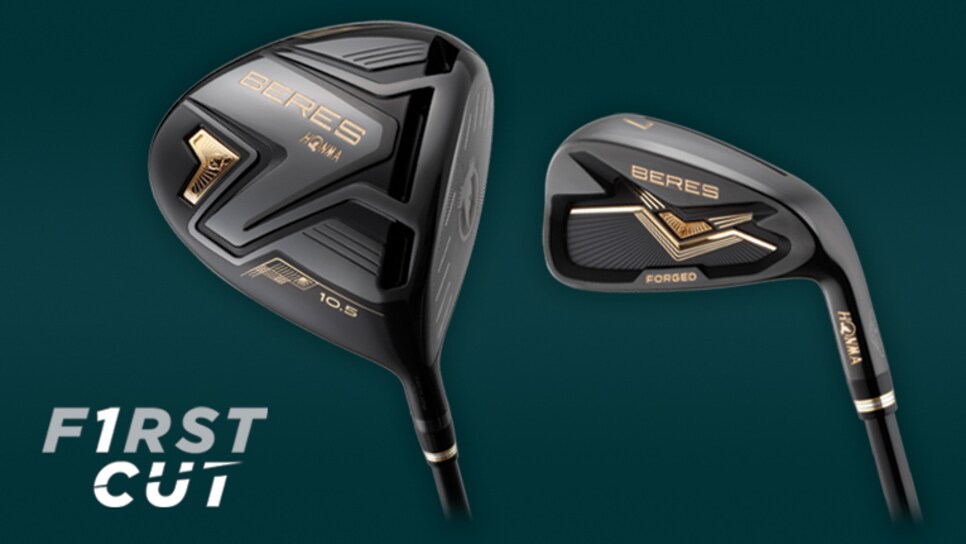 Well, unless you're Billy Payne, maybe. Anyway, make sure to check out the new Golf Digest Hot List later this month for some more affordable equipment options.
Having a handlebar mustache: Regardless of how you feel about this look Erik van Rooyen was rocking, it sure sounds like it's a lot of work to maintain: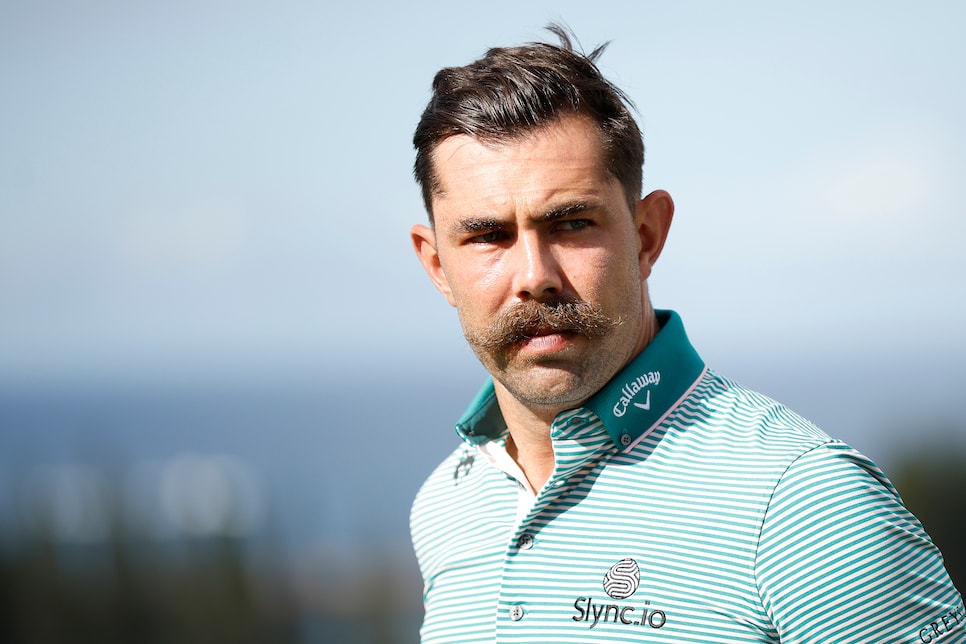 "I brush it, shampoo, condition," van Rooyen explained. "You got to treat it well, otherwise it kind of bites back. So, yeah, I've got a little wax that I throw in in the morning." Unless you have to do that because you've been cast as a general in a Civil War blockbuster movie, no thanks.
Having your driver snapped: Poor Viktor Hovland keeps getting his drivers broken. First, Danny Lee was the culprit when he took Hovland's big dog for a spin on the range at Mayakoba (Hovland still won that week) and now Delta did it when they delivered Hovland his clubs almost a week late.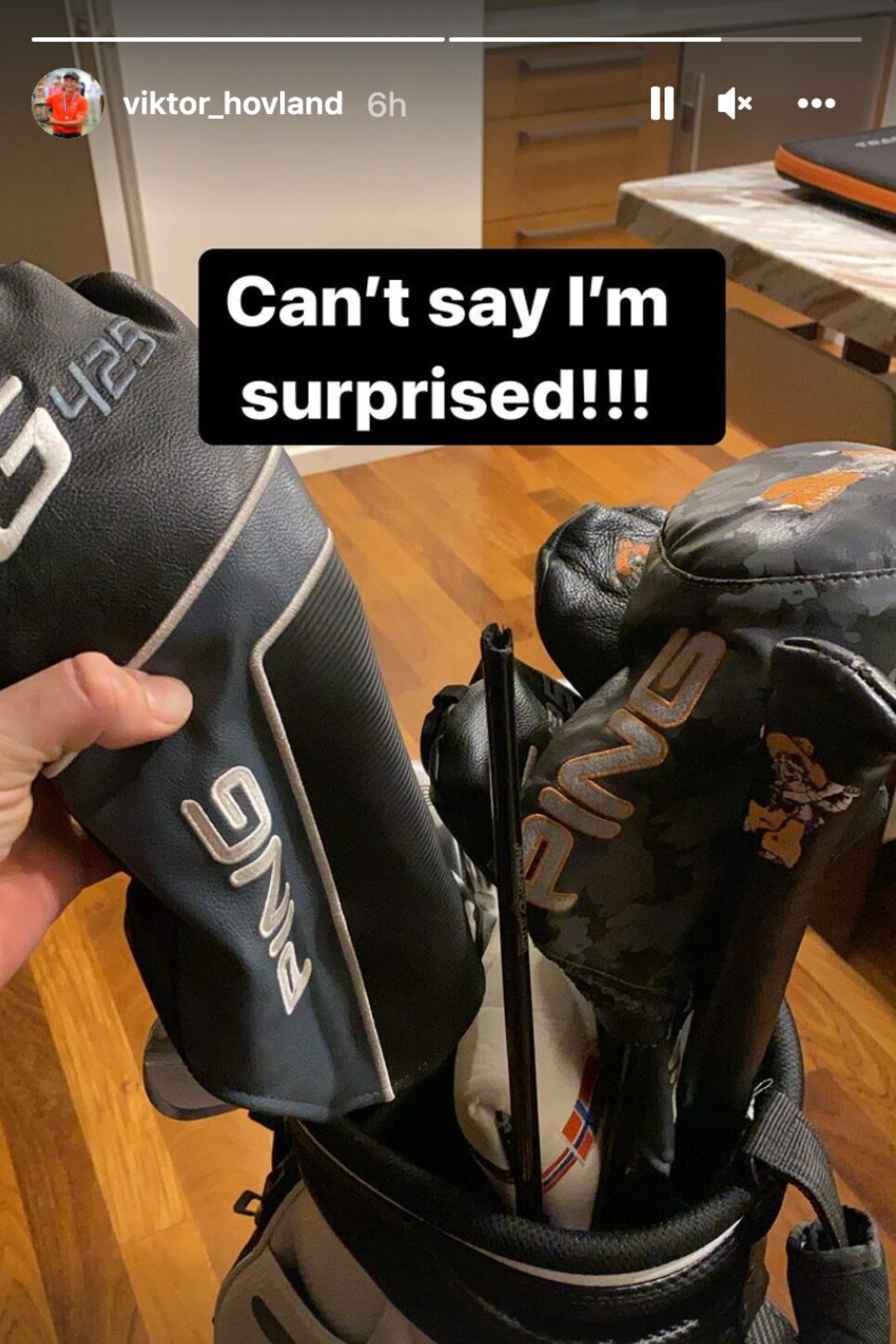 That sucks. Viktor, if you're done with Delta, I totally understand. But, also, if you're done with Delta, can you ship me your frequent flyer miles?
The PGA Tour wraps up the Hawaiian Swing with the Sony Open, AKA that one with the "W" palm trees. People were excited to see Bryson DeChambeau take a crack at Wailae's short layout (and perhaps, those trees) for the first time, but he withdrew with a wrist injury. Too bad.
Random tournament fact: Per Ryan French (AKA Monday Q Info on Twitter), Jared Sawada will be making his fifth PGA Tour start this week. And all five have come at this event:
So he's kind of the Tad Fujikawa of this generation.
RANDOM PROP BETS OF THE WEEK
—Someone will make an ace and an albatross at Waialae this week: 1 MILLION-to-1 odds
—Jon Rahm will win the 2022 Masters: 9-to-1 odds (My futures bet before the line moved to 7-to-1)
—Jon Rahm now won't win the 2022 Masters: LOCK
PHOTO OF THE WEEK (KID DIVISION)
Even in defeat, it's great to see Jon Rahm has such amazing PERSPECTIVE now that he's a dad:
Seriously, though, being a dad is pretty darn cool. And that's a great pic. Nice job, Jon. And let's save that next win for April.
PHOTO OF THE WEEK (BIG KID DIVISION)
Congrats to all the other Georgia alumni with (slightly) less money than Billy Payne as well.
VIRAL VIDEO(S) OF THE WEEK
First, caddie Geno Bonnalie captured a shuttle driver giving advice on how to watch a PGA Tour event at Kapalua—to a PGA Tour pro playing in the event at Kapalua.
Funny stuff. Although, Joel Dahmen did wind up getting to the 18th hole on Sunday earleir than he would have liked . . . And Danielle Kang is officially the coolest cover star in Golf Digest history after signing—and prominently displaying—the latest issue of the magazine at a JFK Airport bookstore:
You love to see it. If the LPGA had a PIP bonus, Danielle would be set.
THIS WEEK IN PUBLIC DISPLAYS OF AFFECTION ANNOYANCE
Adam Hadwin let his Twitter followers know he was rounding up some old golf gear for a giveaway. Jessica Hadwin responded by putting her husband on blast for cluttering up her closet:
Tour pros really are just like us. Sometimes.
"No, I'm too competitive for that. To be perfectly honest, I don't care about some stiff. I would much rather beat 'em." —Justin Thomas when asked whether he'd let some "poor stiff" keep a local course record. JT is ruthless! But I kinda dig it. Also, it gives the "poor stiff" a great story to tell if he loses a course record to one of the best golfers in the world.
The U.S. Women's Open announced a presenting sponsor (ProMedica) and that its purse will double to $10 million in 2022. That's great news, and now you have to wonder when the men's event gets one. . . . Speaking of the U.S. Open, the leading point earner from the Korn Ferry Tour will earn a spot in the event beginning in 2023. That's a nice little bonus. . . . The Masters announced Tom Watson will join Jack Nicklaus and Arnold Palmer as an honorary starter this year. Sorry, Gary, you're not winning that long drive contest anymore. . . . And, finally, I made some waffles for the girls the other day. Well, I tried to make some waffles: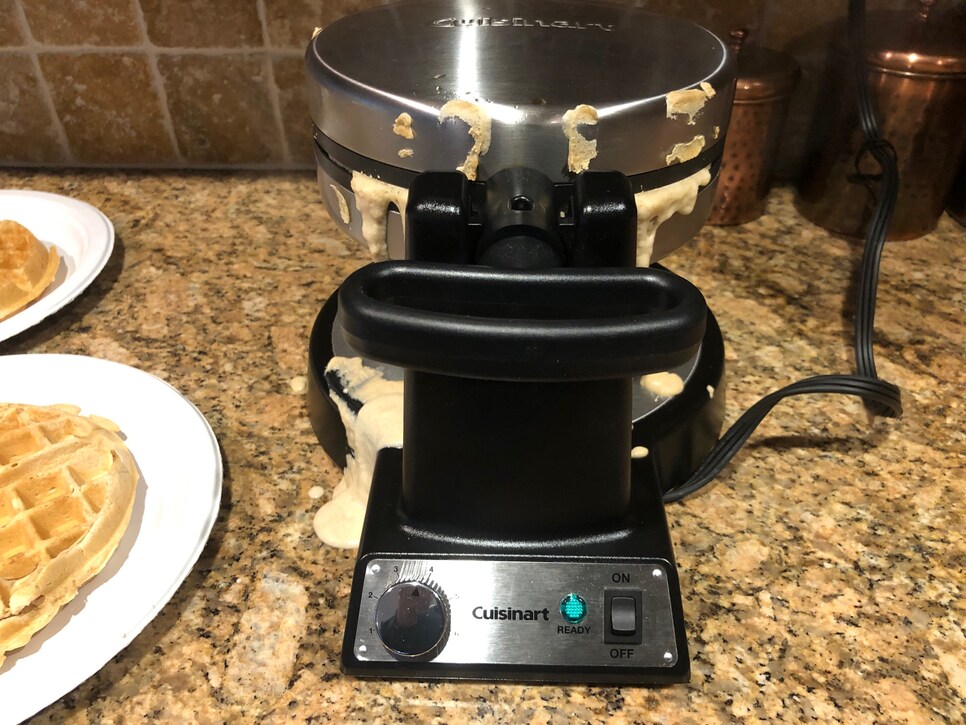 I should probably stick to the frozen ones.
RANDOM QUESTIONS TO PONDER
Who will be the next honorary starter after this "Big Three"?
Who holds the most course records?