Golfers We Like
This 20-handicapper pulled off something that even Tiger Woods can only dream about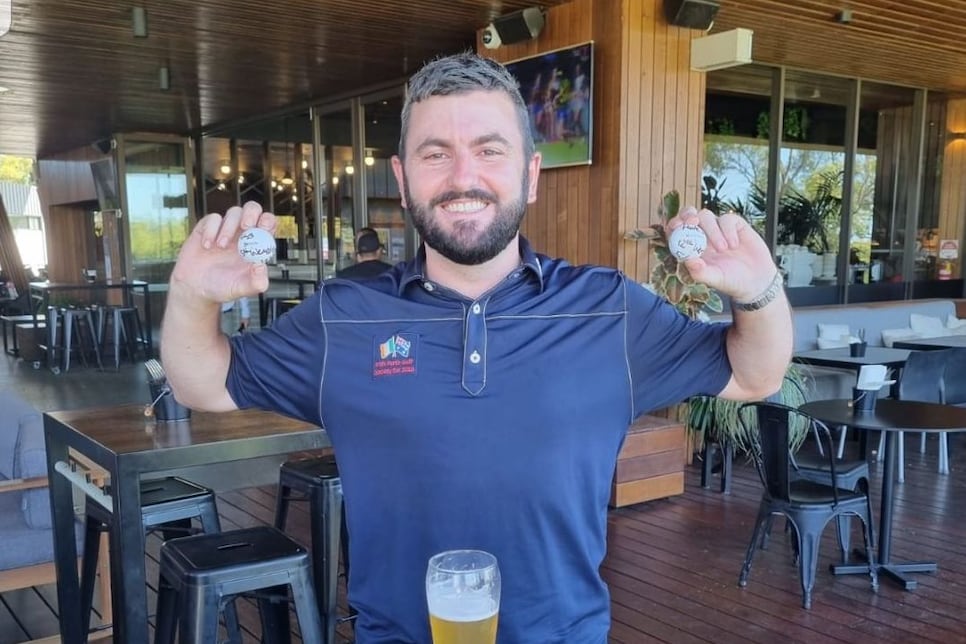 Rowan McCarthy says he's always considered himself to be a lucky guy, but what happened to this native of Ireland last week on the golf course goes way beyond luck. It's downright miraculous.
Playing in a Perth Golf Network event at Wembley Golf Club on Jan. 5, the Aussie transplant who sports a 20-handicap was having a pretty typical round filled mostly with bogeys and the occasional par. A triple bogey on the par-4 11th seemed to spell doom for him in the B-group of the modified stableford competition, but then his 7-iron from 169 meters on the par-3 12th bounded toward the pin and disappeared.
When the group got to the green, one of McCarthy's playing partners started screaming his ball was in the hole.
"I was waiting for him to say, 'No, that's a joke. No, I'm only messing with you,'" McCarthy said when reached by Golf Digest. "But he wasn't and we all just started jumping up and down. I think the whole golf course probably heard us."
McCarthy says he didn't care what he shot after that—and it showed on the next two holes as he made a double and a triple. But then the 32-year-old mechanical engineer pulled off an even more remarkable feat on No. 15. From 185 meters out, he punched a 5-iron that caught a bank short left and kicked toward the hole. Precisely at the hole, in fact, for an even rarer albatross.
"That's what amazes me," McCarthy said of pulling off two shots exactly as he planned. "It's more likely I would have hit a tree, hit a brick and then dropped. That would be the more likely story. It is truly unbelievable. I'm really proud of it."
So in a span of five holes, McCarthy shot three over. Which wouldn't be too crazy for a bogey-golfer had that stretch not included an ace and an albatross.
Overall, McCarthy shot 84, matching the third-best score of his life. But just look at this wild scorecard!
Remarkable. Not surprisingly, McCarthy's 39 points (an ace and an albatross goes a long way) were good enough to win the event. And the winnings came in handy because as you can imagine, there was a hefty bar tab that followed.
"The hole-in-one was more excitement and then the albatross was more shock," said McCarthy, whose week only got better when one of his favorite golfers, Cam Smith, won the PGA Tour's first event of 2022. "I didn't know what to do. It was out of this world. For all of it to come together like that—with those crazy holes in between—it was just a roller coaster. And a day I'll never forget."