Interview With John Wooden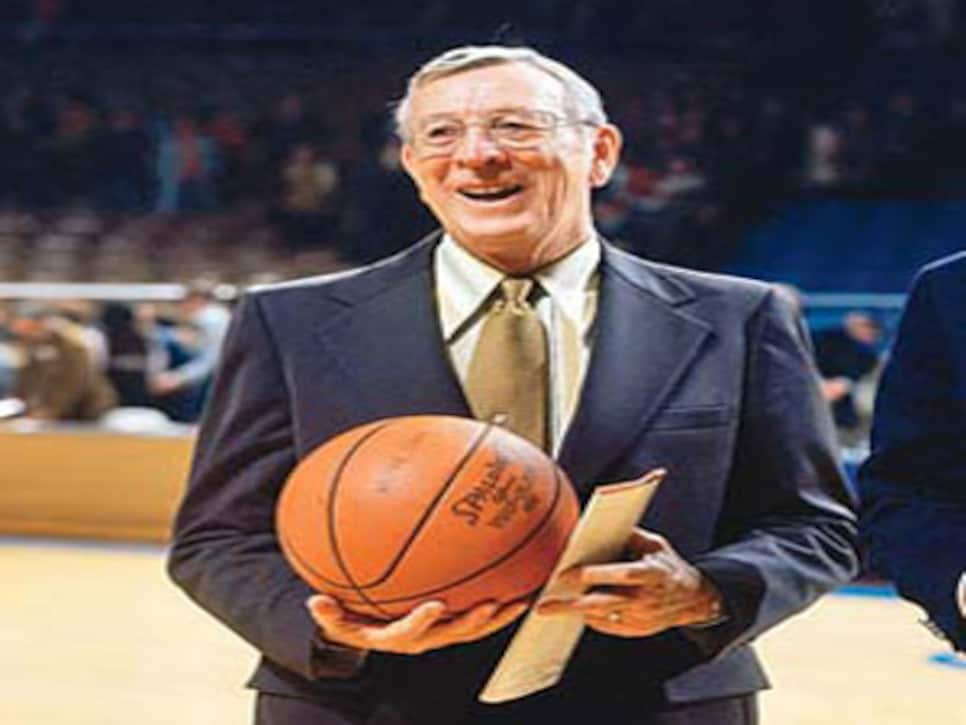 The "Wizard Of Westwood" once made an ace and a double eagle in the same round.
Just after I had gotten out of college and was a teacher in South Bend, Ind., in 1934. I would go on my own, go with a friend who was a teacher, the high-school golf coach.
I found golf was too time consuming, but I did enjoy it. I didn't like playing with some people who thought they were pros and would get upset if they didn't hit a good shot. I enjoyed most of the people I played with, some I didn't.
What did the game teach you?
The pro I played with a lot remarked that I never got upset. He wanted me to play a lot more than I did.
Did you play golf while at UCLA?
Yes, usually at Los Angeles Country Club and Bel-Air, but always out of season. I stopped around 1975 because I had developed back trouble. The last time I played, I had to be helped in. I had a lot of fun playing golf here in California. I would go to the Lawrence Welk courses in San Diego for long weekends.
Did you ever play with any well-known golfers?
I never did. Bel-Air every year would do something for golf, an honor, and I would sit with the honoree. That's how I met Ben Hogan and Byron Nelson. I met Tiger Woods when he was younger. He's amazing, obviously technically, but his mental approach, too. He's really something.
Which golfer do you admire most?
Byron Nelson was high up there. He had such great control of himself and had consistency. He had the 11 victories in a row and won 18 in a year. Others I enjoyed most were Chi Chi Rodriguez, Lee Trevino and Jack Nicklaus. I got to see them play. Chi Chi had a comment about how every pro should give Arnold Palmer a dime for every dollar they make. He brought the game to the front.
You spoke with U.S. captain Tom Lehman before the 2006 Ryder Cup.
He mainly wanted ideas on mental control.
__We've never seen photos of you playing golf. Are there any?
__No, I don't think so, but I have a picture of my [late] wife, Nell, playing.
__Your ace/double-eagle combo in the same round took place in the 1930s?
__Yes, at Erskine golf course in South Bend in the 1930s, before I went into the service. The par 3 was on the front nine, about 175 yards with a 5-iron. I didn't see the ball go in, but the players standing by the green, I knew it was in from their reaction. On the par 5 on the back nine, I had no idea I could reach the green, but that same group was in front of us. I still have the hole-in-one silver [gift] ball given to me and the scorecard. They're here somewhere.
__How much was it skill or luck or both?
__I never came close to making either one again. It's pure luck.