Good luck with that
Bubba Watson says he'll 'beg' PGA Tour commissioner Jay Monahan to let him play in this one event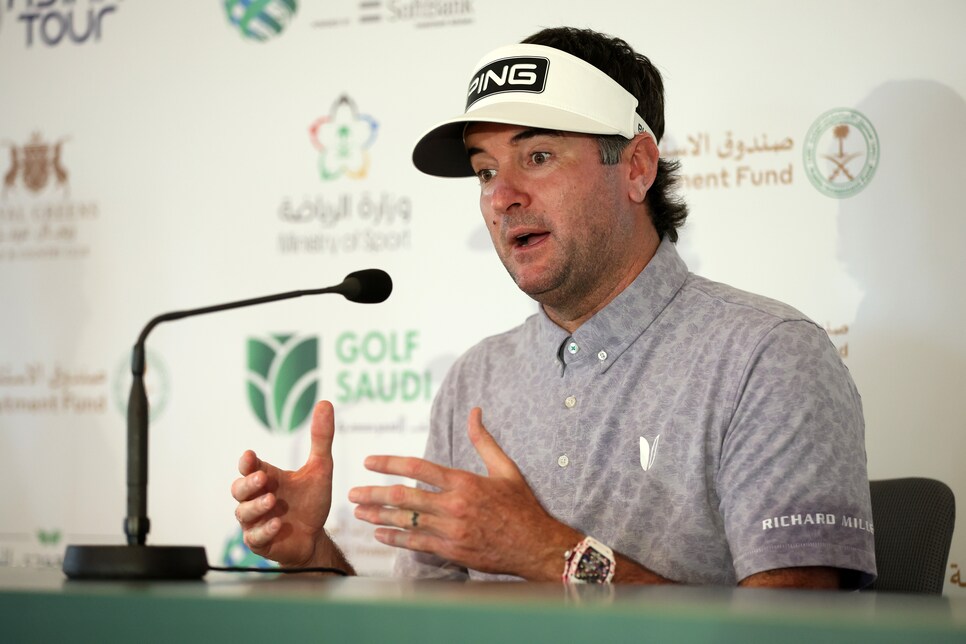 Bubba Watson will have two main objectives when he goes to Augusta National in April: play his way into winning a golf tournament and talk his way into simply playing another.
The two-time Masters champ is making his return to competitive golf at this week's Saudi International following a right knee injury that kept him off the course for eight months. It will also mark his first event since leaving the PGA Tour for LIV Golf.
Augusta National recently announced that decision won't keep Watson and others out of the Masters, but he is currently banned from all PGA Tour events. That includes one tournament in particular that he wants to participate in so much that he's willing to "beg" Jay Monahan for a spot. That tournament? The PNC Championship.
Of course, the silly-season event is also one of the most special to major champs like Watson because it allows them to team up with a family member. And although Watson's 10-year-old son, Caleb, isn't an avid golfer yet, he'd like to at least know the opportunity is there should he ever get into the sport.
"My son, like I said, he doesn't play golf, but now his whole goal was—I'll put this out there, his whole goal was to play in the PNC, which is the parent-junior, and now I'm not allowed to play in it," Watson told reporters in Saudi Arabia on Tuesday. "As soon as I see Jay Monahan—if Jay Monahan is watching this, I'll see you at Augusta and I'll try to beg you to let us play the PNC again."
The PNC Championship has been around since 1995, but has gained popularity in recent years with Tiger Woods playing with his son, Charlie. Watson has previously played in the event a couple times.
"I never took a dollar for the PNC," Watson continued. "I've played in the PNC twice. My dad is passed away, so I played with my father-in-law, I gave it all to a children's hospital. It wasn't about money for me. This is about helping. This is about maybe one day being able to play with my son."
Watson and his wife, Angie, adopted a one-month-old Caleb just a couple weeks before Bubba won the 2012 Masters, his first of two green jackets. At the very least, Caleb will be at this year's Masters caddying for his dad in the Par 3 Contest.
"It's a cool tournament, and my son was kind of disappointed that he knows we're not going to play in that," Watson said. "But he still gets to caddie for me at Augusta, so he's happy about that."
Considering the current state of affairs between the PGA Tour and LIV, Watson might want to also have Caleb by his side when he has that talk with Monahan.