Arnold Palmer Invitational
Bryson DeChambeau didn't go for the green at Bay Hill's par-5 sixth, but continues to tease that he might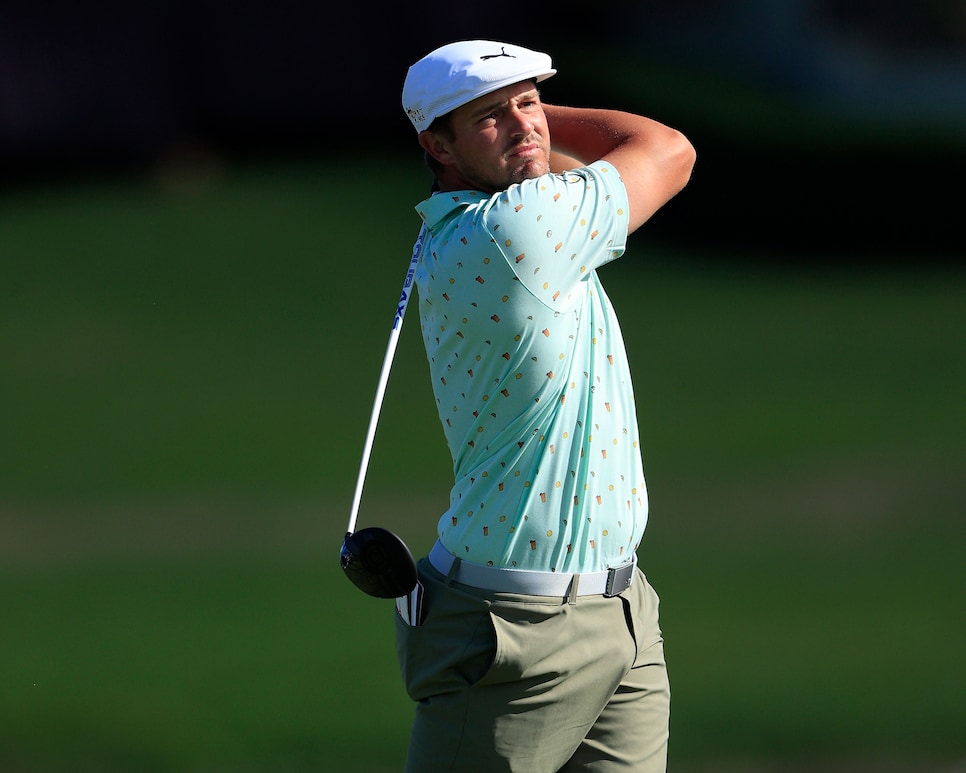 Will he or won't he? That is the question, and it's one that will be asked at least one-to-three more times this week at the Arnold Palmer Invitational.
On Wednesday, he did. He being Bryson DeChambeau, who attempted to drive the par-5 sixth green at Bay Hill. His first two attempts were unsuccessful, and he (rightfully) had the wind to blame.
Of course, those two attempts were in a practice round, when there is no penalty for putting a ball in the water. The real question was, would he attempt to pull off the feat in competition on Thursday? DeChambeau answered that with an emphatic no in the opening round.
While the disappointment among fans on the edge of their seats was real, this was certainly no lay-up. DeChambeau still wailed away with the driver, carrying it 303 yards and getting about six yards of roll for a 309-yard drive:
As good as this one still was, it was a full 20 yards shorter than Rory McIlroy's nuke just a few minutes earlier. The Northern Irishman's drive traveled 328 yards, leaving him with just 191 yards to the hole. (McIlroy went on to make a fifth straight birdie, eventually finishing with a six-under 66 to grab the solo lead.)
DeChambeau had 206 yards left to the hole, and his 7-iron second shot wound up 32 feet from the cup. He two-putted for his third straight birdie, and then parred his way home to post a five-under 67, putting him one back of McIlroy.
Afterward, DeChambeau explained his thought process on the par-5 sixth, which actually began on the fourth hole.
"It's funny, on 4 it was kind of straight into the wind I'm like, 'Man, it may be possible if the wind kind of flips a little bit,'" he said. "But there was a high expectation level of me trying to go for the green there and it was a little pressure that I wasn't expecting."
Knowing what the fans were waiting for, DeChambeau decided to play a little trick on them.
"The crowds were great with it," he said. "I pulled out an iron as a joke off the tee box. And for me it was just too much off of the right and more into the wind than anything."
This saga is far from over, however. During his post-round presser, DeChambeau continued to tease that he "might" go for the sixth green, possibly on Friday even.
"If it's 10 miles an hour downwind, I'll for sure go for it," he said. "Not necessarily the green, per se, but like I'll be 30, 40 yards right of that, try and go in that little area, about at that bunker, it's about 30 [yard] putt, 40 yards short of the green. So that will be the area."
Will he or won't he? That is the question.