Buy Buy Buy
A value ranking of Bryson's most Bryson moments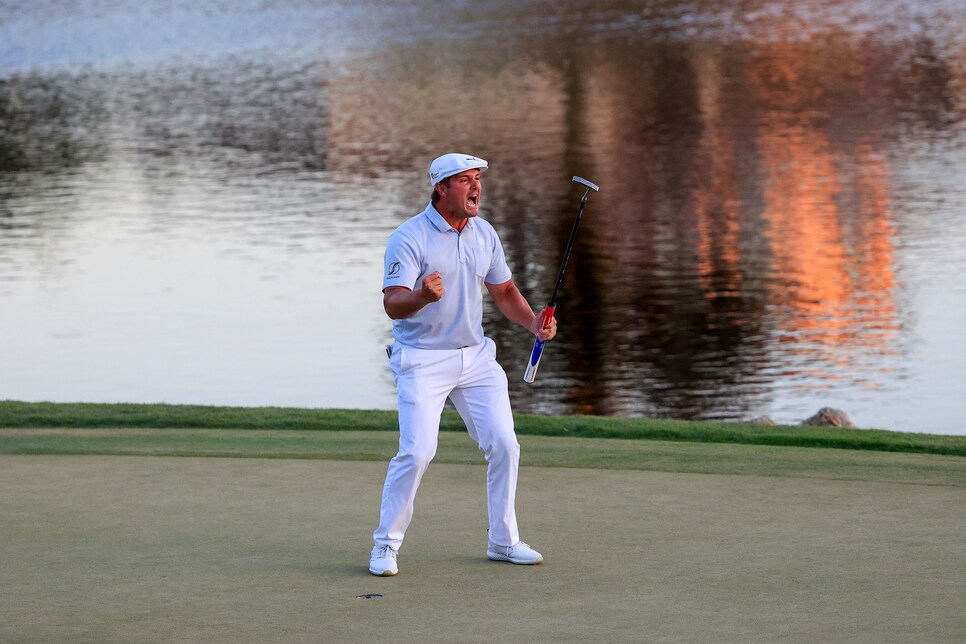 By now, it has become impossible to ignore, "it" being the non-fungible token (NFT for short) craze. Now that Bryson DeChambeau is apparently in on it, it's officially made its way to golf. This has left us no choice but to attempt to understand it.
Golf Digest's own Brian Wacker did a nice job of explaining it here, and, to the surprise of no one, Bryson's toe-dipping into the NFT game is already off to an inauspicious start. The man remains a walking, talking controversy everywhere he goes and in everything he does.
But we're not here to pile on DeChambeau or to clown on his foray into this new frontier. Instead, we're here to applaued the 27-year-old, who has already compiled a ridiculous amount of "moments" in his career that could theoretically be sold for a decent chunk of change. We're talking highlights, lowlights, viral moments, all of it. On today's PGA Tour, DeChambeau is quite literally the perfect guy for this NFT world.
Below, we compiled all of these moments to the best of our ability, ranked them starting with what we perceive would be the cheapest to get and making our way all the way to the stuff that would cost you the big bucks. No exact dollar amounts here, mainly because the bidding hasn't started. How valuable any of these are depends on how much the highest bidder is willing to go.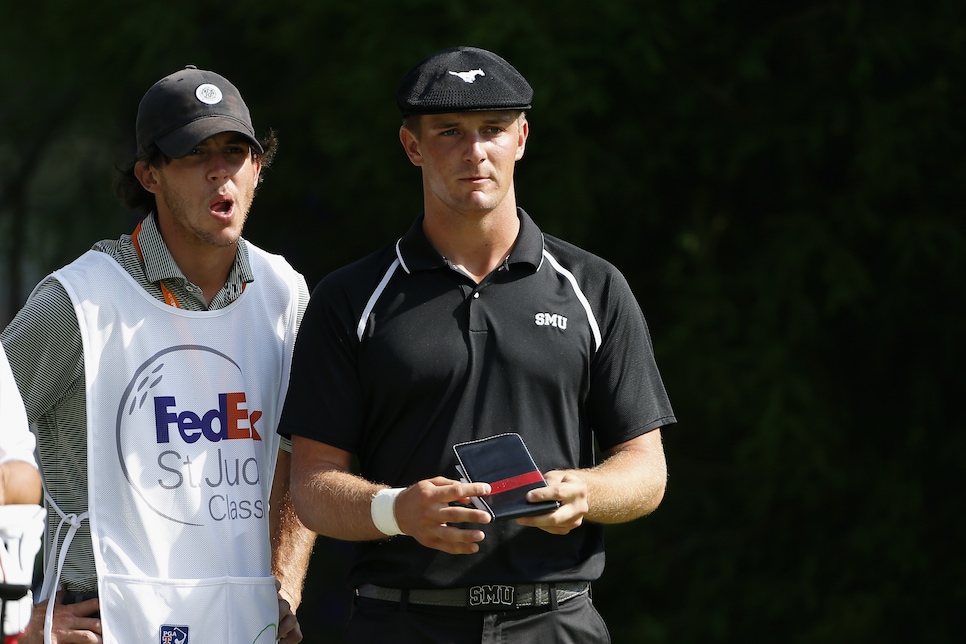 Still an amateur at the time, DeChambeau made his tour debut at the FedEx St. Jude Classic. He went on to make the cut, finishing in a tie for 45th. Ho hum, yes, but still a big moment in the early stages of his career.
Driving a 382-yard par 4 at the Shriners
Had this happened in a bigger event than the Shriners, perhaps it'd be a bigger deal, and thus, more valuable. Then again, a LeBron James regular-season dunk went for $200,000. Hitting one to 20 feet from 382 yards out seems just as impressive of a highlight.
95-footer at the PGA Championship
Without a huge ovation, this loses a bit of its luster. But, again, the LeBron dunk had no huge ovation either. OK, let this be the last time we bring up the LeBron thing. Sorry, it just seems so absurd that a dunk you could pull up on YouTube went for six figs.
When he tried side-saddle putting
When he took two minutes to play a 70-yard shot
Excuse us - two minutes and 20 seconds. An iconic moment in slow play history. The question with this one is, would you want to own it? If you need help getting to sleep, perhaps. But to watch for enjoyment? To show off to your friends? No thanks.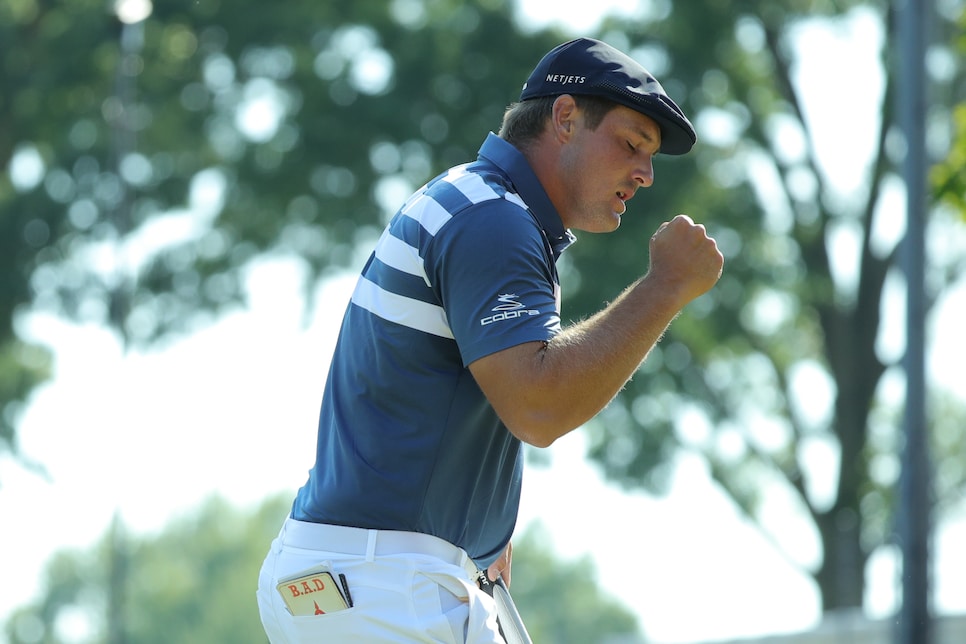 Apologizing to a legendary course architect, then torching one of his courses with a 23-under total, was just plain rude.
When he came after Brooks Koepka's physique
This is where I sort of understand this whole NBA Top Shot, NFT craze. I should not be able to pull up this video in a second on the internet. You should have to pay for it. Someone should own it and be guarding it with their life. It's simply that good.
Can't put a price on a fatality.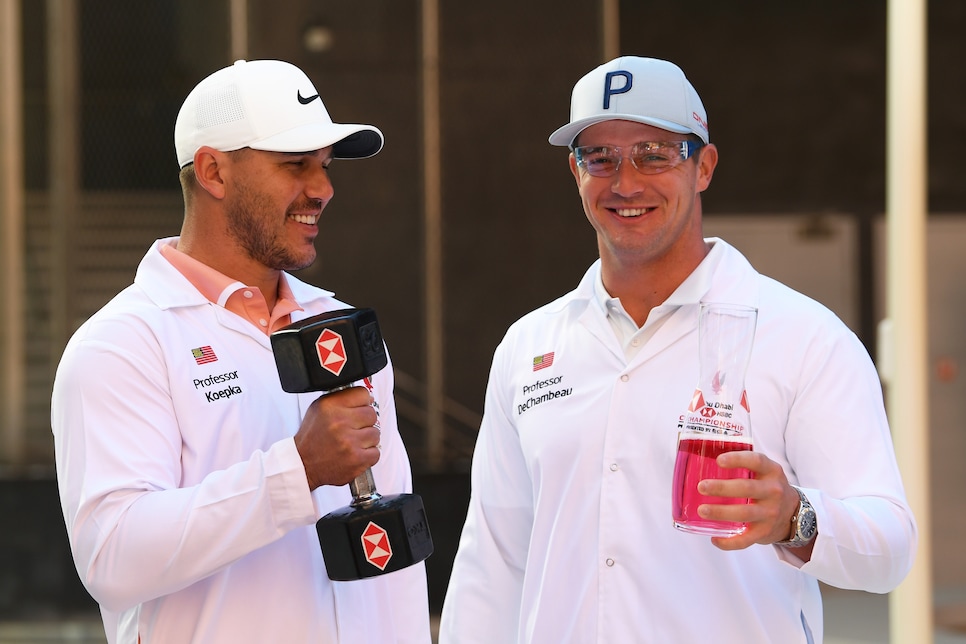 Easy to forget this photo was taken a day or two before their little Twitter spat. Not even the NBA can produce that type of Real Houswives drama.
The time he moved to the back of the Harbour Town range so he didn't fly the net
This was still very early in the post-pandemic restart, and turned out to be a sign of things to come. In 17 starts since this moment, DeChambeau has won three times, including a major, all three times employing the swing for the fences strategy.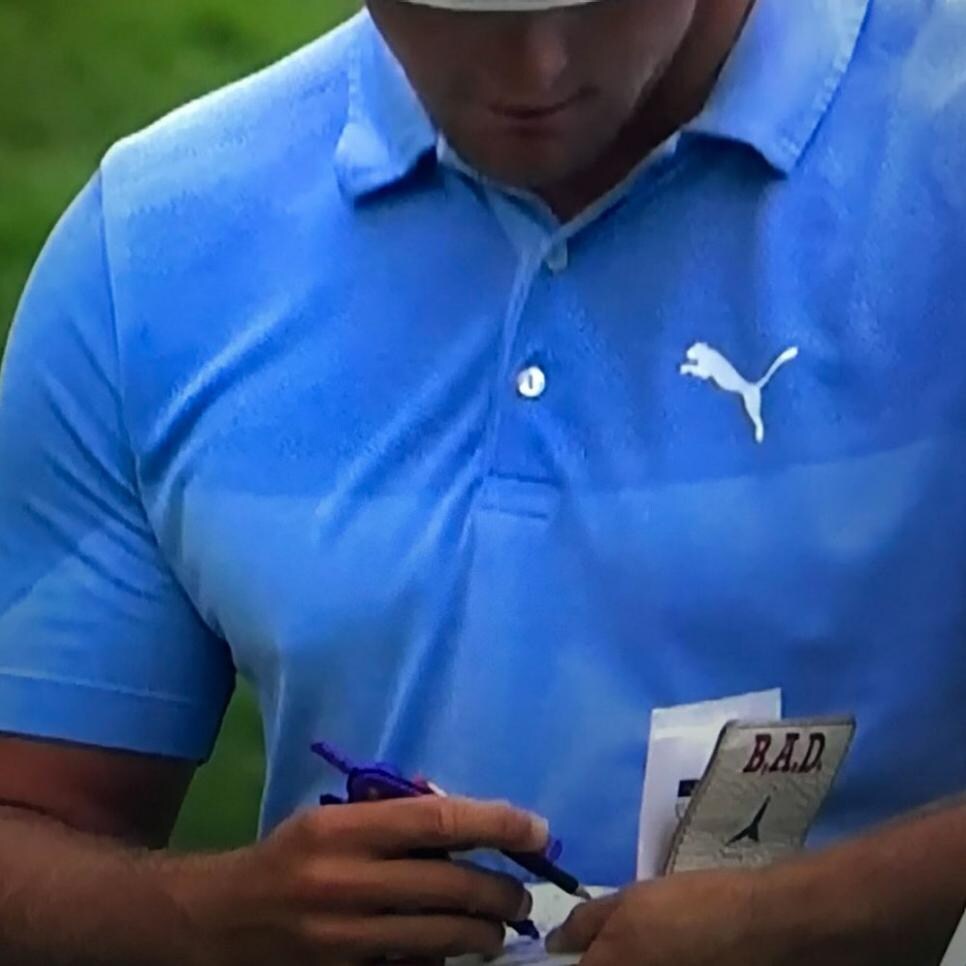 Another short-lived experiment, like so many others (side saddle, 48-inch driver, etc.), probably because the USGA finds a way to ban each idea. Really adds to the historical value.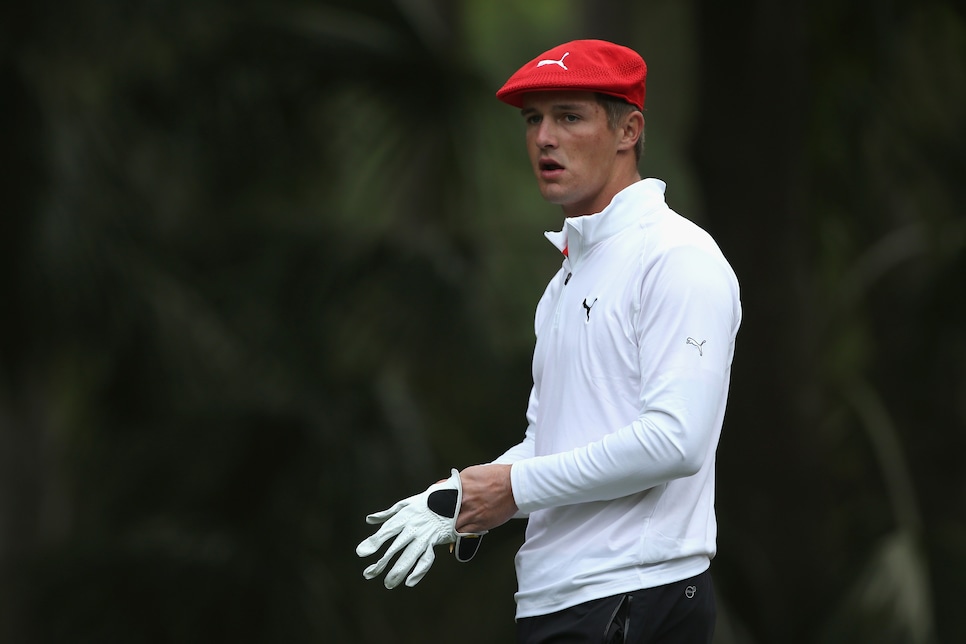 So young, so skinny, so ... uncontroversial? Yep, as much as he talked about how he was going to do it his way and potentially change the game, he was still an unproven commodity at this point, at least as a pro. Of course, he went on to post an impressive T-4 finish at Harbour Town in 2016, and the rest, as they say, is history.
His first PGA Tour win at the John Deere Classic
From my understanding, the NBA Top Shot is one single highlight, or a "pack" of highlights from a number of players. Perhaps, for golf, you could sell DeChambeau's incredible back-nine 30 to nab his first tour win at the John Deere Classic as a "pack" of highlights. Just spitballing here.
No clue who would pay for this, but we all know some sicko would.
The man has created a whole roster of side charatcers - towel guy, dew guy, launch monitor guy, umbrella guy. It's kind of impressive.
When he sang with the crowd at the Presidents Cup
Really seems like he did not know a single word of "Country Roads."
"You get enough pictures back there?"
No, he didn't, Bryson. He's trying to capture NFT-worthy moments!
The 58-footer for eagle at the 2018 Shriners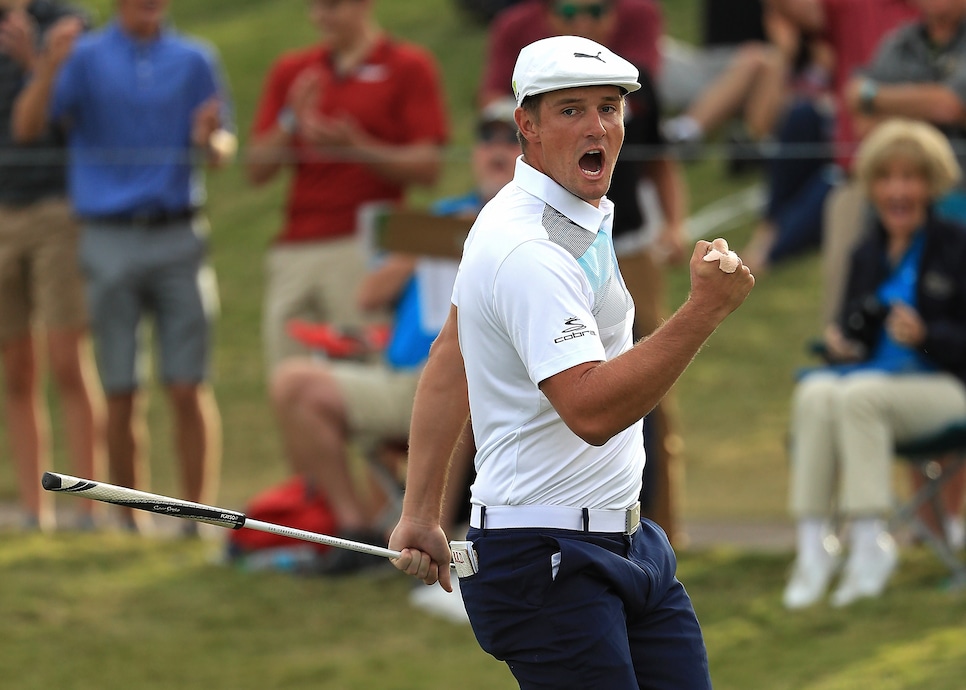 Still-skinny Bryson still produced a ton of great highlights, including a bomb from off the back of the green on the 16th at TPC Summerlin in the fall of 2018, which helped him capture his fifth victory.
Winning putt at the Memorial, and celebration
The double-pump, I'm-getting-electrocuted celly has become somewhat of a signature one of Brsyon, probably because it's the only option with that big-ass putter in one hand.
His NCAA championship win
Knowing what we know now about The Concession Club, this victory gets more impressive by the day, and thus more valuable to own.
A 7 and 6 ROMP, and the crowning achievement of his amateur career. That said, he still had one last thing to do before turning pro (we'll get to it).
When he made a 10 at the Memorial Tournament
As you can see, the only video of this historic moment was taken illegally. Again, all the more reason to sell the real footage to the highest bidder.
"We need to start protecting players out here"
Protecting players from ... cameramen ... in live PGA Tour events ... which are for entertainment. Wild stuff. Not great for the NFT game.
Losing a ball in the Augusta National rough
When he watched Matthew Wolff win the 3M Open
Never understimate the value of a dank meme.
His topped shot at The Players
It's only a few weeks old, but the value will only grow with time.
His eagle on the ninth hole on Sunday at Winged Foot
Sure, Matthew Wolff made eagle, too, but this proved to be the turning point in the tournament. DeChambeau stepped on Wolff's throat after this, while Wolff fell apart.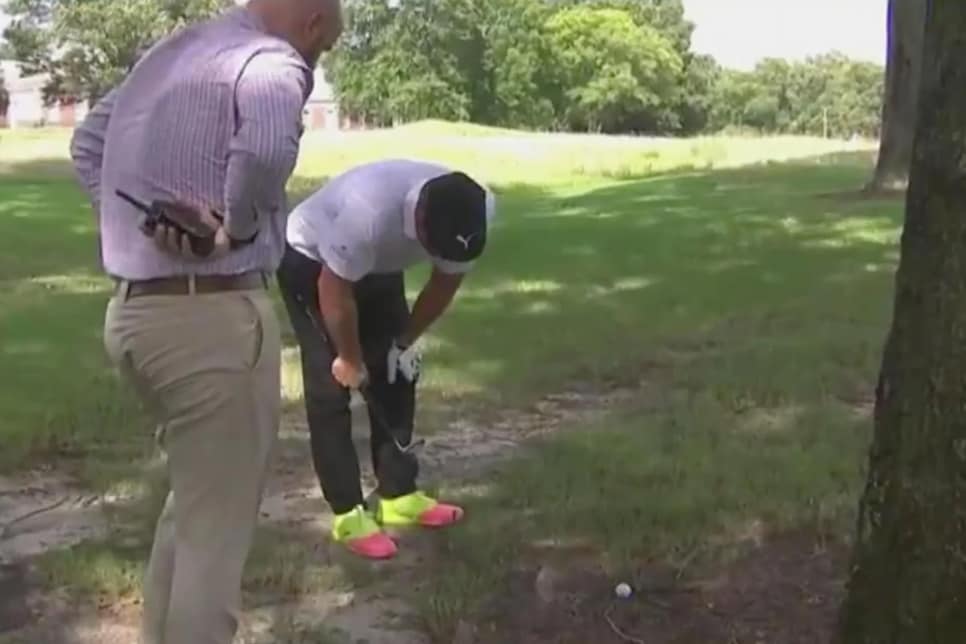 His finest rules hour. Not sure if screenshots are as valuable as actual video or highlights, but, I don't know, I could see this one going for decent money.
His low amateur finish at the 2016 Masters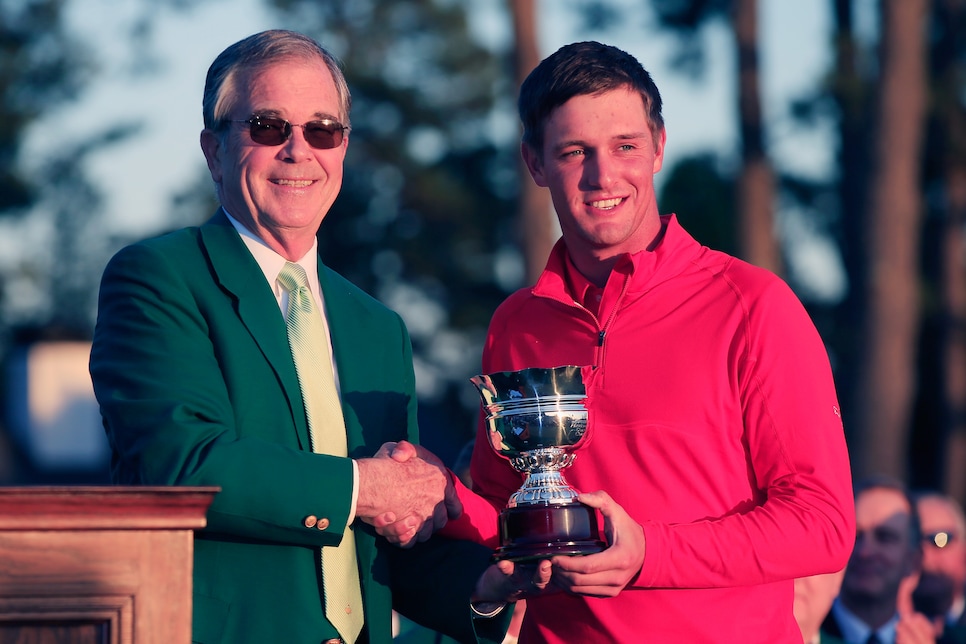 People forget, on Friday, DeChambeau was within a shot of the lead, then he triple-bogeyed the final hole. Still, he went on to finish T-21 for low am honors. He turned pro the following week, and was clearly ready for the PGA Tour.
Could look back on this is the moment the PGA Tour turned into World Long Drive.
His 2018 Open Championship range meltdown
This would be by far the most valuable Bryson moment (might still be) if not for a little thing called the U.S. Open.
His first major at Winged Foot
There will be more major victories, perhaps a Masters, that could prove to be just as, if not more valuable than this moment. But you're first one, in dominant fashion at iconic Winged Foot, will always be tough to top.