News
Bryson DeChambeau apologizes for handshake controversy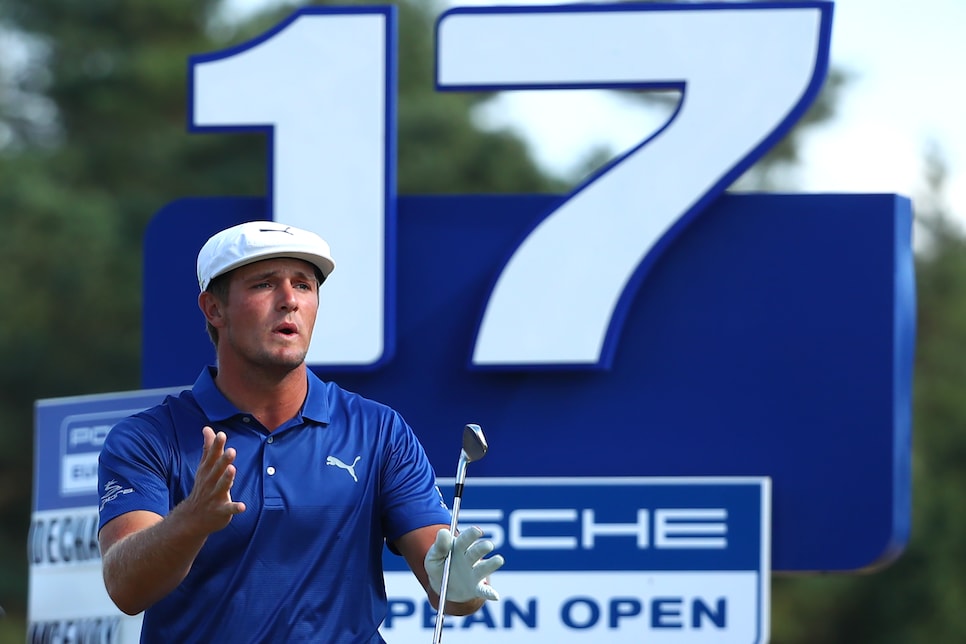 Bryson DeChambeau was running red at the Porsche European Open. Not surprising, then, that he found himself in hot water.
DeChambeau was leading the European Tour event by a stroke on the 15th hole at Green Eagle when things began to go south. Going for the par 5 in two, DeChambeau found water guarding the green, leading to a bogey and emotional outburst, while his Richard McEvoy made birdie to take a one-shot lead. Things got worse on the next hole, as the 24-year-old sailed his drive to the right, leading to another bogey. He remained just a shot back, however, after McEvoy made bogey at the 17th. Alas, on the par-5 18, the former NCAA and U.S. Amateur champion sent his tee shot and third into the drink, eliciting another fiery response from DeChambeau. Coupled with McEvoy's birdie, DeChambeau went from possible win to 13th place.
What really rubbed observers the wrong way, though, was DeChambeau ostensibly blowing off McEvoy after his victory, offering the briefest of handshakes before departing the green.
Many, including fellow players, deemed the move in poor sportsmanship. It appears DeChambeau agreed, apologizing to McEvoy and fans for his actions on the final green.
"Tough finish today at the @peo_18 , but overall I had a great week in Hamburg," DeChambeau wrote on Instagram. "Thank you to Porsche European Open for having me. A terrific golf course with great support from the fans. I apologize to Richard McEvoy and the fans for my brevity on 18. He is a class act, worthy champion and I enjoyed playing with him the past two days. Looking forward to next week in Akron at the @wgc_bridgestone and continuing to work hard on my game."
This is not the first time DeChambeau has made headlines for reasons other than his play this season, most recently in the news for the USGA deeming his use of a compass against the rules.
DeChambeau is having a breakout campaign this season, winning the Memorial and posting seven top-10 finishes. He enters Akron ranked sixth in the FedEx Cup and ninth in the U.S. Ryder Cup standings.