The Loop
Bryson DeChambeau ditches side-saddle putting, points blame at the USGA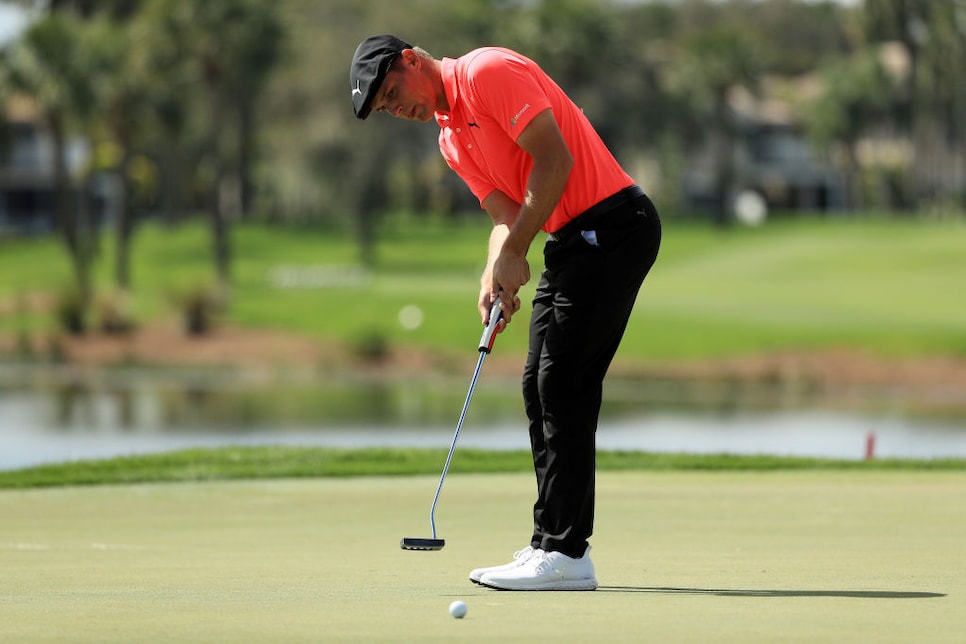 Friday at the Honda Classic, he pointed the finger directly at the United States Golf Association when asked about his decision to abandon the stroke.
"It [was] a long conversation," DeChambeau said after a 71 to miss the cut by four shots. "But the USGA essentially doesn't like me doing it.
"I'm pretty much done with it. They're not a good organization, and you can quote me on that. I'm part of their family and as family it's very frustrating to see them stunt the growth of the game."
"We talked to Bryson in mid-January to discuss both his putter and his method of stroke," USGA spokesperson Janeen Driscoll said via email. "In that conversation we confirmed that his method of stroke (side-saddle) was fully compliant within the Rules of Golf, and he could feel confident in continuing to employ that method."
With respect to the stroke, Rule 14-1a states that "the ball must be fairly struck at with the head of club and must not be pushed, scraped or spooned."
DeChambeau first employed the method -- also used by Sam Snead late in his career -- at the Franklin Templeton Shootout in December. He said at the time he was eager to give it a try in competition and see how it went. He also said then that short putts felt like "cheating."
The 23-year-old continued to use the stroke and putter, receiving a "Duration of Competition" ruling from the PGA Tour to use the putter at the Sony Open in January but was later warned there might be an issue with the version of the putter he was using.
The putter was eventually ruled as non-conforming by the USGA and DeChambeau switched to a different, conforming model starting in Palm Springs. He continued with it for two more starts, at Torrey Pines and Pebble Beach, before ditching the method at the Genesis Open.
It has been a frustrating year for the 2015 U.S. Amateur and NCAA champ -- just the fifth player to win both titles in the same year -- with six missed cuts and a WD in 10 starts. His best finish was a T36 in Las Vegas in the fall, and he entered this week 194th in strokes gained-putting.
"It's just golf," DeChambeau said before departing PGA National. "It'll turn around."
Just apparently not with the side-saddle method he was so high on coming into the year.