Patience is a virtue
British Open 2023: The R&A just trolled Brooks Koepka back to the stone age with this Thursday/Friday pairing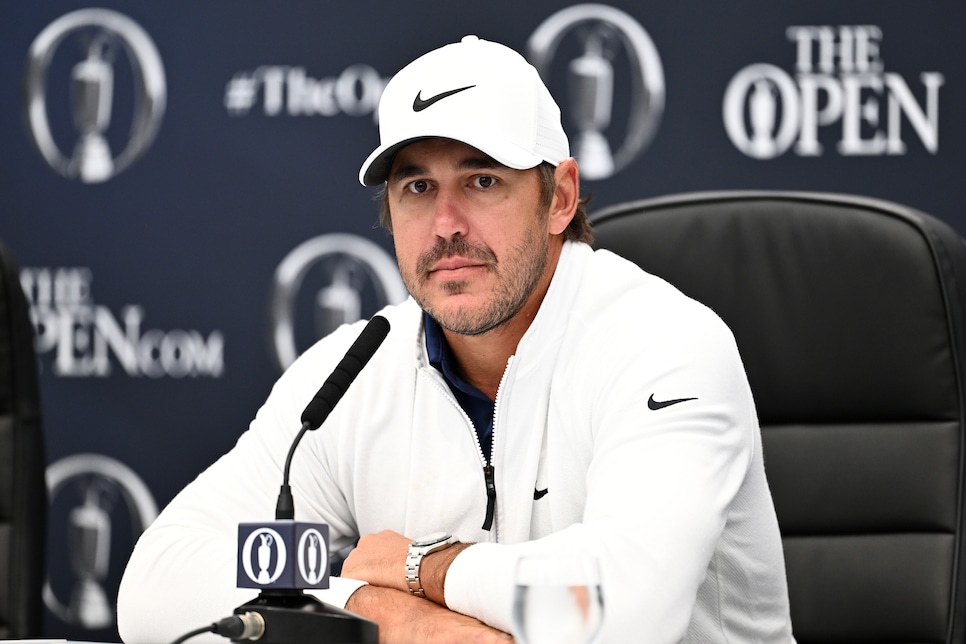 The tee times and pairings for the first two days of the 2023 Open Championship are finally here and there are some doozies. There's the trio of Jordan Spieth, Matt Fitzpatrick and Jason Day, a Big Three of erstwhile major winners looking to rekindle their glory days. There's the fun-guy lineup of Viktor Hovalnd, Tony Finau and Justin Thomas, all of whom could use a big win in a big way. You have Cam Young and Bryson DeChambeau in the same group for fans of watching the golf ball go very far, Rory vs. Rahm in a matchup of world no. 2 vs. world no. 3 and even Max Homa and Tyrrell Hatton duking it out in the Twitter all-stars division. Put on the coffee and set the alarms, because it's going to be a lot of fun … well, for everyone not named Brooks Kopeka.
Of all the Featured Group-worthy trios announced on Monday, none is more potentially hilariously (or hilariously petty) than 2021 Masters champion Hideki Matsuyama, 2023 Masters villain Patrick Cantlay and Koepka. Read it and weep (tears of laughter that is).
As you may recall, Cantlay was in the second to last group at this year's Masters, holding up leaders Brooks Koepka and Jon Rahm with his slow play all day long. Both Koepka and Rahm became visibly frustrated as the round progressed, but Cantlay's pace seemed to affect Koepka most, grinding the major specialist's momentum to a screeching halt. Afterwards Koepka called Cantlay's play "brutally slow" and pushed for excessively slow players to be penalized a stroke for future infractions. Now they'll be in the same group for 48 glorious, excruciating hours at Royal Liverpool.
We don't know if this is some kind of sick joke from the sadistic R&A power brokers or not. Maybe this is their way of sticking it to Koepka after his move to LIV Golf in 2022, or maybe it's just a happy accident. Either way, it's going to be must-see TV when the trio tee off at 9:36 a.m. ET on Thursday. Don't be late … even if Cantlay probably will be.
Is it the British Open or the Open Championship? The name of the final men's major of the golf season is a subject of continued discussion. The event's official name, as explained in this op-ed by former R&A chairman Ian Pattinson, is the Open Championship. But since many United States golf fans continue to refer to it as the British Open, and search news around the event accordingly, Golf Digest continues to utilize both names in its coverage.