Takeaways
Brooks reveals hidden injury, Burns is on fire and the Spieth renaissance continues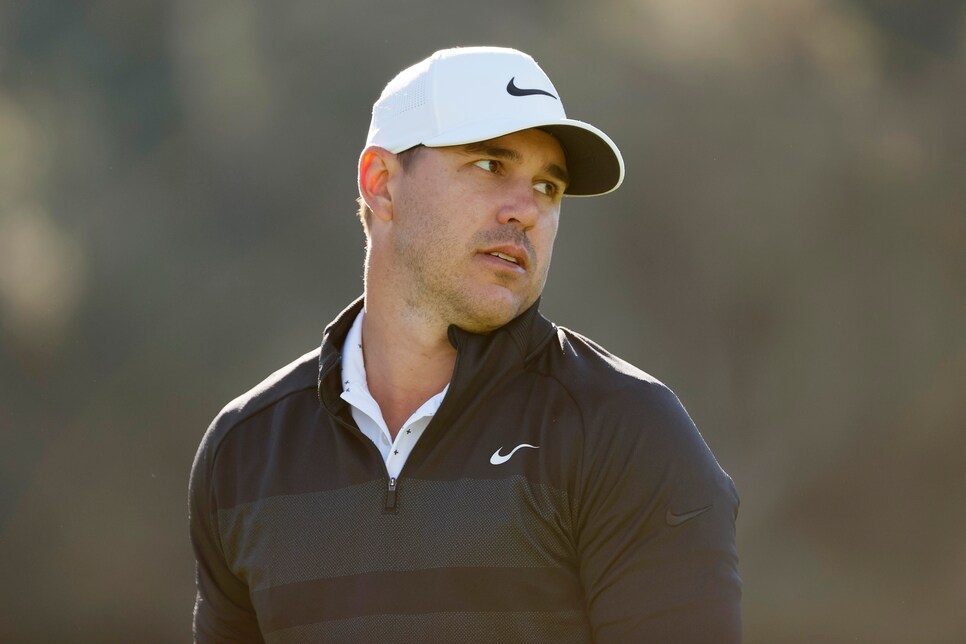 OK, it's not Jack Youngblood playing on a broken leg in the Super Bowl (or, given the audience, Tiger playing on one leg at the U.S. Open). Still, if there is a takeaway after two days at Riviera, it is this: Tyler McCumber is a bad, bad man.
McCumber is seven under at the halfway point in Los Angeles, behind only Sam Burns on the Genesis Invitational leader board. A score like that on a course like this is grit in its own right. However, it's not so much McCumber's performance as it is how he performed. Or should we say, what he performed without.
McCumber, 29, was involved in a hotel accident on Tuesday. Attempting to open a window, McCumber smashed his finger in the window's crevice, one that—for those with weak constitutions, avert your eyes—dislodged half of his fingernail. Faced with bandaging the nail up (and thus dropping out of the tournament) or having a procedure to rip off the nail and possibly play, McCumber went with the latter.
"Basically I was able to kind of see if I could hit balls that next day and I was. I just kind of altered my glove and kept this [bandage] on all day and putted with it on," McCumber said on Thursday. "I was surprised I could play, honestly. When I did it, I pretty much booked a flight back home and changed it once he ripped it off. … Maybe there's some truth to [having no expectations because of the injury], going out and being pretty fortunate to tee it up."
Following a 68 on Friday McCumber, still playing with his finger wrapped up, said it was "wild" how quickly his body was adapting to his new set-up, the biggest change putting with his glove on in order to get the bandage in place.
"I thought it was a little better today just to kind of focus on the golf and not really worry about the finger," McCumber said.
After a rough rookie year on tour last season, McCumber has enjoyed a bit more prosperity in his sophomore campaign, coming in second at the Corales Puntacana in the fall and logging a T-6 at the Sanderson Farms Championship. A high finish this week would lock up his card for next year. Conversely, no matter what transpires over the next two days, McCumber has already secured his status as the tour's resident mamba jamba.
Four other observations from the first two rounds at Riviera: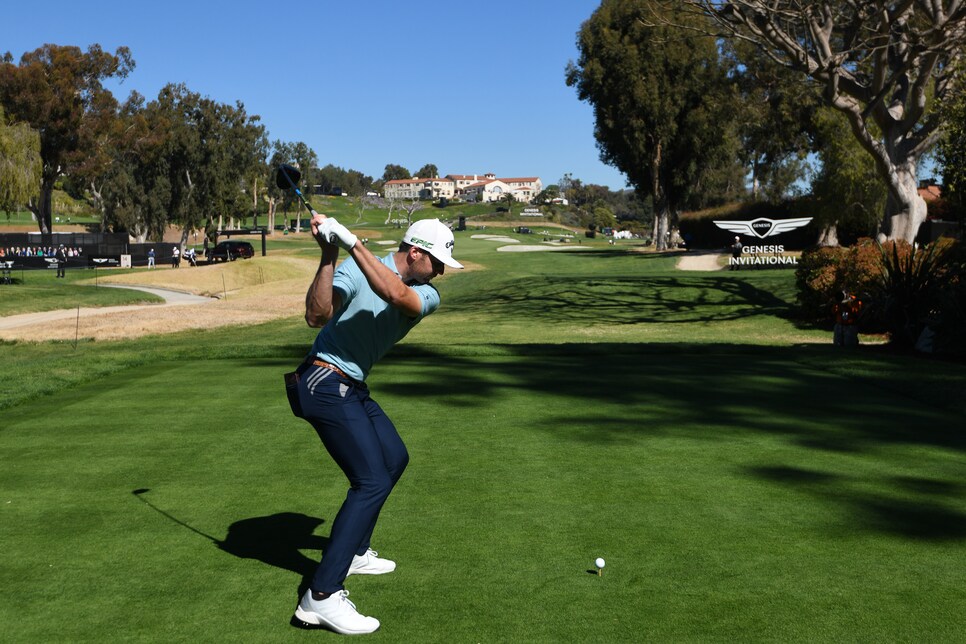 Sam Burns, uh, burned down Riviera on Thursday to the tune of 64 strokes. The poor grounds crew barely had time to sweep up its ashes before the 24-year-old torched it again Friday, this time with a 66. His 130 score ties the tournament 36-hole record and gives the LSU alum a sizable five-shot lead heading into the weekend.
"I think we just tried to have a good game plan and just kind of stick with it out there all day," Burns said afterwards. "This golf course doesn't necessarily give you a lot of opportunities at times, so just put it in the right spots. When you get in a tricky spot, just try to get it back in position."
Few players on tour are better than Burns from tee to green, as he ranks 14th in strokes gained/off-the-tee and 15th in greens in regulation. His flat stick is pretty solid, too (32nd in SG/putting). What has tripped up Burns this year has been Saturday, when he ranks 167th in third-round scoring, with Sunday not providing much of a respite (144th).
In that same breath, Burns has made less than 70 career starts, and sometimes it takes a few tosses from the saddle before figuring out how to stay on.
"I'd like to think that I have all the tools to win out here," Burns said. "Obviously there's a lot of good players— really, really good players. Yeah, I think try not to get caught up in that and just trying to get better each week and just trying to build as the season goes on."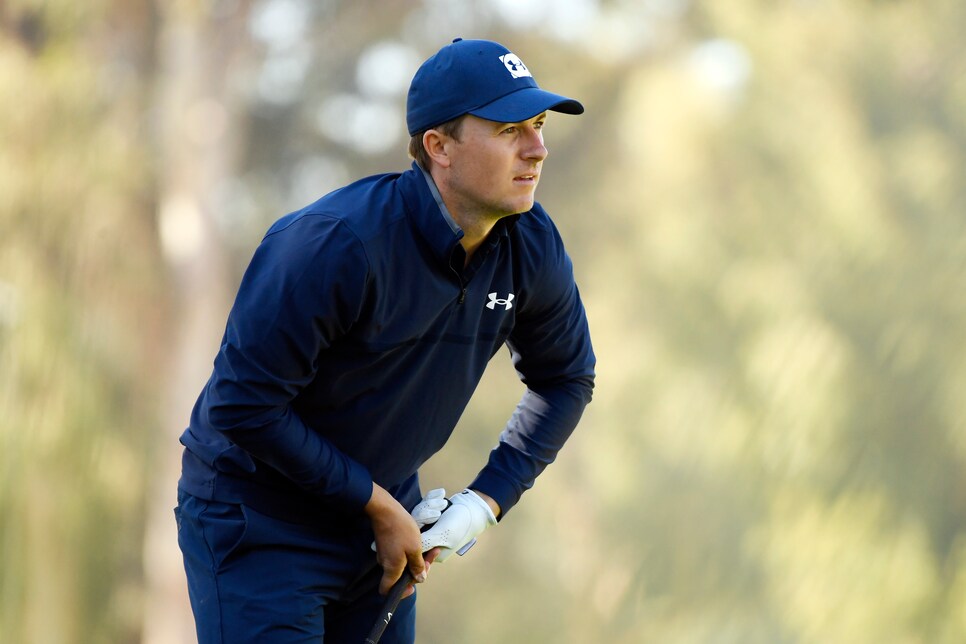 Most fans won't consider Jordan Spieth's comeback official until he wins. It's an understandable view, albeit myopic. The real barometer for the three-time major winner's renaissance is not the sight of him at the top of a board, but that such sights become common. Yes, his style of play is turbulent, but the idea that he's always been a hit-or-miss player is wrong. During his 2015-2017 run, Spieth posted a top-10 in half his starts (35/69) with a whopping 52 top-25 finishes.
So while Spieth may be six shots back of Burns heading into Saturday, that he's in the conversation for the third consecutive tournament is the proper fuel for the "Is he back?!?" flames.
"The idea what I'm trying to do is just to get better every single day, have everything feel better each day and be able to be kind of outwardly focused versus kind of swing oriented," Spieth said. "The more I can shift that direction and eventually to where it can be 100 percent that way, the better off I'll be.
"I'm in good shape. I'm a little kind of—you know, I wish I would have grabbed one of the last few today. The last four holes I had good chances, so that kind of leaves me at, you know, where I kind of wish I had moved up to seven or eight under and got a little closer because six shots is quite a feat, but on a course like this it's one where it certainly can be done. Just try and get myself close to the lead by the end of tomorrow, that will be the goal."
Better yet, on some of the toughest greens the tour has faced this season, Spieth is both finding the dance floor (gaining three strokes on the field in approach) and doing work on it (2½ strokes in putting). It may seem like an elementary formula, but it is the formula Spieth—one of the few stars whose game is not predicated on power—rode to his past heights.
Spieth has had success at Riviera, highlighted by a T-4 in 2015. While a victory would be sweet, he and his fans will gladly take another top-five finish with Augusta National less than 50 days in the distance.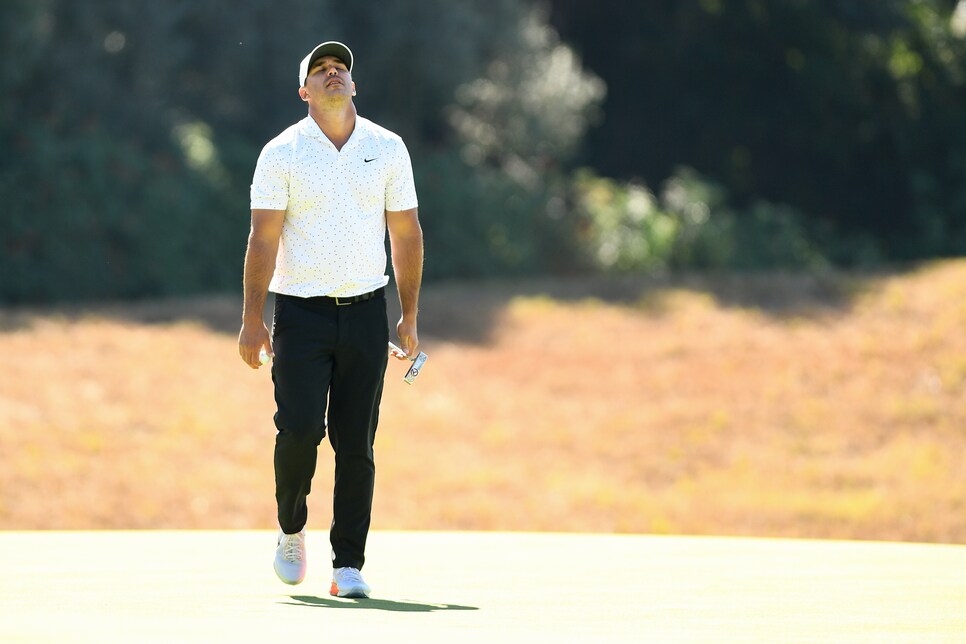 Brooks snaps back into it
We're not in Los Angeles this week, so we have no idea who "Brian" is. All we know is a bunch of tour players are going to be mad at him.
That's because, apparently, Brooks Koepka was not back after his win in Phoenix. According to the former World No. 1, he's been dealing with a stiff neck over the last six weeks, a stiffness that was distracting him from his game.
"I thought I struck it a lot better," Koepka said after his round, a one-under 70. "I mean, the swings I made, the double I made and the bogeys I made were just because, I don't know, just I've had a stiff neck for like a month and a half and it just, I couldn't do it. But it's fine, I thought I struck it way better."
Now, Brooks is never shy to stir things up, although he's been somewhat more ambiguous about his health. So the mention of a stiff neck prompted follow-up, and, well, read for yourselves:
Is there any concern when you get in position like that or are you confident enough in your health and your hip?
KOEPKA: No, my knee, I'm good. Like I said, I just got my neck popped, so it feels a million times better. Knee's good, there's no complaints. My body feels fine.
After the round you got your neck popped?
KOEPKA: Yeah, I just got it popped right now, so it feels better.
Can you do that during the round?
KOEPKA: I mean, I've been trying to do it for a month and a half. One of the guys just did it, Brian. It's a miracle. I feel so good right now, I feel so much better than I did this morning. This morning was absolutely brutal, but yeah.
So you're really not caring about your round night now, it's more that you got your neck …
KOEPKA: Honestly, yeah, I could care less about the round, my neck's good.
In short, if Koepka can amass a four-under total with a bum neck, he's going to stuff Riv in a locker this weekend. Dude better tip Brian for the effort, though.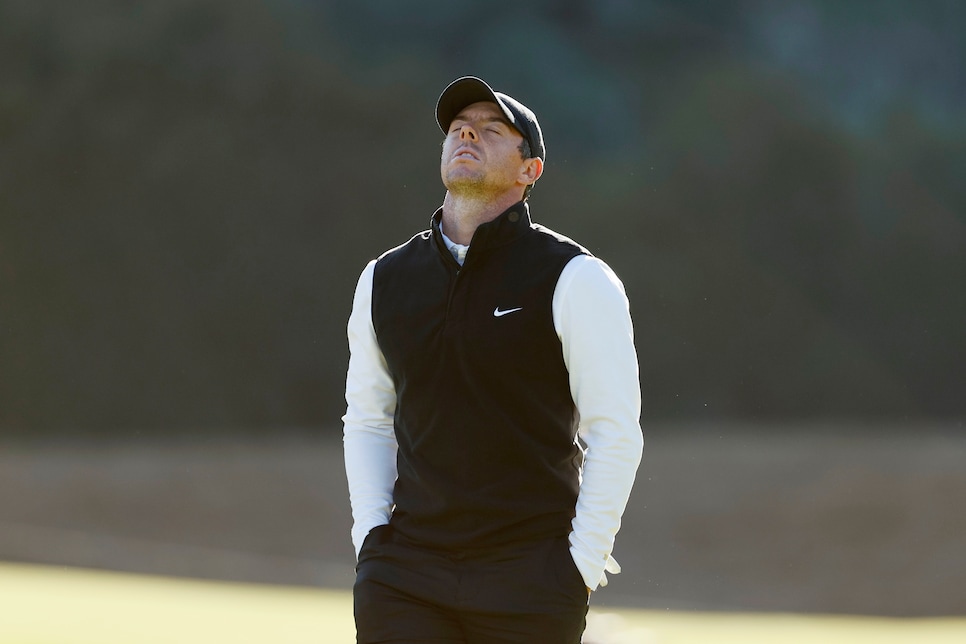 In seven previous starts this season, Justin Thomas had finished no worse than T-13. The last time Rory McIlroy missed the cut came at the Open Championship … in 2019. Bryson DeChambeau … well, if memory serves correctly, he won a pretty big event last fall. And yet, all three superstars will not be teeing it up at Riv this weekend.
Thomas was undone by an opening-round 77, and Friday's 73 wasn't much of a bounce-back. With a Thursday 73, McIlroy needed something of the 67-68 variety; instead he made the turn in 39 and failed to rack up the red on his remaining holes. DeChambeau wailed away into Thursday's nightfall trying to get right following a first-round 75 (although, to be fair, DeChambeau does that most nights). To his credit, the reigning U.S. Open champ answered with a Friday 69; unfortunately for the Mad Scientist, he needed two more strokes.
For those asking if these performances raise any eyebrows, the simple answer is no. Riviera is merely a cruel mistress, and with its greens on the firmer side this week, anything less than good was punished. Of note, McIlroy's consecutive cut streak of 25 was a tour best. That honor now goes to Xander Schauffele (22). We are contractually obligated to remind you that these numbers pale in comparison to Tiger Woods' mark of reaching the weekend 142 events in a row.