Genesis Invitational
Jordan Spieth perfectly explained what makes Riviera so tough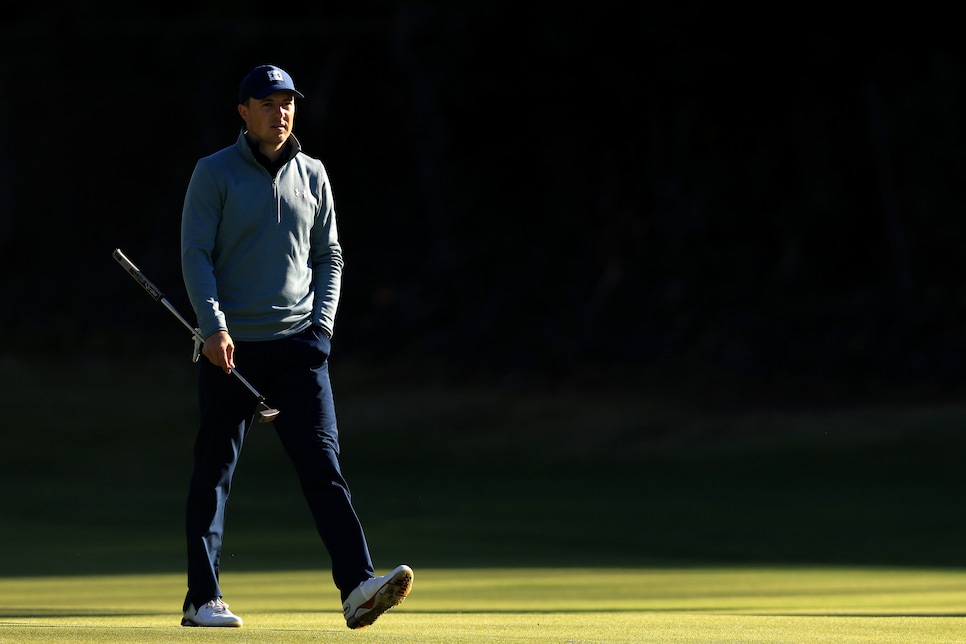 PACIFIC PALISADES, Calif. — You wouldn't know from watching Sam Burns, but Riviera is playing rather difficult at this week's Genesis Invitational. Need proof? Scroll down on the leader board. Keep scrolling until you venture past the dreaded cut line. You'll see Bryson DeChambeau, the guy who conquered big-bad Winged Foot, at two over. Keep going and you'll eventually find Rory McIlroy and Justin Thomas at seven over.
Riviera routinely tortures the world's best players—Jack Nicklaus never won here, and neither has Tiger Woods—and it does so without having any real hazards or out-of-bounds in play. That's part of Riviera's charm and why so many players call it their favorite course on tour. It is difficult without any bells or whistles but still rewards precise play.
After his round on Friday, Spieth was asked what makes Riviera so difficult. His outstanding answer painted the complete picture.
Watch the video below for exclusive drone footage of Every Hole at Riviera Country Club:
"It's one of those rare weeks where you just can't get away with firing at flagsticks. Precision is so key, but being smart and recognizing when even being precise still won't work out," Spieth said.
"I mean, there's not much rough, but when you get in the rough it takes the spin off enough to where you can't get into pins. So if you try and be cute with it, a lot of times when you miss the greens it's harder from where you missed them, harder to get it closer than where you could have hit your approach shot. So you actually end up further for par than you would have had for birdie just because of where those short-sided misses go. So you just have to be so disciplined.
"And it's such a different experience from what we normally have on tour, where you're use to 20-, 25- under winning, where you get away with short-siding yourself because guys' short games are so good. But here, it just doesn't happen. You just get enough little corner sections where you've got to be coming from the fairway and you've got to hit a lot of shots that, like, Augusta requires, where you've got to work the ball the other way off of slopes that are—either kind of ride the slopes into some pins and work it.
"It's almost like when the pins are on the right or left side of these greens, you almost have two completely different holes because your approach shots have to be either a low draw to the back left or they've got to be this floaty high fade to the right. So it just requires a lot of—it's why Bubba [Watson] probably likes it so much, right, because of the shotmaking ability that he has and it just brings the feel out in his game."
With that eloquent description of this design, Spieth might have a future in golf course design, should he ever want one.