PGA Tour
Why you shouldn't be surprised Sam Burns is dominating all the big names at the Genesis Invitational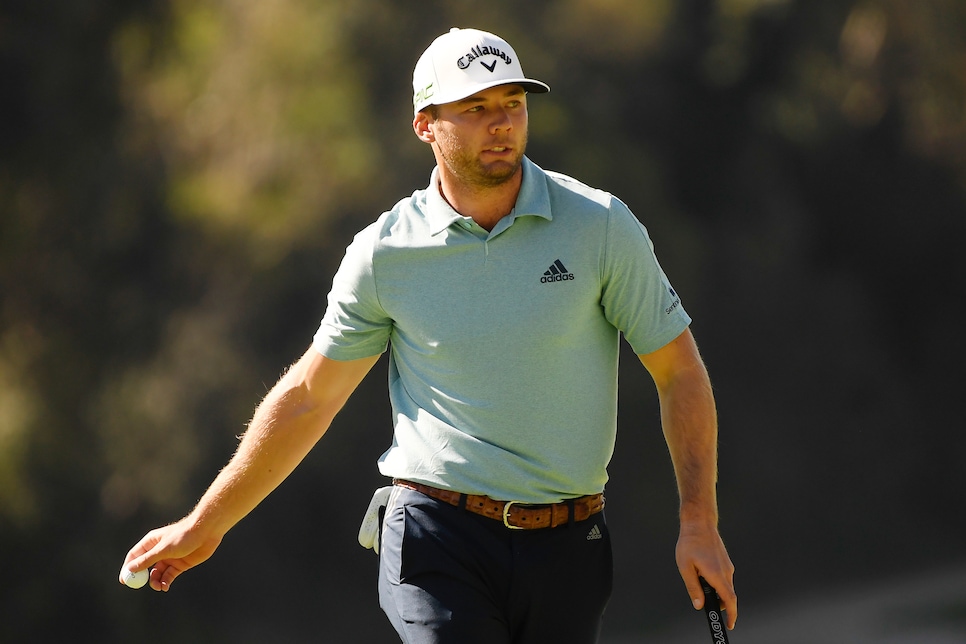 Sam Burns reacts on the eighth green during the second round of the Genesis Invitational at Riviera Country Club.
Harry how
PACIFIC PALISADES, Calif. — Tiger's not here, but he's about the only one. DJ is present and accounted for. So are Rory, Rahm, JT, Bryson, Brooks … you get the picture.
Virtually every PGA Tour megastar RSVP'd "yes" to the Genesis Invitational. Yet all those big names are looking up at a man named Burns. Sam Burns.
The laconic Louisianan is playing the golf of his life through two days at Riviera Country Club, following up his opening-round 64 with a bogey-free 67 on Friday to set the pace at 12 under. That matches the lowest 36-hole total at Riviera, which has hosted this event 57 times and two major championships.
And it's not like the course is playing easy—anything but, really. The consensus among players and caddies this week is that this is the firmest and fastest the greens have ever been. Anything above the hole, you're playing defense. Rory McIlroy, Justin Thomas and Bryson DeChambeau all shot over par to miss the cut, and the average score on Thursday was a hair over par at 71.208.
What's the secret? Nothin' fancy.
"I think just having patience out there," Burns said. "I didn't try to force anything. Whenever we were kind of in a tricky spot, just took what the golf course gave us. Yeah, I would probably say that."
He's done the majority of his damage with his irons, picking up 6.27 shots on the field through two rounds. That's how he's been able to overcome a so-so driving performance, which has him ranked 78th in strokes gained/off the tee thus far. The irons have been an area he's emphasized in practice—during his work with instructor Brad Pullin, Burns frequently hones his approach play with TrackMan's combine game, a 10-shot test that spits out a target and a yardage and grades each shot by its proximity to that target.
"When I started out a few years ago I'd try to get a score of 85 or better, then got up to 86, 87, and now I try to shoot for 90 or better. If I don't, I'll do the drill over."
Burns might be an unfamiliar name to those who spend their weekday mornings doing something other than obsessively patrolling PGA Tour Live. But the 24-year-old has flashed plenty of game in his nascent PGA Tour career. The first sign came back in 2018; he was fresh out of LSU, where he became the top college player in the nation, 21 years old and playing in the Honda Classic on a sponsor's exemption. He found himself paired with one Tiger Woods, who was semi-contending on the PGA Tour for the first time since his spinal fusion surgery, on Sunday that week. Woods played fine that day, shooting even par to finish 12th. Burns shot two under and finished T-7.
Next came a brief stint on the Korn Ferry Tour, where he won quickly to all but assuredly lock up a PGA Tour card. The first two seasons of his career were solid but not spectacular—he made the FedEx Cup Playoffs each year but never really challenged for a victory, notching just four top-10s in 45 events.
He has two top-10s already in nine starts this year, including a 36-hole lead at the Safeway Open (he finished T-7) and playing in the final group at the Farmers Insurance Open (he shot 75 to finish T-18).
He's caught the eye of Nick Faldo, who—and we're being serious here—selected Burns before the week started as his pick to win.
"Hadn't played as good," Burns said of the weekend stumbles. Again, not one to overthink things or talk in circles. When you're playing this well, there's simply no need.