Past winners' perspective
British Open 2023: These are the things Brian Harman will have to adjust to as a major winner, say those who've been there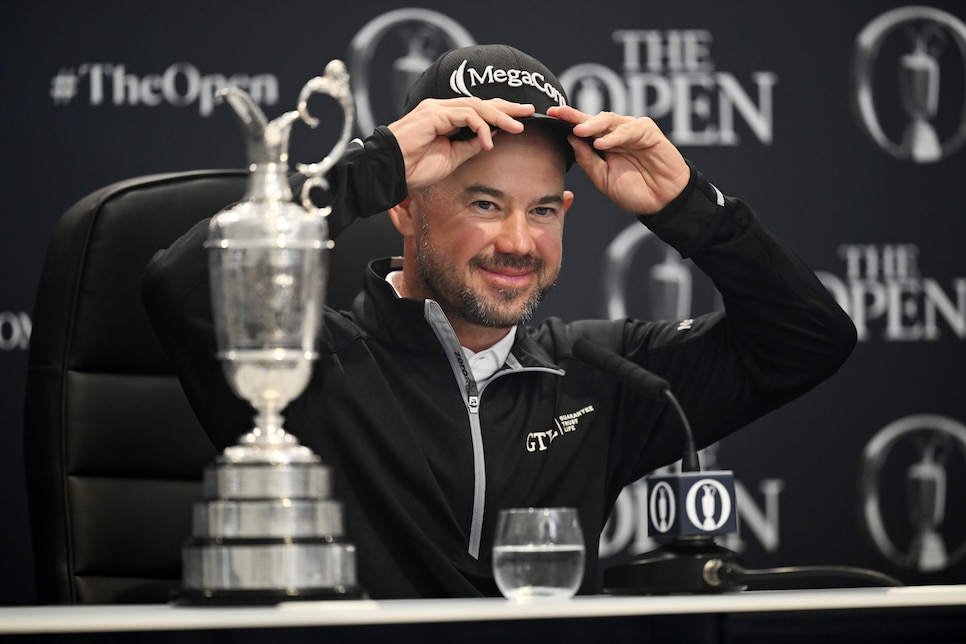 Brian Harman appears with the claret jug during his champion's press conference.
Stuart Franklin/R&A
HOYLAKE, England — Ask some of the world's top golfers whether life will change for the newest member to their club, Open champion Brian Harman, and the answer is a resounding, "Not really." But the commotion surrounding the Savannah, Ga., native exited his winning press conference at Royal Liverpool on Sunday night would suggest otherwise.
First, a member of the media asked the 36-year-old for a selfie with the claret jug as Harman walked off the dais. It was denied by an official as emphatically as Harman defeated the Open field by six shots. There are going to be a lot of selfie requests over the next 12 months.
"There might be a few more demands on his time," said four-time major winner Rory McIlroy, the 2014 Open champion at Hoylake, who knows more about that topic than any player in golf apart from Tiger Woods.
As Harman exited the interview room, he was flanked by three security guards and three cameramen. He walked into the player lounge to a warm hug from joint runner-up Sepp Straka and loud applause. There's going to be a lot that, too. More cameras, more featured groups at tournaments and major championships, and more adulation and respect from his fellow tour pros.
"I'll be [playing] in some better tee times," Harman said with a laugh. "I'll have to do a couple more interviews at golf tournaments."
According to Cameron Smith, the 2022 Open champion who just handed the jug back to the R&A this week, there'll be plenty more attention from fans.
At tournaments. "There's a little bit of a role [as the Open champion] in some scenarios, especially with big crowds, and autographs, to be really accommodating," Smith said.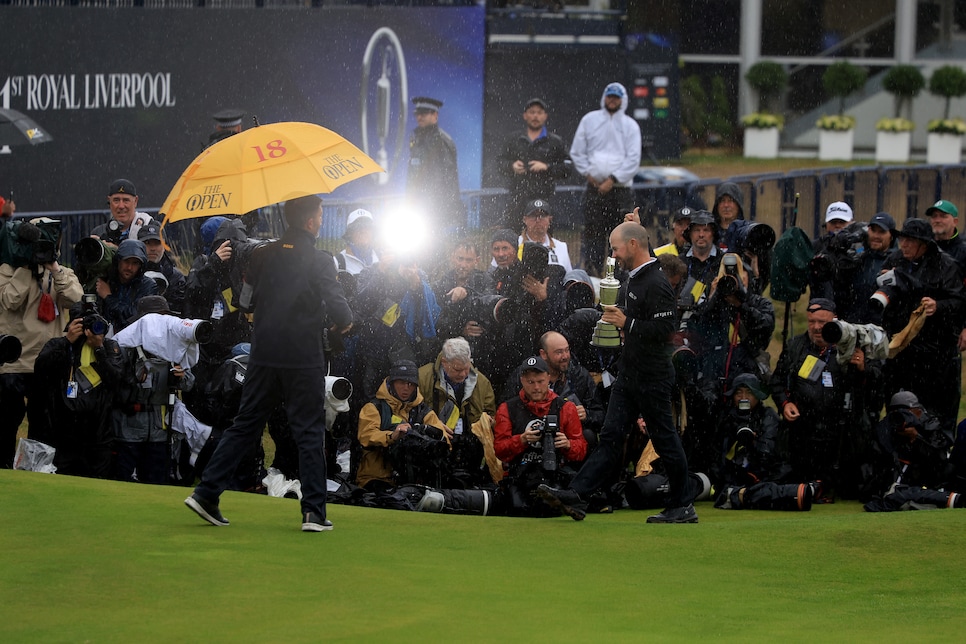 A large group of photographers document Brian Harman holding the claret jug.
David Cannon
And on social media. Specifically, there'll be more Instagram DMs, added Smith. 'I got some funny ones like, 'Smithy come down to the pub and bring the jug and I'll shout you a beer,' or, 'Come to our golf course and play nine holes with the lads we'll shout you the nine holes.' They're never really a good trade, but they're endlessly funny."
Jason Day, who tied second to Harman at seven under alongside Straka, Tom Kim and Jon Rahm, was confident one thing would change for Harman: the belief and expectation levels at the majors. Day has only this year come out of a prolonged slump on the PGA Tour in which he dropped to No. 175th on the Official World Golf Rankings. On Sunday, Day wasn't thrilled that he became the ninth player to earn career runners-up in all four majors, and he was frustrated that he didn't put more pressure on Harman and come closer to earning a second career major after his 2015 PGA triumph.
"I don't think you ever lose it [the hunger for more majors]," he said. "You always constantly have it in the back of your mind that you can do it."
While being the ice-cool left-hander who took a five-shot lead into Sunday and won by six, Harman doesn't plan on his life evolving too much now he's the champion golfer of the year.
"I've got a great family; I've got hobbies that I really like," he said. "I have a very comfortable life that I enjoy. I wouldn't want my life to change any."
Those hobbies were laid bare in a hilarious press conference in which Harman, a true outdoorsman, was asked about the color (orange) of the new tractor he bought recently and which distance he is most deadly from when shooting a crossbow while hunting. "You wouldn't want to be standing in front of me; I'm good out to about 80 yards, but I don't take a shot past 40," he said with a laugh.
McIlroy, who sits on the PGA Tour Player Advisory Council with Harman, said that sounded accurate.
"I don't think [life] will change that much for him," he said. "He likes to go hunting in the wintertime and he likes his offseason. If I know Brian like I think I do, I don't think it's going to change him as a person."
Before the next 12 months kicks off, and after several pints of Guinness out of the claret jug Sunday night, Harman will head back to the U.S. He'll switch off from the chaos of a rain-soaked Open victory during a pre-planned vacation with his family at Skaneateles Lake near Syracuse in upstate New York.
"My family is up at a lake house, so I'm going to get there [Monday] evening and I'll spend three days with them, and we'll do some fishing and I'll get to spend some good time family," he said. "That's where I'll disappear and take it from there."
Is it the British Open or the Open Championship? The name of the final men's major of the golf season is a subject of continued discussion. The event's official name, as explained in this op-ed by former R&A chairman Ian Pattinson, is the Open Championship. But since many United States golf fans continue to refer to it as the British Open, and search news around the event accordingly, Golf Digest continues to utilize both names in its coverage.