Winner's Bag
British Open 2023: The clubs Brian Harman used to dominate Royal Liverpool
*All products featured on Golf Digest are independently selected by our editors. However, when you buy something through our retail links, we may earn an affiliate commission.*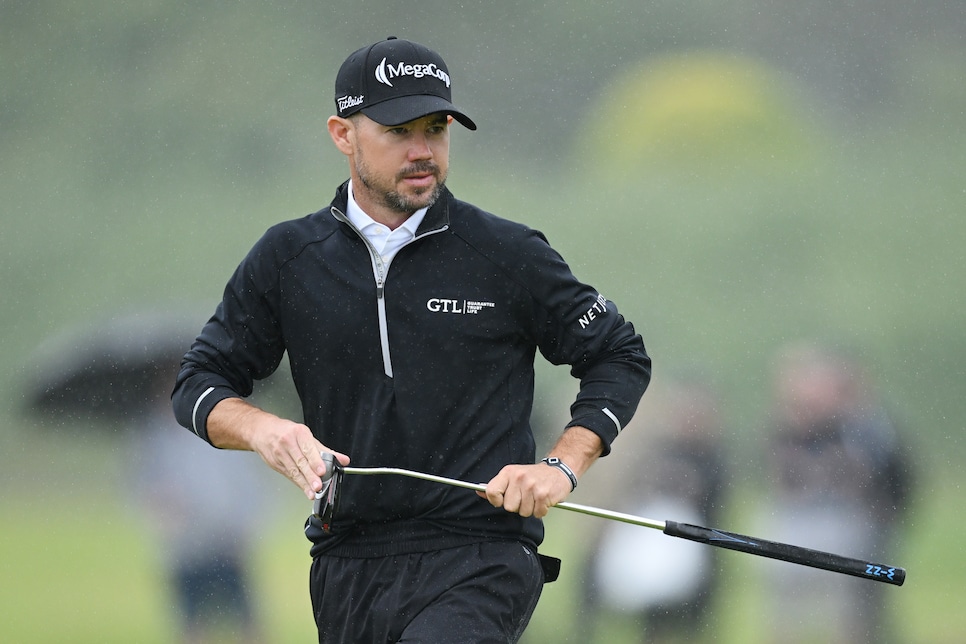 Brian Harman likes to hunt big game. So much so that he is known for marking his Titleist Pro V1 ball with lines resembling deer tracks. Now Harman has bagged the biggest title of his career, the 151st British Open at Royal Liverpool Golf Club in a relatively comfortable walk, winning by six shots.
Not that sitting on the lead is ever easy. As he did in Saturday's third round, Harman put up a couple of early bogeys before settling in with a 13-footer for birdie at the par-3 sixth and a 23-footer at the next that steadied the round after the early wobbles. A 40-footer at the 14th erased all doubt.
The key club for Harman all week was the lone non-Titleist stick in the bag—his venerable TaylorMade's Spider OS CB—a counterbalanced model similar to the putter he used while employing a belly style of putting prior to the ban that started Jan. 1, 2016.
For the week Harman holed nearly 450 feet of putts and gained nearly 11 shots on the field in strokes gained/putting, ranked first for the week. He also made 56 of 57 putts inside 10 feet, a remarkable show of consistency.
Harman's putter is 35.5 inches in length with 3 degrees of loft. "I've always preferred a putter with a lower loft," Harman told Golf Digest a couple of years ago. "Most have 3 or 4 degrees of loft, but I have only 2 degrees on this putter. This allows me to get the ball rolling without it hopping." As for the oversized head, Harman said, "I've always liked a large, face-balanced mallet. It helps the head stay square through the stroke."
For his irons, Harman employs an interesting setup with three Titleist U•500 utility irons with Project X HZRDUS Smoke Black 90HY 6.0 graphite shafts for the 3- through 5-irons and Titleist's 620 CB irons for the rest of the set with True Temper Dynamic Gold S300 steel shafts.
Harman also excelled off the tee, ranking 15th in strokes gained/off the tee despite averaging only 285 yards per measured tee shot. More importantly, however, Harman ranked first in accuracy with his 9-degree Titleist TSi2 with a Graphite Design Tour AD IZ 5S shaft, an impressive feat considering he used driver more than 70 percent of the time off the tee.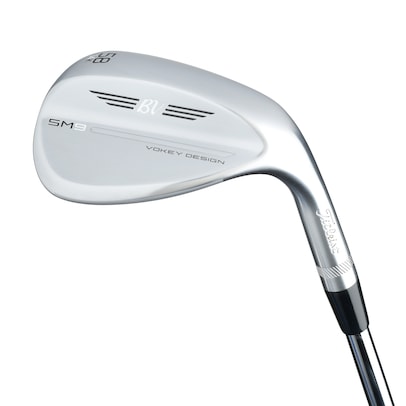 Titleist Vokey Design SM9
WHAT IT DOES: The SM9 builds on the SM8's center-of-gravity position in front of the face that assists squaring the club at impact. This version slightly raises the CG vertically by adding weight higher in the clubhead. Progressive hosel lengths also raise the CG, which promotes a lower, more controllable flight. 
WHY WE LIKE IT: The SM9 features the first groove revision in a Vokey wedge since the SM6. A new "spin milled" cutting process creates the entire scoreline instead of just part of it. The result is a more consistent scoreline edge radius, allowing the grooves to be sharper and closer to the USGA limit. Confused by all the options? Here's some advice from designer Bob Vokey: Go with more bounce in the sand wedge and less bounce in the lob wedge.  Read more>>
Not to be overlooked is Harman's Titleist Pro V1 ball. "I switched to this ball in 2017 from a different company and the effects were immediate," he said prior to last year's U.S. Open. "I just was never able to flight my old ball. I had trouble controlling and especially in the wind and we ended up playing so much wind out here. The effects for me were immediate switching to this Pro V and I mean, it's been a complete 180. The way that I flight iron shots, the way that I control it around the green … I don't know how many shots it saved me.
"The reason I switched back to Titleist was because of windy days and with Open Championships and major championships in mind. To flight the ball and not have to worry about it getting up and getting out of hand was a big deal."
Especially when trying to bag the big one.
What Brian Harman had in the bag in winning the 2023 British Open: