HOYLAKE, England — It's been a dream start to the Open Championship for Brian Harman, and when his 15-footer for eagle rolled in on 18 after hitting his two best shots of the day, which followed two hard-fought pars on 16 and 17, it completed the dream finish … at least for 36 holes. At 10 under, Harman held a five-shot lead on the field as the afternoon wave teed off Friday in moderately windy conditions, and his score of 65 was three shots better than anyone else in the second round's morning wave. To complete the superlatives, his 36-hole total of 132 is tied for the best at Royal Liverpool, and the two people he tied—Tiger Woods in 2006 and Rory McIlroy in 2014—both went on to win the claret jug that year. (And happen to be pretty decent players.)
The problem, from Harman's perspective, is that there are 36 holes still to go. The 36-year-old Georgia native spoke frankly after his round about his struggles in past majors, including the 2017 U.S. Open, when was out front entering the final round only to fade with a Sunday 72, losing by four shots to Brooks Koepka.
"I think when I held the 54-hole lead at the U.S. Open, I just probably thought about it too much," he said. "Just didn't focus on getting sleep and eating right. So that would be my focus this weekend."
Later, he elaborated on how his brain works on overdrive, which limits his ability to exist in the present moment—a key facet for winning any event, not just the majors.
"I have a very active mind," he admitted. "It's hard for me. I've always struggled with trying to predict the future and trying to forecast what's going to happen. I've just tried to get really comfortable just not knowing."
That task must be harder in golf than any other sport, considering the amount of down time and the build-up of tension as Sunday approaches. The good news for Harman is that his game has been stellar. His descriptions were somewhat laconic—"well, I've been hitting a lot of fairways, and then I've been hitting it on to most of the greens and I'm putting well," he answered at one point—but that disguises his evolution as a links golfer. At his first Open Championship, at this same course in 2014, he made it at the last moment after winning the John Deere, and made the cut here at Royal Liverpool. After that, it was a sorry history, with four missed cuts, but in 2021 he finished T-19, and last year at St. Andrews he had his first top-10 with a sixth-place finish. A week ago, playing the Scottish Open to prepare for Hoylake, he finished T-12 after being in contention heading into the final round.
"I love the golf over here," he said. "I was really excited, and I think I missed four or five cuts in a row coming over here, and I couldn't figure out why I wasn't playing well. Then last couple years I had some good finishes and just kind of felt like, all right, now at least I feel like I love the golf and I'm playing decently over here."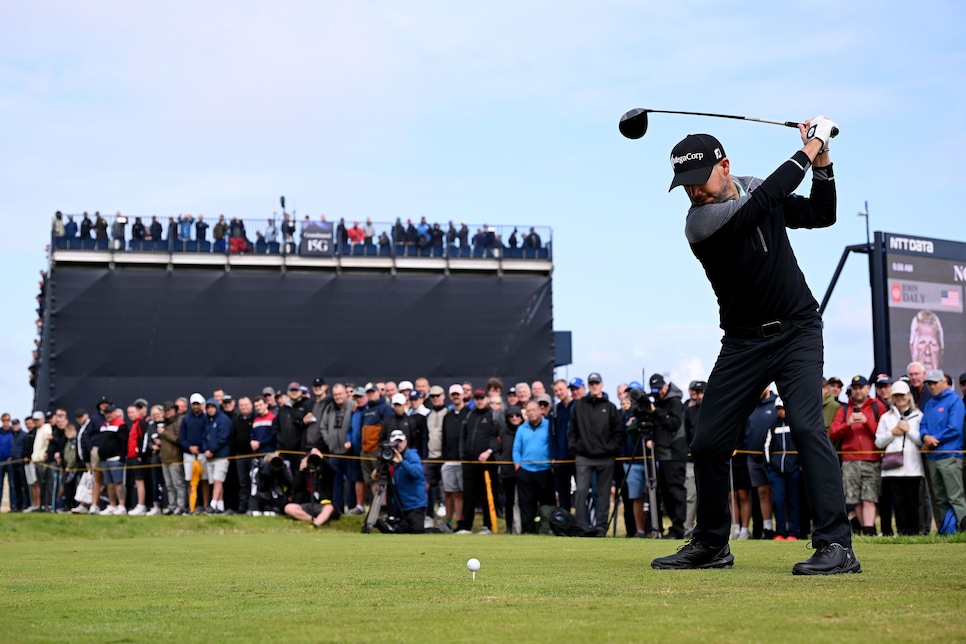 He credited coming over early to play in the Scottish Open for his success in the Open in recent years, although that didn't stop him from taking a shot at England's northern neighbors when he facetiously congratulated Scotland on having "the worst weather on the planet." But he was full of praise for links golf, effusively so for someone considered about as American as they come.
"I like when courses don't force you to carry," he said. "There's several different options to play golf holes. If you're into the wind you can hit way more club and send it up in the air to try to stop it, or you can try to finesse something lower, so I enjoy the variety of shots you have to hit."
To state the obvious, this is a massive opportunity for Harman. Not only would his legacy be transformed, but he'd have a chance to make his first Ryder Cup—a possibility he's pointedly ignoring, having learned from his near misses in the past. It would reverse a narrative about his struggles in majors, where he's only managed two top-tens and missed 13 of 29 cuts, including two more missed cuts at this year's Masters and PGA Championship. After the Masters, he spoke of his disappointment, and how he went home, butchered a pig, and hunted a turkey before picking up a club again. After Friday's round, a reporter asked him if his success thus far meant that the cows and sheep of England were safe.
"Sheep don't taste as good as the turkeys do, I would imagine," he joked.
Later, another reporter asked how he might like the nickname "Harmanator."
"That's dreadful," he said. "Dreadful. You don't get to pick your own nicknames, but that one is not going to stick."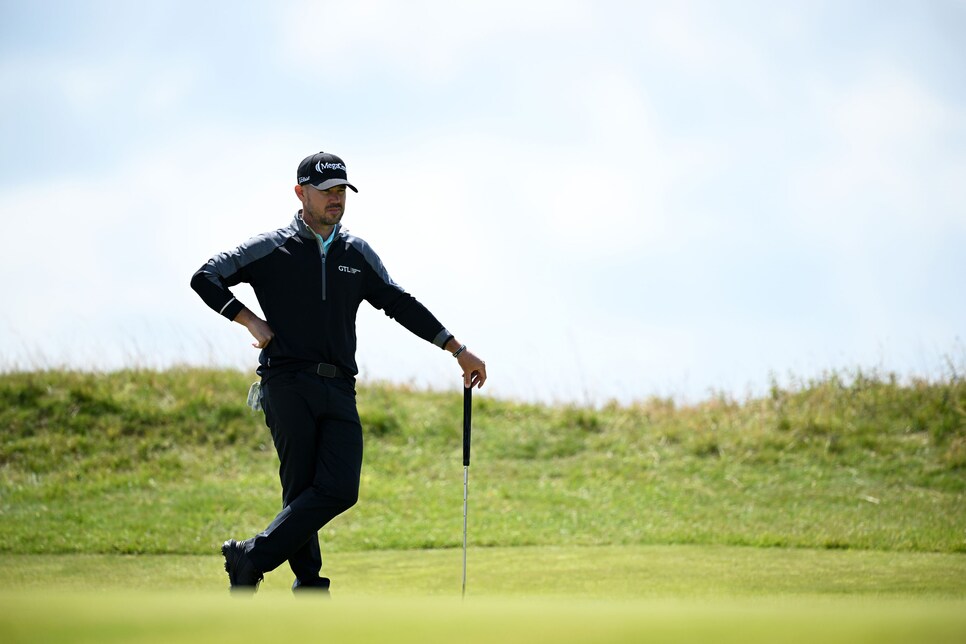 In general, he seemed relaxed considering what awaits him over the next two days. It will take a quiet mind to reach the major heights he's failed to attain before, and as one reporter pointed out Friday, he's even had trouble winning PGA Tour events—he hasn't claimed a title since 2017 despite having the most top-10s since then. When asked about the disparity, he was surprisingly open about his struggles.
"I'm not sure," he said. "I think about it a lot, obviously. I'm around the lead a bunch. It's been hard to stay patient. I felt that after I won the tournament and had the really good chance at the U.S. Open in 2017 that I would probably pop a few more off, and it just hasn't happened. I've been right there, and it just hasn't happened."
At least not yet. The good news for Harman is that his performance over the first two rounds was so superlative that he'll likely take a massive lead into Saturday. The two biggest days of his career are likely on the horizon, and there are worse things to have than a nice cushion to mitigate the nerves.
Is it the British Open or the Open Championship? The name of the final men's major of the golf season is a subject of continued discussion. The event's official name, as explained in this op-ed by former R&A chairman Ian Pattinson, is the Open Championship. But since many United States golf fans continue to refer to it as the British Open, and search news around the event accordingly, Golf Digest continues to utilize both names in its coverage.
MORE FROM GOLF DIGEST @ THE OPEN