Tour Tactics
British Open 2023: Pro reveals the golf tee tactic that helped him make a hole-in-one
The secret to the shot that let out the loudest roar of the day wasn't in the club or ball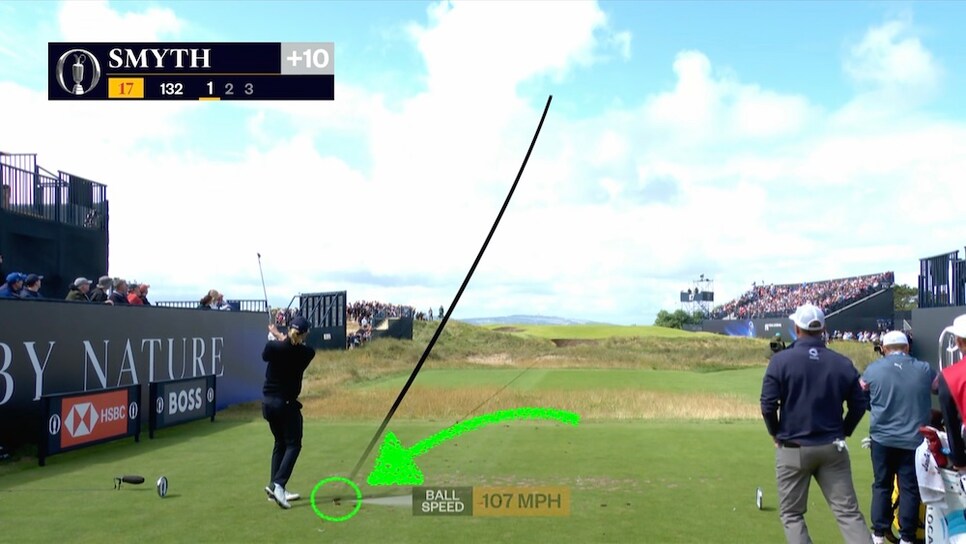 HOYLAKE, England — The 17th hole was probably the last one Travis Smyth wanted to play when he stepped onto the tee of it Friday morning, 10-over par for the tournament.
The green is shaped like a turtle's shell. It's uphill, and the wind was gusting. An unlikely set of conditions for the little-known Asian Tour player who was previously best known for playing in the LIV Tour's inaugural event, to send his ball directly into the hole. His name will go down as the first ace in the history of Royal Liverpool Golf Club's newly-redesigned 17th hole, which has sparked controversy for its difficultly all week.
The hole, playing just a hair shy of 140 yards, was just soft 9-iron for Smyth.
But the secret to the shot that let out the loudest roar of the day wasn't in the club or ball, but the golf tee that propped it up.
With a high-lofted club into wind, teeing up your ball may seem like an unusual move. But Smyth says it's an essential one that the rest of us can learn from.
Teeing up the ball does make the ball go slightly higher, but it also helps the ball come off with lower backspin. Less backspin makes the ball more immune to wind.
"The club has less interaction with the ground," he says. "When you're trying to hit a low one, you are coming in quite steep. It's easier off a tee, so you're not catching the ground instantly at impact, which will create spin, which into the wind you don't want to do."
So that's been the tactic for pros all week, including Smyth: Tee the ball about half an inch off the ground, and swing soft. The softer swing keeps the ball lower and, in addition to the tee, sends the ball through the air with very little spin. The perfect shot for into wind."
Some tee it quite high, higher than you think, when they want to hit low ones," he says. "It's all about that spin."
A helpful piece of advice to remember in the gusts, though Smyth says he can't guarantee the same results he enjoyed on Friday.
Is it the British Open or the Open Championship? The name of the final men's major of the golf season is a subject of continued discussion. The event's official name, as explained in this op-ed by former R&A chairman Ian Pattinson, is the Open Championship. But since many United States golf fans continue to refer to it as the British Open, and search news around the event accordingly, Golf Digest continues to utilize both names in its coverage.
MORE FROM GOLF DIGEST @ THE BRITISH OPEN