Joining the club
British Open 2022: Tiger and Rory among trio of past Open champs given honorary R&A memberships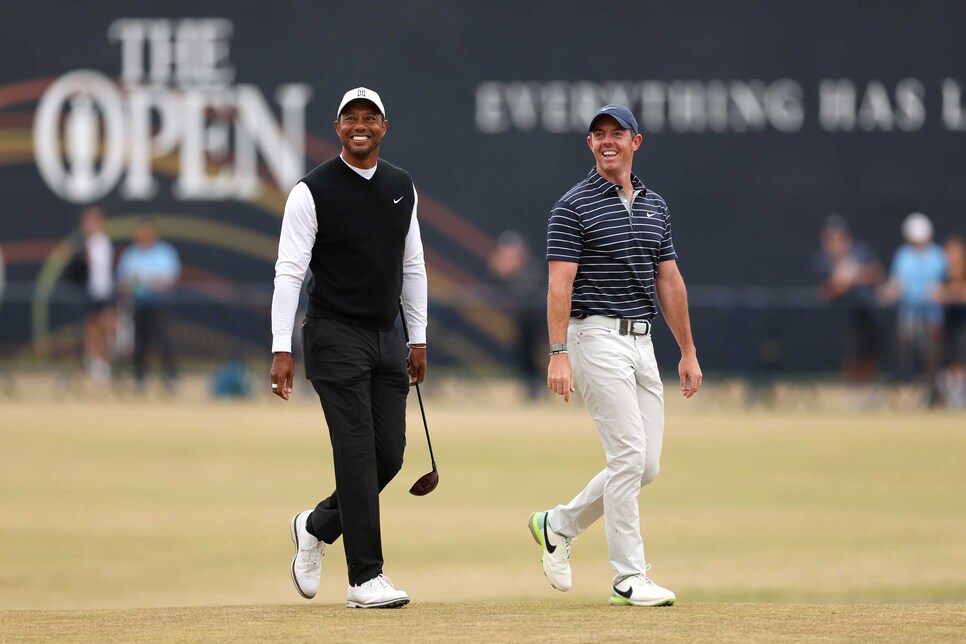 Tiger Woods and Rory McIlroy on the 18th fairway during the Celebration of Champions prior to The 150th Open.
Oisin Keniry/R&A
ST ANDREWS, Scotland — Tiger Woods can add another esteemed distinction to his sizeable golf portfolio: Honorary Member of the Royal and Ancient Golf Club of St. Andrews.
The club announced on Wednesday that it has extended the designation to Woods, a 15-time major champion, along with two other former Open Championship winners, Rory McIlroy and Paul Lawrie.
"I warmly congratulate Tiger, Rory and Paul on becoming Honorary Members of The Royal and Ancient Golf Club," said Peter Forster, R&A captain. "They have each made huge contributions to golf and played their part in inspiring millions to take up and follow the sport around the world. They are not only great champions but fantastic ambassadors for golf and have brought so much joy to so many young fans in particular. This is entirely fitting recognition for three such distinguished sporting figures and I have no doubt they will continue to give exemplary service to the sport through their new roles in the Club."
It's been a big year for Woods in terms of recognition of his career accomplishments. In March, he was among five people inducted into the World Golf Hall of Fame.
McIlroy, meanwhile, is one of the youngest individuals to earn the distinction at age 33.
The honor, however, might have the most sentimental meaning for Lawrie, a native of Scotland.
"I'm delighted to receive Honorary Membership of The Royal and Ancient Golf Club of St Andrews, particularly on the historic occasion of The 150th Open," Lawrie said in a press release. "The Club has supported the development of the sport since its formation and continues to do so today. I'm honored to accept this invitation and to do that alongside Rory and Tiger is extra special."
MORE OPEN CHAMPIONSHIP 2022 STORIES FROM GOLF DIGEST