On the bag
British Open 2022: Old Course caddie gets dream gig looping in a major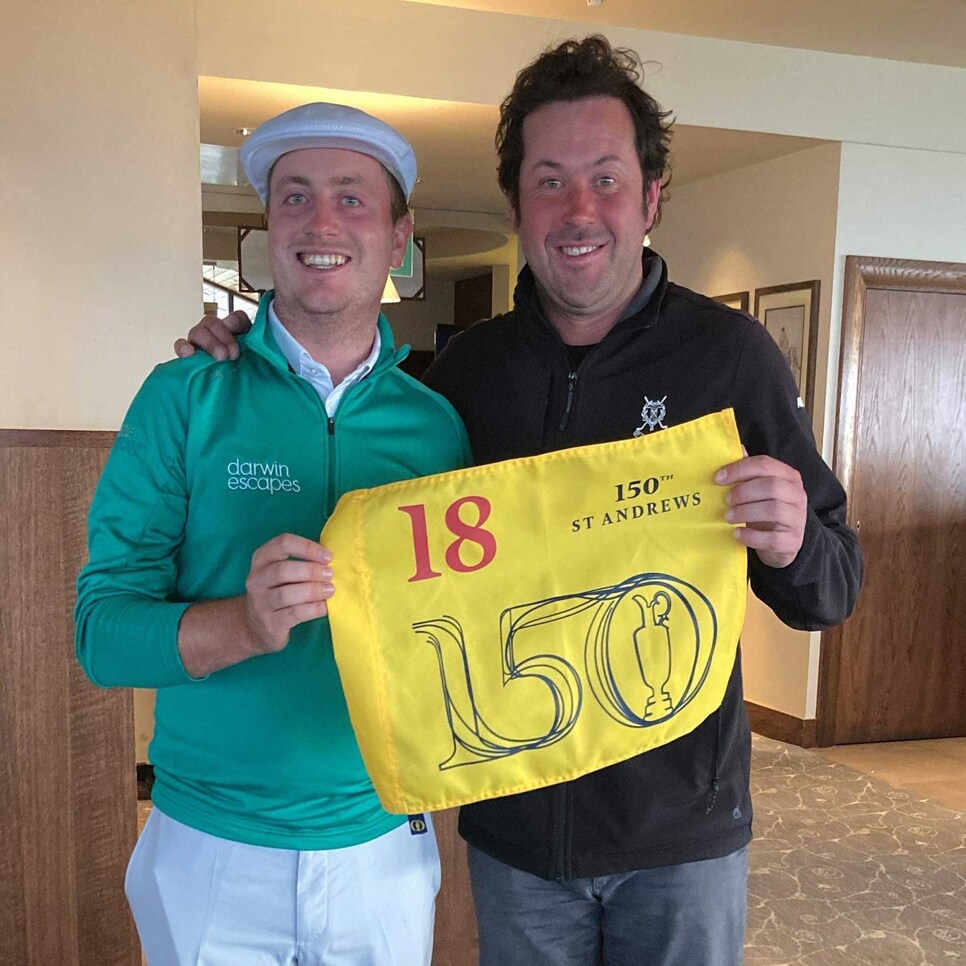 David Carey and his local caddie, David Williams, celebrate getting into the 150th Open.
ST. ANDREWS, Scotland — If you're looking for more names to root for in The Open, try Robert Dinwiddie, Aaron Jarvis, Darren Clarke, Justin De Los Santos and David Carey. They are the only five golfers who've hired local caddies from the Old Course. Although a revolving lot, the caddies here are consistently among the great assemblage of characters in any yard in the world. Financially, a percentage of a good finish in The Open, or even just a made-cut, would be meaningful, as these guys make £100 for a normal loop, a figure that hasn't risen in two decades. As for the experience of being in the arena in the 150th Open, they'll dine out on that for years.
David Williams is a former University of St. Andrews student, class of 2005, who fell in love with the spirit of the town and never left. A scratch player who likes a drink, he's parlayed previous caddie seasons into extended winters in low-cost and exotic destinations such as Thailand. Williams recently met 26-year-old Irish pro David Carey when mutual friends connected them for the Fairmont St. Andrews Final Qualifying Site. Long-hitting Carey was medalist by four shots, though Williams was careful not to celebrate when Carey turned to him after hooping a 50-footer for birdie on the final hole and said: "Suppose you don't have any plans two weeks from now?" Williams had seen this movie before. When he successfully saw Brandon Wu through final qualifying in 2019 for Royal Portrush, the young amateur from Stanford University understandably then imported a good buddy to caddie in the championship proper.
"It wasn't until I started getting official emails from the R&A to register that I knew I was in," Williams said.
Williams estimates he's been around the Old Course 2,000 times caddieing and 1,000 times playing. He's caddied for Hugh Grant, as well as for Butch Harmon on his 74th birthday trip. "I can't play but I can pay," was Butch's line on the first tee. Williams stores his caddie bib at The Dunvegan Hotel, and you might find him at the far left stool of the bar, a location frequented by the Caddie Hall of Famer James 'Tip' Anderson, a local who caddied for Arnold Palmer and Tony Lema in their wins.
"Being in the midst of it all this week, seeing what the pros see, the grandstands and lines of fans, the courtesy cars, player dining, all of this on top of what's your normal workplace, it's really been incredible," says Williams, who with his brother owns a flat near the course that they rent to students. Williams has caddied in the Dunhill Links and a handful of DP World Tour events, but nothing compares to The Open at St. Andrews, of course.
Carey's is an interesting bag to carry. The Dubliner once shot 57 in the Alpine Tour Cervino Open, the lowest round recorded in an Official World Golf Ranking sanctioned event, and he'd never played the Old Course in his life until this week when he sidled up with Bryson DeChambeau for a practice round. Carey was shorter, but not by much, and also favors the Hogan ivy cap. Carey carries two drivers, a 9-degree and a 10-degree, and his next longest club is a 3-iron.
"The 9-degree is for when he really wants to send it. The game plan is he'll hit driver on every single hole except the first," Williams said. If No. 18 is severely downwind, Carey will bunt the 10-degree so as to not go out-of-bounds over the green. "I suggested he try a 3-iron on No. 7 in practice, but he said, 'What's the point? I know I'm going to hit driver anyway.'"
A great local caddie can only do so much.
MORE OPEN CHAMPIONSHIP 2022 STORIES FROM GOLF DIGEST