Fantasy Advice
British Open 2021 DFS picks: Why our expert trusts young stars over experience this week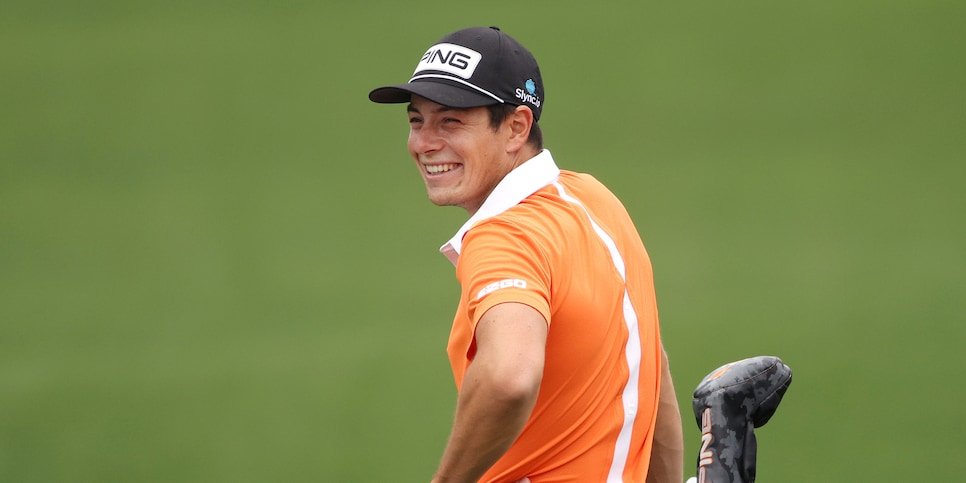 On paper, Royal St George's doesn't look like much of a test. However, when the winds start to gust and small mistakes turn into large numbers, it'll be easy to respect the challenge this course will present.
Nearly every tee shot offers some type of small risk/reward proposition, and there isn't a flat lie in the fairway to be found. The course's numerous pot bunkers will attract golf balls from all over the course and will quickly add strokes to the scorecard. The difficult subtleties, like all four par 3s playing in a different direction, make this a grueling test that will require every skill available.
The course key stats model at RickRunGood.com points to strokes gained/around the green as the stat that has been most closely correlated to success at the Open Championship in the past dozen years. That's where this event can be won or lost and will put immense strain on each golfer mentally.
With that stat and other important metrics in mind, here are my favorite plays (and fades) in every price range.
The latest videos from Golf Digest
Price range: $9,000 and above
High Upside: Jordan Spieth ($9,700 DraftKings | $11,600 FanDuel)
Is it possible that Jordan Spieth is the best player on the planet right now? Per the RickRunGood.com golf database, no golfer in the world has averaged more strokes per round (+1.98) than Spieth since the start of 2021. He narrowly edges out Jon Rahm on that list. He's gained strokes on approach in each of his past 10 events. He's gained strokes off the tee in each of his past nine events. He possesses the mental fortitude and creativity to hoist a claret jug again. He checks off all the boxes and should make plenty of noise this week.
Safest Option: Jon Rahm ($11,300 DraftKings | $12,300 FanDuel)
If you consider the last three events played by Rahm anywhere in the world, he's only been beaten by six golfers. All six of those came last week at the Scottish Open while Rahm won at Torrey Pines and led the Memorial by six shots heading into Sunday, before being forced to withdraw. His game is at the highest level, and he's playing with all the confidence in the world.
Most Likely To Disappoint: Dustin Johnson ($10,400 DraftKings | $11,900 FanDuel)
There's really nothing "wrong" with Johnson's game right now, but there's not much "right" either. He's been mediocre but his own lofty standards—with only has one top-10 finish in his past 10 starts. His last two major appearances have resulted in missed cuts and with little to hang your hat on, Johnson is certainly concerning.
Pick To Win: Viktor Hovland ($9,100 DraftKings | $10,900 FanDuel)
Outside of Open Championship experience, Hovland checks nearly every box. Already twice a winner on the PGA Tour, he added a European Tour victory to his resume in his last start worldwide. His two PGA Tour wins (Puerto Rico and Mayakoba) have come at courses that can certainly be held hostage by strong winds. His short game is improved and his putter has a tendency to get hot—making Hovland a very intriguing option this week.
High Upside: Tony Finau ($8,400 DraftKings | $10,200 FanDuel)
For the first time in a long time, Finau is not a "free space" at a major. Finau has lost three-plus strokes in ball-striking (SG/off the tee plus SG/approach) in each of his past two starts, something he's never done in his career, per the RickRunGood.com golf database. While that's concerning, Finau off-sets that with excellent Open Championship history, earning top 10s in his past two starts and boasting a T-27 in 2017 as his worst start in four years. It takes a small leap of faith on Finau, but he's certainly going to provide you with plenty of leverage.
Safest Option: Patrick Reed ($8,800 DraftKings | $10,600 FanDuel)
When you start thinking about skill-sets that are nice to have at The Open, a great short game is near the top of the list. That's how Reed gets it done, ranking fifth in SG/short game (around-the-green plus putting) since the start of 2021. Reed has earned three top-20 finishes in his past five starts at this event and offers little reason to doubt him again this year.
Most Likely To Disappoint: Justin Rose ($8,000 DraftKings |$9,800 FanDuel)
Rose gets the natural "European bump" this week, but I'm not sure it's warranted. His recent results have been propped up by a scorching and unsustainable putter. His T-8 at the 2021 PGA Championship was, by far, his best putting performance in seven years. His 2020 PGA Championship finish (T-9) and his 2021 Masters finish (seventh) also required some of the best putting weeks of his career. That's normally unsustainable and regression could be in the future for Rose.
Pick To Win: Scottie Scheffler ($8,200 DraftKings | $9,700 FanDuel)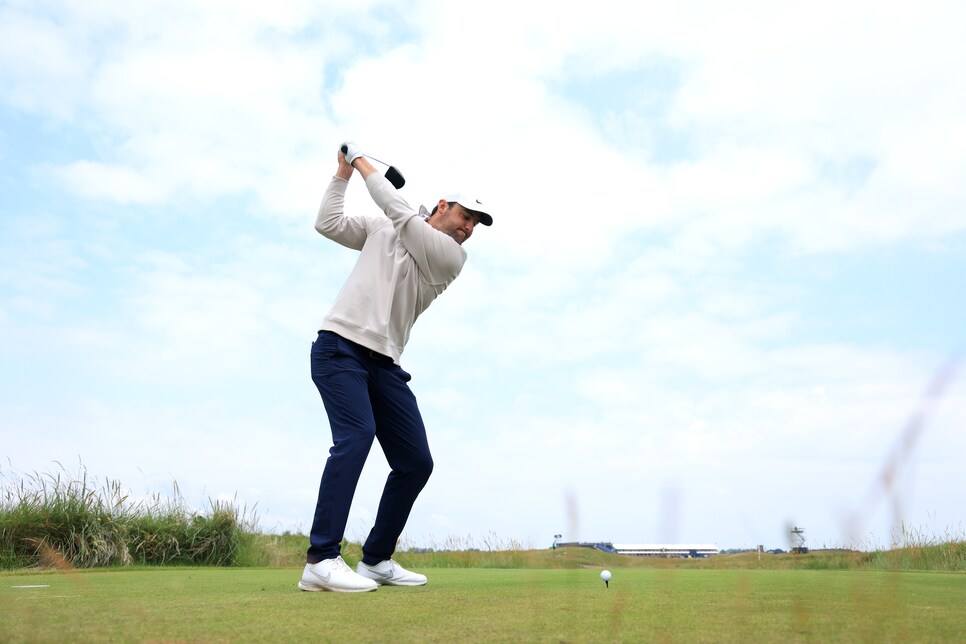 Scottie Scheffler tees off during a practice round on Monday at The Open.
Matthew Lewis/R&A
Scheffler enters this week after a solid T-12 finish in Scotland last week and sustained great play on the PGA Tour as of late. He earned a T-7 at the U.S. Open, T-8 at the PGA and third-place finish at the Memorial. He's firing on all cylinders and possesses the required firepower to contend at this event.
High Upside: Harris English ($7,300 DraftKings |$9,200 FanDuel)
Fresh off his victory at the Travelers Championship, English is looking much more like the 2020 version of himself. He's gaining strokes across the board and boasting an all-around game that few of his peers can tout. That balanced style will come in handy this week where Royal St. George's will challenge every facet of the game for these golfers.
Safest Option: Matt Fitzpatrick ($7,900 DraftKings | $9,900 FanDuel)
Fitzpatrick lost the Scottish Open in a playoff last week and has been piling up top-10 finishes on difficult courses this year. Most won't realize that he's made big gains with the driver this season and still hasn't lost strokes off the tee in any event of 2021, per the RickRunGood.com golf database. This should be an excellent course for him to continue his great success.
Most Likely To Disappoint: Lee Westwood ($7,500 DraftKings | $9,600 FanDuel)
The narratives are strong with Westwood, but I'm not sure about everything else. Since his consecutive runner-up finishes in March, he hasn't cracked the top 20 anywhere in the world. He's struggled around the greens, which is a recipe for disaster at Royal St. George's.
Pick To Win: Joaquin Niemann ($7,700 DraftKings | $9,700 FanDuel)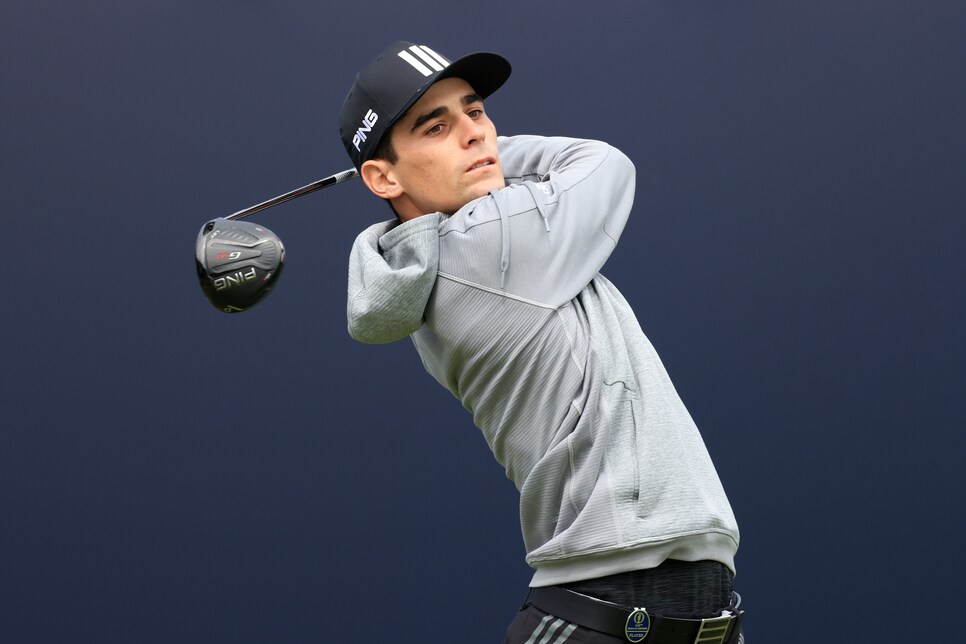 Joaquin Niemann—seen here warming up on Tuesday at The Open—went bogey-free during regulation at the Rocket Mortgage, but came up shy in a playoff.
Chris Trotman
Niemann possesses all the skills to win an Open. He's long off the tee, ninth on tour and uses a piercing trajectory that will come in handy when the wind kicks up. He's a volatile putter but gained 0.21 strokes per round on bentgrass greens, the best surface for him. Now he cracks the top 25 in SG/putting this season, and it's all systems "go" for Niemann in England.
High Upside: Sam Burns ($6,300 DraftKings | $9,000 FanDuel)
Burns is a glaring mis-price at only $6,300. Simply compare his outright odds (80-1) to any of his peers in this range to see for yourself. Also at $6,300 is Ernie Els who is 350-1 to win this golf tournament. Burns has struggled in the past two majors but has won on tour this year and played well in Scotland last week. I will find this situation difficult to avoid.
Safest Option: Ryan Palmer ($6,900 DraftKings | $8,200 FanDuel)
Palmer has been trying to put it together for a few weeks, and judging by his T-4 last week in Scotland, his game is coming around. His Open history is decent, making the cut in four of his five starts while finishing exactly 30th on three occasions.
Most Likely To Disappoint: Lucas Glover ($6,600 DraftKings |$8,100 FanDuel)
Glover snapped a 10-plus-year winning drought last week at the John Deere Classic and now has to quickly turn his attention to The Open. This seems like a massive challenge of travel and protocols that he will need to endure in such a short period of time. It's simply asking too much.
Pick To Win: Lucas Herbert ($6,800 DraftKings | $8,000 FanDuel)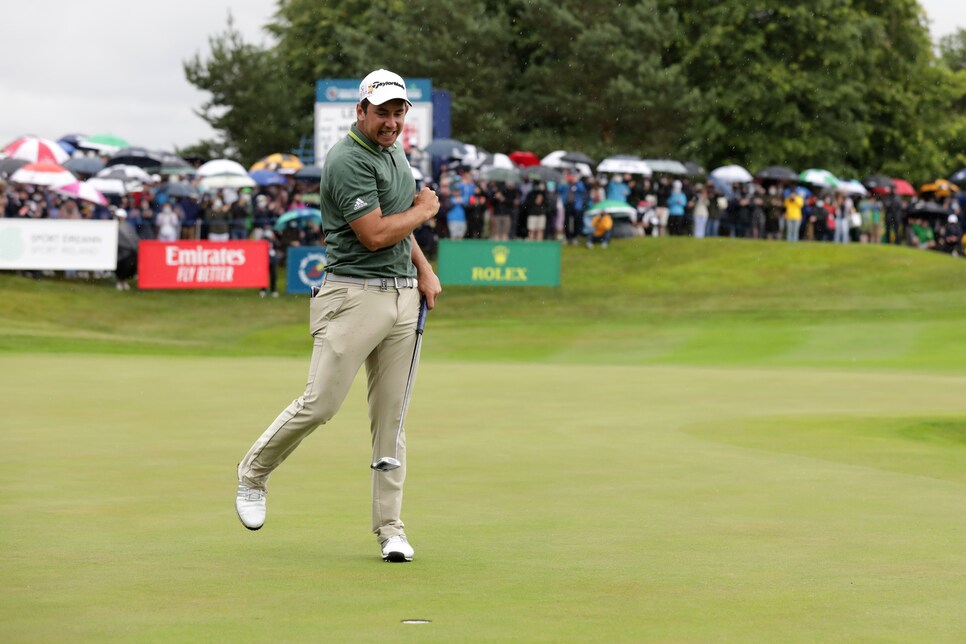 25-year-old Lucas Herbert from Australia celebrates victory on the 18th green after the final round of The Dubai Duty Free Irish Open at Mount Juliet Golf Club.
Patrick Bolger
Herbert enters this week in excellent form, finishing T-4 at the Scottish Open last week and winning the Irish Open the week before. When he's played on the PGA Tour, he's had success—earning two top-20 finishes in his past two trips to this circuit. He's won twice in his past 23 starts worldwide and will have his eyes set on the claret jug this week.