News
British Open 2018 live blog: Francesco Molinari wins the Open at Carnoustie as Tiger Woods, pack of competitors, fall short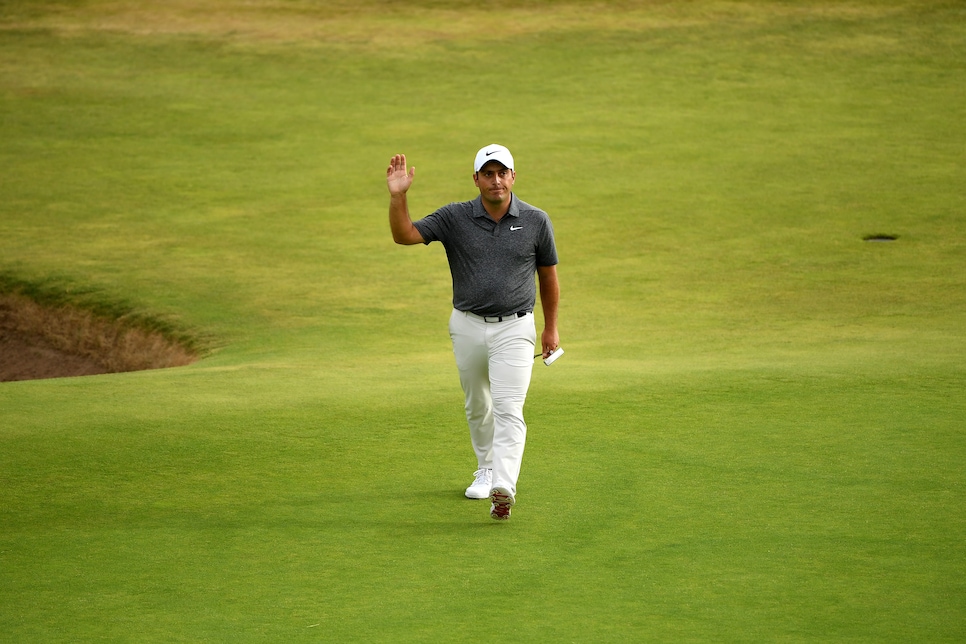 Intro (scroll down for the latest updates): Sunday has arrived at the Open Championship, and, frankly, we're hardly any clearer as to who will be called "Champion Golfer of the Year" before sunset than we were three days earlier. Jordan Spieth, Kevin Kisner and Xander Schauffele start the final round at Carnoustie tied for the lead at nine under, but nine rivals are within four strokes—including some guy named Tiger Woods—and 16 are within five (six of them major champions). But maybe the list of contenders be even larger, no? Paul Lawrie did come back from 10 strokes to win at Carnoustie in 1999, and Padraig Harrington was six back before grabbing his first claret jug in 2007. As if you weren't convince already that anyone really has a chance to make a charge, add in fact that the players are expected to face the windiest conditions they've seen all week. It all seems to be setting up a wild finish—one where the Barry Burn is likely to have a say.
All times local to Carnoustie.
7:12 p.m.: Some final thoughts from Carnoustie: Absolutely remarkable stuff from the 35-year-old Italian. Consider that in 2005 at Merion, it was his older brother, Edoardo, who made history, taking home the U.S. Amateur to be the first European winner of the prestigious event since 1911. With Edoardo winning the U.S. Am title playing in the 2006 Masters and enjoying early success on tour, it was accepted that Francesco, perhaps, was second fiddle, to his older brother. Not anymore.
Francesco Molinari played such stellar golf on the weekend at Carnoustie, not making a bogey over his final 37 holes—his last blemish being a double-bogey 6 at the 17th hole on Friday.
The Italian now rises to sixth in the world, one better than fellow European Rory McIlroy. What a tremendous year for Molinari, who figures to be a tough out for the European team against the Americans at the Ryder Cup. Molinari went 0-2-1 in his first appearance for the Europeans at the 2010 Cup at Celtic Manor, joining his brother on the team. He lost his singles match on Sunday to Tiger Woods, 4 and 3. But Molinari got the better of Tiger in his second appearance for the Euros, at the Miracle at Medinah, when he took down Woods in singles on Sunday (the match didn't end up factoring in the outcome, as they were off last.) And Molinari got the better of Tiger again when it counted on Sunday at Carnoustie, playing tremendously to lift the claret jug.
6:52 p.m.: Needing a hole-out eagle to force a playoff with Francesco Molinari, Xander Schauffele hits the green from 135 yards but doesn't hole it—giving the Italian his first major title. This year gets even better for Molinari, adding to his BMW PGA Championship, the Quicken Loans Invitational, and he'll be a trusty competitor for the Europeans at the Ryder Cup in France in September.
6:40 p.m.: Xander Schauffele with a bizarre scene at the 17th hole, as a kid in a stroller off to the side of the 17th hole, right next to where Schauffele stood, kept crying as he was hitting his third shot. He hit an OK shot and misses the par—so he falls to 6-under. That's a two-shot lead for Molinari now.
The claret-jug engraver can get working.
6:31 p.m.: Francesco Molinari finishes off such a remarkably consistent final round at Carnoustie with a closing birdie at the 72nd hole to post 8-under. The Italian went bogey-free and birdied the 14th and 18th holes to post 8-under. Xander Schauffele has a chance, sitting at 7-under playing the 17th hole, to match him. But Molinari looks at least to have clinched a spot atop the leaderboard through regulation.
Tiger's birdie bid comes up short, but it wouldn't been short of Molinari's number. What a display of golf from Molinari.
And how about this nice scene, as Tiger embraces his kids, Sam and Charlie, who were walking and watching their dad at Carnoustie, alongside Tiger's girlfriend, Erica Herman.
6:27 p.m.: Tiger plays a beautiful knock-down wedge into the 18th—he'll have inside 10 feet for a birdie to get to the clubhouse at 6-under. But he is matched by Molinari, who knocks it closer than Tiger, for a closing birdie to get to 8-under, which might be the winning number.
6:21 p.m.: Molinari takes driver and misses the trouble at the 18th. And we have some drama involving his playing competitor, Tiger Woods, on his 18th tee shot. As Tiger was at the top of his backswing, a fan yelled audibly from the grandstands, causing Tiger to come out of it. But his shot is just fine at 18—he'll have a chance for that closing birdie ... he'll just be playing from the rough on the right side.
With all the storylines involving fans and tour pros this year, this is the highest profile run-in yet. Expect to hear a lot of that in the coming week.
6:16 p.m.: Molinari's birdie putt comes up shy and he'll tap in to stay at 7-under through 17. Tiger's chip from the front of the green nearly went in—had a great chance, and rolls out to 5 feet. He just rolls in the testy comebacker to stay at 5-under heading to 18. A birdie at 18 and he can join Rory and Rose at -6.
6:11 p.m.: Absolute nails from Francesco Molinari! From 230+ out, the Italian plays his approach at the 17th hole perfectly, using the little bump to the front right of the hole and get his approach to roll down to about 15 feet. He'll have that for an unlikely birdie at the difficult 17th. Tiger's approach came up significantly short.
For Kevin Chappell, he'll tap in for a disappointing par at 16 given his position. He leaves his birdie putt short to stay at 6-under and one back.
His playing competitor, Kevin Kisner makes a really sporty par from off the green, using hybrid from beyond the green, to get up and down. He stays at 6-under.
6:04 p.m.: Francesco Molinari continues to be a par machine with a sporty up-and-down at 16. He stays at 7-under and remains in a tie at Schauffele. Molinari's consistent play is nothing short of ultra-impressive. He continues to roll in testy putts of 4-to-5 feet, the kind you need to make to win a major.
Tiger also pars 16, with his lengthy birdie of about 50 feet coming up just short. He remains at 5-under.
Here's his tee shot at 17 ... a low bullet stinger like we've seen all week.
Tiger has parred the 17th and 18th holes in his first three rounds. He's going to need one more birdie to get into the share for the lead.
6:01 p.m.: Rory McIlroy gave it a great try for birdie at 18, but his try misses left. He'll join Justin Rose at 6-under in the clubhouse. It was a heckuva run by Rory over his final couple holes—highlighted by his eagle at the 14th. Now Rory and Rose need some help from Schauffele and Molinari, who are both at 7-under, to fall back and have a chance at a playoff.
5:59 p.m.: What an excellent eagle putt from Xander Schauffele at the par-5 14th. Schauffele's roll looked good until it just passed the hole. He taps in for a birdie to tie Francesco Molinari atop the lead.
Rory's approach at the 18th from 103 yards rolls out to about 20 feet. He'll have a chance to post a 7-under, though it'll be a long birdie putt upcoming. By the way, this hole is playing 503 yards today. So he hit about a 400-yard 3-wood. Massive!
5:57 p.m.: Francesco Molinari just misses the green to the right on the difficult par-3 16th. He has a lot of room to work with to this back left hole location. Meanwhile Tiger hits a 5-iron and finds the green. It just hits the upslope and kills the roll, but he'll have about 35-40 feet for birdie there.
5:54 p.m.: Rory McIlroy has hit an insanely beautiful tee shot on the 18th hole, a piercing 3-wood draw just short of the Barry Burn. The Northern Irishman will have a great chance to put it close. A par ties Justin Rose—a birdie would give Rory the clubhouse lead.
5:52 p.m.: Great try by Tiger Woods at the 15th hole from off the green, scaring the hole with his putter from about 40 feet hole high off the green. It'll end up being a tap-in par as he heads to Carnoustie's difficult par-3 16th, playing 261 yards today. Let's see if Tiger uses a 6-iron like Rory McIlroy.
5:50 p.m.: Tremendous up-and-down from the greenside bunker at the 17th hole by Rory McIlroy to remain 6-under. Rory holed about an 8-footer to remain at 6-under to keep his round going. Can he follow Rose's lead and birdie the 18th hole? That would give us a new clubhouse leader.
5:48 p.m.: Great lag putt at the 14th hole by Kevin Kisner to get back to 6-under. That's now six people tied for second place behind Molinari (-7): McIlroy, Spieth, Schauffele, Chappell, Kisner and Rose.
5:45 p.m.: Justin Rose becomes the first to post 6-under following weekend rounds of 64-69. Special stuff from the Englishman who made the cut on the number. The Olympic gold-medal winner is in pursuit of his second major title.
5:41 p.m.: Tiger drains that 25-footer on the 14th hole to move back to 5-under. Does he have something special left over the final four holes? He'll need it. With the crowded leaderboard, you'd think 6-under is the minimum needed to ensure a spot in the playoff at least.
Well, unless you ask Francesco Molinari. The Italian breaks his 13-hole par streak with a birdie at the par-5 14th hole. The lead is his outright now.
5:40 p.m.: Justin Rose has played the 18th hole magnificently all week. And he keeps that up on Sunday, hitting one tight for a chance to move to 6-under.
5:36 p.m.: Rory with a really sporty up-and-down at the 16th hole to remain at 6-under. He gives another little mini fist-pump after rolling that par in. Rory has that strut that leads you to believe it might be his tournament.
Tiger Woods' second shot went way long at 14—actually closer to the flag on the fourth hole—at this double green at Carnoustie. Tiger chipped it and it came up short. He'll have about 25 feet for his birdie.
5:29 p.m.: Tiger Woods heads to the par-5 14th hole needing a birdie to stay in the hunt. He double-crosses his drive swing and it goes left, but he'll have a decent lie and a look at the green from 186 in. Still a chance to make birdie.
Meanwhile Rory McIlroy, playing the 16th hole, just hit a 6-iron to a pin that was playing 261 yards. And he went long. Wow ... maybe a 7-iron would've been the right club!
5:22 p.m.: With FIVE players tied for the lead on the inward nine at Carnoustie, it's a good time to remind you of the playoff format for the Open Championship.
It's a four-hole aggregate playoff over holes 15, 16, 17 and 18.
Francesco Molinari with a classy up and down on the 13th hole to remain one of those five tied for the lead. Molinari has 13 consecutive pars—impressive stuff from the Italian, who won Tiger Woods' event at TPC Potomac about a month ago, and took home the European BMW Championship in May.
Kevin Kisner has dropped a shot at 12 to fall out of the lead. At 6-under it's now: Spieth, McIlroy, Molinari, Chappell and Schauffele.
5:19 p.m.: Jordan Spieth just misses his birdie putt at the 11th. He'll have a tap-in to remain tied for the lead. He's three over through his first 11. Xander Schauffele is also +3 and tied for the lead.
5:13 p.m.: Going 10 holes without dropping a shot, Tiger now drops another shot at the 12th with a bogey. His round is stalling here. He falls to 4-under and two back. It started with the double bogey at 11 and has now compounded here at 12, after he seemed to be in command through his first 10 holes.
Meanwhile, Rory McIlroy joins the leaders at 6-under. He drains a 55-footer for eagle at the 14th hole (!!) to join Spieth, Molinari, Schauffele, Kisner and Chappell. Wow! The 2014 Open champion has officially joined the party.
We should be in store for a terrific finish here on Sunday at Carnoustie. If Tiger wants to continue to be a factor, he's going to need to pick up a couple shots on the next few holes with the difficult finish.
5:08 p.m.: Tiger hits the green with his third from 117 out at the par-4 12th, and he'll have about 20/25 feet for his par.
Xander Schauffele now rolls in a birdie at the 10th hole to move into a share of the lead. That's FIVE people tied for the lead (Molinari, Spieth, Chappell, Kisner and Schauffele). Anybody's ball game.
5:03 p.m.: Tiger liked his tee shot at the 12th but it rolls into the thick stuff on the right. And he hits another poor second shot. He's going to have a really difficult time getting that up and down.
Justin Rose just had a putt at the 15th hole to join the leaders, but he just misses. He remains one back with fellow countryman Eddie Pepperell, who finished up almost two hours ago, but he's currently one back. Don't go anywhere, Eddie.
4:58 p.m.: Tiger had birdied the 11th hole three times all week. Now he makes double bogey, with his bogey bid going underneath the hole.
Tiger drops back to 5-under, one back of the lead.
Now the leaders at 6-under are: Francesco Molinari (even through 11); Kevin Chappell (1-over through 10); Kevin Kisner (3-over through 10); Jordan Spieth (3-over through 9).
4:54 p.m.: Tiger goes for the hero shot from the thick stuff to the left of the green, going for a high flop shot, and it comes up short, spinning back off the green.
The shot was nearly perfect—if it carried a couple feet more it would've been amazing. His fourth shot now, a putt from off the green, goes about 10 feet past. He'll have that for bogey to avoid dropping only one shot.
4:50 p.m.: Gut check time for Tiger. His approach out of the long heather goes way left, but the 14-time major champion actually gets a good break—off a spectator's head—to throw his ball closer to the green. That looked like it hit someone pretty squarely. We hope they're OK. Meanwhile, Tiger might've got a little lucky, but will still have a difficult up and down.
Molinari found the front of the green from a similar spot to Tiger. Among others at 6-under are now Kevin Chappell and Kevin Kisner, who are playing together and both made birdies at the 10th hole. Despite Kisner playing the outward nine in 40, he's only one back.
4:45 p.m.: At the 11th hole, Tiger Woods, our solo leader, finds trouble again on his tee shot. His long iron finds the thick stuff to the right. Francesco Molinari, his playing competitor, follows him over there. Molinari is quietly just one back as well, tied with Jordan Spieth, who made his par putt at the eighth hole.
Xander Schauffele stops the bleeding with a par at the par-3 eighth. After a bogey-bogey-double bogey run, Schauffele finds himself three shots back of Tiger's lead.
4:38 p.m.: We take that back. Tiger Woods did not need to pitch out with his bunker shot at the 10th. Instead, he hits what might end up being one of the biggest shots of the championship. His approach not only clears the burn in front of the green, but he finds the green—and will have an uphiller for birdie to extend his lead by two.
David Feherty had a great call on that one, fully explaining the difficulty of not only clearing the lip with his bunker shot but also clearing the burn. Tiger did so, and recoiled his club with such speed, Dan Hicks recalled 2000. This is what Tiger is doing here at Carnoustie. Amazing.
4:33 p.m.: Xander Schauffele taps in for his double bogey at No. 7. Tiger Woods now leads on his own on the back nine of a major. In 2018.
4:30 p.m.: Tiger finds trouble on his tee shot for the first time today—hitting into a fairway bunker with a 3-wood at the 10th hole. He might have to play out sideways, looking like bogey is his most likely score.
4:28 p.m.: Tiger Woods trickles in his par putt at the ninth hole, after finding the greenside bunker, to head to the inward nine at 2-under 33. He looks like he will take the solo lead—with Xander Schauffele finding real trouble at the seventh hole. Schauffele's drive found the thick stuff, and he topped his second shot from a really dodgy lie. His third went way long and left. He'll have his work cut out to get up and down from there. Spieth also needs to get up and down to remain at 6-under.
Tiger (-7) is bogey-free through nine holes and hasn't made many loose swings as he looks for his first major since the 2008 U.S. Open.
4:21 p.m.: Spieth three-putts, taking a double on one of the easiest holes on the course. Tiger and Xander are your new co-leaders.
4:15 p.m.: Spieth has to take a drop, and puts his fourth 20 feet or so from the flag. Xander's fourth from the bunker goes 30 feet or so from a brutal spot. It appears Tiger freaking Woods is about to be co-leading the British Open. In 2018.
4:10 p.m.: Schauffele's third at the sixth finds the bunker, while Spieth's second appears to be in the gorse. Ahead, Woods puts his sand shot on the eighth to five feet or so.
4:00 p.m.: Spieth sends his drive on the par-5 sixth way right, but actually settles in beaten-down rough, so nice break. On the seventh, Woods' birdie comes up short and to the left, but nothing wrong with a par there.
3:55 p.m.: Spieth JUST misses a long par attempt, while Schauffele, who barely got his shot out of the bunker, leaves his fourth a few feet short. Tiger takes an iron on the seventh and finds the right side of the fairway.
Kisner, who looked to be out of it after a double-bogey/bogey to start, holes out for birdie on the sixth. Though he's still two over on his day, just one back.
3:47 p.m.: Woods goes hard with his eagle. A little too hard, rolling it back six to seven feet. Spieth, with a wedge in hand from 150 yards, puts it to 20 feet or so. Good chance for X-Man to take the solo lead.
However, Xander puts his approach in the bunker and it's BURIED, while Tiger sinks his birdie. Good chance Tiger will be one off the lead in a second.
3:45 p.m.: Tiger smokes the 3-wood, reaching the green in two. Facing a 60-footer for eagle. Behind, Jordan makes his first mistake, finding a pot bunker at the fifth. So bad that he can only advance 20 yards or so and is in major scramble mode.
3:40 p.m.: Jordan Spieth is parring this course to death. Nothing wrong with that on a day like this.
3:36 p.m.: Woods sails his SmokeWagon right at the par-5 sixth (OB hugs the left), yet narrowly misses a pot bunker. Still in the fairway, good chance to do some damage from there.
3:30 p.m.: Spieth at the fourth goes a tad long, still putting but not necessarily one that's makable. Tiger's approach on the fifth comes up just short, leaving a long, winding putt. Leaves it a foot short for an easy par, still three back and T-3.
3:25 p.m.: Spieth with a sensible lag putt, logs another par. That will do. Schauffele matches with a four as well. In other news, we have another ejection: poor Tommy Lad, who follows a bogey at the fifth with a double. Like Rory, Fleetwood now six back.
Ahead, Pepperell posts a 67, the low round of the day, for a clubhouse lead of five under.
3:20 p.m.: Woods rolls his in his birdie attempt, eliciting a reserved fist pump. Six under, three back. And the feels? The feels are certainly back.
3:15 p.m.: Tiger throws his approach at the fourth to 15 feet or so, good chance to get some red on the scorecard. As for the leader board, Englishman Eddie Pepperell is four under for his day and now five under for the tournament, heading to the final hole. That could be a very, very interesting score.
3:10 p.m.: Easy par for Spieth after lagging the 40-footer to a foot. Little more work for Schauffele but makes his four-footer. Ahead, Francesco Molinari, playing with Tiger, hits his approach from the rough to 35 feet at the fourth. Molinari will be one to watch this afternoon, sitting three back.
3:08 p.m.: Woods goes with the driver on the fourth and bombs it. Or as far as one can bomb it into 25-mph gusts. Meanwhile, McIlroy lips out for par, his second bogey in his first five holes. Now six back and officially out of the afternoon proceedings.
3:07 p.m.: The wind is really howling now. Woods' approach at the third is 50 feet or so away (although he has a non-dramatic two putt for a third straight par) while Spieth's approach at the second is 40-feet or so from the pin. Don't expect many red numbers this afternoon.
3:00 p.m.: Kiz is making a mess of No. 2. He finds the bunker, goes sideways, his fourth goes off the green...and nearly jars his fifth off the green. Unfortunately its a double, and he drops two behind Spieth and Schauffele.
2:56 p.m.: Woods is sticking with an iron off the tee at No. 3, but finds the rough. Only will have a wedge in, but expect others to be more aggressive on the third this afternoon. Meanwhile, Spieth misses at the first. He and X-Man trade pars at the first. (And yes, "X-Man" is a cop-out moniker from typing "Schauffele" all afternoon.)
2:55 p.m.: Spieth almost jars his approach, rolls past seven feet or so. Excellent chance for Spieth to send a roar throughout Carnoustie at the first.
2:50 p.m.: The final group reaches the first tee. Xander Schauffele and Jordan Spieth keep it in the short stuff. Meanwhile, Woods just misses the green but two putts for par.
2:44 p.m.: Tommy Fleetwood looks dialed in. Puts his approach at the fourth to 15 feet or so, a chance to get two back of the leader. Few are better than the Englishman in the iron game, and with winds wreaking havoc, that control is paramount on Sunday.
2:41 p.m.: Big Cat rips the big stick at No. 2 and keeps it in the short stuff. With 20-30 mph winds today, expect more SmokeWagons than we've seen all week.
2:40 p.m.: Mickelson has jumped 19 spots today with a two-under round, three under for the tournament. Not in the running, but could sneak his way into a top-15 finish.
2:36 p.m.: Woods sticks his approach to 15 feet at the first, but just misses low and to the left. Tap-in par at the first.
2:30 p.m.: McIlroy misses a par putt at the second. Needed something special out of the gate. Unless he rips off four birdies in a row, he's likely out of the running.
2:26 p.m.: Tiger sticks with iron off the first tee. He finds the fairway but it's a long, long way back. Going to be tested early.
2:15 p.m.: McIlroy didn't take advantage of his drive, leaving his approach just off the green from 20 feet out. Doesn't get it close, and has a shaky three footer left for par.
2:10 p.m.: Birdie for Tommy Lad at the first to get to six under. Though he's got a ways to go, he proved at Shinnecock has has the gumption to surmount a final-round run.
2:05 p.m.: Rory McIlroy begins his day with a driver at the first, and keeps it on the left-hand side for a nice angle in. McIlroy starts at five under, four back of the leaders.
1:55 p.m.: Erik Van Rooyen, one of the early leaders, is making a nice run out of the gate, two under through six holes. Has jumped to six under, good enough for T-5 at the moment.
1:49 p.m.: Sam Locke has a rough day, finishing with a 77 for a nine-over total. Still, as the only non-professional to make the cut, Locke, ahem, locks up Low Am honors at Carnoustie.
1:40 p.m.: Programing note: the "Super 7" frat house has reached "good buddies Jordan Spieth and Justin Thomas" levels.
1:35 p.m.: Fowler makes birdie at the 10th, but after a 38 on the front and even for the tournament, Fowler has work to do just to get into the top 25.
1:25 p.m.: Early scores seem to be indicating a tougher links this morning. Not that you know it from Jason Day. The 2015 PGA champ has three straight birdies on the back to get to three under for the tournament and four under for the day, aiming for a backdoor top 10.
1:01 p.m.: They're playing for the claret jug today, and for the title "Champion Golfer of the Year" and for the glory of winning a major championship. But they're also playing for money. A lot of it. The winner today will make $1.89 million, or roughly £1.4 million. Here's how much the winners have made in the seven previous Open visits to Carnoustie:
2007, Padraig Harrington, £750,000
1999, Paul Lawrie, £350,000
1975, Tom Watson, £7,500
1968, Gary Player, £3,000
1953, Ben Hogan, £500
1937, Henry Cotton, £100
1931, Tommy Armour, £100
Lawrie's first place winnings is between fourth and fifth place this week. Watson's, however, is less than the 70th place person will make this week. Same, obviously, for Player, Hogan, Cotton and Armour.
12:54 p.m.: Another intriguing pairing on today's undercard: the 11:50 a.m. game between Bernhard Langer and Pat Perez. Perez played so well the first two days only to get toss out of contention with a Saturday 74. Langer meanwhile is 60 and yet made the cut on the longest golf course in the British Open rota. Wonder how many folks have a little wager on which guy will shoot a lower score today. So far, it's Langer a one under thru six hole, Perez at even.
12:47 p.m.: One of the best pairings on Sunday that has absolutely no impact on the championship: the 11:30 a.m. time of Patrick Reed and Rickie Fowler. The Masters champion and one of its runners-up both just each made birdies on the par-5 sixth hole, which is particularly notable for Fowler. On Saturday he hit his drive OB on the famed Hogan hole, en route to a triple-bogey 8. He was on the leader board at the time, but the stumble led to an eventual 73 that left him eight back of the lead entering Sunday.
12:39 p.m.: Sorry, we forgot to mention another superlative should Spieth hang on and win today: He'd be the first player to win a major while getting a haircut halfway through the championship. OK, we have no way to prove that's actually true. But you have no way to prove it's not, so we're going to stick with it.
Jordan talked a fair amount on Saturday in his press conference about cutting back on the salad, and our guy Alex Myers, fresh off the red eye to Scotland (team player that Myers) had this fun spin on the trim.
And no, it wasn't a prank from the lodge brothers he's staying with in the infamous "frat house" in town.
12:30 p.m.: The first sub-70 round of the day has been posted, Luke List wrapping up a 69 to finish at two over for the championship. We ran into a guy at the betting parlor here in Carnoustie on Wednesday who swore to us that List was a lock to win. What happened buddy? The guy said he had a hot tip. He also seemed to have had a few pints, though.
12:25 p.m.: T-minus two hours until Tiger Woods tees off with Francesco Molinari. After two very average 71s, Woods did what he had to on "moving day" with a five-under 66. At one point he even held a share of the lead on Saturday. Dave Shedloski had this nice piece on Woods' round. While a Spieth victory would be pretty impressive, there would be no more seismic outcome than if Tiger were somehow able to pull it out today. Vegas has him at 14-1 odds to do it, behind Spieth, Schauffele and Kisner.
12:20 p.m.: OK, so if not Spieth, then who will grab the claret jug? Funny, we were wondering that too and have this handy story for you on the 11 most likely golfers not named Jordan who can win on Sunday.
12:13 p.m: Everybody likes to talk about Spieth's impressive record at Augusta National and the Masters. But it's time to have a little more appreciation for what Spieth has done at the Open. Seven of his last eight rounds in the championship have been sub-70 (65-67-72-69-65-69-65-68). And the other was a 72 here in the first round on Thursday.
12:12 p.m.: Even though there are three men tied for the lead, the working premise (right or wrong) is that Jordan Spieth is the man to beat today after his impressive bogey-free 65 on Saturday. What's on the line for Spieth today is pretty unbelievable. If he wins, he'll become just the third professional to win four majors before turning 25, which he does on July 27 (joining Tiger Woods and Young Tom Morris). He'll be the first player to successfully defend his Open title since Padraig Harrington in 2007-08.
12:03 p.m.: The final pairing of Jordan Spieth and Xander Schauffele doesn't tee off until 2:45 p.m., but more than half the field has already begun play (three guys have actually even finished their rounds, Rafa Cabrera Bello shooting a one-over 72.
11:52 a.m.: We've got to hand it to the weather folks here in Scotland, they've been pretty spot on with their forecasts this week. And it appears to be more of the same today. For a few days now they've been saying Sunday would be the windiest round of the week, and that's been the case here in the morning. The call is for steady 15-20 mile per hour winds with some gusts around 25 mile per hour range. Suffice it to say, the weather could become a factor in the outcome of this event after all—even with the lack of any substantial rain this week.