News
British Open 2018: A frustrating year for Jordan Spieth is one round from being great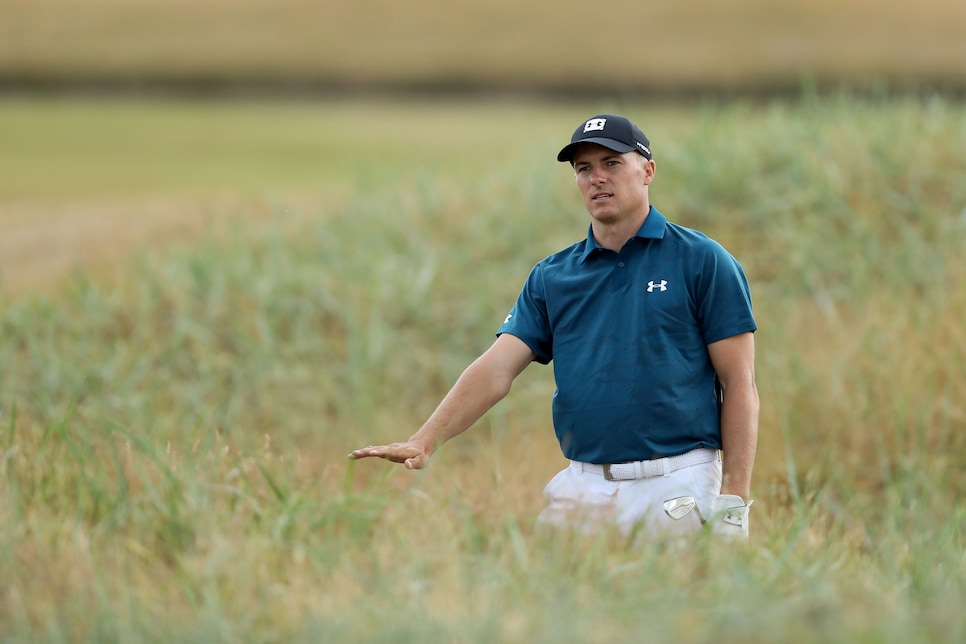 CARNOUSTIE, Scotland — On Sunday, Jordan Spieth will try to join Tiger Woods, Young Tom Morris and Bobby Jones as the only players to have won at least four majors before age 25. First, he'll have to survive another night in the frat house.
Spieth has been sharing a rented house this week with Kevin Kisner, Zach Johnson and a handful of other players. Going into the final round of the Open Championship, all three will have a chance to win the claret jug, with Spieth and Kisner tied for the lead (along with Xander Schauffele) at nine under, and Johnson four strokes back in a tie for sixth.
"I'll probably ask chef to try [my food] before," Spieth cracked. "Make him eat it just in case Kiz is greasing them."
Then there's the rest of the leader board.
Nine players are within four strokes of the lead, including Tiger Woods, who shot a sizzling 66 to climb into contention and is looking to win his first tournament in five years and his first major title in a decade; and four-time major champion Rory McIlroy, who rebounded from a slow start to remain in the hunt.
"We've got pretty much a new golf tournament [Sunday]," Spieth said.
Still, it's a familiar position to be in for the 24-year-old.
A year ago at Royal Birkdale, Spieth took a three-shot lead into the last day and survived a roller-coaster final round to win by the same margin after saving bogey from the driving range and finishing birdie-eagle-birdie-birdie.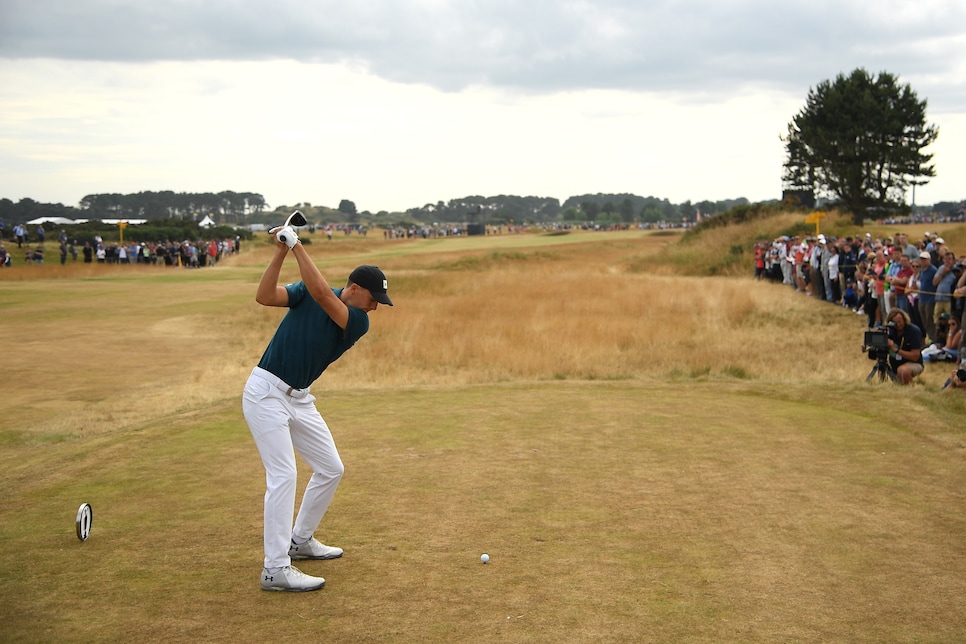 Through the first three rounds of this year's Open, Spieth has taken advantage of more good breaks and made a few of his own.
Following an opening-round one-over 72 that included playing Carnoustie's nasty final four holes in a combined four over, he bounced back the next day with five-birdie one-bogey 67.
Then in benign conditions on Saturday he decided to "send it" on the opening hole, hitting driver to reach the edge of the green on the 396-yard par four before rattling in the eagle putt to climb within one. Three holes later he made another birdie to tie for the lead.
"It was a dream start for the day," Spieth said.
And a pretty good finish, too.
Despite a wayward tee shot on 10, Spieth still birdied the hole then added added another birdie on 11. Two holes later, he got up and down for a clutch par save and on 14, after narrowly missing a fairway bunker, was able to go for the green in two to set up another birdie.
His final salvo came at the difficult 248-yard par-3 16th, where he poured in another birdie putt to take the lead outright before eventually being caught.
"I feel pretty calm because of the progress made in the game," Spieth said. "If I felt like I got away with a lot of stuff and I really wasn't progressing and just made a lot of putts, then I'd probably feel more tension. But I like where the striking's at. It can improve a little bit, but all aspect of the game got better today."
It was those first-half of the season struggles—when he missed four cuts and went winless in 16 starts with just two finishes in the top 10 and was playing "cut-line golf"—that appear to be paying off now.
"I think that they were very important," Spieth said. "I think that going through some of the kind of stuff that I was going through in my game allowed me to kind of figure out when I'm off, what are the keys to get over it? . . . And therefore in the future I'll be kind of able to kick it back into gear a little quicker and under the gun be able to compensate a little bit better."
Three rounds down, one to go.
Spieth is trying to become the first repeat winner at the Open since Padraig Harrington did it in 2007-08. The courses? Carnoustie and Birkdale.
"I've kind of got a cleared mind," Spieth said. "I've made a lot of progress over the year that's been kind of an off year, a building year. And I've got an opportunity to make it a very memorable one with one round."