News
British Open 2018: Tiger Woods has given himself a chance. 'It's been a few years since I've felt like this'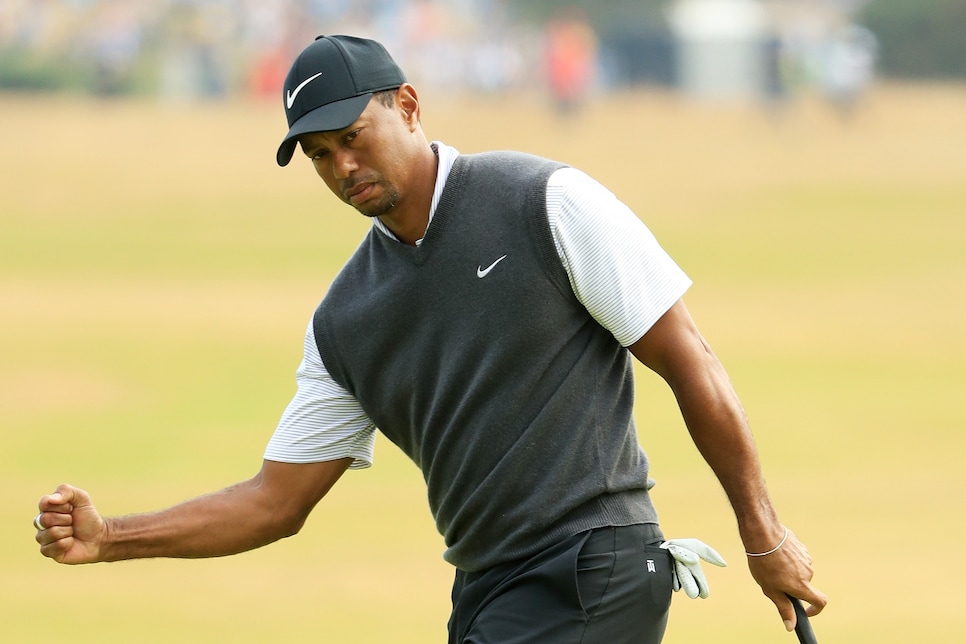 CARNOUSTIE, Scotland – Tiger Woods will begin the final round of the 147th Open Championship with a chance. And that's all that this comeback has been about. A chance to play. A chance to compete. A chance to win.
A chance just to be Tiger Woods. The one and only.
Through two rounds at Carnoustie Golf Links, the once preeminent force in golf played like a ghost, full of spirit but no substance, punching at the old, hardened tundra but stunned to find he couldn't land a blow.
On Saturday, however, when the wind grew shy and timid and Carnoustie slept, Woods came to life. He gained purchase with his shots, watched the ball track along his intended lines, guided putts into the hole with familiar success. There was only one blemish, three strokes with the putter just off the 16th green for a bogey, but a par save from the left rough at the last – just a few paces from the Barry Burn that could have sent his round up in flames – gave him a 5-under 66. It gave him a chance.
"That was good. That was good," Woods said with a smile, repeating the thought to emphasize the enjoyment he derived from the unseasonably warm afternoon. "I played well today. I really did. I hit a lot of good shots. I really didn't feel like I really made a bad swing until 18. I really felt like I had control of the golf ball today. And on top of that, I made some longer putts, which was nice."
Sure, there were other handsome scores on the day, which added a crowded and dizzying element to the leaderboard. But that takes nothing away from the round Woods constructed with a familiar prowling gaze and steely disposition. He looked like a guy who had, you know, been there before, a guy who had won this championship three times as part of a major resume totaling 14 titles.
After flailing at the Masters and missing the cut at the U.S. Open, Woods, in just his third major in three years, has something to play for besides another moral victory. Already he's had a handful of those.
"It's been a few years since I've felt like this," he agreed after completing 54 holes in 5-under 208, tied for sixth with five others, including former Open champions Rory McIlroy and second-round co-leader Zach Johnson, and four shots back.
Before the bogey, Woods stood six under par on the day and for the championship. He had just two-putted from 40 feet for birdie on the par-5 14th hole, which briefly gave him a share of the lead. The last time he jockeyed to the top of a leaderboard in a major was in 2012, when he shared the top spot after two rounds of the PGA Championship at the Ocean Course at Kiawah Island. He would end up T-11.
Since then, he's had two top-10 finishes in the four events that matter the most, that define careers, that have underscored his dominance more distinctly and thoroughly than the other 65 PGA Tour wins he's collected.
Woods was merely inching his way into the picture Saturday when he initiated a stirring run of birdies starting at the ninth, when he steamed in a right-curling 60-foot birdie putt. At the 10th he planted his 8-iron approach a foot from the cup. Then at 11, the only hole where he changed his strategy significantly, he pulled out the driver and blasted his ball to the left fringe. Two putts and he was now threatening. The Scottish crowd hailed his every step.
He was not aware that he was tied for the lead after his final birdie at 14. He didn't need to know.
"It would be better on Sunday," he pointed out, "but I'm right there."
He's right there after being literally nowhere. Kind of amazing, actually, when he wasn't sure if his surgically repaired back could carry him to this moment, let alone let him play the game ever again. He's only four strokes out of the lead. He figured he'd be as many as five, but freshening winds prevented anyone from pulling away.
"It certainly is possible," Woods said of his prospects for a 15th major, which would leave him three shy of Jack Nicklaus' record. "I've shown that I've been there close enough with a chance to win this year. It certainly is doable."
There is still tomorrow to ponder what it could mean to him and to the game if he were to win. The question was asked. The predictably reticent Woods wasn't about to skip ahead 18 difficult holes and imagine the Claret Jug in his grasp. His father taught him that. Experience tells him to not tempt the fates.
"We're not there yet," he said with a grin, exuding patience not petulance. "I know what you're trying to say in asking, but let me try and get there first. Then ask me again."
At every juncture of his comeback season the question has hung in the air, has shadowed Woods like a specter. Could he win again? And could he do it in a major? His every shot has been, in unvarnished essence, about this. Why else would he go through the surgeries and rehab? Why rebuild his swing? Why fight to surmount the almost-debilitating episode of chipping yips he endured? Why wrestle with demons and doubt?
The answer is to be in this position, on Sunday in the Open Championship here at Carnoustie, with another major victory in the balance. He has never won a major from behind. He hasn't won a major in more than a decade.
As he finished with reporters, he seemed calm. Before Nicklaus charged to victory in the 1986 Masters, the Golden Bear had not won a major in six years. Nevertheless, he surmised, correctly it turned out, that if he were to claw his way into contention, he would remember what to do. He would know how to handle his nerves, think clearly, execute.
Sizing up the mission ahead of him, Woods shrugged. "Yeah, I'll be fine.
"Given what happened the last few years," he added, "I didn't know if that would ever happen again, but here I am with a chance coming Sunday in a major championship. It's going to be fun."
And it could be so much more.