Podcasts
Brian Harman hit TCU alum Tom Hoge with the perfect dagger before Hoge left Hawaii for the National Championship game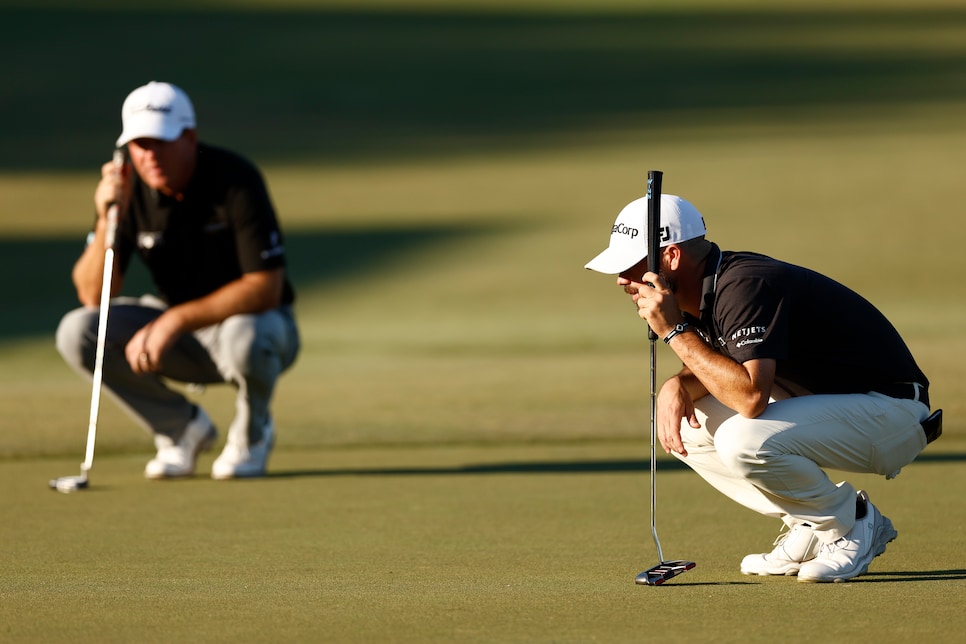 After listening to Kirby Smart's "leaked" pregame speech, it was quite clear that the Georgia Bulldogs were extremely confident prior to their 65-7 throttling of the TCU Horned Frogs. That confidence apparently trickled down to the fanbase, too, at least according to a story told by PGA Tour winner Keith Mitchell, a UGA alum.
Mitchell, who is set to make his 2023 debut at the Sony Open in Hawaii this week, was our guest on the latest episode of The Loop podcast. He joined us the morning after the Bulldogs' big win, which he watched with a few fellow tour pros who also happen to be UGA alums. Among that group is Brian Harman, who played in last week's Sentry Tournament of Champions at Kapalua. Tom Hoge, a TCU alum, was also in the field.
As we reported on Saturday, Hoge arranged plans to see his Horned Frogs in person in Los Angeles, where the title game was being played at SoFi Stadium. After finishing in a tie for third in Maui on Sunday, Hoge took a red eye to L.A. and was able to make the 4:30 p.m. PT kickoff, one that he, in retrospect, probably wishes he had skipped. Harman all but projected Hoge's fate, hitting him with a vicious dagger before Hoge hightailed it out of Maui. Mitchell relayed the tale to us on Tuesday's podcast.
"All I know is that Brian Harman told him [Hoge] before the game to make sure that he bought his tickets as close to the exit as possible," Mitchell said, adding, "so that he could leave when he needed that quick escape."
Ouch. Well, hopefully, Hoge listened, because we're guessing more than a few TCU fans had a "quick escape" in mind before the game even reached halftime. By then, it was already 38-7, and not even the most optimistic of Frogs fans could dream up a scenario in which their team would come back. Poor Tom.
Mitchell also mentioned that Harris English, another UGA alum, also attended the game before he headed to Oahu for the Sony Open. So he'll be arriving in rather high spirits. Hoge, not so much.
In addition to dancing on TCU's grave, Mitchell dished on his goals for 2023, and why he likes his chances this week at Waialae. We also discussed the Tito's Shorties Classic, which will air on Golf Channel on Wednesday January 11 at 7 p.m. ET. Mitchell was one of the four participants this year, playing alongside partner Beau Hossler against the extremely-fun duo of Joel Dahmen and Harry Higgs. This is the second annual edition of the charity match, which was filmed in Austin, Texas at Butler Park Pitch and Putt. Below is the trailer for the event:
"It was definitely one of the most incredible outings I've ever been a part of," Mitchell said of the skins match, which you can watch premiere on Golf Channel at 7 p.m. eastern on Wednesday. "Tito's put on a hell of a show, donated a ton of money to charity, it was really just an incredible event."
For our full interview with Mitchell, please listen below, and like and subscribe to The Loop wherever you get your podcasts.