Dawgs On Top
'This sh-t's easy': Kirby Smart's profanity-laced pregame speech basically predicted Georgia's 65-7 romp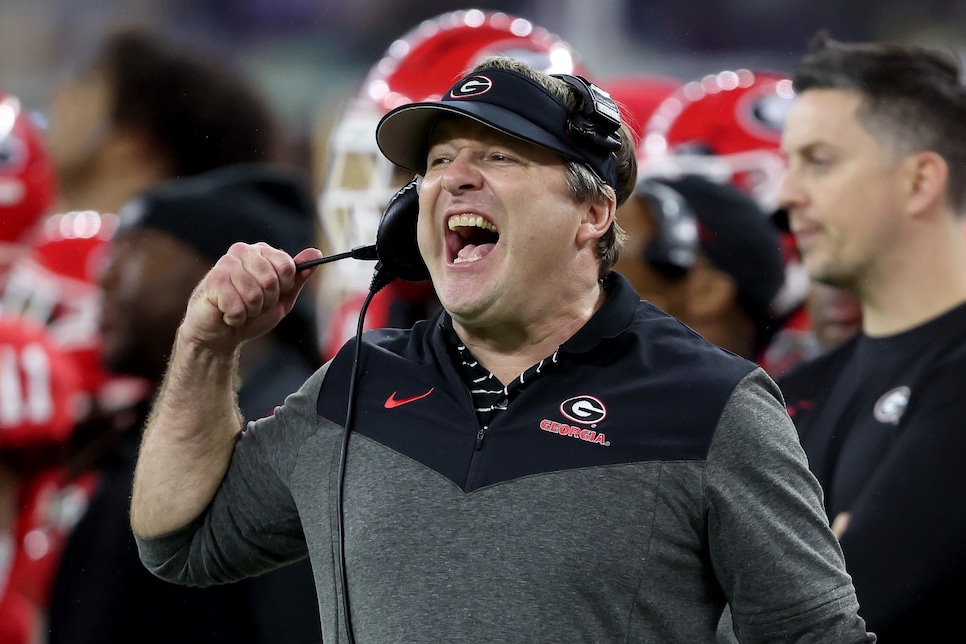 Moments before kickoff, Georgia head coach Kirby Smart kept it brief. When asked by ESPN reporter Molly McGrath what he'd like to see from his top-ranked Bulldogs early on in the National Championship Game, Smart had a one-word answer: "Aggression."
Smart got exactly what he asked for from the jump, with the UGA defense making a quick stop on TCU's up-tempo offense, which was followed by a six-play, 62-yard touchdown drive from Stetson Bennett and the offense. The rest of the night went pretty much the same, with Georgia getting stop after stop and usually scoring soon after, eventually winning in a 65-7 romp. Aggression, indeed.
While "aggression" was probably all the Dawgs needed to hear to go huntin', as Kirby puts it, they heard a lot more from their head ball coach in the locker room prior to the game. Somehow, Smart's profanity-laced pregame speech has made its way to Twitter, and it more or less predicted exactly how the game would go. At one point, you'll hear Smart yell "This sh-t's easy!" It certainly was.
Listen to the full speech below, and be warned, there is some serious NSFW language:
Now the 58-point drubbing makes a lot more sense. Not only was there no way Georgia was losing this game, there was no way they weren't covering the spread by a million. Leaving no doubt was Smart's mantra, and they absolutely left zero doubt. If you didn't run through a brick wall after that speech, you don't have a pulse.
This is the latest Smart speech that will now become the stuff of legend. Diehard college football fans are aware of how good he is at these. Among his most famous, which also found its way to social media in a rogue manner, Smart screams "ALL I WANNA DO IS EAT."
As legend has it, this was before the 2017 SEC Championship Game, which Georgia won 28-7 over Auburn. In another leaked speech, which occurred at halftime of the 2021 Georgia-Florida game, Smart delivers multiple legendary lines including "it's ZERO TO F---ING ZERO and you make 'em never wanna play again" and "You don't say sh-t to 'em, just LAUGH and point at the scoreboard." The Dawgs, leading 24-0 at the time, went on to win 34-7:
So yeah, he's pretty good at this whole speech thing, in addition to the actual coaching of the football team. You don't win back-to-back titles without that kind of fire.