The Grind
Brian Harman's surprising biggest fan, Akshay Bhatia's touching girlfriend tribute, and a 'waggle counter' spoof you need to see
Welcome to another edition of The Grind, where we have reversed course on that whole getting pooped on by a bird thing. I believed it to be good luck after my recent golf trip, but after my recent hot play, I'm pretty sure I won despite getting pooped on and not because of it. Also, there's Viktor Hovland. I had a nice wager on the Norwegian at the Open Championship so when he backed away from a shot during the second round and told his caddie, "I just got shat on," I excitedly started counting my money. Turns out, Viktor was not a lock, and getting "shat on" is just bad luck. Let's move on and talk about everything else in golf. Well, other than my bets.
Brian Harman: There have been bigger longshots (although up to 175-to-1 odds in some places is pretty darn long) and there have been bigger blowouts, but when you combine the two this is one of the most stunning results in golf history. Harman didn't just claim the claret jug and his first major championship, he cruised to it. This despite having some of the biggest names in the world chasing him, having not won anywhere in six years, and admitting he's not a good rain player (I feel you on that one, Brian). None of it mattered as Harman delivered a performance that few besides himself, his family, and the late Norm Macdonald (more on that later) believed was possible.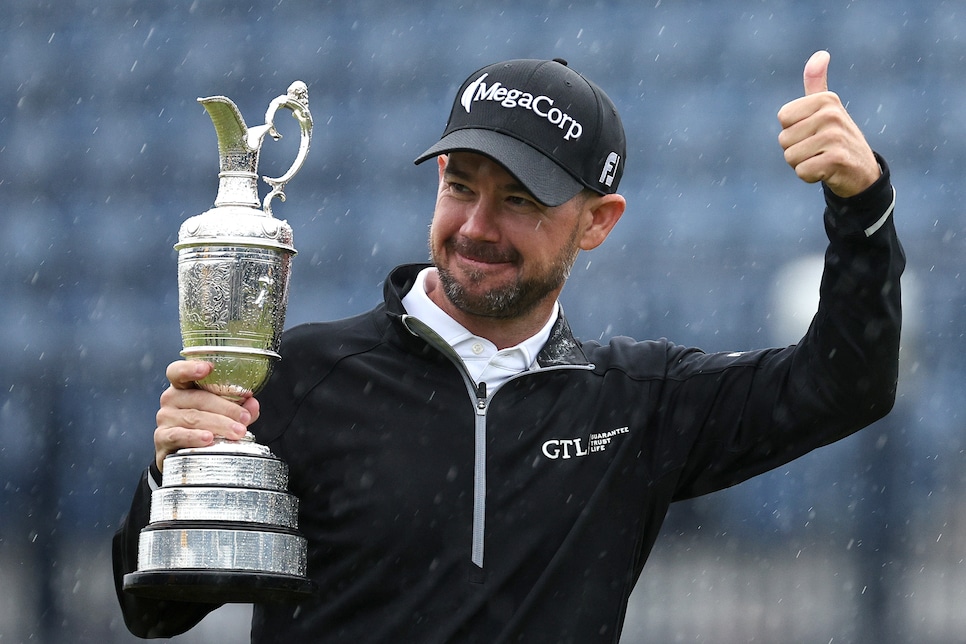 As our Luke Kerr-Dineen pointed out, Harman is able to overcome his lack of distance (142nd on tour) by hitting driver a lot more. It's a strategy that Jason Dufner used to claim his lone major at the 2012 PGA Championship at Oak Hill. Of course, you have to be accurate to employ that strategy and not like the idiot friends we all have who hit driver on every hole. In any event, Brian Harman is the CHAMPION GOLFER OF THE YEAR.
And he plans to treat himself by mowing grass on his new fancy orange tractor. Hey, to each his own. So enjoy drinking from your new trophy, Brian. And enjoy riding around on that tractor. Just probably not in that order.
Akshay Bhatia: Incredibly, the Barracuda Championship was much more exciting to watch on Sunday than the freaking Open Championship. Golf fans saw another lefty and former junior golf phenom win, but this one actually involved some drama as Bhatia birdied the final hole in regulation before winning in a playoff (more on that later) to claim his maiden PGA Tour title.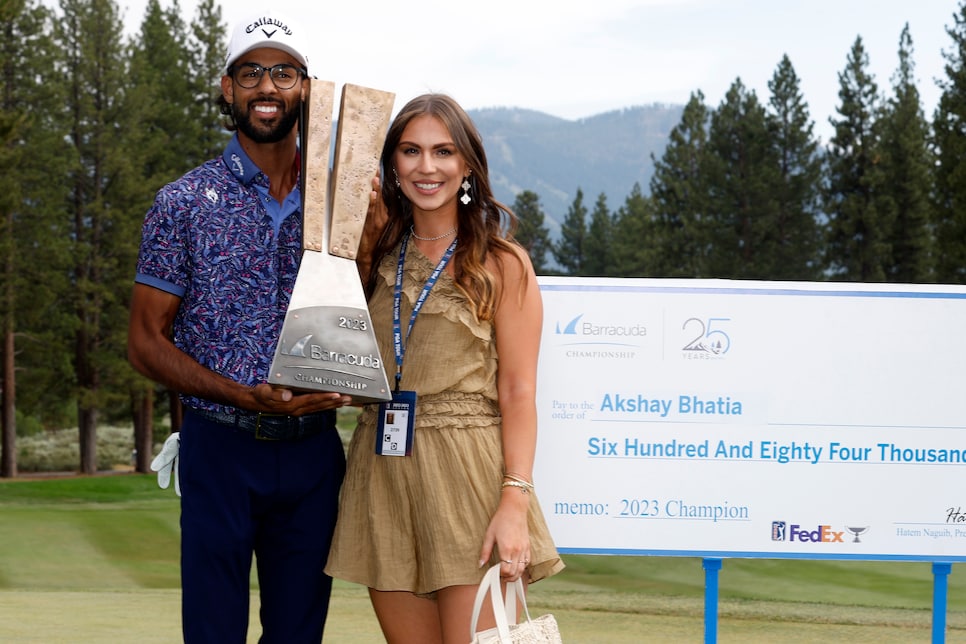 What a performance for this young stud, who turned pro out of high school a few years back and is already one of the best ball-strikers on the planet. I'm feeling pretty good about my bet with former colleague Dan Rapaport that Bhatia will be a top-50 player. Although he only moved up to No. 106 after the win, I've got until 2025. Let's go, Akshay! So much promise from this guy. And he's only 21. That said, he's still five months older than this guy ...
Tom Kim: It's easy to forget just how young this South Korean star is because we've already seen so much of him. But after just turning 21 last month, Kim seems to have returned to the form that last year made him the first player since Tiger Woods to win two PGA Tour titles before that age. And this time, he posted his best major finish ever, a T-2 at Royal Liverpool, despite the fact that he was playing with a possible fractured ankle after a patio mishap at his rental home.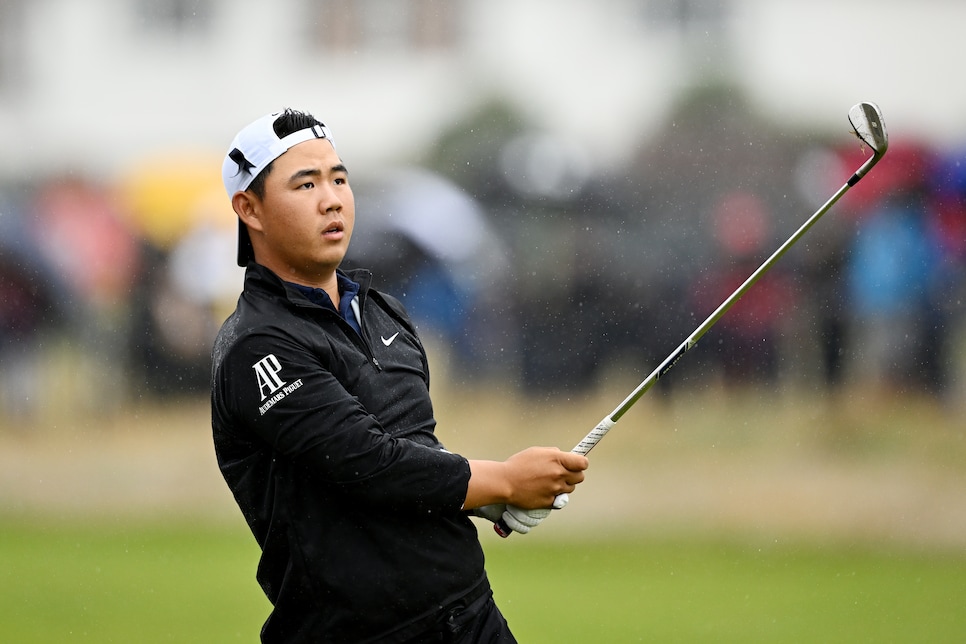 Couple that with a T-8 at the U.S. Open and a T-6 at the Scottish Open, and Kim is starting to cook again. Or, rather, Thomas the Train is rolling into the FedEx Cup Playoffs. I might need to update "The Ballad of Tommy The Kid" soon!
Golf brothers: This has to be the golden age for siblings in golf. First, you had the Jutanugarns dominating on the LPGA. Then the LPGA's Minjee Lee and now the PGA Tour's Min Woo Lee. But this past week three sets of brothers made noise, headlined by Matt and Alex Fitzpatrick at the Open. The younger brother of the 2022 U.S. Open champ and a Wake Forest product (Go Deacs!) battled with big bro all week in his major debut before soundly beating him (T-17 to T-49) on Sunday.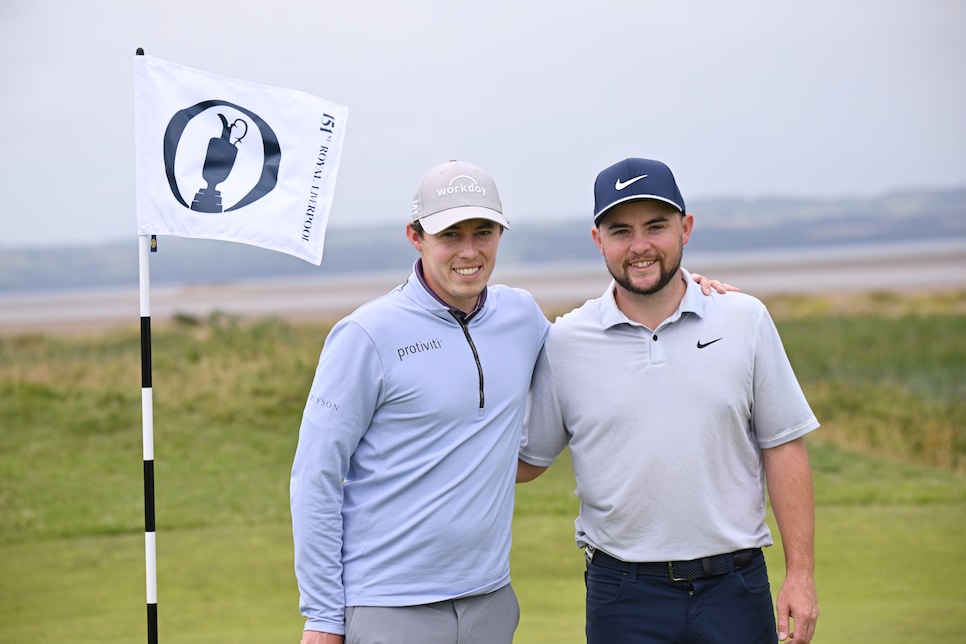 Denmark's Hojgaard twins also both played in the event with Nicolai making the cut and finishing T-23. And then there were the Coody twins going 1-2 on the Korn Ferry Tour with Pierceson winning a third title and Parker notching a runner-up to put him close to locking up his PGA Tour card as well. I mean, it's not quite the Williams sisters in tennis, but there are some pretty darn good bragging rights battles going on in these family households right now.
Patrick Cantlay: Rory McIlroy received all the attention for another "disappointing" year in major championships, but at least he puts himself on the leaderboard. On the other hand, Cantlay, went another season of not even sniffing contention. We've all seen the stat by now that he's never been within five shots heading into the final round of a major, but this is even worse:
That might be the most damning stat in sports history. This guy is a top-five player in the world! At least, supposedly. Sorry, Patrick, you're a very good player, but this might be the biggest knock on the Official World Golf Ranking yet.
Blatantly cheating: OK so any form of cheating is bad, but what Justin Doeden did in a PGA Tour Canada event seems hard to believe. The dude took back his card, literally erased a double bogey, changed it to a par, and turned it in to make the cut on the number. Of course, his fellow competitors noticed, thankfully, and Doeden was called out before withdrawing. Also, of course, Ryan French, AKA Monday Q Info on Twitter, was all over the whole thing. Unlike that other notorious cheat that Ryan called out last year, at least this guy confessed to his sins:
The divot rule: Probably the most talked about rule—or non-rule—in golf is that you don't get to take a drop from a divot in the fairway. And while we can debate whether that's how it should be—I get that it's tricky regarding where to draw the line—we can all agree that Patrick Rodgers got screwed in that playoff against Akshay at the Barracuda.
What a brutal time for that to happen. Especially to a golfer who has now gone 246 PGA Tour starts without winning. Hopefully, this guy catches a good break soon. And one that doesn't involve any bird poop.
The PGA Tour resumes with no more majors until next April. Boo! But we still have a Ryder Cup this year (Yay!) as well as a bunch of other events starting with this week's 3M Open, aka that one in Minnesota, aka that one Matthew Wolff won once with a walk-off eagle against Bryson DeChambeau. Of course, those LIV guys won't be there this year, but it's a solid field at TPC Twin Cities. And it's a fantastic field at the final women's major of the year, the Evian Championship.
Random tournament fact: Alex Gaugert, a former University of Minnesota teammate of Erik van Rooyen and the South African's long-time caddie, will make his PGA Tour debut after Monday qualifying. Of course, that left Erik searching for a replacement looper:
Would have been great if he added, "I pay better than Matt Kuchar."
RANDOM PROP BETS OF THE WEEK
—This week's 3M Open winner will be pooped on by a bird: 1 MILLION-to-1 odds
—This week's 3M Open winner will hit it farther than Bryson DeChambeau: 1-to-10 odds
—This week's 3M Open winner will hit it farther than Brian Harman: LOCK
This is an old one—and, yes, we're still calling it Twitter and not X—but it resurfaced over the weekend and it's now an all-time great golf tweet as well as one of the greatest sports predictions ever. And it comes from the late Norm Macdonald. Yep, that Norm Macdonald, who apparently was Brian Harman's biggest fan.
Wow. Norm nailed that one—and now we're thinking there might be more to come. Better get those 2024 Masters bets in on Brian before his odds get too low.
CLUB PRO GUY TWEET OF THE WEEK
It's not quite the Gary Player-Yao Ming photo, but wow: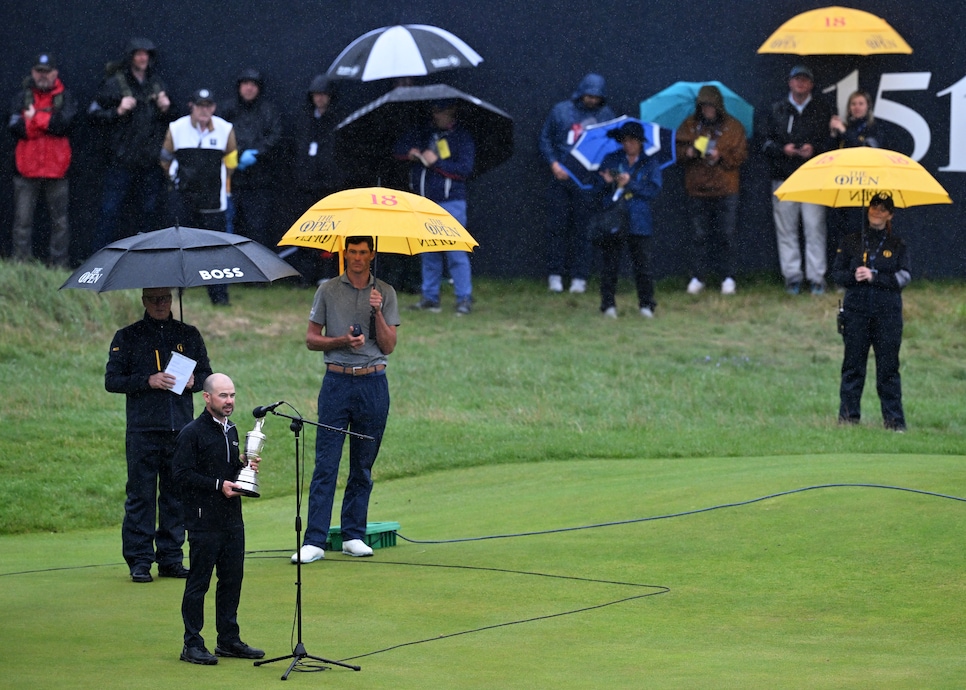 OK, so the angle makes the height disparity look even crazier than it was, but it's still pretty wild that the 5-foot-7 Open champ was more than a foot shorter than the 6-foot-8 low amateur, Christo Lamprecht (under the yellow umbrella). Seventy years after Ben Hogan's famous Open win at Carnoustie, pro golf has a new "Wee Ice Mon."
Someone had some fun with the "waggle counter" NBC used on Brian Harman, adding a few more graphics after the fact:
Hilarious. That video, that is. Not the waggle counter. We didn't need to be reminded of Brian's waggles. We saw enough of them as it is.
THIS WEEK IN PUBLIC DISPLAYS OF AFFECTION (WAGS DIVISION)
Askshay Bhatia said he couldn't talk after his first win, but he actually couldn't talk a bit later when asked about his girlfriend, Presleigh Schultz. Check out this emotional, sweet response by the rising star:
Aww. And they say you can't find love by sliding into Instagram DMs.
THIS WEEK IN PUBLIC DISPLAYS OF AFFECTION (LADS DIVISION)
Check out the reception Matthew Jordan got from his fellow members at Royal Liverpool after finishing T-10(!) in his major debut at his home course:
THIS WEEK IN CELEBRITY GOLFERS
Congrats to recent Golf Digest cover boy DJ Khaled on winning his inaugural charity golf event, the inaugural We The Best Foundation Golf Classic in Miami.
Of course, it helps when you bring in a couple of ringers like Bubba Watson and Michael Block. They weren't 175-to-1 odds to win before the tournament, that's for sure.
"After I made the second bogey yesterday, a guy, when I was passing him, he said, 'Harman, you don't have the stones for this.' That helped." —Brian Harman on using crowd heckling as motivation. That guy obviously never saw Norm Macdonald's tweet.
Jason Day became just the ninth player to complete the career runner-up Grand Slam. Unfortunately, we didn't get any lip-syncing from him like we did from Louis Oosthuizen. . . . This is the fancy tractor that Brian Harman recently treated himself to: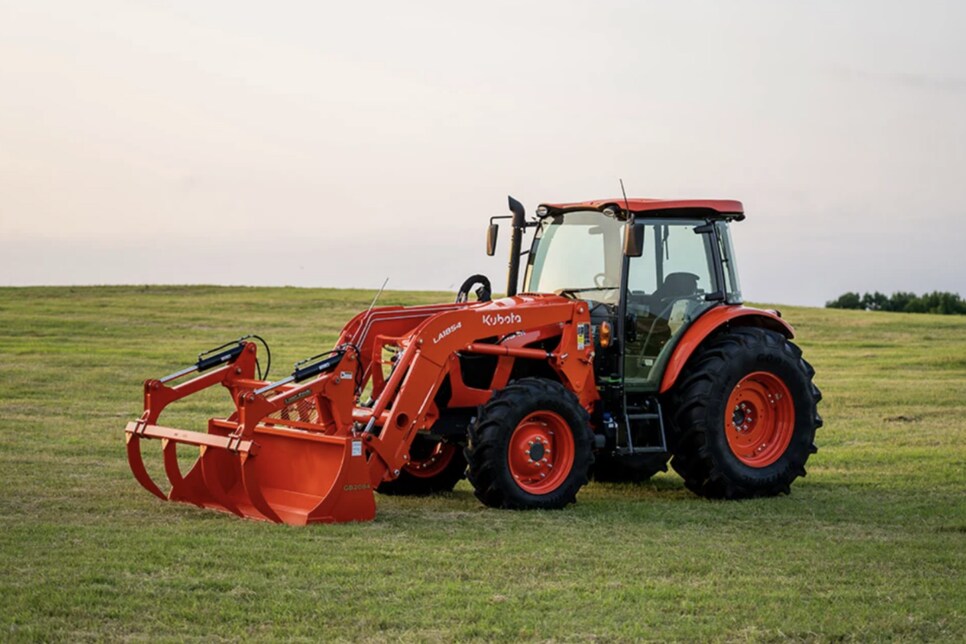 Wow, that thing looks so sweet it might actually make me want to cut my own lawn ... Brooks Koepka's automatic spot on the U.S. Ryder Cup team is in jeopardy. But if he doesn't make it as a captain's pick, I might boycott the event ... And, finally, I was fortunate enough to survive the most thrilling, best-played match I've ever been a part of in the Golf Digest Match Play Championship against co-worker and absolute gentleman Peter Slavish, an 11-handicap who shot 80. But with a second straight 73 (best back-to-back scores of my life out of nowhere), I won 1 up. Look at this lovely scorecard from lovely Rye Golf Club!
There was also talk about how that final hole—which was broadcasted on Instagram live!—went down, so much so that Sam Weinman got Paul Azinger to weigh in with this fun story about our own Duel In The Sun. I'm happy to say that Zinger has my back and that I'm moving on to the Final Four. I just probably have no chance going forward after crushing my handicap. Might need to call Club Pro Guy for some tips in that area.
RANDOM QUESTIONS TO PONDER
How many majors will Tom Kim and Akshay Bhatia win?
What the heck is MegaCorp that we saw on Harman's hat all week?
Who else did Norm Macdonald predict would win a major?