Golf IQ
Should these putts have been conceded? A Ryder Cup hero weighs in on our awkward match play moment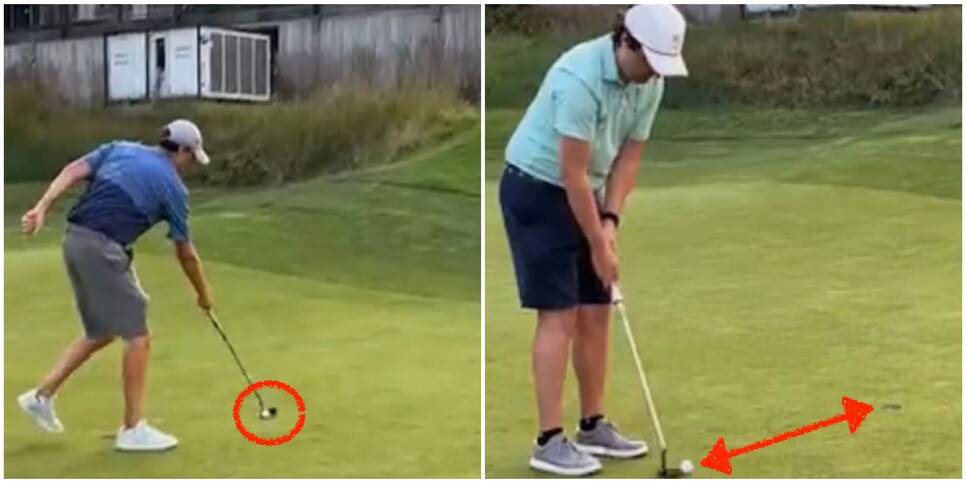 Pitchers throw at heads. Linebackers target knees. Golfers at their most ruthless make you putt everything.
We've known this to be true in the Ryder Cup. But it's also apparently so in the low-stakes Golf Digest Match Play, where a third-round meeting between two friendly co-workers ended in such awkward fashion, we sought input from a legend.
First, some quick background: our Match Play is run like most golf club season-long tournaments. There's an original bracket of contestants, and a deadline for when certain rounds need to be completed. Unique to our event is we chronicle the whole thing in a lively company Slack channel, and when matches are tied late, we broadcast it via Instagram Live. This last part ended up coming in handy.
The most intriguing match to date was Wednesday at Rye (N.Y.) Golf Club, between senior writer Alex Myers and Peter Slavish, a senior product manager. As a 12, Slavish was getting seven strokes from the 5-handicap Myers, but both were playing impressive golf, and they arrived on the 18th tee tied. This is when things got interesting. I was there and can post the entire hole, but for this discussion, the part that matters is the very end.
With both players facing birdie putts, Myers went first and ran his attempt to about three feet above the hole.
It was hardly a tap-in, but Myers had been solid from short range all day, so Slavish announced the putt was good. What sportsmanship!
That left the stage to Slavish, who faced a more difficult attempt putting down the hill.
Slavish also ran his birdie putt beyond the hole, but his ball stretched to some five feet past. I was standing off to the side filming, and in the recording, you can hear Myers ask me whether he should give him the putt. I said he shouldn't. It was a tester. Still we were both tinged with guilt given that Slavish had just given Myers his putt.
"I felt very conflicted," Myers said later. "I would rather such a well-played match end with someone making a putt instead of someone feeling like they lost. But in the end, it was just too long to let him have it."
He was right, because then this happened:
Slavish missed the putt. The hole was over, the match was lost, and in the aftermath, came the uncomfortable question from near and afar: Should Alex have given Peter the putt?
When are you supposed to concede a putt?
The most important opinion on this was the victim, Slavish. The bogey on 18 marred an otherwise steely display, and he might have resented having to make his final putt given the courtesy he had just extended his opponent. He never saw it that way.
"I never expected him to give me that last putt," Slavish said. "Those are routine, which you need to make in match play all the time."
So that was Slavish's explanation, gracious in defeat, but perhaps too close to the whole thing to respond objectively. Hence we brought in a match play expert, in this case Paul Azinger, major champion, and battle-tested Ryder Cup veteran. Along with captaining the victorious U.S. team in 2008, Azinger was part of several infamous matches as a competitor, including a 1993 singles match against Nick Faldo that featured its own concession controversy (Europe had already clinched the Cup, but on 18 Faldo refused to concede Azinger's six-foot birdie putt for a halve. Azinger made it anyway).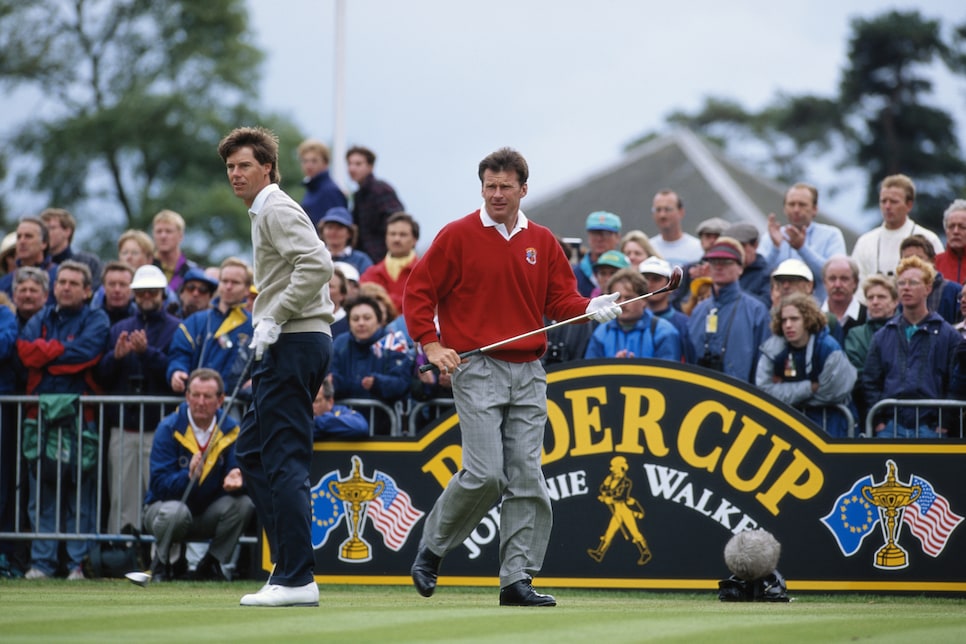 When we sent the clips of the putts to Azinger hours after he signed off broadcasting the Open Championship at Royal Liverpool last Thursday, he dug in on the topic immediately. Not surprisingly, the notoriously dogged competitor said Myers should have had no qualms about forcing his opponent to make his last putt.
"He has to make it,' Azinger said. "Even if he didn't force me to make mine. That's his error."
So that settles it, it was the right decision. Or at least there it was. Because as Azinger noted, the real miscue was made moments earlier.
Remember, the only reason we're debating that final putt is because it came on the heels of Slavish giving Myers a short putt moments earlier. Which begs the question: what the hell was Peter thinking?
This was the real lapse, Azinger said. Even for a player who had putted well all day, the 18th hole was a new test. And Myers' first putt suggested he was already tightening up.
"I'd concede it only if he was one of my brothers. Otherwise, I would interpret it (blowing it by the hole) as a weakness on his part and nerves might be getting to him," Azinger explained. "If it were the Ryder Cup, I'd never give that putt on the last hole. Giving a putt like that would be the rarest of rares in most instances when you have the match on the line."
Myers agreed. "Paul is right that I was feeling nerves there," he said. "Of course I was. It was the last hole of a match that was all square with a spot in the FINAL FOUR on the line!"
So what was Slavish thinking? Was he just being nice? It turns out his reasoning ran deeper.
"Match play is full of situations like that where you can choose to put the pressure on yourself rather than your opponent and say to yourself 'I'd rather win this hole making a birdie, than my opponent a three-putt bogey,'" he explained. "Especially after a match of that caliber, I felt the 18th hold deserved the same respect and shouldn't be treated any differently, regardless of the stakes."
So to review, even for golf, match play adds a layer of psychological intrigue. You should expect to putt everything. It doesn't matter if your opponent plays on a rival continent, or works at the desk down the hall.
Dave Shedloski contributed to this story.