HOYLAKE, England — If Brian Harman's golf game was a car, his wouldn't have the fastest topline speed. Place it in a drag race with any number of other players, and Harman would be left in the dust. Golf is in a moment of peak horsepower. The more if it you have, the better.
Even Harman knows it: "I'm 36 years old. The game is getting younger. All these young guys coming out, they hit it a mile. The game is going longer. That seems to be the way it's going."
And yet in the midst of this race for more speed, it was Harman who couldn't be caught on Sunday at Royal Liverpool, winning by six shots. It's a fact that belies another: not all cars are designed the same way. Some are, indeed, built to be fast. Others are designed to be more maneuverable.
That's what Harman is. At 5-foot-6 inches and a lean 150 pounds, the diminutive lefty carries an average clubhead speed of 109 miles an hour, which puts him in the bottom 10 percent on the PGA Tour. He's not built for straight line speed, like the 6-foot-8 amateur Christo Lamprecht, who earned low amateur honors as Harman took possession of the claret jug.
Instead, Harman has devised an entire strategy around what he can do best: win around the corners. It has led to 12-year career on the PGA Tour and wins at every level he's played. And now, an Open championship victory.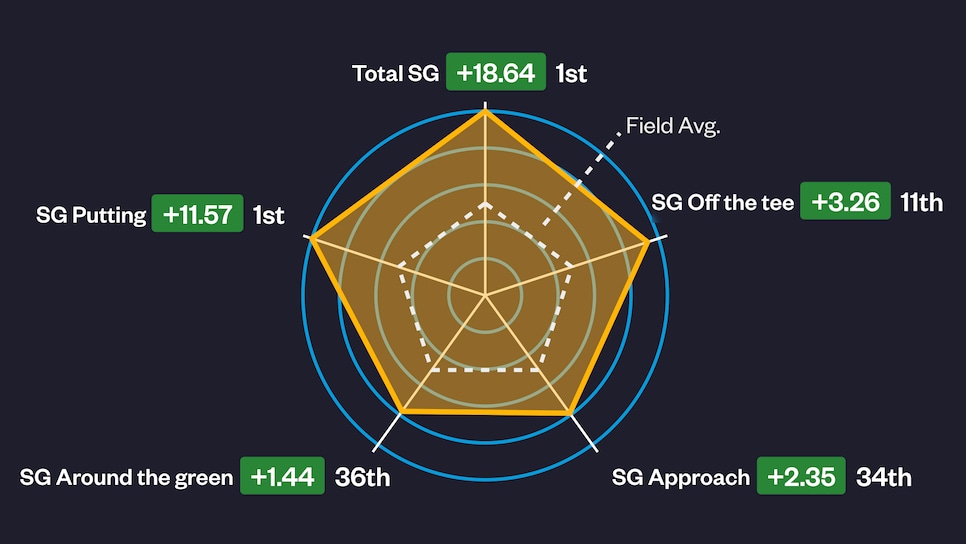 Brian Harman's final strokes-gained statistics from this week at Royal Liverpool.
Driver everywhere and anywhere
Harman ranks 142nd on tour in driving distance, but he gets around this perceived disadvantage with a pretty simple strategy: He hits driver all the time, as much as he can, at every opportunity.
While Harman's peers are dropping back to hit 3-wood and 2-irons, either for more control or to pursue safety, Harman pushes himself to hit the driver at every opportunity.
It's an intentional strategy that shows up in his stats. Look at the driving distance statistic, which only measures a certain holes—longer, wider holes, where most golfers are hitting drivers. It's the best way to do it when you're trying to showcase who actually hits it the longest. And that's where Harman ranks 142nd in that category.
But now look at all drives—the average distance of literally every tee shot hit on par 4s and par 5s. You'll see that Harman ranks 98th, within 0.3 yards of tour average.
Here's another stat to look at. For the amount of distance Harman's tee shots carry on par-4 holes, he ranks above the tour average, and inside the top 80.
What do you see from this? Put Harman in a driving contest against any number of his peers, with a wide open field in front of them, he would lose. Yet because Harman is ultra-aggressive with the number of drivers he does hit, he lands in the top 50 on the PGA Tour in SG: Off The Tee (48th coming into the Open), again while being one of the shorter hitters in golf.
After watching Harman seemingly make all the important putts he looked at during his stay in England, you might say his short game won him the day, but his driving made it possible in the first place.
"If a player hits it 320 yards with their driver and only 280 with their 3-wood, and another player hits it 290 with their driver but hits driver more often, they effectively hit the ball further simply because they're playing more correct strategically," says Scott Fawcett, the founder of DECADE Golf course management systems. "A shorter player effectively has a governor on how much they can gain off the tee, but if they are hitting driver more often than a longer player the longer players advantage is heavily negated.
"Proper strategy should feel very aggressive off the tee," he says.
Of course, Harman wouldn't be able to hit driver everywhere if he sprayed the ball around wildly. Players can get away with being long and relatively crooked, but short-and-crooked generally isn't an advisable strategy.
Harman does indeed hit a lot of fairways—14th in driving accuracy coming into this week, and first in the field this week. The key to this, says Harman's coach Justin Parsons, is versatility.
Harman's peers aren't hitting fewer drivers by choice. When they do, it's because they're seeking more accuracy, or working a different shot that is easier with a shorter club. Harman and Parsons spend a huge portion of their driver practice learning to hit those shots with his drivers. It's harder than simply dropping down a club, but for Harman, it's essential.
"He's a tremendously talented, versatile player, and he works very hard on it," Parsons says. "He does hit driver a lot more, because he's able to dial it back slightly when he needs to but still hit it longer than other players' 3-wood. He can hit a draw when he needs to reach for more distance. He can hit a little low ones and to fit drives through little gaps in holes, when other players can't move their drivers."
This skill versatility is forged by countless hours on the range. The discipline of application comes through choice. The ability to execute through some level of innate talent. The combination transforms a player with what is, on paper, a potentially fatal flaw in the modern era, into a major champion.
"I'll let y'all figure it out." Harman said at his winning press conference after a question about his lack of driving distance, his eyes glancing to the claret jug sitting in front of him. "But there ain't no problem."
Is it the British Open or the Open Championship? The name of the final men's major of the golf season is a subject of continued discussion. The event's official name, as explained in this op-ed by former R&A chairman Ian Pattinson, is the Open Championship. But since many United States golf fans continue to refer to it as the British Open, and search news around the event accordingly, Golf Digest continues to utilize both names in its coverage.