HOYLAKE, England — There were some familiar names lurking around the leaderboard after the morning wave on Thursday at the 2023 Open Championship, and one somewhat unknown one leading them all.
Hardcore golf fans will know him as the man who won the Amateur Championship at Hillside Golf Club last month. This is Lamprecht's first exemption from that victory, and after an opening round 66, safe to say he's off to a solid introduction.
Lamprecht's is a tall golfer. At 6-foot-8 inches, he's maybe the game's current tall golfer clubhouse leader, which he talked about after his first round:
"My dad is 6'4" and he's the shortest of the last five generations. My grandfather was like 6'8" and great grandfather like 7'," he said. "It runs in the family, definitely."
Sheer height can be a tremendous advantage for golfers in terms of generating distance. The taller you are, the longer your arms, legs and other joints. Those elements make up what coaches call "levers." The longer your levers, the further the the club travels, the more time it has to pick up speed. More height also gives you more weight which you can use to thrust into the ball.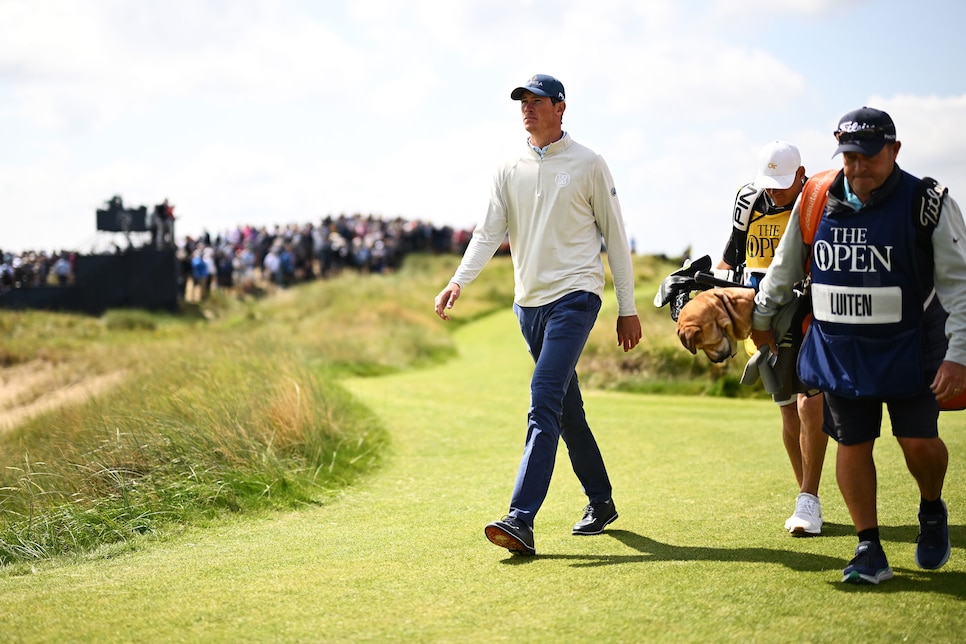 But of course, golf gives and golf takes. Height may make the quest for power easier, but tall golfers don't grow all at once. It takes time, and for Lamprecht, that meant his golf swing was in a constant state of change.
"Everything golf-wise was everywhere. I didn't know what was going on. I was changing clubs every six months," he said. "I was growing so fast and my swing changed every week and it was all over the place for like two years there."
When he finally settled into his frame, Leprecht settled into a unique move which is capable of sending the ball upwards of 340 yards, with ball speeds approaching 200 mph.
Christian Lamprecht's golf swing
Let's dive into a great video of Lamprecht during his practice round recorded by the legendary Brad Faxon.
You'll notice that Lamprecht has an incredibly strong left hand grip, with his hands rotated over to the right. Grips like this tend to close the clubface, and cause many golfers hooks. But because everyone's best grip is different based upon their unique body, Lamprecht uses a series of different moves to match it up.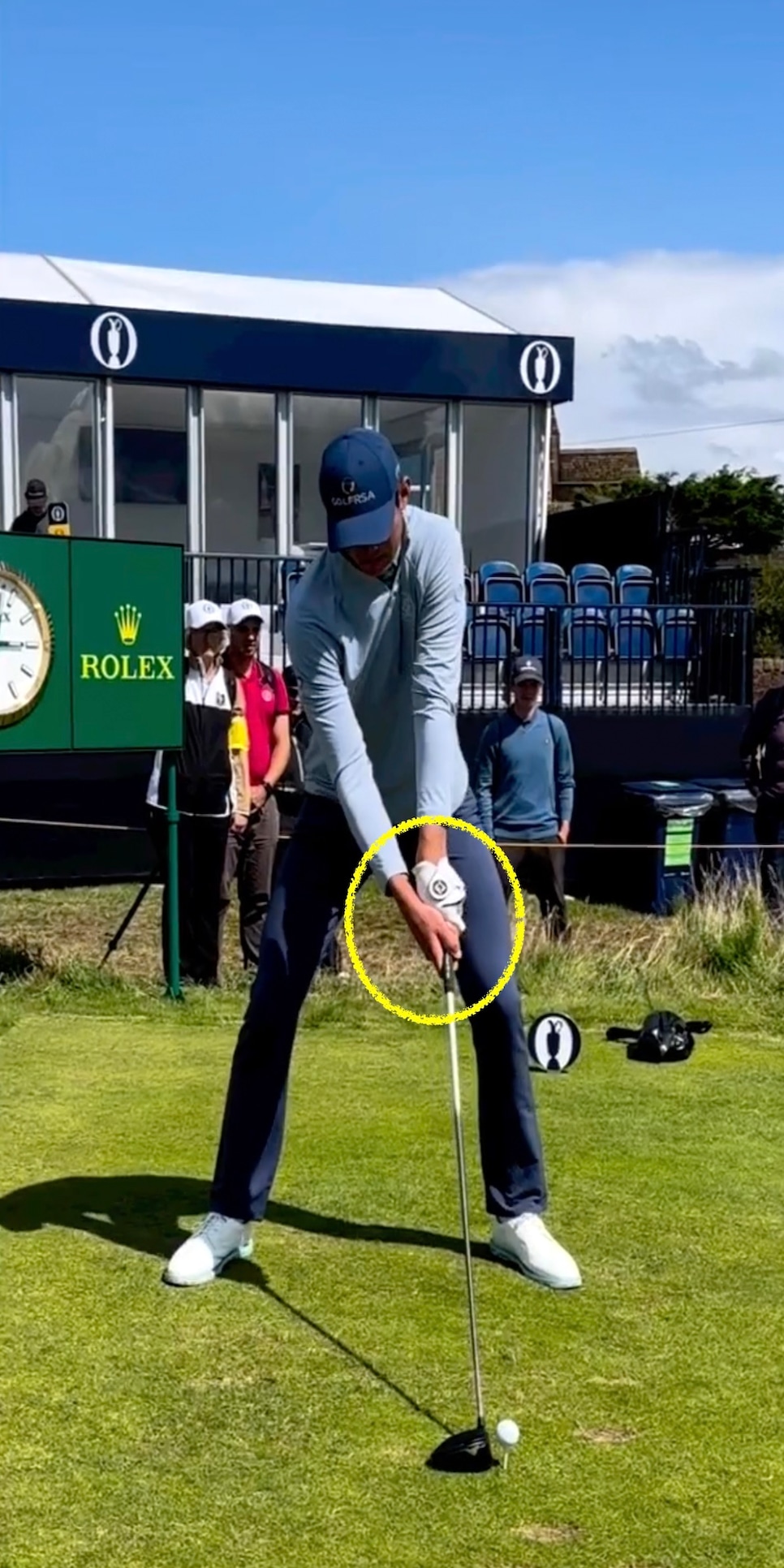 A key component of this is how his body shifts towards the target. Notice how Lamprecht's pelvis moves towards the target moments before his completes his backswing. You can see this more clearly if we draw a line on the right side of his belt buckle as he finishes his backswing.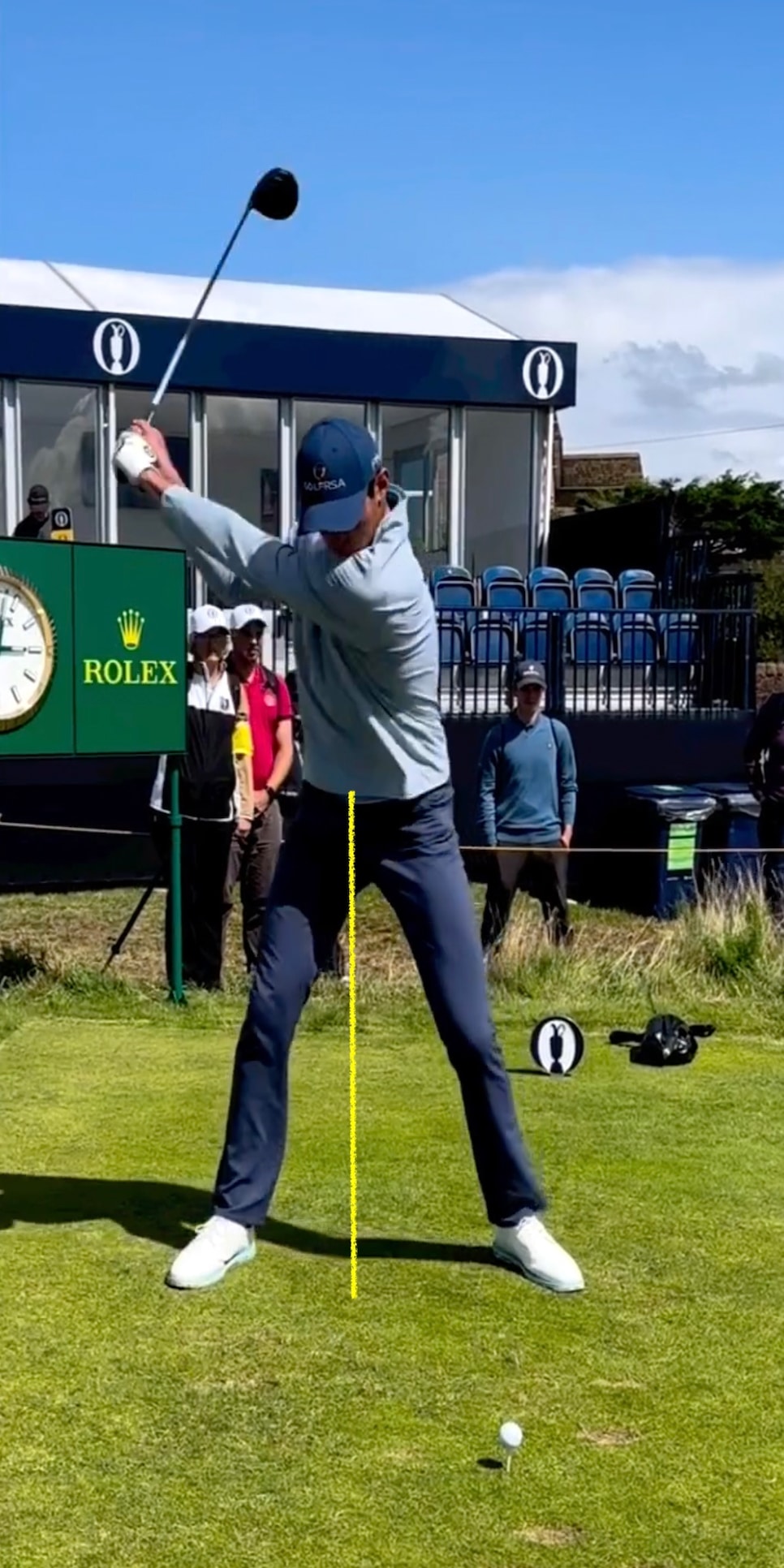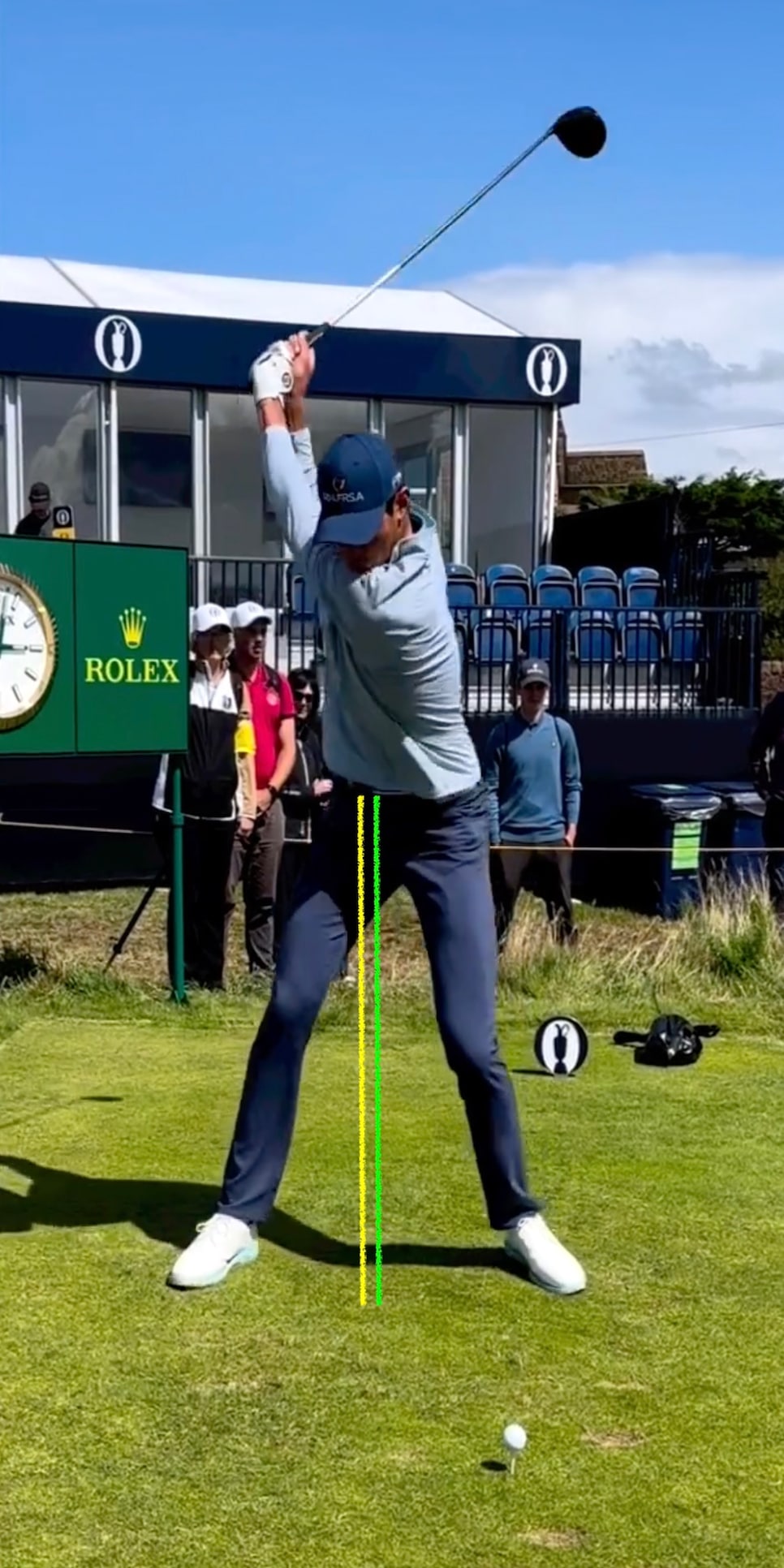 This is a move called re-centering, and it's a really important move for all golfers. Pros do this really well; amateurs not so much.
"As you're still making your backswing that's when you should make the re-centering happen," said Golf Digest Top 50 Teacher, and cofounder of Athletic Motion Golf, Shaun Webb. "That gives you a chance to get some momentum and frees up your entire downswing."
This move is the start of Lamprech's downswing shift into the ball. The first of a big slide into his lead side on the downswing, which essentially helps counteract his strong grip. If he didn't slide this much towards the target, Lamprecht would probably hit hooks—and certainly not be leading the Open Championship.
Golf Digest Top 50 Teacher Terry Rowles explains:
"Think about throwing a ball…in throwing we use the step and rotate sequence to time up our throw. That's how we get our throwing hand in a place where we can use it," Rowles says. "It's the same in golf. If we only throw our arms without stepping or rotating, we over release and the ball goes left."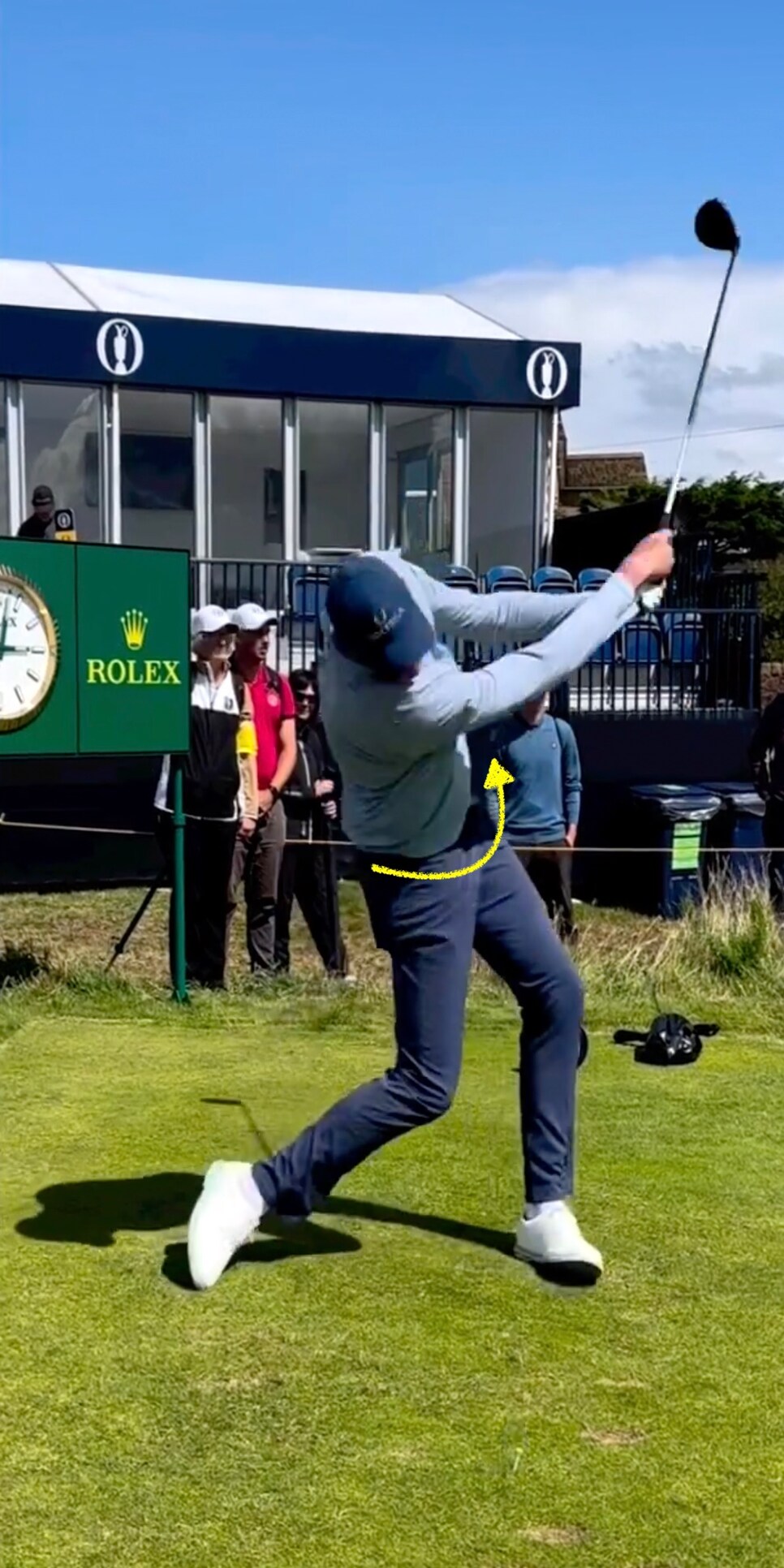 This contributes to the most recognizable move in Lamprecht's golf swing: A left knee which stays bent long after the ball is gone.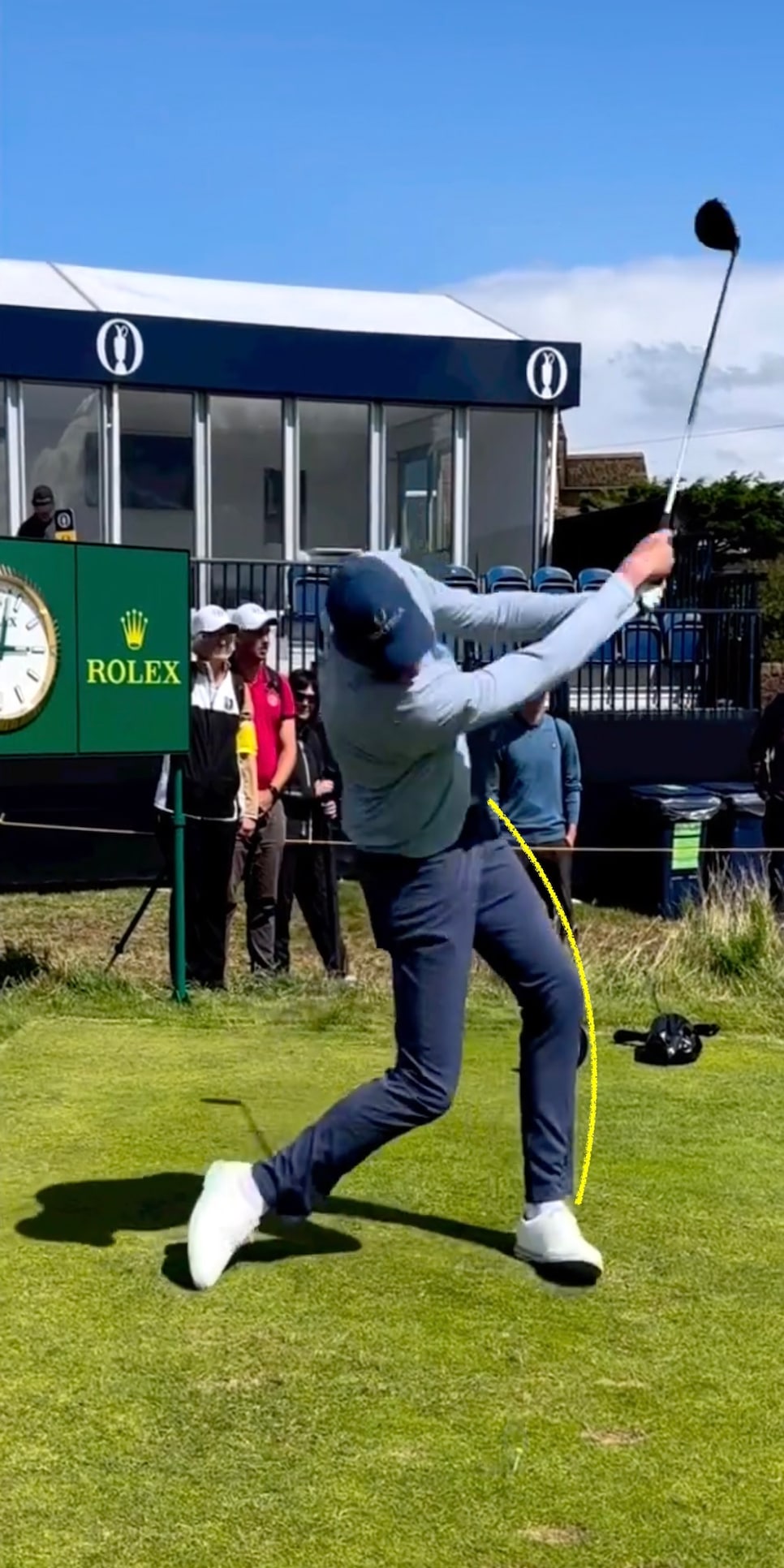 It's the result of lots of side-to-side movement, but also the product of his height. Swinging clubs that are disproportionately short for his height means Lamprecht needs to move down towards the ball in order to hit it. It's a move you see in lots of tall golfers—Byron Nelson and Allen Doyle are two—who grew up with too-short clubs.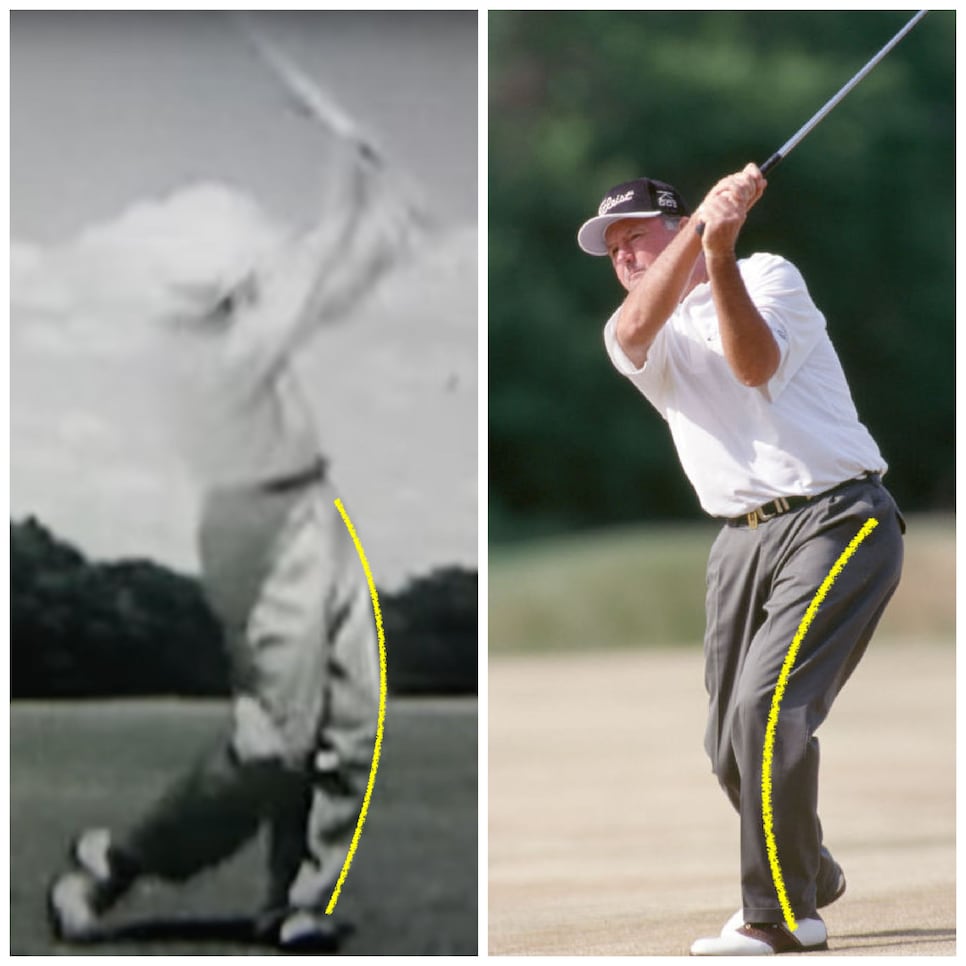 A bit like the way the environment formed the links course Lamprecht played so brilliantly on Thursday, it was a combination of nature and nurture which forged his golf swing. One that'd be impossible to recreate, but a swing he's commanded his own, unique mastery of.