The Loop
Brandt Snedeker's badass putter drop, Brandel Chamblee's ace, and Dustin-Paulina celebrate a big milestone
Welcome to another edition of The Grind, where we feel the gutsiest performance on a golf course last week wasn't televised. Instead, it happened at the 39th Golf Digest Editor's Putter at Morris Country Golf Club and involved yours truly firing scratching out a net 72 to tie for first place (No sandbaggers here!). And when our Editor-in-Chief, Jerry Tarde, declared that like the Ryder Cup, there would be no extra holes (Jerry was also tied for first), I was back in the winner's circle. Look how happy I am after learning my choking self didn't have to go back out in a playoff: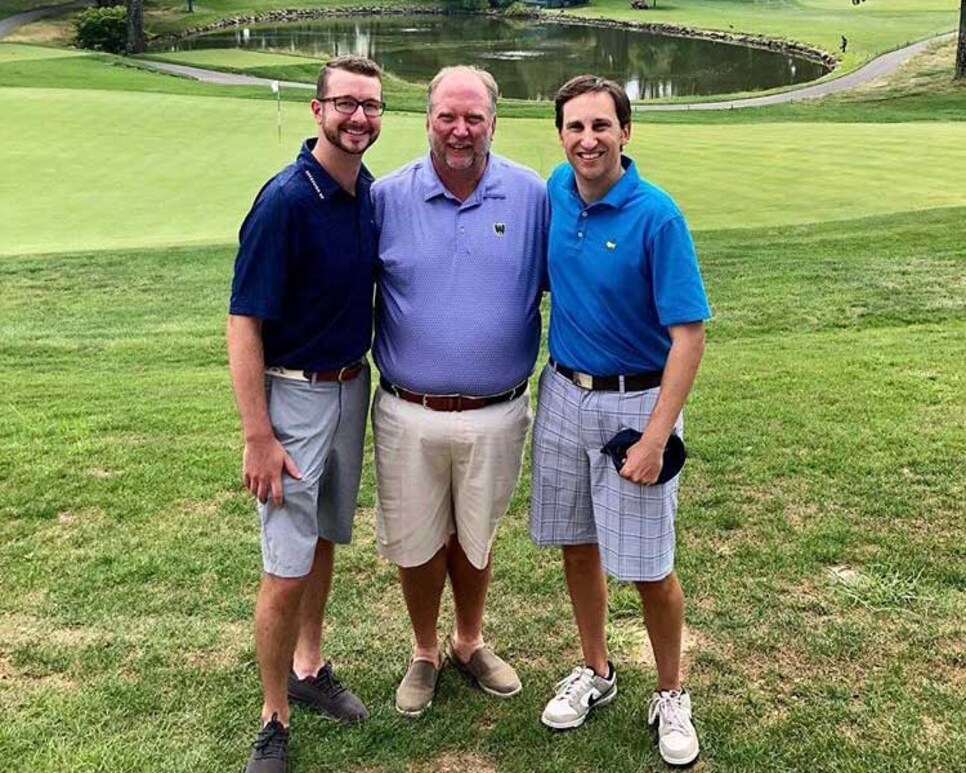 Of course, if we were truly going by Ryder Cup rules, I should retain the title outright as defending champ. But my guts don't extend past grinding out pars so I stayed silent on the matter. In any event, this is my fifth career "major" with my two EP wins ranking right up their with my three HGGA (my annual golf trip) titles—and just ahead of that ping-pong tournament I won on a Carnival cruise ship in 2004. But while New Jersey is still buzzing from this Golf Digest event, the Garden State will get plenty more golf action with the PGA Tour coming to town. Let's discuss that and everything else happening during a crazy week in golf.
Brandt Snedeker: The newest member of the PGA Tour's "59 Club," Sneds became just the fifth player to break 60 AND win that tournament at the Wyndham Championship. It was nice to see this well-known nice guy get his first win since 2016. And what a cute scene with his wife and kids mobbing him on the 18th green after he sank the winning putt:
Also, how about that boss putter-drop celebration? Pretty badass.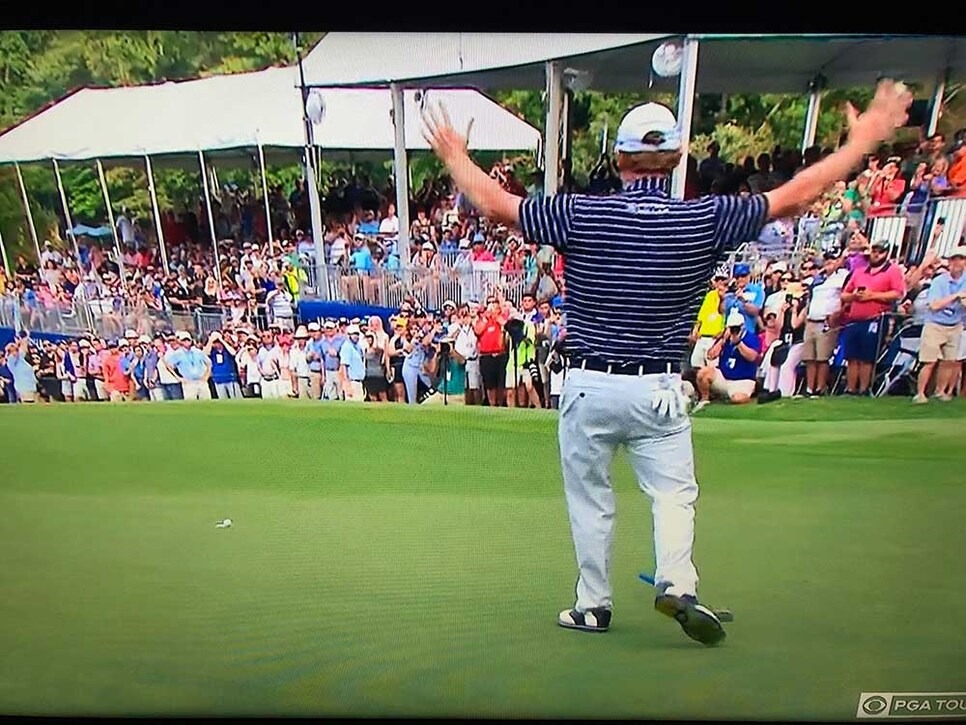 Brandt Snedeker looks like he's back. And Jim Furyk's list of potential Ryder Cup captain's picks just got a little longer.
Hovland, the first Norwegian to win the event, has just one regular collegiate win in two years, but he did earn All-American honors this past season while helping lead the Cowboys to an NCAA title in May, and now he has the Havemeyer Trophy. This guy is basically the Brooks Koepka of amateur golf. Other than that whole being born in Norway thing, of course.
Backyard putting greens: I've always dreamed of having one, but even more so after seeing how helpful they can be for your game. Take Paul Waring, who won last week's Nordea Masters on the European Tour a week after getting one himself.
Waring had never won on the European Tour in 199 prior starts, but he gets a putting green and wins in No. 200. Coincidence? I don't think so. To help insure my reign in the Editor's Putter, now I just need to come up with a few thousand bucks. Oh, and a backyard where something like that could actually fit.
Biting on the golf course: This shouldn't need to be said, but apparently it does after a particularly grisly incident occurred at a Massachusetts golf course last week. A fight between two golfers ended up with one man having his thumb bitten off to the knuckle and the other guy charged with mayhem, which carries a penalty of up to 20 years in prison. Pretty gruesome stuff. As slow as the group ahead of you might be playing, let's keep it together, people. We're living in a civilized society.
Club slamming around crowds: It's been awhile since Kevin Stadler's name was in the headlines, and sadly, it's in them again for an unfortunate reason. Stadler slammed his 7-iron into the ground in frustration during the second round of a Web.com Tour event and wound up injuring a fan when the shaft snapped and the clubhead flew into the crowd. This was extremely bad luck for both Stadler (who was very upset by the incident) and the man who required six stitches, but it served as a reminder that taking out your anger on your equipment is never a good idea.
1999 Ryder Cup shirt: Remember those hideous shirts Team USA wore on Sunday at Brookline in 1999? Well, someone paid nearly FOUR GRAND for one of them at a recent auction.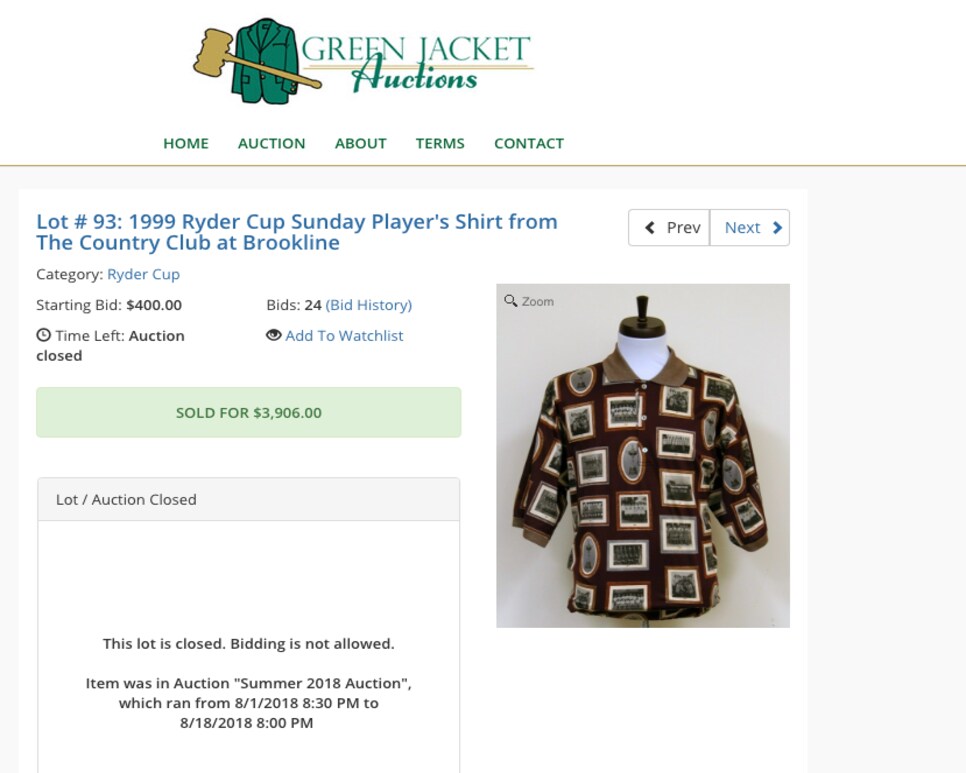 And it didn't even have Tiger's DNA on it! Not that I would pay that much for such a shirt. … Anyway, with that kind of money, the mystery buyer could have purchased a decent-sized backyard putting green instead! SMH as the kids say these days.
The PGA Tour heads to THE Ridgewood Country Club (Actual name, at least, on Google Maps) for The Northern Trust and the start of the FedEx Cup Playoffs. As always, these guys will be playing for a $10 million bonus, but for the first time since 2013, they're going to have to contend with a certain Big Cat to win that big check.
Random tournament fact: I had the pleasure experience of playing THE Ridgewood Country Club earlier this month on Northern Trust media day. I shot an ugly 87, and the rough was so bad, our foursome dubbed it "Roughwood." Mercifully, it was cut for the tournament. But Tiger would still be wise to avoid the thick stuff as much as possible. He's got a lot of golf to play the next few weeks!
RANDOM PROP BETS OF THE WEEK
— Someone will shoot 87 this week: 1 MILLION-to-1 odds
— Tiger Woods will win the FedEx Cup: 12-to-1 odds (Actual odds)
— Victor Hovland will be a big man on campus next semester: LOCK
Both involve caddies. First, Thorbjorn Olesen's looper showed he's literally willing to risk life and limb for his boss by sticking his arm down a rabbit hole to try to retrieve a golf ball:
And this photo of Joe LaCava paying a heckler $25 to leave the WGC-Bridgestone Invitational emerged after Tiger's caddie told the story on Golic and Wingo: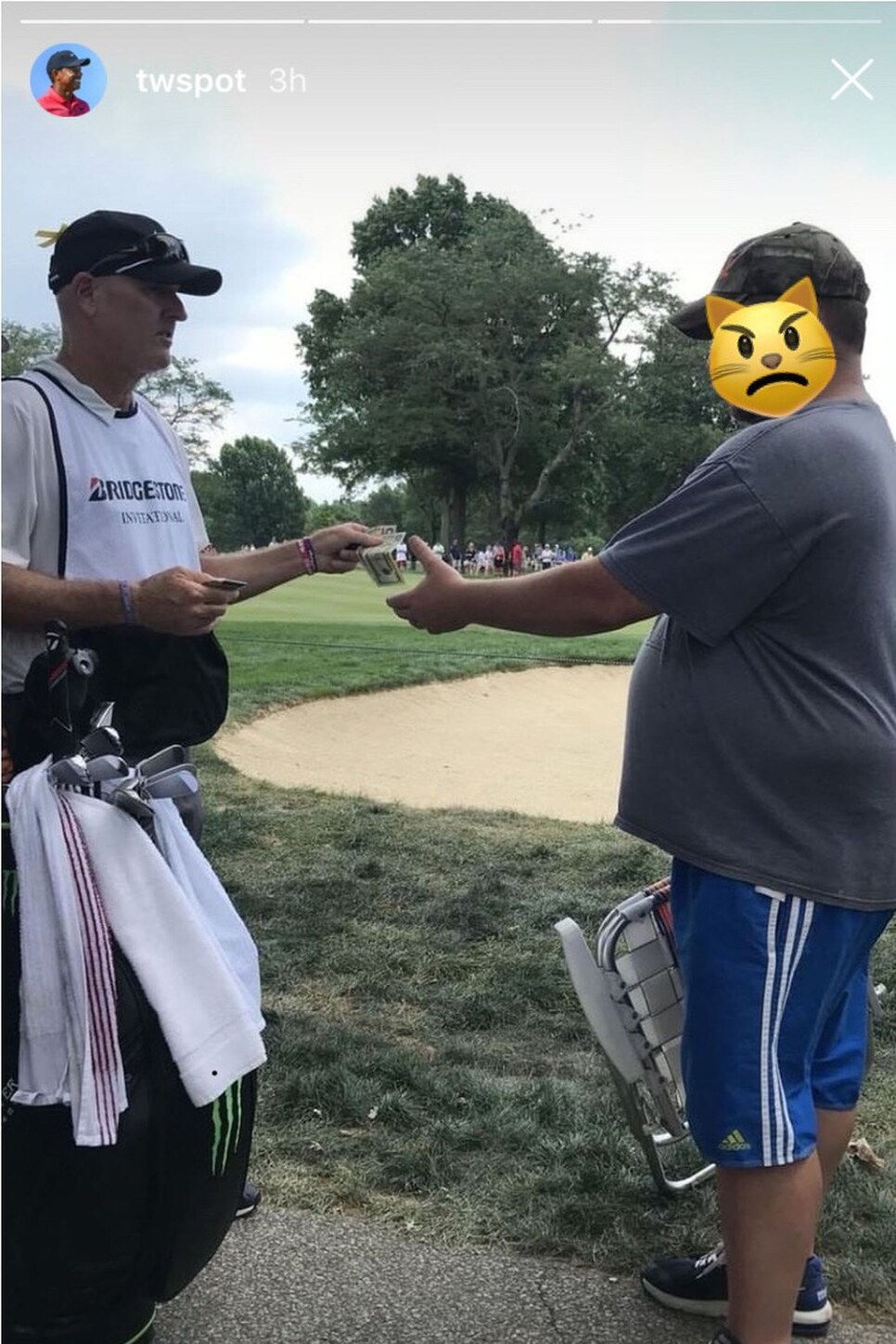 Love LaCava's commitment. I just hope there aren't a bunch of fans hounding him for cash this week.
VIRAL VIDEO(S) OF THE WEEK
A European Tour announcer dropped an "F"-word on live TV—only it wasn't what it seemed. Apparently, "foxed" is the term he was going for. Anyway, have a listen for yourself:
And while we're talking about golf play-by-play men, how about this from Fox's Joe Buck, who apparently stays sharp by announcing the moves of random people he sees on the street:
VIRAL VIDEO OF THE WEEK (TRICK-SHOT DIVISION)
Josh Kelley just wrapped up Golf Father of the Year with this:
And it looks like trick shots run in the genes:
THIS WEEK IN DUSTIN JOHNSON-PAULINA GRETZKY PUBLIC DISPLAYS OF AFFECTION
Can you believe it's been five years? Where does the time go?!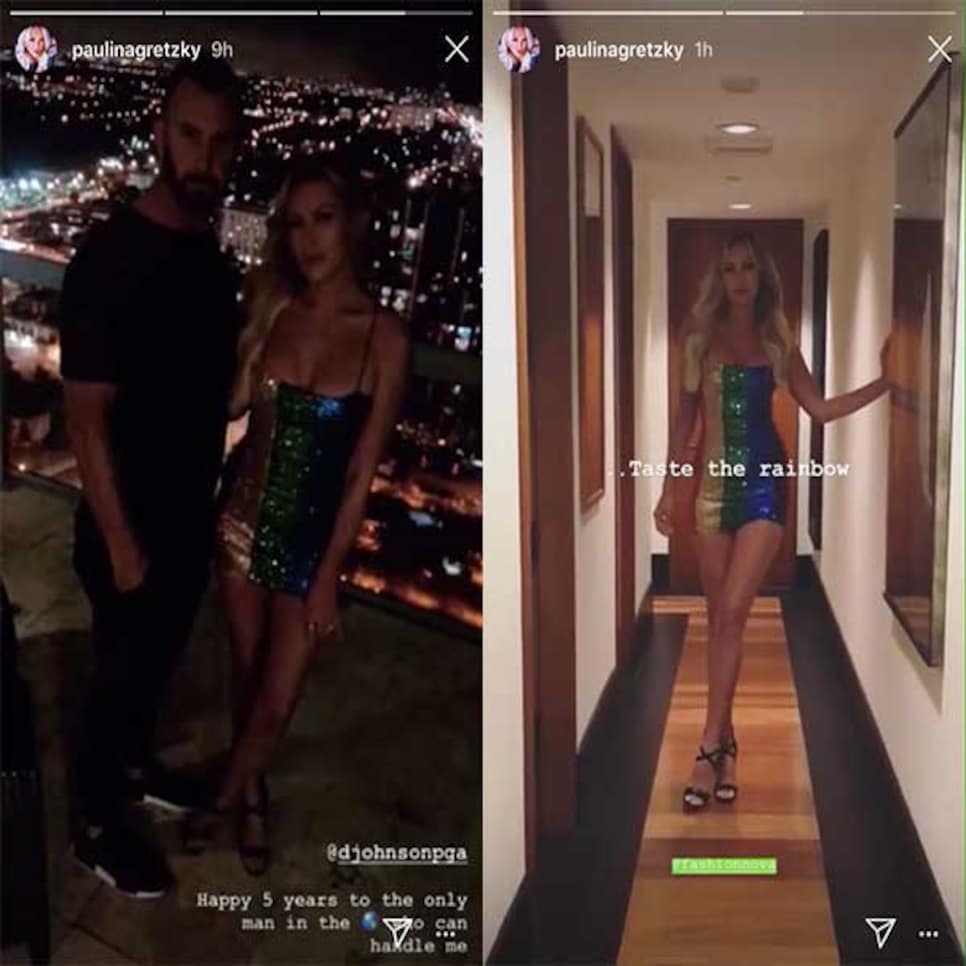 Congrats to golf's most glamorous couple.
THIS WEEK IN BROOKS KOEPKA-JENA SIMS PUBLIC DISPLAYS OF AFFECTION
THIS WEEK IN CELEBRITY GOLFERS
Marshawn Lynch's golf swing is still as bad as ever:
"She just needs to show up, keep up, and shut up, I guess." —C.T. Pan (kind of jokingly) on his fill-in caddie, Michelle. Oh yeah, Michelle just happens to be his wife. And she nearly helped guide C.T. to a first PGA Tour win. C.T. is lucky to still be married. Wait a minute … hang on …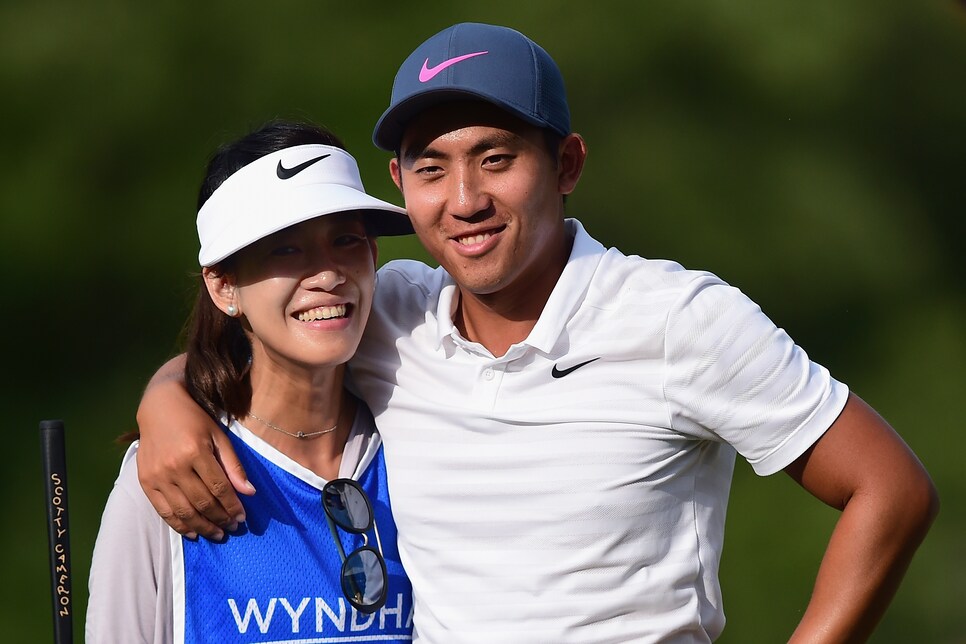 Yep. They're still good. Phew.
THIS WEEK IN OTHER PEOPLE MAKING HOLES-IN-ONE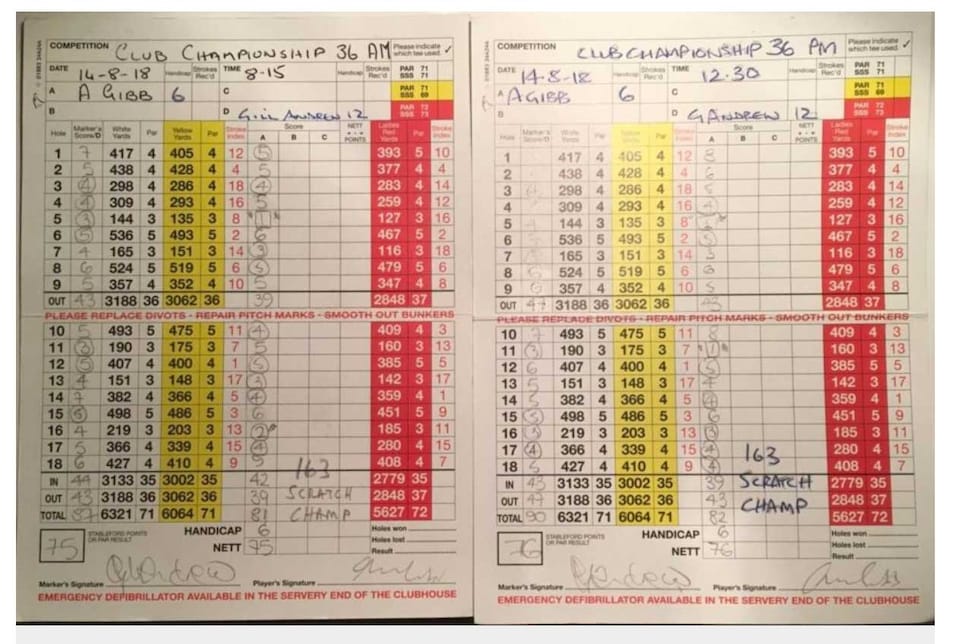 And then there was Golf Channel's Brandel Chamblee, who made a hole-in-one at Cabot Links—and reacted in perfect Brandel manner by roasting a playing partner's swing and reminding his opponents about the outcome of their match.
Congrats to Nick Taylor and Harris English on moving into the top 125 on the FedEx Cup list in the regular-season finale to keep their PGA Tour cards for next season. Taylor shot a final-round 63 in Greensboro to do it. Clutch! … Lexi Thompson returned to competition after a self-imposed break and promptly had a rules issue. PSA: If you're playing lift, clean and place, that only applies to the fairway of the hole you're on. … Someone came up with a tool that allows you to see how many shots Tiger Woods would need to take to make your annual salary. It's really fun. And unless you're a CEO, really depressing. … And finally, Ryan Herrington teamed up to win a small office putting contest that reaped a big-time reward: hoisting the actual Ryder Cup: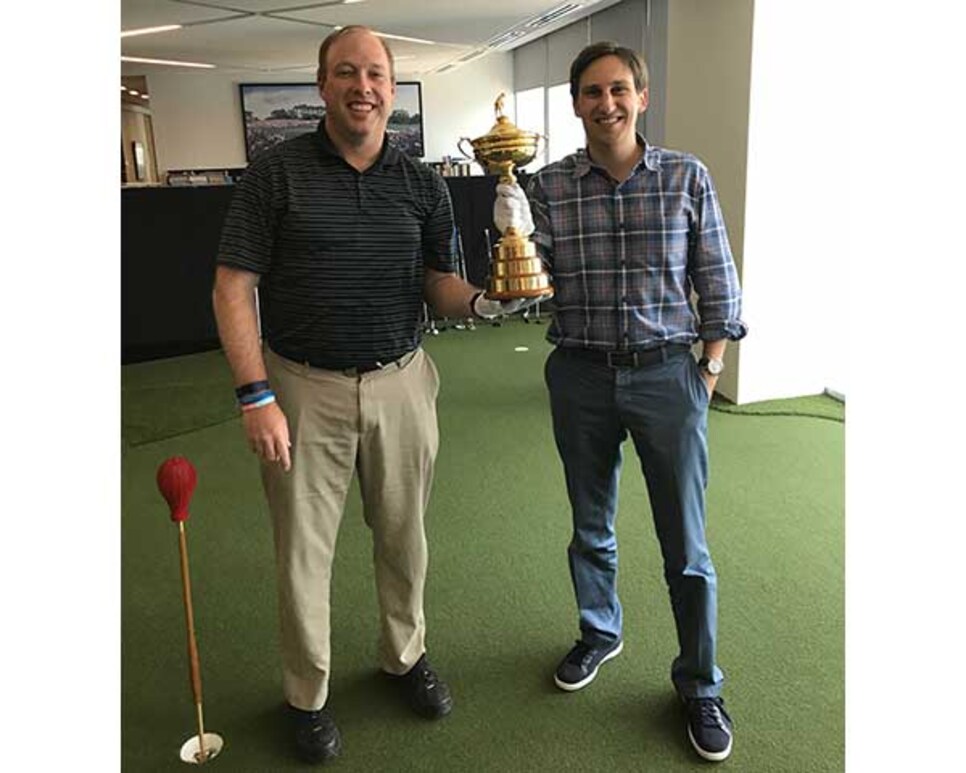 My first two thoughts? That thing is heavier than it looks and that it had been 10 years since Anthony Kim held it. Sigh.
RANDOM QUESTIONS TO PONDER
Will Anthony Kim watch this year's Ryder Cup on TV?
When are DJ and Paulina finally going to get married?
Who the heck paid FOUR GRAND for that ugly golf shirt?