News
Brandt Snedeker holds off C.T. Pan for his ninth career victory at the Wyndham Championship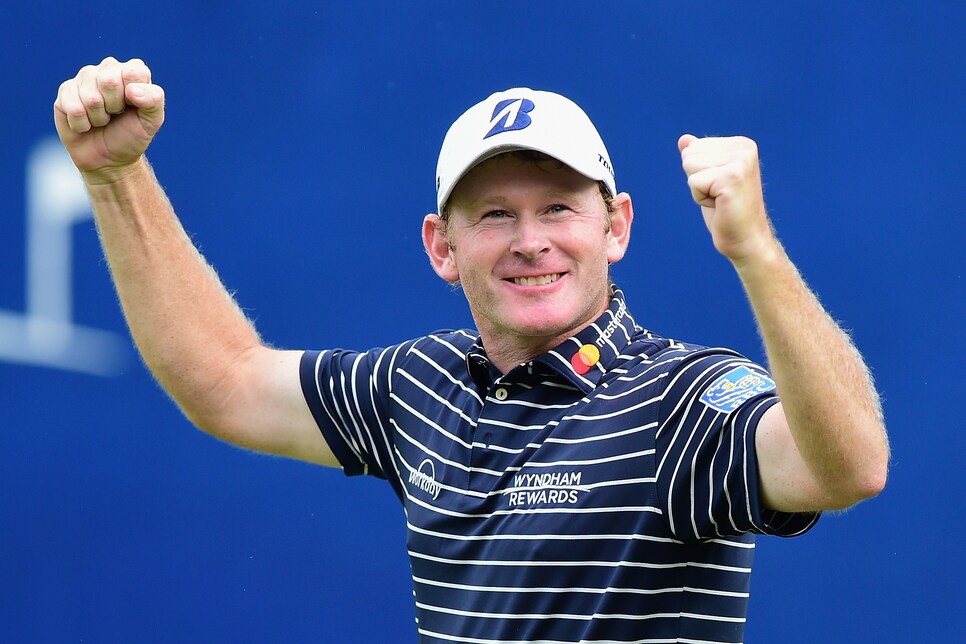 For 71 holes, C.T. Pan played well enough to earn his first PGA Tour victory at the Wyndham Championship. Rounds of 65, 64 and 67, plus a bogey-free, six-under round through 17 holes on Sunday put him at 20 under on the final tee, tied for the lead with Brandt Snedeker, who wasn't as sharp on Sunday as he had been in a week that began with a round of 59.
Then came Pan's worst swing of the week on Sedgefield Country Club's 18th tee, as his ball sailed well right of the fairway, hitting the cart path and then a cart and bouncing out of bounds. It led to a double-bogey 6, after which Snedeker finished par, birdie on his final two holes for a comfortable, three-stroke victory, the ninth of his career. This marks the second time he's won the Wyndham Championship, the first being is first PGA Tour victory. While that one came at a different host site at Forest Oaks Country Club, Snedeker was still clearly emotional to win the event a second time, especially after battling through an injury a season ago.
"I guess I'm turning into Bubba Watson, wanting to cry every two seconds," said Snedeker, who posted a final-round 65 for a 21-under 259 total. "Being my first tour win, having Wyndham believe in me in 2007 when I was a 26-year-old kid and be my longest term corporate sponsor out here, to do it here, to shoot 59 on Thursday, to be in the lead all week and deal with that pressure every night and step up to the plate today and shoot 65 when I had to, it means the world to me. My family's here, so a lot of stuff going on that's making me emotional."
Snedeker now is one victory away from double-digit PGA Tour wins. It is his first victory since the 2016 Farmers Insurance Open, and it moves him to 30th in the FedEx Cup standings, meaning he'll now have a legitimate shot at winning the FedEx Cup for a second time, the first coming in 2012.
"I've still got a lot of great golf in me," Snedeker said. "I'm excited about the FedEx Cup Playoffs, I've done this before. I've won that thing. I can't wait to try and make a run in Atlanta and try to win the FedEx Cup Playoffs, because I'm playing great. It's going to be a lot of fun the rest of the year."
While it will be no easy task to come from behind and win the whole thing, Snedeker is confident he has as good a chance as anybody. Not surprising from a guy that just went wire-to-wire to win.
"Pretty hard not to think that," he said. "I just shot 59 on Thursday and won the tournament, so I'm kind of one of those players that gets on hot streaks and runs them while I can. So hopefully I can keep doing that."
Pan, who finished with a final-round 66, earned a T-2 result at 18-under 262, his best result of this season and his first inside the top 10. It also matches the best finish of his career, which came at the 2017 Farmers Insurance Open. After starting the week 108th in the FedEx Cup standings, Pan moved to 63rd, putting himself in great position to play at least three more weeks.
He's joined by Webb Simpson, who fired an eight-under 62 to vault up the leader board on Sunday. Simpson's Ryder Cup captain, Jim Furyk, shot a seven-under 63 on Sunday, which put him in a tie for fourth with D.A. Points.