News
Viktor Hovland of Norway caps dominant week with dominant victory in U.S. Amateur final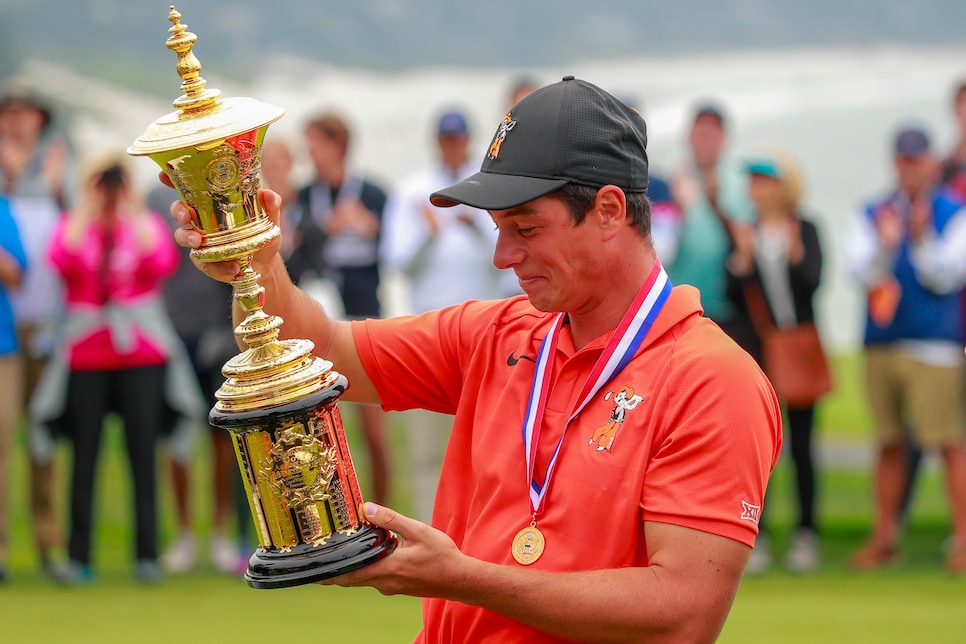 PEBBLE BEACH, Calif. — It's unlikely that many performances in the history of the U.S. Amateur have been as dominating as the one Viktor Hovland orchestrated this week at Pebble Beach Golf Links.
On an overcast and chilly Sunday on the Monterey Peninsula, Hovland, a happy-go-lucky but heretofore underachieving 20-year-old from Oslo, Norway, put a capper on a marvelous run through the 118th U.S. Amateur, defeating upstart Devon Bling of Ridgecrest, Calif., 6 and 5, to become the first player from his country to capture the Havemeyer Trophy. An first-team All-American at Oklahoma State, Hovland trailed for just one hole in six matches covering 104 holes.
With a two-putt par on the 13th hole, the 31st of the final, Hovland wrapped up the title in the fewest overall match-play holes since the championship went to a 64-man bracket in 1979, tying Danny Lee's run in 2008 at Pinehurst No. 2. The victory gives Hovland exemptions into next year's U.S. Open here at Pebble Beach and the 148th Open Championship at Royal Portrush in Northern Ireland. He's also in line to receive a traditional invitation to the Masters, which would make him the first man from Norway to compete in the tournament.
The only other Norwegian-born player to win a USGA championship is Arne Dokka, who claimed the 1965 U.S. Amateur Public Links.
"I always thought I had a pretty good vocabulary, but I'm lost for words," said Hovland, who learned English by watching movies. "It's really special. As I mentioned earlier, I've only won once before, and to win the U.S. Amateur as my second win is really cool. I hope it's the start of something great."
Ranked No. 5 in the World Amateur Golf Ranking, Hovland's only other victory outside his home country came this spring at the Valspar Collegiate, one of his eight top-10 finishes for the Cowboys. He is the fifth Oklahoma State golfer to win the U.S. Amateur and the first player since Florida's Bubba Dickerson in 2001 to win the U.S. Amateur after contributing to an NCAA Division I team title. The junior-to-be went 3-0 in match play in the Cowboys' championship run in June.
"He just got better every day," said Oklahoma State coach Alan Bratton, who caddied for Hovland and also was on the bag when OSU golfer Peter Uihlein won the U.S. Amateur title in 2010. "He didn't putt very well in the stroke-play portion, but starting with match play he just built momentum each day. When he had to play his best friend from Norway, Chris Reitan, in the third round, we were going down the ninth hole and he told me he never felt calmer on a golf course [a 7-and-6 win]. After that he never looked back."
Bling, a sophomore at UCLA, was attempting to become the first player since Nathaniel Crosby in 1981 at the Olympic Club in San Francisco to win the U.S. Amateur in his home state.
"I'm a little disappointed, but I gave it my all," said Bling, ranked 302nd in the WAGR, who was also making his first U.S. Amateur appearance and third in a USGA championship. "It wasn't the day I was hoping for, but I played really well all week. I battled really hard to get to this championship match. It's just the beginning, it's not the end. Now I get to look forward to the U.S. Open and the Masters, so that's definitely a lot of positives coming out of this week."
Bling, 18, reached the final by defeating fellow Californian Isaiah Salinda, 1 up, in Saturday's semifinals. Hovland, meanwhile, registered a 3-and-2 win over co-medalist Cole Hammer of Houston, who had become the first player in 32 years to reach the semis in the U.S. Junior and U.S. Amateur in the same summer.
[RELATED: Why you should like the Americans' chances at the World Amateur Team Championship](https://www.golfdigest.com/story/us-squads-selected-for-the-world-amateur-team-championship-and-heres-why-you-should-like-the-americans-chances
Coming off a runner-up finish in the European Amateur earlier this month, Hovland led by as many as 5-up during the opening 18 holes and took a 4-up lead into the clubhouse, fueled mainly by a four-hole winning streak starting at the par-4 eighth hole. All he needed for the first three were pars as Bling struggled for much of the morning. After carding what amounted to an aggregate 5-under 66 in Saturday's semifinal win over Salinda, Bling made only one birdie in a morning 76 on Sunday, and converted just three in 31 holes.
Owner of a black belt in Tae Kwon Do, Hovland showed how good he can be with his hands during the morning session when he converted a remarkable birdie at the short fourth hole while touring Pebble Beach in 72. He pushed his drive into the hazard right of the green, his ball coming to rest in ice plant some 40 feet below the putting surface. Fortunate to find the ball, Hovland pitched out to within three feet of the cup for an unlikely win.
More clutch was his par at 18, the only time he saw the iconic par-5 home hole in match play. His drive veered left, bounced off rocks on the edge of the turf and ended up in the hazard. After a penalty drop, his 7-iron approach found the left bunker, while Bling, who had won the 17th with a par, had a chance to win two in a row and capture the momentum going into the afternoon. But he couldn't convert, and when Hovland got up and down, he felt relief.
"Making that putt, it almost felt like a win because I didn't really hit a single good shot on that hole," Hovland said. "Yeah, that felt good and was big."
He was never pressed in the afternoon, taking the first hole with a par – one of eight times he won a hole with a par – and seldom putting himself in trouble. He won five holes after the break, 13 for the day and 44 for the week.
"I'm not surprised at all. I definitely felt like he could win this championship," Bratton said. "Look at the year he had for us and how well he played in the British Amateur and the European Amateur. He's the No. 5 amateur in the world. He's a very solid, consistent player, and he showed that this week."
A self-described perfectionist, Hovland learned that winning is about momentum and "just getting the ball in the hole in the least amount of strokes."
"I didn't really do any big mistakes. It wasn't really anything flashy," he added. "It was just, 'OK, hit the fairway off the tee and try to get it somewhere close on the greens.' Yeah, I've had a lot of tournaments before where I've hit the ball really well, but then the few times I've missed a green or hit a bad shot, I haven't been able to scramble or I haven't been able to make the putts. And this week it kind of all came together, which is really cool."
It was more than cool. It was a command performance.