Apparel
The best lululemon men's golf clothes, according to our editors
*In partnership with lululemon. All products featured on Golf Digest are independently selected by our editors. However, when you buy something through our retail links, we may earn an affiliate commission.*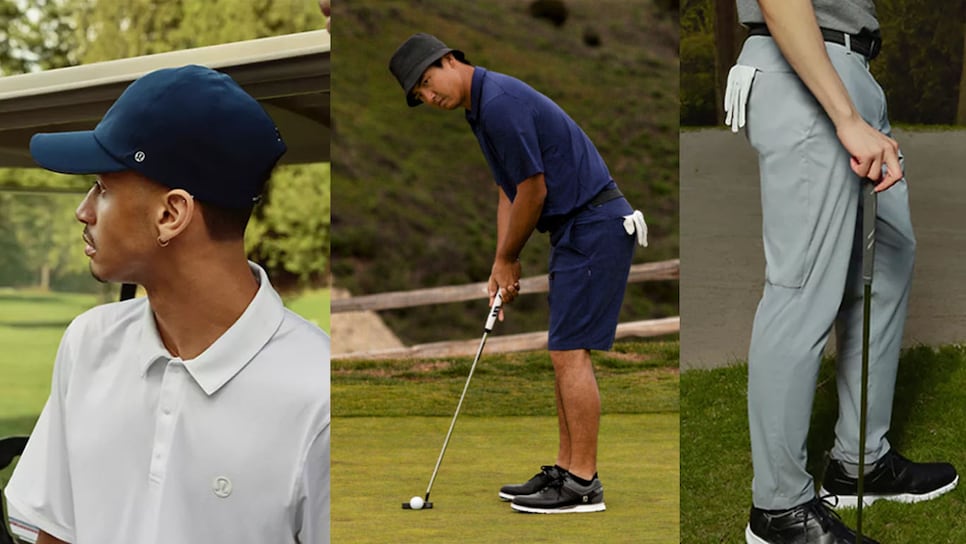 Finding the best pair of golf pants or shorts for men can be a tricky task. Golf typically requires upscale styling akin to dress pants with performance technology and weather-ready elements found in athletic wear. One brand that has accepted the challenge and found that balance expertly is lululemon. While leggings and women's apparel often comes to mind when thinking about lululemon, the men's section—and particularly the golf offerings—really shines. And we didn't have to travel far for evidence, as it isn't uncommon to see a Golf Digest staffer wearing lululemon pants or golf shirts in the office and on their days off spent at the golf course. So we polled our staff on their favorite lululemon men's golf clothes—digging in particularly to the fits and fabrics that are available for popular pieces like the ABC Pant, Commission Shorts and Evolution Polo.
RELATED: Why these Lululemon shorts are (still) our favorites for golf
lululemon ABC Pant
Most golfers have a pair of lululemon's ABC Pants in their closet. These pants have been a go-to item since lululemon launched its men's line in 2014 for their versatile styling, comfortable fit and namesake technology (we'll let you look up what the acronym ABC stands for yourself). What differentiates the ABC Pants from the masses of men's pants on the market is the addition of a gusset, or extra panel of fabric between the legs, that creates a roomier fit and increases the longevity of the pants. The seamless design reduces the amount of tension in the high-abrasion area to avoid a breakdown of fabric that causes tears or holes. 
The pants come in four fit varieties—classic, relaxed, skinny and slim. Classic is likely your best bet for golf, designed with a little more breathing room for the glutes and thighs. Lululemon also includes slim fit pants on the golf section of the website for those looking for a closer fit with enough stretch so to not impede mobility during the golf swing or lining up a putt. 
Another detail to pay attention to when selecting an ABC Pant for your golf wardrobe is the fabric categorized by techy, brand-specific terms like Warpstreme and Ulitech. Warpstreme fabric is a fan favorite, according to our editors, for its lightweight feel and stretch technology that moves with the body. It's also why ABC Pants resist wrinkles and retains shape even after a few wears. 
Commission Shorts
The Commission Shorts are nearing golf staple status the more golfers try the newer style out. The golf-specific iteration of the shorts has a 10-inch inseam, but the Commission Shorts inseam offering includes 7- and 9-inch options as well. When it comes to length, typically the rule is to find a pair that ends about an inch above the knee—but we'll always encourage you to go with whatever length feels the best on.
In addition to classic chino-like Warpstreme fabric like the ABC Pants use and two lighter fabrications, WovenAir and Oxford. WovenAir is a naturally breathable fabric with water-repellent and has four-way stretch properties–which means it is engineered to stretch both horizontally and vertically to provide extra mobility. The quick-drying Oxford Fabric has the addition of Lyrca fibre for extra shape retention and stretch.
Metal Vent Tech Polo
If you've ever owned a lululemon workout top, you're probably familiar with Metal Vent Tech. It's an ultra-lightweight performance material that is known for its seamless (or minimal seam) construction that all but guarantees a chafe-less wear. Using the fabric for golf, lululemon created the Metal Vent Tech Polo Shirt with mesh panels and an extra touch of elastane that is great for heated rounds. While the fit is meant to be a little slimmer to move with the body, lululemon designers recently updated the fit slightly to allow for more room in the chest and shoulders for more mobility and less cling.
Commission Pants
The lululemon ABC Pant is advertised as an alternative to jeans with more versatility and comfort (and golf-appropriate presentation), for a step toward a more traditional golf pant look without sacrificing the comfort or performance elements lululemon is known for, enter the Commission Pant. The Commission Pant is also the only pant style that has a golf-specific version. They fit similarly to the ABC Pant with a classic, streamlined fit above the knee before tapering toward the ankle for an upscale finish.
Designed to be abrasion-resistant, the Commission Pant also has stretch panels at the waistband that provides an athletic feel and a ventilated gusset for extra mobility and breathability. They're also able to withstand light rain showers with a primarily nylon build, save 5 percent elastane for stretch. 
One Golf Digest staffer we polled revealed he nearly has a pair of Commission Pants for every day of the week and it's unusual for him to find an occasion he can't wear them for.

ABC Jogger
For a sportier version of the popular ABC Pant, the ABC Jogger utilizes the same technologies as the pants, in a tapered jogger silhouette. Likely a catalyst for joggers being seen more frequently on the golf course, lululemon's ABC Jogger maintains the upscale styling of office-friendly pants with an athletic finish and sweat-pant-like comfort. 
One of our editors, who we've seen wear these both to the office and on the golf course in numerous occasions (and in numerous colorways), calls the ABC Pant "the best pair of pants he's ever owned."
A major difference between the ABC Pants and ABC Joggers, besides the draw cord at the waist, is the sizing. The joggers have XS-XXL sizes versus numerical waist numbers. A medium is equivalent to a 33-inch waist, but be sure to use the size guide on site to find the perfect fit.
The inseam is approximately 30-inches, intended to sit just above the ankle for that modern jogger look. Although, there are taller and shorter options available on the website for those looking for a 28- or 32-inch inseam. 
Evolution Short Sleeve Polo
For a more traditional cotton-like feel, the Evolution Polo has an Oxford option that is a blend of cotton and a stretchy polyester fiber called elastomultiester—which essentially means stretchy yarn. The Evolution Polo has the same slim-ish fit as the Metal Vent Polo, with a little extra room to provide a full range of motion and is made with lululemon's No-Stink technology that prevents bacteria growth from giving it a sweaty odor after a heated round.
Stretch Golf Polo Shirt
From lululemon's designed-for-golf collection, the Stretch Golf Polo Shirt is made with stretchy fabric that's wicking and abrasion-resistant. It has mesh panels in high-sweat areas of the body to increase breathability and a gusset at the underarm for a ton of mobility.
Hidden buttons at the placket give this golf shirt an elevated touch and give you the option to wear it buttoned up to the top stylishly. It currently is available in white or navy, which didn't bother one staffer who says this polo has become a staple piece in his wardrobe.
Metal Vent Tech Half Zip
Designed for running, the Metal Vent Half Zip is one staffer's go-to layering piece. It's a midweight half-zip with a ton of ventilation to make it an all-season option. Similar to the Metal Vent Tech collection, it has a seamless construction and a slim fit, designed to skim the body and wick away sweat to maintain the optimal body temperature.