Style Tips
Why these Lululemon shorts are our new favorites for golf
*In Partnership with Lululemon. All products featured on Golf Digest are independently selected by our editors. However, when you buy something through our retail links, we may earn an affiliate commission.*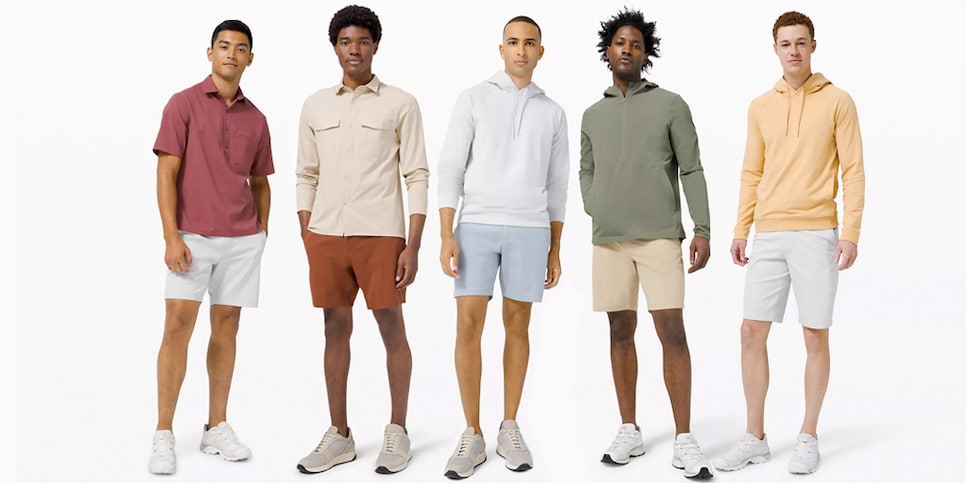 As comfortable as your favorite golf shorts might be, chances are some improvements can be made to enhance the look. It's time to pay a little more attention to the proper length, fit and design of your golf shorts. When it comes to length, typically the rule is to find a pair that ends about an inch above the knee. The most popular inseam (a.k.a. length) for men's shorts is around 7-to-9-inches long—but don't be afraid to try something a little shorter or longer if that's what feels right for you. Here's a look at one of our favorite golf shorts, lululemon's Commission Short, in three different lengths you might want to consider.
The Commission Short makes an excellent golf short because there are a variety of lengths, colorways and materials to fit both style and performance needs. The classic chino short is similar to the golfer-favorite lululemon ABC pant with an upscale look but enough stretch and wicking to feel like a pair of workout shorts.
More 7-inch inseam options:
Too many golfers avoid bottoms labeled as "slim cut" because they are afraid they'll be too tight and restricting. Slim cut shorts will actually create a slimmed-down look and a properly designed pair of golf shorts will have enough stretch and performance element to keep you comfortable. You don't want your shorts to be skin tight, but a pair that parachutes out from the waist just isn't right either.
Don't be intimidated by the fabric classifications for the Commission Short—it's all the same silhouette and design, just a few minor differences when it comes to performance elements. The oxfords are the most chino-like of the group. It's got sweat-wicking and anti-stink fabric with a touch of stretch and a classic fit that gives the glutes some breathing room. The Warpstreme fabric has the same elements with even more stretch, a wrinkle-resistant finish and a focus on shape retention to keep the shorts looking fresh. The major difference with the Ventlight fabric is the abrasion resistance construction that increase the lifespan of the shorts.
If you have a favorite pair of shorts that you're now realizing are just a tad too long, don't be afraid to have them tailored. Tailoring is a great way to find a customized fit on the pieces you know and love. Many brands, like lululemon, even offer complimentary hemming in-house. For a quick or short-term fix, you can also try rolling up the bottom of your shorts a fold or two.
If shorts aren't your style at all: