Masters 2021
Masters 2021: Augusta Chairman Fred Ridley won't choose sides on controversial Georgia voting law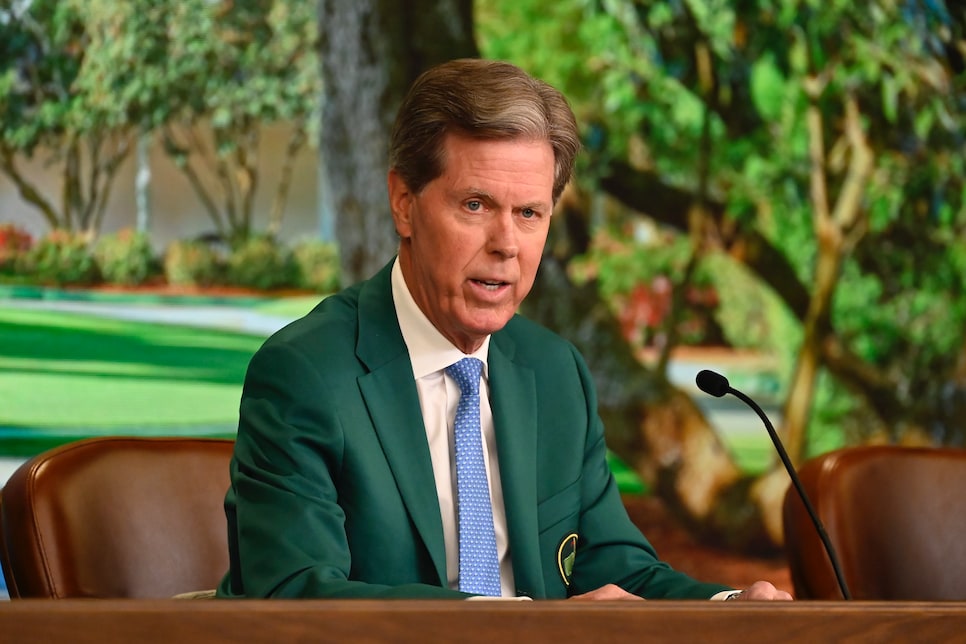 Augusta National Golf Club Chairman Fred Ridley speaks during his Wednesday news conference ahead of 2021 Masters.
Rusty Jarrett
It was all but inevitable after Major League Baseball moved its summer All-Star Game out of Georgia last week in the wake of a controversial new voting law that the Masters Tournament would get swept into the narrative.
And, sure enough, players competing in the 85th Masters, which begins Thursday at Augusta National Golf Club, have been put in the position of setting aside their focus on the year's first major to address the issue.
On Wednesday, it was Fred Ridley's turn to express his views on the law Governor Brian Kemp signed March 25. In the past, Augusta National occasionally has had to address sensitive political or social topics, usually relating to club policies. This time, the subject matter pertains to legislation in the state in which it is located.
Ridley, the tournament and club chairman, didn't wait for the question. He concluded his opening remarks in his annual press conference by taking on the subject.
"I believe, as does everyone in our organization, that the right to vote is fundamental in our democratic society," Ridley said. "No one should be disadvantaged in exercising that right, and it is critical that all citizens have confidence in the electoral process. This is fundamental to who we are as a people.
"We realize that views and opinions on this law differ, and there have been calls for boycotts and other punitive measures. Unfortunately, those actions often impose the greatest burdens on the most vulnerable in our society. And in this case, that includes our friends and neighbors here in Augusta who are the very focus of the positive difference we are trying to make. Yesterday's groundbreaking for the community center was a joyous occasion. It reminded us that our mission to serve Augusta and its citizens is where we can and will make the greatest impact."
He was referring to a new community center at the heart of a revitalization effort in two historic Augusta communities. Augusta National gifted $10 million jointly with corporate partners AT&T, Bank of America and IBM to help cover construction costs.
Later, Ridley was asked if he was for or against the law, and if he was against it, what would the club consider doing about it.
"I don't think that my opinion on this legislation should shape the discussion," Ridley replied. "As I stated in my previous comments, I believe and I am confident that every member of this club believes that voting is an essential fundamental right in our society and that, as I stated, that anything that disadvantages anyone to vote is wrong and should be addressed.
"I'm not going to speak to the specifics of the law, but I do know that the best way for … I think there's a resolution, and I think that resolution is going to be based on people working together and talking and having constructive dialogue because that's the way our democratic society works.
"And while I know you would like … for us to make a proclamation on this, I just don't think that is going to be helpful to ultimately reaching a resolution."
On Saturday, the PGA Tour and the PGA of America, which host golf tournaments in Atlanta this summer, issued separate statements affirming their support for voting rights. The tour annually stages the season-ending FedEx Cup playoff event, the Tour Championship, which is scheduled for August. It also holds a second tournament in Georgia in the fall, the RSM Classic in Sea Island. Meanwhile, the PGA of America is bringing the KMPG Women's PGA Championship to Atlanta Athletic Club in June.
The PGA Tour said in its statement that while its intention to keep the Tour Championship in Atlanta, "should not be construed as indifference to the current conversation around voting rights," it reiterated the tournament's importance to local charities and the surrounding community at East Lake Golf Club.
"The Tour Championship's commitment to East Lake has helped our partners transform distressed neighborhoods into healthy and thriving ones, which is a key to ending the cycle of intergenerational poverty. The charitable and economic benefits that have led to these substantial changes would not continue if we simply walked away from those in need."
The PGA of America added: "The KPMG Women's PGA Championship is a partnership between three organizations committed to diversity, equity and inclusion: PGA of America, LPGA and KPMG. Like many entities, we are monitoring developments related to the new state legislation on voting access. We believe elections should be accessible, fair and secure, and support broad voter participation."
The PGA of America has yet to indicate whether or not it would move the championship, which is held each year at a different U.S. venue.