Betting Analysis
AT&T Pebble Beach Pro-Am picks 2023: Why Pebble is the perfect spot for Viktor Hovland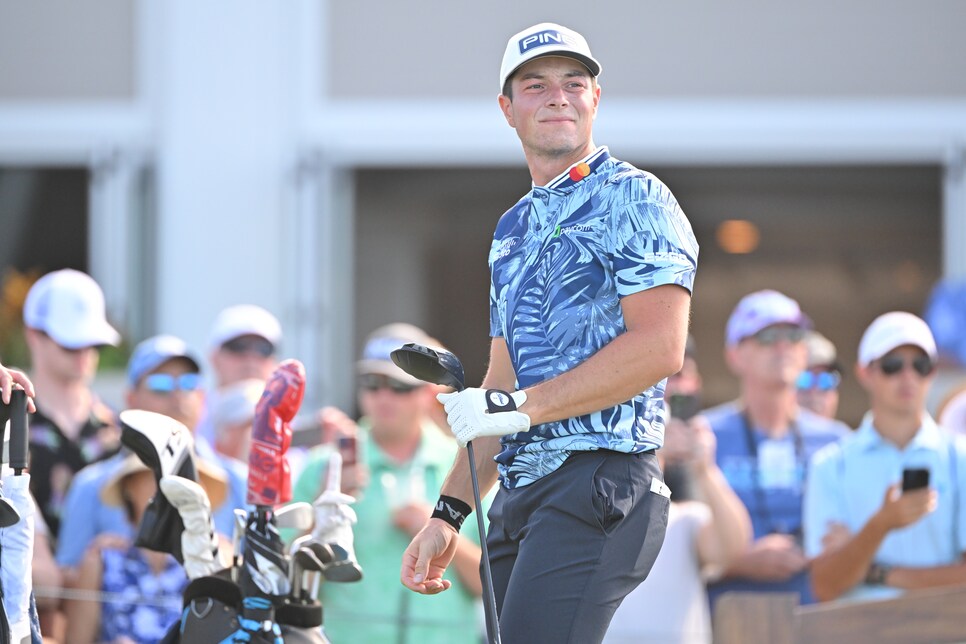 Max Homa's win, in retrospect, felt like an easy one to handicap at the Farmers Insurance Open. And yet, some of us were on Collin Morikawa, Tony Finau and Hideki Matsuyama instead. Close, but no cigar.
That's outright betting life for ya. Fortunately, our experts continue to make up for it in other areas. Special shoutout to FanDuel's Brandon Gdula, who cashed his sixth top-10 bet of the year last week at Torrey Pines to go up 18.4 units (!) on the season. In matchups, meanwhile, Stephen Hennessey and Rick Gehman have gone a combined 17-8-1 so far.
There's more where that came from this week at Pebble Beach, where we're aiming to cash our first winner of 2023.
Scroll down to see who we like this week at the 2023 AT&T Pebble Beach Pro-Am.
AT&T Pebble Beach Pro-Am picks 2023: Our Experts' Outright Predictions
Anonymous Caddie Picker of the week: Seamus Power (25-1, PointsBet) — The Irishman will be seeking revenge of sorts from last year when he set a tournament record and led by five shots after 36 holes. He's coming off a solid finish over in Abu Dhabi, too, so he should be brimming with confidence.
Pat Mayo, DraftKings/Fantasy National, Mayo Media Network analyst: Lanto Griffin (90-1, DraftKings) — I just find it too hard to back the guys at the top at these numbers. So let's go with a recent returning Lanto. Who, if not for his long layoff, would be in the 25-1 range. But here's the thing: He made his first start last week since last summer after his back surgery and looked great at Torrey Pines—a course which doesn't suit his overall game quite like Pebble Beach as evidenced by his T-16 and T-9 in his past two trips at this event.
Brandon Gdula, FanDuel/numberFire managing editor: Matt Fitzpatrick (11-1, FanDuel) — Fitzpatrick is the best golfer in the field over the past year and rates out as a value at the top of the board. This event can have all types of winners, but even accounting for the higher-variance nature of this setup, my model likes Fitzpatrick as a value at 11-1.
Rick Gehman, data scientist and RickRunGood.com founder: Tom Hoge (22-1, DraftKings) — It's not often that I would suggest a golfer to successfully defend his title, but Hoge seems to be setting up well yet again for this event. Prior to his 2022 victory, he had popped a few times prior—T-4 at the RSM Classic and runner-up at The American Express before tackling this event. 2023 is a carbon copy, but probably even better lead-in form. He has five top-15 finishes this season including a T-3 at the Tournament of Champions. He's primed for a big title defense.
Stephen Hennessey, Golf Digest dep. managing editor: Andrew Putnam (28-1, PointsBet) — No, this is not a great number. But as my guy Geoff Feinberg has said on the Pat Mayo Experience podcast, outright golf betting isn't like finding the best of the numbers in other sports. It's about picking the winner. We'd be all over this at 40-1, and I'm willing to take a bad number if it comes through. Putnam has been so good: Over the past 36 rounds, he's gaining the second-most strokes/total to the field (1.36 per round). He's got the form and he's got the experience at Pebble (T-6 last year). I'm continuing to ride with Putnam Investments.
Christopher Powers, Golf Digest staff writer: Maverick McNealy (20-1, BetMGM) — Square as it seems, it's the only play I feel really good about this week. His history at Pebble, albeit limited, is sparkling, and he's in fine form this season, having made all seven cuts with five top 20s. Along the way, the putter has been as hot as ever, with McNealy gaining at least three strokes with the flat stick in every event during that stretch. Mav's breakthrough is coming this year, and there would be no better place for it than Pebble Beach.
Andy Lack, RickRunGood.com and Inside Golf podcast: Viktor Hovland (12-1, DraftKings) — At first glance, I was confused as to why Viktor Hovland would choose to play this event instead of last week at Torrey Pines, a driver heavy golf course where the Norwegian's elite long irons and off the tee play could shine. Yet there is something about Pebble Beach that seems to fit his eye, as not only did he win the 2018 U.S. Amateur at this golf course, he also finished 12th at the U.S. Open in 2019 as an amateur, gaining a whopping 12.6 strokes from tee to green, while losing 3.8 strokes putting. With already a proven track record of success on Poa greens, this is the perfect spot for the World No. 11 to pick up his first victory in the mainland U.S.
Past results: Golf Digest's betting panel caught fire at the end of the summer, correctly predicting the winner in five of the final six events of the season. We cooled off a bit during the Fall Swing, though we were able to still pick off one winner at the Houston Open, with Stephen Hennessey and Brandon Gdula each hitting on Tony Finau at 16-1. Here's to many more winners in 2023.
AT&T Pebble Beach Pro-Am picks 2023: Sleepers/Dark Horses Who Could Win
Caddie: Garrick Higgo (125-1, PointsBet) — Higgo's been walking around with some swagger again. Some changes to his team have him walking confidently. We know he can win (look at the Palmetto Championship) and he can also win in coastal birdie-fests (his back-to-back victories on the Canary Islands on the DP World Tour). It's worth the double-digit price.
Mayo: Troy Merritt (110-1, DraftKings) — Pebble has been a happy spot for Merritt over the years. He's reeled off four straight top-25 finishes in this event and is one of the only players in the world who seems to have the ability to be the best or worst player in any field with his irons round-to-round. In his past six starts, he's gained over six strokes on approach and lost over six in separate starts. Fortunately, the same variance which makes him hilariously untrustworthy keeps his price from ever rising too high. Just hope this is the week it all clicks for him.
Gdula: Scott Stallings (55-1, FanDuel) — Stallings' odds are shorter at other books, but 55-1 at FanDuel Sportsbook puts him in sleeper territory for me—and undervalued territory, as well. Stallings has slipped a bit with his iron play lately but is good long term in that department and is no stranger to top-15s at Pebble Beach.
Gehman: Lanto Griffin (90-1, DraftKings) — Griffin missed significant time last year after back surgery but he's now back in action. He made the cut in a Korn Ferry Tour start to kickoff his 2023 campaign before finishing T-37 last week. There should be plenty of good vibes when he returns to Pebble Beach where he's finished T-9 and T-16 in his last two trips.
Hennessey, Golf Digest: Ben Griffin (66-1, PointsBet) — I'll keep the run on Griffins going here. The UNC grad nearly won a few months ago on a short, coastal course (Bermuda) before finishing T-3. And the top results haven't stopped piling up. The only knock on him is the lack of experience at Pebble, which is fair, but I'm willing to take a shot on him at these odds in this field.
Powers, Golf Digest: Taylor Moore (70-1, FanDuel) — After a string of missed cuts, Moore posted one of the quietest T-11 finishes ever at the Farmers Insurance Open, gaining strokes in every major category. If he can build on that, Pebble should be an ideal fit. He's a short hitter who is solid with his irons and can putt the lights out on Poa. Plus, in his lone appearance here last year, he finished inside the top 20.
Lack: Will Gordon (75-1, Bet365) — Despite a limited resume, Will Gordon is one of my favorite breakthrough candidates for the upcoming season. The 26-year-old made seven of seven cuts this fall swing, including a third-place finish at Mayakoba and a 15th-place finish at the RSM Classic, two shorter, coastal tracks that place a heavy emphasis on wedge play and scoring inside 150 yards. Now Gordon returns to an event that he has already finished 21st at in 2021, and lest we forget that he made it all the way to the quarter-finals in the 2018 U.S. Amateur hosted at Pebble Beach. Despite coming off back-to-back missed cuts, Gordon has remained a steady ball-striker, and this is a perfect time to buy in on his talent at a depressed price.
AT&T Pebble Beach Pro-Am picks 2023: Players We're Fading
Caddie: Tom Hoge (19-1, FanDuel) — Yes, we've seen a lot of players defend their titles recently. But it's damn hard to do it. Hoge has the talent to do it, but you're not getting any value betting him sub-20-1.
Mayo: Joel Dahmen (40-1, DraftKings) — The odds are probably fair, but Dahmen has openly told us to not trust him off a long layoff. And we haven't seen him in a competitive event since November at the RSM.
Gdula: Justin Rose (29-1, FanDuel) — Rose's odds shifted from 24-1 to 29-1, and even that's not enough to want to jump in. He hit fairways and got up-and-down last week but isn't really in the right form to be a target at this number.
Gehman: Justin Rose (29-1, FanDuel) — Rose is in the midst of some solid recents, earning four straight top-30 finishes. I worry that he's lacking consistency in the ball-striking categories and has been reliant on his short game since last summer. This is also not an event that he's super familiar with, playing just once since 2017—finishing 62nd in 2022. I think there are better options with more win equity at the top of the board.
Hennessey, Golf Digest: Justin Rose (29-1, FanDuel) — I'll resist the temptation to fade Spieth and go with the easier choice in Rose for all the reasons Rick and Brandon outlined.
Powers, Golf Digest: Seamus Power (19-1, DraftKings) — Power had a remarkable fall swing but didn't look like the same guy at Sentry, where he lost over five strokes on approach. Could chalk it up to some rust, or a bad course fit. Pebble is his jam, the place where he set the 36-hole scoring record a year ago before tying for ninth, and he did just play solidly in Dubai. I'm just not ready to jump in on him at sub-20-1 odds yet.
Lack: Matt Fitzpatrick (11-1, DraftKings) — Despite a sixth-place finish at this event last year, I don't find myself in love with the reigning U.S. Open champion's fit at Pebble Beach. For starters, the iconic venue strongly devalues what has emerged as one of the most dominant aspects of Fitzpatrick's game, off-the-tee play. Secondarily, compared to his peers in this section of the odds board, he is by far the weakest long-term wedge player and the worst at generating scoring opportunities for himself inside 150 yards.
AT&T Pebble Beach Pro-Am picks 2023: Matchups
Caddie: Kevin Streelman (+105) over Will Gordon (DraftKings) — Streels loves this event and loves Pebble Beach. His experience is invaluable around here.
Mayo: Taylor Moore (-110) over Trey Mullinax (DraftKings) — In an event that emphasizes short game, putting, and wedges over driving, betting against Mullinax is the most responsible bet you can make.
Gdula: Andrew Putnam (-108) over Denny McCarthy (FanDuel) — Putnam has a huge edge over McCarthy over the past 50 rounds, and while McCarthy holds a better profile over the past 12 months, it's not particularly large of a gap. Putnam should benefit from distance not being a must this week.
Gehman: Matt Fitzpatrick (-110) over Jordan Spieth (Bet365) — Fitzpatrick has entered a new tier of golfers and should be considered one of the elites for 2023. I love investing in him in matchups since he's so well-rounded. He's the only golfer in this field, in the past 50 rounds, to gain at least one stroke per round and gain in all four strokes-gained categories, per the RickRunGood.com golf database.
Hennessey, Golf Digest: Ben Griffin (-110) over Kurt Kitayama (Pinnacle) — Kitayama is someone worth fading in matchups. He has the potential to get super hot en route to great finishes (CJ Cup, Scottish Open, Mexico), but his game is not consistent. He's prone to losing a ton of strokes in all the major strokes-gained categories. Griffin has been a model of consistency—and that's the key to cashing matchups.
Powers, Golf Digest: Matthew NeSmith (+100) over Taylor Pendrith (DraftKings) — NeSmith is off to a rough start this season but I like him to turn it around at Pebble, where he has a pair of top-16 finishes in the last three years. As for Pendrith, his length is not all that important this week,and he simply hasn't hit the ball very well with his driver or his irons in his two 2023 starts.
Lack: Viktor Hovland (+105) over Matt Fitzpatrick (DraftKings) — This is a fairly straightforward one for me. I'm getting plus money on my pick to win to outplay my big fade. I simply give Hovland a massive edge in terms of scoring inside 150 yards, and over the course of a four-round event, he will generate so many more scoring opportunities for himself than Fitzpatrick, who is far more dependent on finding a hot putter.
Matchup Results from the Farmers Insurance Open: Caddie: 1 for 1 (NeSmith (-110) over Hossler); Gehman: 1 for 1 (Woodland (-125) over Riley); Hennessey: 1 for 1 (Bradley (-110) over Theegala); Powers: 1 for 1 (Hadwin (+100) over C. Davis); Lack: 1 for 1 (Detry (-110) over Rodgers); Mayo: 0 for 1; Gdula: 0 for 1
Matchup Results from this season (Wins-Losses-Pushes): Hennessey: 9-4-0 (up 4.45 units); Gehman: 8-4-1 (up 3.1 units); Powers: 7-6-0 (up 0.72 units); Lack: 2-2-0 (down 0.18 units); Mayo: 5-7-0 (down 2.47 units); Caddie: 5-8-0 (down 3.28 units); Gdula: 3-9-1 (down 6.22 units)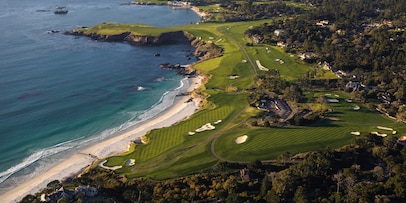 Not just the greatest meeting of land and sea in American golf, but the most extensive one, too, with nine holes perched immediately above the crashing Pacific surf—the fourth through 10th plus the 17th and 18th. Pebble's sixth through eighth are golf's real Amen Corner, with a few Hail Marys thrown in over an ocean cove on the eighth from atop a 75-foot-high bluff. Pebble hosted a successful U.S. Amateur in 2018 and a sixth U.S. Open in 2019. Recent improvements include the redesign of the once-treacherous 14th green, and reshaping of the par-3 17th green, both planned by Arnold Palmer's Design Company a few years back—and the current changes to the iconic eighth hole.
View Course
AT&T Pebble Beach Pro-Am picks 2023: Top 10s
Caddie: Seamus Power (+250, PointsBet) — Let's back up the outright with top-10 odds on Seamus.
Mayo: Maverick McNealy (+210, DraftKings) — While his irons let him down at the South Course during the Farmers, his putter certainly did not, and Pebble is a totally different layout for approaches. McNealy has long been on the verge of a breakthrough, and tends to do his best work on shorter courses with small greens. This is strange for a player with plus distance and minus accuracy, however four of his best five career finishes have come here at Pebble (T-2, T-5), Sony (T-7), and the Heritage (T-4). His putter has been lethal during the fall swing and into the new year, averaging almost +1.5 SG/putting over his past 20 rounds.
Gdula: Matthew NeSmith (+650, FanDuel) — NeSmith has two top-20 finishes at this setup over the past three years, and over the past 50 rounds, he ranks top 30 in both ball-striking stats, via Datagolf. Two missed cuts by a total of three strokes to start 2023 has his odds longer than they should be.
Gehman: Joseph Bramlett (+650, DraftKings) — Bramlett is one of the longest hitters on tour and while that won't be critical this week, he'll still be hitting shorter clubs than his peers into every green. An impressive T-13 finish saw Bramlett putt to the tour average last week, which was a big win for him. It'll be interesting to see if he can continue that success on Poa again this week.
Hennessey, Golf Digest: Beau Hossler (+700, Bet365) — I'm not sure if Hossler can get across the line as a winner, but he can cash a top-10 bet at Pebble, that's for sure.
Powers, Golf Digest: Justin Suh (+650, DraftKings) — The Korn Ferry Tour Championship winner has now made six consecutive cuts and is coming off his best finish of the new season, a T-20 at the Farmers. Let's see if the Cali vibes will remain strong for the USC alum.
Lack: Greyson Sigg (+700, DraftKings) — While I simply need to see more reps in contention before I start putting Greyson Sigg on my outright betting card, the 27-year-old is the perfect type of player to hunt for in the finishing position market. Sigg is an extremely well-rounded player, as he is the only player in this price range to rate out above average in all of the major statistical categories that I am heavy on this week. Coming off a deceiving missed cut at the American Express, where he still gained 3.2 strokes on approach in his one round at the Stadium Course, I expect Sigg to find himself firmly in the mix come Sunday afternoon in Monterrey.
Top-10 results from the Farmers Insurance Open: Gdula: 1 for 1 (Keegan Bradley +500); Lack: 1 for 1 (Hideki Matsuyama +320); Mayo: 1 for 1 (Max Homa +230); Everybody else: 0 for 1
Top-10 results from this season: Gdula: 6 for 13 (up 18.4 units); Hennessey: 3 for 13 (up 2.55 units); Gehman: 3 for 13 (up 1.05 units); Mayo: 3 for 12 (down 0.5 units); Lack: 1 for 4 (up 0.2 units); Caddie: 2 for 13 (down 4.95 units); Powers: 1 for 13 (down 8 units)
AT&T Pebble Beach Pro-Am picks 2023: One and Done
Gehman: Maverick McNealy — McNealy's T-31 finish last week was actually his "worst" of the season – that's how good he has been. Seven straight cuts made, including five top-20 finishes and now he gets to go to the course that he's likely most familiar with – Pebble Beach. He's gone T-5, runner-up and T-33 in his last three trips to this event.
Previous weeks: Fortinet Championship: Emiliano Grillo. Sanderson Farms Championship: Sam Burns. Shriners: Taylor Montgomery. Zozo: Sungjae Im. CJ Cup: Matt Fitzpatrick. Bermuda: Denny McCarthy. Mayakoba: Viktor Hovland. Houston Open: Aaron Wise. RSM Classic: Brian Harman. Sentry TOC: Cameron Young. Sony Open: Hideki Matsuyama. American Express: Brian Harman. Farmers: Jason Day.
Hennessey: Seamus Power — Torn between Hoge and Power here. I could see the case for saving Hoge for another course like Colonial, so I'll roll with Seamus here.
Previous weeks: Fortinet Championship: Cam Davis. Sanderson Farms Championship: Denny McCarthy. Shriners: Emiliano Grillo. Zozo: Hideki Matsuyama. CJ Cup: Sungjae Im. Bermuda: Mark Hubbard. Mayakoba: Viktor Hovland. Houston Open: Jason Day. RSM Classic: Brendon Todd. Sentry TOC: Patrick Cantlay. Sony Open: Matt Kuchar. American Express: Brian Harman. Farmers: Will Zalatoris.
Powers: Maverick McNealy — Rick already nailed it. It's time for Mav to fulfill his Pebble prophecy.
Previous weeks: Fortinet Championship: Sahith Theegala. Sanderson Farms Championship: J.T. Poston. Shriners: Sungjae Im. Zozo: Hideki Matsuyama. CJ Cup: Tyrrell Hatton. Bermuda: Russell Knox. Mayakoba: Thomas Detry. Houston Open: Sepp Straka. RSM Classic: Davis Riley. Sentry TOC: Xander Schauffele. Sony Open: Gary Woodland. American Express: Cameron Young. Farmers: Taylor Montgomery.
Pat Mayo is an award-winning video host and producer of long- and short-form content, owner of the Mayo Media Network and host of The Pat Mayo Experience. (Subscribe for video or audio.) Mayo (@ThePME) was named 2021 Daily Fantasy Writer of the Year by the Fantasy Sports Writing Association, while also being a finalist for Podcast of the Year and Golf Writer of the Year. Mayo won the 2020 FSWA Daily Fantasy Writer of the Year and Golf Writer of the Year awards, along with the Fantasy Sports Trade Association Best Sports Betting Analyst award in 2020. He was finalist for four FSWA Awards in 2020 (Best Podcast, Best Video, Daily Fantasy Writer of the Year, Golf Writer of the Year). Mayo is on the board of governors at www.fantasynational.com.
Brandon Gdula, managing editor and analyst for NumberFire, a FanDuel daily-fantasy analysis company, recently won the 2018 FSWA Golf Writer of the Year. Gdula also co-hosts the DFS Heat Check podcast.
Rick Gehman is the founder of RickRunGood.com and the RickRunGood YouTube Channel, is one of the industry's leading experts on golf DFS and gambling. Gehman is co-host of the First Cut Podcast and appears regularly on the Pat Mayo Experience golf podcasts. Follow him on Twitter: @RickRunGood.
Andy Lack is a PGA Tour writer and podcaster from New York City who now resides in Los Angeles. He hosts Inside Golf, a twice weekly podcast focused on the PGA Tour, betting, daily fantasy, golf course architecture, and interviews, as part of the BlueWire podcast network. As well as contributing to Golf Digest, Andy is also a data analyst and writer for RickRunGood.com, where he covers PGA Tour betting and daily fantasy. He came to Golf Digest's betting panel after previously writing for Golf.com, the Score and GolfWRX. In his free time, Andy can likely be found on a golf course. Follow him on Twitter: @adplacksports